Arcane Soul puts side-scrolling fantasy combat on Windows 10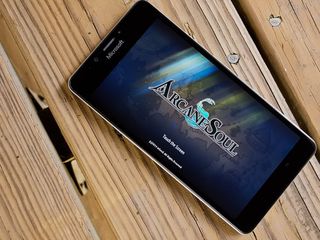 Arcane Soul is a side-scrolling combat Windows 10 role-playing game where you battle a host of monsters that include goblins, blobs and more. Available for Windows 10 PC and Mobile, the action-packed game has plenty of weapons, armor and other gear to collect and upgrade. Plus, you have a group of non-player characters that accompanies you in the adventure and increases your odds at victory.
The RPG features include several skill sets that your characters can learn and improve upon, and Arcane Soul includes three difficulty levels to maintain the challenge of combat.
The free gaming title is also available for Windows 8.1 devices that include low-memory phones. Arcane Soul has a slight arcade, dare I say retro, feel to gameplay and overall it isn't a bad gaming option to choose when you have a little down time to burn.
When you first launch Arcane Soul, the first order of business is to choose your gaming character. At launch, you have two characters to choose from, Luke or Elisa, with more characters becoming available as you progress through the game. Once a character is selected, Arcane Soul carries you through an extensive tutorial on gameplay that covers character movements and menu actions (upgrades, training, etc.).
Once the tutorial is exhausted, gameplay launches from the main menu that has options to view your gaming map, the character list, the skill upgrade menu, the character's inventory, the gaming store and an in-app purchase store. Your gaming experience level and a gold count are displayed across the top of this display with access to the game's settings, help section and gamer log-in screen scattered across the bottom of the display.
Settings cover options for the system (sound, music, graphics levels), gameplay (rapid-fire, control layout, etc.) and options for a Bluetooth pad and Haptic feedback. You can also view the User Agreement, re-play the Tutorial and send the developer a question.
Gameplay with Arcane Soul is level based and mapped out on the Map View screen. You can revisit points on the map to improve your scores and a description of each map point fills the right side of the Map screen. Here you can see any treasures available for the level and set the difficulty level for gameplay.
The gaming screen for Arcane Soul has your character's health and magic levels displayed in the upper left corner and movement/battle controls running across the bottom of the screen. Controls include a directional pad, icons for any potions that are available and four attack buttons.
Arcane Soul is a side-scrolling adventure with each level containing multiple stages to conquer. In a nutshell, you move across the screen and slash your way through any monster that appears. As you near the completion of each level, a boss monster appears that is considerably tougher to defeat than the minions you face. When defeated, both the minions and boss monsters have a tendency to drop gold, weapons and other items that can be collected by your hero. Gold can be used to unlock or train characters, as well as buy and upgrade gear.
Speaking of gaming characters, there are levels of gameplay when your main character is joined by a non-player character. The NPC is a handy partner to have in slaying the monsters and surviving that level.
Gaming controls were simply laid out and responsive. I did prefer the touchscreen controls over the keyboard controls with the PC version of Arcane Soul. The keyboard controls felt more spread out, making the gameplay more enjoyable from a touchscreen tablet or phone.
Arcane Soul's graphics are colorful with plenty of animation and the gameplay plenty challenging. Just keep in mind that you have to slay all of the monsters in a level to advance to the next. The goblins, blobs and other creatures will attempt to surround your character and attack them from both sides. This can be difficult to defend and using a jump move or special attack helps you get out of this trap.
Arcane Soul is available as a free download for Windows 10 PC and Mobile, as well as Windows 8.1 PC and Phones. There is a slight old-school feel with Arcane Soul that reminds me of the console games you would find at the local arcade. It is an entertaining game and a fun way to kill a little time.
Download Arcane Soul for Windows 10 PC and Mobile (opens in new tab)
Windows Central Newsletter
Get the best of Windows Central in your inbox, every day!
George is the Reviews Editor at Windows Central, concentrating on Windows 10 PC and Mobile apps. He's been a supporter of the platform since the days of Windows CE and uses his current Windows 10 Mobile phone daily to keep up with life and enjoy a game during down time.
Seems like fun~ gonna download it when I get home :D

I've played this on both iOS and Android. Very fun game, but the Windows Phone version has a nasty bug where running doesn't work. ... ALSO I'm not entirely sure if this was actually ported by mSeed or just someone who got ahold of the code and GMS.

Played it on my Android, fun game. U guys should download it.

It is a decent game when I played it on Android before. I wonder if its still as grindy as it was before. Gonna try it on my tablet later. Hope it works well with Keyboard. Posted via the Windows Central App for Android

Hmm, its not really the best port out there. A couple of problems is that you can't double tap to run and the game doesn't scale well on a bigger screen with some pretty obvious blurriness compared to its mobile counterpart. The running problem is only present on touchscreen controls because it works on a keyboard and is actually way easier to play that way. Posted via the Windows Central App for Android

Nice! We really need more RPG, and all other japanese and korean games on Windows Store. Especially Rhythm games where only SongArc is the only choice at the moment. Hopefully that some Windows phone devices relaxed on Japan doing well.

Theres OSU! WP as well ya know? Or Blitz Beat i guess. But if you're only counting regularly updated then yeah only SongArc

I tried OSU! WP (though there are also some bunch of clones), and it's very decent one. It needs further polishing though especially on animation fx, sound fx and better timing (it feels too rigid for some reason). I have OSU!stream from my old retired iOS which I still use sometimes if I want to play OSU there. Blitz Beats, I really don't get it's rhythm unfortunately. :( I guess this one lacks proper feedback or something, it also needs more and better music that at least OSU! have (and it's downloadable). I wish that some games like VOEZ, Cytus, and LoveLive! to be released for Windows 10 Mobile. OSU! on WP is already decent, heck even Android ones doesn't even have decent OSU! as far as I remember, this leaves only iOS having the official OSU!. There is also one game in Android I know that still there called "Beats, Advance Rhythm Game" which been open-sourced long-time, and suprisingly still working almost flawless despite being a very old app and the last update was 2014. I would love to have a port of this app to Windows. This I wish there would be more consumer-oriented Windows phone devices in Japan and Korea. Gladly, we have already some great RPG and other japanese-related games on Windows such as Final Fantasy.

Doesn't work. After the title screen, it says "uninitialized" then crashes to desktop, on my Lumia 950 XL.

Works on my 950XL after clicking Ok on the "uninitialized" message.

Looks like a good game, downloading now. Off topic, this game should also get a try: 世界2-风暴帝国(网络版) https://www.windowscentral.com/e?link=https2F%2Fclick.linksynergy.co... Superb graphics(gameplay a can get abit repetitive though auto play feature helps) but some of game is in Japanese.

Just want to point out it's Chinese ☺

Dammit, I typed Chinese first then deleted ☺. Thanks for the clarification though ☺ .

If the developer adds more Windows specific features such as progress sync via OneDrive or save file backup, Xbox/Windows wired controller support and I will gladly buy IAPs. The game clearly states that if you uninstall the game, you will lose all progress. Also, the Run command doesn't work so no matter how you "double tap the movement arrow to run", you will not run. Even with those things, the game is amazing and I plan on playing it all weekend as a part of my Father's Day "me time". My advice, set the graphics settings to high and use gold to buy the extra hit, double jump, downward kick moves as they enhance gameplay. This is like a super awesome, updated Twin Blades.

Can it be put on SD card is my question.

The game has alot of flashing of things, looks stupid. Don't write a dumb reply because you don't like my reply.

The Engrish is strong in this one. Fun game though.

Can't run...i really love this game though. I have this in my android