Are pre-built PCs worth the extra money?
It is indeed possible to save some money by investing in a pre-built system instead of selecting each component yourself and then putting together a PC. However, how much you can save depends on a few factors.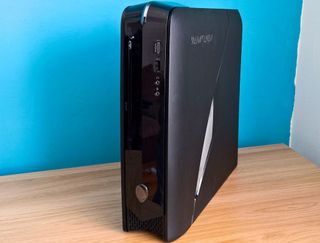 There are pros and cons to buying all components from an online store, taking delivery and putting it all together without paying for labor costs. One of the potential disadvantages of this route is it can cost more when compared to pre-built systems available from Dell, HP or other manufacturers.
Sometimes it's the other way around. It depends on what you need, what you'd like, and what your budget is. Take for example the OMEN 870 desktop PC (opens in new tab) by HP. For $899.99, you get the following:
Windows 10 Home 64-bit.
Core i5-6400 2.7GHz CPU.
16 GB RAM.
1TB HDD storage.
Nvidia GeForce GTX 750 Ti.
Here's a similar build we put together on Amazon:
Swipe to scroll horizontally
Our custom build worked out cheaper, but it excludes extras thrown in by HP, including a one-year limited hardware warranty and one year of technical online or toll-free phone support. You also have to put everything together, troubleshoot any issues, and deal with individual warranties should something go wrong. With a pre-built system, you order, receive delivery, plug-in and enjoy.
We also found a PC deal on the Dell Inspiron 3650 (opens in new tab). For just $549, this system contains:
Windows 10 Home 64-bit.
Core i5-6400 CPU.
8GB DDR3 RAM.
1TB HDD storage.
The omission of a dedicated GPU helps bring the cost down. You could also install your own if you have one to spare or happen to find a solid deal on a new GTX 1080. Here's a similar build we threw together on Amazon:
Swipe to scroll horizontally
Again, this excludes the fact that Dell put together the PC for you and include a one-year warranty for the system. We previously looked at why it's probably best you build your next PC if possible, as well as if it's possible to put together a capable system that matches an Xbox One in performance and price.
Whether you'll save more money through having your PC pre-built by a manufacturer depends on whether you take advantage of sales and offers, and whether you can keep the specifications down to the minimum, perhaps with component upgrades planned for the future.
Windows Central Newsletter
Get the best of Windows Central in your inbox, every day!
Rich Edmonds was formerly a Senior Editor of PC hardware at Windows Central, covering everything related to PC components and NAS. He's been involved in technology for more than a decade and knows a thing or two about the magic inside a PC chassis. You can follow him on Twitter at @RichEdmonds.
You can cut a couple of corners and piece it together slowly for less using sales and rebates, too, but yeah, I've found that if I'm building a desktop, it's almost always more expensive than a prebuilt. Upgrading things like the CPU cooler, adding case fans, and modular PSU (which I didn't see any PSU in your pricing) usually take me above what a retail PC would cost. And with that I get better control and upgradability. Some (maybe most) Prebuilt machines are engineered to be what's in the box and no more. I've found that adding a GPU also adds the cost of a PSU and extra fans (assuming they built the case to handle that).

https://www.reddit.com/r/PcMasterRaceBuilds

I think the more high end of a pc you build, the cheaper it is compared to a prebuilt. But I've usually found building a computer yourself is cheaper.

This is where the real value comes in, is when you compare more and better GPU options. There won't be as much value gaming with the Dell system, as it doesn't even have a dedicated video card. And I think it's fair to say that us gamers are a large portion of the target audience here at WC. The hand built pc was 200 dollars more than the Dell, but that's considering a 150 dollar video card. On on that subject, the 750 Ti can regularly be had for closer to 100 dollars, not during a sale. A much better value would have been to include a 1050 for around 150 dollars, as that GPU will wipe the floor with the 750 and not require more power. Once you start comparing prebuilts with midrange or better video cards, the price on the prebuilts quickly skyrocket. It would be nice to see WC go more in depth on the subject, as this article is basing one (somewhat inconclusive) opinion on 3 scenarios. It's like dipping your toes in the water and calling it a good swim! There are lots and lots more options and and more price brackets people are willing to spend in when considering building or buying PCs.

I think Windows Phone community is the majority of wc.

People who like Windows Phones tend to like MS and Windows, it's not hard to believe a good amount of us like to game. I never said a majority of us were gamers, but I'd bet a significant portion are.

Gaming is not necessarily associated with Microsoft.
They are just one of the players in the field. So no.
There's always been consoles from Asia for PC to contend with.

Building a PC is pretty closely associated with gamers, as many PC gamers tend to build and upgrade their own PCs. You're also missing my point and focusing one small part of my post.

The Windows Phone community isn't the majority of anything.

Lol! So would say we are the majority of fanboys.. But I guess with the fashion statement of a bit apple everywhere they can't.=P

This site was called Windows Phone central right?

Yes, it was. That has since changed, and it's been a while. Alot of people here currently weren't around for the old site, and there are more newcomers everyday.

I hate windows phone, I'm here for the windows PC content. But that's just me.

And that's ok, i mean not crazy about hating things but thats just me. Alot of people just come here for Windows PC, regardless that the site was once mobile only. It's all the same platform now, so there's something for almost everyone.

I m surprised you've not been hounded out !😁

I've been building my own PC's since the 80's. It keeps me up to date on the newest technology and that feeling you get using a PC that you built yourself can't be beat. My only advice if money is an issue... once you figure out which components you want to use, give yourself a few months to get the best deals on each component. You can easily save 20% on each component by just waiting for them to go on sale.

Very good advice. Most people tend to rush into it all. I mostly wait till holiday sales, since that's when they drop them rapidly. I end up saving hundreds more than what I was going to spend it I bought them in the summer.

I kinda did that with my PC build, although I bought parts over the course of the summer of 2014. I didn't have enough money to buy $600 worth of parts at once. Now I'll upgrade it a few times per year.

I bought a PC from Major outlet in UK - thought it was good value because it had the same motherboard I was going to buy for my self build. Six months down the line I decided to add another graphics card and that was when I discovered the motherboard was a very much cut down version of the one I was going to buy. Not upgradeable as sockets etc. missing. A real Con!

Your PSU likely wouldn't have been up to a second GPU anyway, off the shelf PCs tend to have the absolute minimum to run the system with no overhead whatsoever.

I will never ever buy a pre-built PC. It does not give you the customisation and flexibility of your own build, and is much more expensive. I am sorry but Amazon is the last place for PC parts I would choose.

You've never checked out a local shop with 20% markups or Best Buy and its poor part and brand selections, if you think Amazon is the worst option. Went to the PC shop here recently, and a $10-15 tube of paste was $25...and they were sold put. Pass on that kind of junk.

Amazon certainly isn't the worst option, but it is not even close to the best one.

Agreed. I bought from Tiger Direct and they at least know what they're doing. Although I don't know why they include drink vouchers in the shipping box since I wouldn't consume that type of drink.

Yeah, to me Amazon seems like an odd place to buy parts for a pc build. I have always used New Egg (the old Egghead for us old-timers. ☺)

I think the best way to do it for most people is to buy a reputable pre-fab tower from a company with some decent specs and then just add RAM and your own GPU. I built my own a year ago with a GTX970, 16gb DDR4, i5 6500, PSU, HDD, decent wifi card, mid range MB, and modest case while supplying the "rest" of the items and feel like I could have gotten something comparable from one of the name brands for about as much- maybe even less, including replacing the stock GPU without the hassles or dealing with any returns for defects. Like someone above said, custom builds are best depending on whether you want/need the constant upgrading and don't mind the investing to do so

Put a top notch pc together and add a 4k monitor and you still save a bunch versus buying MS Studio!
My experience with building PCs is the extra cost is justified. Almost all pc components last more than a year anyways. You basically get exactly what you want. But the main drawback from prebuild pc is that the manufacturer tweaks the operating system to their likings' and that put restrictions on certain tasks and usually results in errors and bsods!

Good things about this comparison: You mention that it's up to the user to put everything together and troubleshoot a new build, it's not always as simple as plug and play. People should know this, planning and research is key. There are however lots of friendly forums around to help with your first foray into PC building and also troubleshooting. You mention that you can always upgrade if you want, this shows the flexibility of building your own. If you upgrade a prebuilt, you may well be kissing goodbye to your warranty or you may get charged lots for someone to do it for you. Problems with this comparison: You've used $150 750Ti. Ok, so you want to compare apples to apples, but you know if you were building your own you'd have the freedom to not choose a 750Ti, you could save money and go for the $110 Zotac 1050 and have a FASTER GPU. You've used Corsair LPX 3GHz RAM. Why? If you're comparing apples to apples, you want the RAM that's 'supported' by the board that HP chose, which is 2133MHz, since HP don't mention the speed of the ram. Luckily someone on Amazon gave a rather indepth breakdown of the version they bought which had a 1080 and a 6700K which had memory running at 1064MHz (not taking into account 'Double', so actually ~2133MHz) HP includes a 1 year limited hardware warranty. 1 Year? That's not a bonus, that's a con. RAM has lifetime limited warranty. CPUs have a minimum 1 year if you get an OEM, same with Hard drives, GPU i think the lowest I've seen is 2 years, PSU at least 2 years - heck mine has 7 years. Ok you get HP online/phone 'technical support' for one year, going by how amazing 'technical support' generally is I'd rather just ask people on forums because they'll know more. Dealing with individual warranties? No different from dealing with the warranty of the entire product. God I'd hate to have to send back my entire PC when just the motherboard went on it. As for the Dell, a 1080 in that system? Ignoring the fact that it's overkill as it'll be CPU limited, that Dell comes with a 240W PSU. May I suggest you change the suggestion to a bus powered card? God only knows if the Dell PSU will have a 6/8 pin, though I can't imagine it, and changing the PSU in that system would require adapters for the motherboard. You've forgotten a PSU.

You should put in not just the fact that yea you'll have to deal with individual companies for warranties but also that those warranties can go up to lifetime. Not just 1 year like a prebuilt system. That could make a difference to if you want to try and build your own.

"Our custom build worked out cheaper, but it excludes extras thrown in by HP, including a one-year limited hardware warranty and one year of technical online or toll-free phone support." But individual parts usually have MUCH better warranties than a one-year one from HP. HDDs are usually 2-5 years, PSUs are around 5, I think my GPU was 3. HP also was a complete joke when I needed warranty assistance from them.

The money saved is icing on the cake for me. I love building my own systems. From researching / comparing components, to building, testing and installing the OSes, to using them daily. I like knowing exactly what's in there and why I choose each component. Plus, it's fun to talk to friends and co-workers who built their own to find out why they choose what they did. Also, you can plan better for future upgrades when you build your own. I've only had 2 pre-built systems in my life, an IBM PC XT (!) and a Dell Inspiron. I refused to buy another pre-built after finding out that Dell had used a custom mobo and I couldn't fit an ATX one in the case!

Only if you want someone to blame if it doesn't work properly. Building your own system is far cheaper than buying a prebuilt system, plus you get to add only the components you need or know this works best for your needs. It's easier today to build a system than it was say in the 1980s and early 90s when you had jumpers to set and pins to align, now, it's just plug and play, match the colors in some cases, determine how much RAM you need, plug it in, fire it up, and add your OS and other software. Quite easy really.

The problem with pre-built systems is they typically use cheaper components. I still see desktop systems being sold with slow ram, slow HDD, and using integrated video to hit a price point. I'd rather spec the system myself, research reviews of different board/component configurations to come up with something performant, within my budget.

Not only that, which is very true, but you often get wonky cases that make upgrading the computer kinda hard. I think the real value is updating the PC over the 3-5 years to always have it up to date. Spending a few hundred dollars a year after your PC is built can turn it into a very good computer rather than a budget computer all the time :).

The thing is is that you can find essentially the same parts for much less and you can get legit Windows on Reddit for $15 (not sure how, but it works). One example is RAM. You can get 16GB of DDR4 RAM for $80. You can get a 1050 Ti for $125 right now and going with a different case can save you at least $35. Most people don't need a nw mouse and keyboard either. Not to mention building a PC is fun and good experience to have, and it allows for much more customization.

I have a feeling that the "legit" Windows from Reddit is not really "legit"

I guess what I mean to say is that it acts as if it's genuine. I'm sure the source is not legit in a legal sense.

I have always believed in building my own PC, but off late I've found myself drawn to laptops for their portability, and not having an extra system to maintain is just easier. Plus ready PC's are usually fine and probably a better option for general (layman) users and Enterprise, who don't need higher end graphics/RAM. It's almost like buying a laptop, for which I would suggest users simply buy a laptop rather than buying a PC these days. Monitor and system and keyboard all rolled into one portable package. I have a laptop with a decent GPU that serves my purposes (CAD drawing), and it's one of the best investments I've made.

Hi ppl, I have a prebuilt pc and I need your help to upgrade. Pc specs; 8gb ram ddr3, cpu;FX 4300, gpu;r7 250 1gb. I'm thinking of buying a graphics card first and I'm thinking of rx460 4gb(it only cost 150€). What do you think I should change first? I need the pc for gaming. Later on I'm thinking of buying ssd and cpu(i3 6100). Thanks in advance!

The graphics card is a good buy. GTX 1050 or the rx 460/470 are good cards with low power requirements. If its prebuilt then it may have a weak power supply. If its 500+ Watts then you should be ok for a bit but if its not I would upgrade that to at least a 650W power supply. A decent quality one from a good brand name because you dont want power troubles. If the PSU is ok, the next upgrade imo would be either an ssd for windows and a hdd for the games (like a 2 TB drive because games dont matter much on a hdd vs ssd, just load times. Most of the assets get loaded into RAM once it loads.) I like the Evo serries. 950 is great but 850 evo isnt bad either. And it would just be for Windows and a few apps so 250 gb is plenty. Use the 2TB for gaming. Or, you could get a pentium processor with the newest slot so you can get a kaby lake (or the newer lake when you upgrade) motherboard (a good one, like $120-$150 motherboard) and then the pentium would use that slot but is like $80 or something. But then later you can upgrade it to a core i5-k series for higher cpu clocks. That is what I would do anyways. Of course the monitor upgrade might be nice if its a slow refresh rate (like over 12 ms or something). They have $110 1080p monitors with good picture and 4 ms refreshes that a great for gaming. It all depends on what you like and what you care about :). These are all just ideas and what I would consider.

Oh, depending on your upgrade times, you may consider the new AMD architecture too. Zen processors I think. They should be decent performance and better power to $$$ ratios :).

And after reading everything, no one mention that OEM motherboards mostly doesn't have overclock capabilities so its a con for those who like to squeeze every penny invested on their system.

I don't want to buy or build a pc and find out 'it won't do that', no matter what it happens to be. If it needs to be upgraded, I want that capability without having to start over.

I built my first PC my senior year of high school, built a family PC 2 years later, my PC burst into flames (literally), and I looked into building a new one. I didn't feel like reading up on the new tech standards and hoping I got compatible parts. I found an HP desktop on sale, and I priced out what it would cost if I built it. I saved hundreds by buying it even without the sale price. However, I would like to upgrade the graphics card, but I do not know what I could upgrade to. So far that has been the only downside.

i prefer saving time over money. if i can afford it, id rather buy it.

I still prefer a custom build because the mass produce built may not have top quality parts. For example, the motherboard and ram may be of lower quality. Even though it has 16gb of ram...what quality or speed is the ram? Also, custom cases, coolers, power supply, etc are often better. Custom are usually easier to upgrade. So, when u assemble best possible parts (for the money) together, less worries it will breakdown.

I think it's relative. An analogy that comes to my mind is Wetshaving. You can buy a DE Razor, a pack of 100 blades, a brush and a soap all for 50$ or less and you will have enough shaving stuff dor 6 months to a year. Way cheaper than buying a Gillette razor with a lot of cartridges for 6-12 months... but you know you will not be settling for the most affordable items and you end up spending 150$ on your first buy... after that, you get a lot of things you don't need but you want and end up spending a lot more money xD. Same happens with computers. You could buy the same pieces inside a gaming computer, but YOU KNOW you can do better and get more expensive pieces... You end with a computer that is a cyclopean beast, but that is also more expensive than what you could have bought from an OEM.

That would be a fault of the consumer and not the system. The inability of a person to ignore temptation and have a little self control has nothing to do with it building a PC. Truth is that building a PC has less to do with just saving money and more to do with maximizing what you get for what you spend. It is about being a smart shopper.

I made a custom PC "1 year ago" with Intel i5-6400, Corsair Vengeance LPX 8GB DDR4, Seagate SSHD of 2TB (double size & speed), Logitech wireless mouse & keyboard, 24x LG DVD R/W on MSI H110 Pro VH (includes 4 USB 3.1 Gen 1) in a Coolermaster cabinate with its SMPS, & it all cost me $540. All this with 1 year replacement warrenty & for some products its 3 & 5 years too. The difference is 240$ in which you can buy $62 extra RAM & $149 graphics card too & still can save money.

Will not "Intel 3160 Dual Band Wireless AC + Bluetooth Mini PCIe" need an adapter ?!

Not always, When you look at an off the shelf HP with around the specs $600....but, building your own will cost more. But, you get more choice of hardware. So pick your top motherobard, pick your CPU, Pick your memory, What to go SLI (2 video cards), make sure you get the right monther board.... see where I am going ? You dont have those types of choices unless you buy a flagship gaming machine. So if you just want a coputer...buy off the shelf model but, if you want CHOICE and want to do the homework to get the best you can get, building your own should primary.

Well, I just customed ordered one. Received today. Even paid an extra 100 to have liquid cooling thinking it'd be quieter. Looks like that 100 went to the trash. A 20 dollar fan I bought for my older one is much much much much quieter. I didn't do my research on Liquid Cooling, I just assumed. But in it you have a radiator and a fan that draws air in, so double the noise...YAY!!! Personally, I've found some really great deals on prebuit ones...Cheaper than building one on my own. And the cases are much nicer too. I'm talking about ones with industry standard stuff in it.

It is sad to see a $900 HP rig aimed at gamers with a 750ti in it. Build it yourself and it should have an RX 480 or GTX 1060 in it. If you spend some extra time shopping for deals, you would be able to squeeze an SSD in there to install Windows on. Then they wonder why we build our own systems. Sadly people who are new to the hobby and are not familiar with the components might fall for it.

My thought is that if you're just after a basic, internet derping / MSOffice / Netflix box in the $500 range, the benefits of DIY are kinda nullified, and you're probably better off going prebuilt. In fact, in that range, I'd probably be tempted to just go all the way off the cliff and advocate for an all-in-one. It's what I got my parents across town set up with recently, and it's a great machine for their needs! My wife also has one and likes it. However, for a more serious game machine, I have zero interest in the likes of Alienware, or other costly pre-built gaming boxes - and absolutely no interest whatsoever, for that matter, in any kind of gaming laptops. Instead, in the higher range, I say DIY desktop tower all the way! You can totally customize your setup, and totally customize your cooking and all the rest. You can also run leaner software without all the bloat. It's just, with higher end, serious gamer focused computing, to get a prebuilt, it seems like you're either going to have to pay more, or settle for reduced cooling or upgradabity or customizability......or more than one of the above. Not that those same benefits don't exist in DIY for the low end as well, it's just they don't seem to be worth it so much, I don't think. But for the high end? I don't ever envision a future with me owning a prebuilt or especially a prebuilt laptop gaming rig. It'll be DIY (or at least "shake and bake" custom) all the way. [edit: "internet derping". Autocorrect changed it to "internet seeping"......DYAC!] :-)

In fact, I'll serve as my own "case in point": once we get the tax return, I'll be ordering a Kaby Lake i5 6700k, 16GB Corsair Vengeance LED PC 3200 DDR4, an ASUS ROG Strix Z270E mobo, a Corsair CPU water cooler, a Corsair AX760i PSU, and an Asus ROG Strix branded GTX 1070 OC edition GPU to replace my very very out of date (or under spec'd) AMD Phenom II x4 965 Black, 8GB Kingston Fury PC1600 DDR3, ASUS ROG Crosshair IV Formula mobo, Prolimatech Genesis CPU air cooler, Corsair 500W PSU, and ASUS branded GTX 660 ti GPU. I'll keep using my existing Kingston 120gb 2.5" boot SSD, WD black 2TB 3.5" 7200rpm Data HDD, NZXT Guardian 921 b mid-tower and various assortment of blue LED case cooling fans. Accompany that with a tax time replacement of a 1080 32" living room TV with a 4K 40" set, and better sound system, and my gaming experience potential will go up exponentially. True, with a 1070, it won't be the most awesome 4K gaming rig (though I'll probably still do some of it), but it should be the perfect box for 1440p, which my 4K TV should more than accommodate! Woohoo!