Will you buy the Samsung Galaxy Note 10?
Samsung and Microsoft are getting quite cozy lately, with the Galaxy Note 10 coming baked with Microsoft services. We'd like to hear from you: are you going to buy it?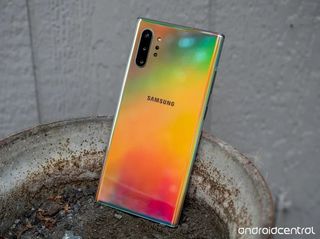 The Samsung Galaxy Note 10 is launching very soon, bringing a decent set of improvements to Samsung's flagship stylus-powered superphone. For Windows Central readers, perhaps the most noteworthy aspect of the Note 10 was Microsoft's presence at its reveal, with CEO Satya Nadella on-stage to talk productivity and partnership.
The Samsung Galaxy Note 10 will use Outlook as its default mailing client, replacing Gmail for the first time. Additionally, Samsung will integrate OneDrive directly into the Gallery app for seamless cloud backups, and leverage Your Phone for integration with connected Windows PCs. Samsung will also benefit from full DeX support for Microsoft Office.
Biggest and best
The best of Samsung in a single phone.

Samsung improved on the Note 9 in every way … except for removing the headphone jack. But the big display, top-end specs, wide-angle camera, and huge battery could make up for it.
Related: Samsung Galaxy Note 10 review at Android Central
We may never get another phone from Microsoft again, or at least not until a significant paradigm shift in the user experience that might allow for Microsoft to carve out a niche. It's looking increasingly like Android, or specifically, Samsung's Android, is becoming Microsoft's replacement for its dead phone platform. But are you interested? We'd like to hear from you.
To buy or not to buy
I've been a Galaxy Note 9 user for some time. As a huge tech nerd who struggles to resist the latest shiny things, the Note 10 doesn't seem to be what I'd describe as "mind-blowing," besides the price that is. I got my Note 9 for around 700 euros, admittedly a few months after launch. But the Note 10 starts at an eyewatering 950 euros, for what is arguably a pretty comparable set of hardware features. Some specs are actually a downgrade, with a smaller battery compared to my current handset. To get a bigger battery, I'd have to upgrade to the Note 10+, which is over 1050 euros. Oof.
I'm also a bit disappointed Samsung doesn't seem to have done a great deal to meet Huawei and Google Pixel in terms of camera innovation. The Samsung cameras are excellent and rarely let me down, but some of the camera samples coming out of the Huawei P30 Pro are just on an another level.
Its integrations with Microsoft represent the most attractive aspects of the Note 10, but you can get those yourself simply by, well, downloading those apps and setting them to default. It doesn't seem as though some of the exclusive integrations such as OneDrive in the Gallery app will come to the Note 9, which is a shame. Since it's just a software update, it feels like this is more to do with the deal between Samsung and Microsoft rather than serving its users. Oh, and it sucks that the headphone jack is gone. I will die mad about the headphone jack.
Even if I don't buy the Note 10 (firmly on the fence right now), the partnership between Samsung and Microsoft does have tons of potential. Envision a world where Microsoft persuades them to kill Bixby in favor of Cortana. It might give Cortana a vague chance at achieving some sort of market penetration, in a world where devices that shipped with Cortana are actually indignantly cutting her out in favor of Alexa. Samsung has things Microsoft needs, and Microsoft has things Samsung needs. I see this as an absolute win.
Regardless, we want to hear your thoughts. So be sure to vote in our poll, drop a comment, and let your voice be heard. Be kind though. Phones are serious business, obviously. We'll loop back around with the poll results in a week or so.
Biggest and best
The best of Samsung in a single phone.

Samsung improved on the Note 9 in every way … except for removing the headphone jack. But the big display, top-end specs, wide-angle camera, and huge battery could make up for it.
Windows Central Newsletter
Get the best of Windows Central in in your inbox, every day!
Jez Corden a Managing Editor at Windows Central, focusing primarily on all things Xbox and gaming. Jez is known for breaking exclusive news and analysis as relates to the Microsoft ecosystem while being powered by caffeine. Follow on Twitter @JezCorden and listen to his Xbox Two podcast, all about, you guessed it, Xbox!
It falls into the "It's nice, but my Razer Phone is actually still doing a good job, so I'll wait to see what MWC brings next year"

"Will you buy the Samsung Galaxy Note 10?" No.

My Note 10+ arrives tomorrow 😎

Would be more interested in the Note 10 if it had a WQHD screen, expandable storage, and a bigger battery. Just seems like the 10+ is the real "new" Note but I prefer the size of the 10.

Was thinking the same. I'll have 20 days to return the smaller Note10 if the battery sucks. Should arrive next week.

I had the Galaxy S8 with WQHD and never saw the need to enable it. Screen looked great at FHD (1080) and it used less battery. It was noticeable though if you dropped all the way to HD (720). I am surprised the Note doesn't have WQHD even if it is overkill.

So my answer to this was "$950??! Hell no" until T-Mobile offered me $200 for my old phone, which works and is in pretty good shape physically but is about as slow as molasses and holds a charge as well as I keep away from gelato. So at $750 and the ability to keep my (pretty awesome grandfathered-in) plan, I said "yes."

No, but only because I have an S10 already. If I were in the market for a new phone, I would definitely consider it. As someone who basically uninstalls everything Google that I can (except the app store) and installs all the MS stuff, I feel their partnership will keep me buying Samsung products in the future.

My Note 10+ 5G arrives Friday, an upgrade from my S8+. I was a devoted Windows Phone guy but MS made the choice for me to switch to Android and I settled on Samsung running MS services. This is my first Note device but wanted the 6.8 inch screen, so went for the 10+.

Same here. When I had to make the switch, I got a Note 8.its a good phone, but the battery kinda sucks. 64gb with 138 gb of expandable storage. Unless something happens to my Note 8, I will try and stick with it, until next year. Maybe the Note 11+, if Samsung follows the trend. Then again, maybe if Samsung can get their foldable phone together and add an S Pen, I will consider that.

I have owned and used the Samsung Note 2, 3, and 4. Currently using the Samsung S9. I've gotten used to not using a stylus pen, it's definitely nice to have but not a necessity for me. I'm holding off on the upcoming Note 10, maybe next time or if the price drops lower. As for Microsoft integrating their software into the Note 10, I'm all for it. I've been using Microsoft Outlook and Windows for many years, so integrating with Android devices works for me.

Moving from a Pixel 3XL to Note 10+.(S8 b4 the pixel) while I thought the camera was top notch, I am sick of the poor memory management features. Loading this phone with 4gb of ram was the worst design decision ever. After countless memory optimization apps from the store, I'm done. Going into an app and sitting there looking at a blank screen all becuase the phone is low on memory? Backing out of the home screen and closing all apps is the only thing that works. One thing became apparent after going from an s8 to a P3XL, Samsung phones just have more polish whereas Google simply throws a bunch of components to together and if it boots up, they sell it.

Coming from a Note 8, I thought I was going to get the 10 even though I am against notches and holes but I got a Sony Xperia 1 which I absolutely love. In fact, I got the Xperia 1 kind of expecting that I was going to end up disappointed and would be getting rid of this and getting the Note 10+ when it came out. At this point I have no desire to switch from the Xperia 1. I am actually enjoying this phone and for someone who loved Windows Phone and hates IOS and to a lesser extent Android, that says a lot. 1st phone I have enjoyed using since leaving Windows Phone. So I may get 1 because I think att has a buy 1 get 1 deal and I have 2 lines due for an upgrade but I won't be using it as my daily driver. Surprisingly, I'm sticking with the Xperia 1.

I am actually getting the Note 10+. I am coming from an iPhone. I have been trying to replicate the Windows Phone experience on it and it fails miserably. Since Microsoft seems to want to partner with Samsung, I figured that was my best bet.

My Galaxy Note 10+ 5G arrives tomorrow!

I want one, it'd be a great upgrade from my LG V30. But I absolutely refuse to spend $1,000 on a phone. So I'll be waiting for a price drop

It's a nice phone but I wish it didn't have the curved edge. I'm no longer buying top of the line phones. $300 is about as expensive as I'll go anymore. I would rather buy something else with $1,000.

Me too. Had a note 8, nice but poor battery and sluggish until the GPS broke (which Samsung replaced eventually) but having seen my wife's Mate 10 Pro fly along and last two days I switched to a Mate 20 Pro. Fab in all respects, so we bought another to replace the Mate 10 Pro all for about 400 less than buying a new Note 10. Astonishing battery life.

Spending more than 300 means you're getting scammed.

Played with both a few days ago in the samsung store Sydney, and it's alot thinner and prettier in the flesh. Contemplated about upgrading my S9+ this coming Friday when the Note launches, but realistically the old girl still runs like new and battery still strong. Other than the missing headphone jack, I couldn't really fault the new Note. IMO whoever ends up getting one will be very happy.

But... it is an Android phone! 😱 Okay joke aside. I use a Samsung Galaxy S10 so not really going to need it.

No, won't buy anything Samsung.
Lipstick on a pig.

No, still rocking my Blackberry KeyOne after giving up on my Lumia 950 XL... Awesome battery life, great keyboard and well built device... Might have to buy one later though if TCL don't make a Key3...

I am holding on to my Note 9 as it is doing a fine job and I do use the headphone jack.

Ditto - Note 9 is a fine, fine phone. Also not sure how the 10's combined Power, Bixby button is going to shake out in the end.

I am setting my Note 10+ up this very moment. So far, so good...

Decent phones are expensive and new models just don't have that feature that would compel me to spend a $1000+. I'm holding out for a Andromeda ish device. I'll flog along with what I have for as long as I can.

Decent phones are cheap just order them from china.

If it had Windows Core OS with a mobile module upfront, Yes.. And it could then run a virtual android boot with all android apps available.. If MS could do it with Windows, why not with this? Afterall they're not renewed partners for nothing.. plus people still haven't taken in the fact that Windows is literally swallowing Android before our very eyes.. trop sauvage

the hole in the screen is hideous. I'd take a notch any day over it.

Ordered a redmi note 7 Pro off Ali express. It has a great camera and the 675 is crazy fast. I'll never ever buy a retail phone in Canada again. 200 bucks and I'm good.

Nope. I would consider the Note 9 over this due to it being more affordable, bigger battery, microSD card support (instead of paying more for a smaller battery, no microSD card with Galaxy Note 10 entry-level model), and I am an Office 365 subscriber anyway so I can just download all the apps onto the Note 9 and use it there.

If the screen size wasn't enough to skip it (and it is. I don't need to carry a dinner table in my pocket), the lack of a headphone jack is. The Note 10 and 10+ just aren't good phones. For the S pen you have the same experience on the Note 9 for half the price.
For everything else, you have the S10+ which has a less obtrusive hole and the exact same features AND extra ones like expandable storage (which the Note 10 lacks) and a headphone jack (which both lack). Oh and they also have DeX and will get all the DeX stuff the Note 10 has with the Android 10 update.

No headphone jack, no way. Also MicroSD is only on the bigger one. Just bought an S10e a few months ago and it's got both, happy for a while.

In no way is the Note 10 Plus worth $1,100.00. I have both devices in front of me (Note 10+ & OnePlus 7 Pro) and the Note has so much bloatware installed and it definitely feels slower than the OP7 Pro. You can almost buy two OP7 Pro's for the price of one Note 10+. All of these big reviewers on YouTube are all sponsored by Samsung so they hype the device up and praise everything about it but really it's nothing special. I would pay around $700 for it but it's not worth a penny more in my opinion,
Windows Central Newsletter
Thank you for signing up to Windows Central. You will receive a verification email shortly.
There was a problem. Please refresh the page and try again.