Ark 2 for Xbox Series X|S, PC: Trailers and everything you need to know
The dino-taming and fighting franchise is back again.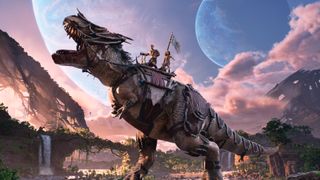 (Image credit: Studio Wildcard)
It's safe to say not too many people were expecting Ark 2 to be announced during the Game Awards 2020. Furthermore, no one was expecting Vin Diesel of The Fast and Furious to be starring in a lead role. This sandbox title combines strange alien futuristic elements with creatures of eons past.
There's a still a lot that's uncertain about Ark 2, but Studio Wildcard is giving us some interesting details about what to expect this time around, with massive changes and familiar territory alike. Here's everything you need to know about Ark 2.
What is Ark 2?
Ark 2 is the sequel to Ark: Survival Evolved, a sandbox survival game with prehistoric creatures that first released on PC in 2015 before coming to other platforms. The game takes place in a mysterious world where dinosaurs and other long-fossilized creatures roam, while people have been abducted and wake up in this world with seemingly no memory.
While there are also custom characters like in the first game, Ark 2 is focused around the story of Santiago (Vin Diesel) and his daughter (Auli'i Cravalho). The story details their trials and tribulations as they survive a dinosaur-filled world.
Vin Diesel isn't just in Ark 2 however; he's also helping to make it. He's played over 1,000 hours of Ark: Survival Evolved and is serving as executive producer on Ark 2.
After the success of Ark: Survival Evolved, Studio Wildcard signed an exclusivity agreement with Microsoft, so Ark 2 is launching as a timed console exclusive on Xbox Series X and Xbox Series S. Like many other great Xbox games, it's skipping out on last-generation hardware, meaning it can take full advantage of the SSD speed and CPU processing power in Microsoft's current-generation consoles.
Ark 2: Trailers
The reveal trailer, which we've linked below, was showcased during the Game Awards 2020. It depicts Santiago protecting what appears to be his tribe members, even as mysterious threats close in on this strange alien world.
After Studio Wildcard mostly went dark in 2021, the team returned to share a new trailer and information at the Xbox and Bethesda Games Showcase 2022. You can check out that new trailer below:
Ark 2 Story, gameplay, and features
Ark 2 is a "next-generation sandbox survival experience" so while it will be quite similar to Ark: Survival Evolved in many respects, there are a lot of big changes, with Studio Wildcard investing in new technology and changing portions of the game's direction.
Perhaps the biggest change is that while the first game could be played in first-person or third-person, Ark 2 is now a third-person game only. Studio Wildcard is focusing on enhancing exploration, traversal, and combat. In particular, the developers note that they are taking inspiration from games like The Legend of Zelda: Breath of the Wild and the Assassin's Creed franchise.
Animations are being designed to have more impact, so players feel the weight of fighting massive creatures, or using them in combat. Combat against other humans, meanwhile, is described as being "Souls-like," with blocks, light and heavy attacks, and even combos to learn. This time around, there also seem to be Morlock-esque creatures to contend with, in addition to the deadly dinosaurs you'd expect.
The trailer is stated to use in-engine footage, giving an idea of the graphical quality to expect. Ark 2 is being developed using Unreal Engine 5, pushing forward the level of detail the developers are able to achieve.
The game's AI and systems have also been improved. Ark 2 features World Events, which means that procedurally generated events are always taking place, regardless of whether or not players are around. Creatures have stampedes, gather in herds, crowd around sources of water, and more.
Finally, Ark 2 supports mods on console. This means players on PC can build a mod, then share it with players on Xbox Series X|S consoles. Modders are not only allowed but encouraged to create new creatures, weapons, items, game types, or even a first-person mode.
Ark 2: Is it coming to PS5 or PS4?
Ark 2 is releasing as an Xbox Series X and Xbox Series S console launch exclusive, so it'll only be on those consoles before coming to others, such as PS5, later on. Naturally, it'll also be available on PC day one.
Even once the timed exclusivity ends, Ark 2 won't be coming to PS4, as the game is built specifically around current-generation gaming hardware.
Ark: The Animated Series
Studio Wildcard wasn't content to grab one big actor — they wanted more. Ark: The Animated Series will also feature Santiago as portrayed by Vin Diesel. Additionally, this show is boasting the talents of actors and actresses such as Madeleine Madden, Michelle Yeoh, Gerard Butler, Jeffrey Wright, David Tennant, and Zahn McClarnon. Devery Jacobs, Ragga Ragnars, Elliot Page, Karl Urban, Malcolm McDowell, Deborah Mailman, Juliet Mills, Alan Tudyk, Ron Yuan, and Russell Crowe will also be featured.
Ark: The Animated Series is currently slated to be released in 2022. The premise revolves around characters from different time periods all awakening on the Ark and coming into conflict or working together.
Ark 2: Release date
Ark 2 does not have an exact release date.
Right now, Studio Wildcard says the game is set to release at some point in 2023. When Ark 2 was first announced at the Game Awards 2020, it was announced as coming in 2022.
The game's release date clearly slipped at least a bit, which is understandable given the state of game development over the last couple of years. Studios have continued to struggle as they adapt to changing conditions and remote or hybrid workplace practices. Ark 2 is hardly alone, with dozens of other games being delayed (sometimes multiple times) over the last couple of years.
When Ark 2 does eventually launch, it'll be available day one on Xbox Game Pass and PC Game Pass.
Get the Windows Central Newsletter
All the latest news, reviews, and guides for Windows and Xbox diehards.
Samuel Tolbert is a freelance writer covering gaming news, previews, reviews, interviews and different aspects of the gaming industry, specifically focusing on Xbox and PC gaming on Windows Central. You can find him on Twitter @SamuelTolbert.