Arm unveils Armv9 Cortex CPUs that will power the next generation of smartphones and PCs
Arm has big plans for its Armv9 architecture, and it all starts with the CPUs announced today.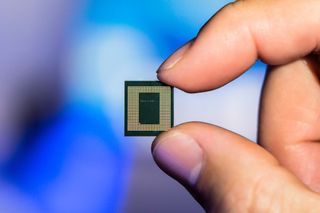 (Image credit: Qualcomm)
Updated May 25, 2021: This piece has been updated to clarify that all Cortex-A CPU mobile cores will be 64-bit from 2023.
What you need to know
Arm announced new CPUs based on its Armv9 architecture.
The company also announced several Mali GPUs.
Arm also specified that all Cortex-A CPU mobile cores will be 64-bit by 2023.
Arm announced the first Armv9 Cortex CPUs, which could bring a big boost to Windows 10 on ARM PCs and other devices. The chips are based on the new Armv9 architecture that was announced back in March and deliver up to 30% better performance than their predecessors. Arm also reiterated that all Cortex-A CPU mobile cores will be 64-bit by 2023.
Arm's Total Computer Strategy has three pillars; accelerating compute performance, expanding security, and improved developer access. Arm calls the new Armv9 Cortex CPUs the "foundation of [its] wider Total Computer Strategy."
The flagship processor from the new lineup is the Cortex-X2. It promises 30% better performance over the first-generation Cortex X-1 and can be used in either smartphones or laptops. Arm claims that the Cortex X-2 delivers 40% better performance than "mainstream laptop silicon," specifically referring to the Intel Core i5-1135G7.
Laptop manufacturers can combine up to eight Cortex X-2 cores to improve performance. For comparison, most phones that use the Cortex X-1 have a cluster of three high-performance cores. You may not recognize the name of the Cortex-X1, but you'll have heard of devices that utilize it. The flagship Snapdragon 888 is built with the Cortex X-1. Arm explains that the Cortex X-2 takes things a step further than its predecessor.
The Cortex X-2 will be used in both smartphones and laptops. Arm discusses the growing demand for Windows and Chrome laptops powered by its chips:
Arm also announced the Cortex-A710 CPU, which focuses on efficiency. It is the first "big" CPU (referring to "big.LITTLE chips) that's based on the Armv9. It delivers 30% better energy efficiency. Arm also states that it delivers double the machine learning performance when compared to the previous generation.
Lastly, the new Cortex-A510 is a "little" CPU. Its predecessor, the Cortex-A55, was made four years ago, so it's been some time since a refresh to Arm's little processors. The Cortex-A55 delivers 35% better performance and 20% more energy efficiency than its predecessor. It also has three times better performance when it comes to machine learning. Arm claims that the Cortex-A55 has similar performance to Arm's big cores from a few years ago.
Moving over to GPUs, Arm announced the Mali-G710, a premium GPU that brings a 20% performance improvement for general compute tasks as well as 20% better power efficiency. It's also 35% better for machine learning. The GPU can be configured with between seven and 16 shader cores, each of which doubles the performance of what the Mali-G78 offered.
Arm also announced the Mali-G610, which is a "sub-premium" GPU. Its feature set is the same as the Mali-G710, but it only has between one and six shader cores.
The Mali-G510 follows the Mali-G57 and delivers a 100% improvement for performance and machine learning. It also improves energy efficiency by 22%. Below the Mali-G510 is the Mali-G310.
Not coming this year
As to when chips based on Armv9 Cortex CPUs will be available, don't expect them anytime soon. Companies like Qualcomm, MediaTek, and Samsung still need to implement software, drivers and further design and manufacture the chips, pushing these chips out to 2023.
But, not all is lost. Laptop processors based on the 5nm Cortex-A78C designs are expected later this year, possibly being used in Qualcomm's anticipated Snapdragon 8cx Gen 3 and Microsoft's SQ3 processors. The current generation of Qualcomm Snapdragon 8cx Gen 2 is based on the 2018 7nm Cortex-A76. While not as potent as Apple's 5nm M1 silicon, laptop processors based on Cortex-A78C should provide a much more robust boost in performance than current Gen 2 designs and up to 3x the performance of Snapdragon 8cx Gen 1 rivaling Intel's 10th Gen Core i7-10875H.
News Writer and apps editor
Sean Endicott brings nearly a decade of experience covering Microsoft and Windows news to Windows Central. He joined our team in 2017 as an app reviewer and now heads up our day-to-day news coverage. If you have a news tip or an app to review, hit him up at sean.endicott@futurenet.com (opens in new tab).
They expect laptops to use 4 Cortex X2 and 4 Cortex A710, that would be a massive jump from the current 8cx that uses 4 Cortex A76 and 4 Cortex *** My rough calculations say that the single core performance could increase next year by 2,5x over the current 8cx! And that the multi-core performance could increase by 3,5x!* I'm still won't truly believe that the X2 is 40% stronger then a current gen i5 until I see it though. *A77 is 25% stronger then a A76, a A78 is 20% stronger then a A77, a X1 is 20% stronger then A78 and X2 is 30% stronger then X1, all this together gets you 2,5x of single core improvement, then do something similar for multi-core but remembering that 4 cores are A710 and that is only 10% stronger then the A78 and that 4 cores of the 8cx are weak *** and you get 3,5x improvement.

Lol the Cortex A1515 (remove 1s) are censored (you see ***) because 5s look like Ss and that would form a bad word haha

Qualcomm, Microsoft, Samsung and others are slow to the game -- I'd rather not have to wait for a Surface Pro with M1 Macbook Air performance -- but the future is bright. And it's not just ARM-based chips. Even lowly still-not-7nm Intel is promising. 12th Gen Intel could see really excellent battery life. The way I work is I use my Surface Pro for almost all productive tasks and an Android tablet for reading (because of the battery life). The way things are going, I could ditch the Android tablet one day -- which is what I've wanted to do for a long time.

Apple says, hold my beer! By 2023 they will be into at least 3rd gen M1. ARM and Intel really screwed up here.

So, Apple after 10 years of doing ARM chips makes the M1 finally for laptops. Surpasses Intel. But the reverse cannot be true, e.g. Intel, AMD, Samsung, or Qualcomm just have no chance now of offering a competing product in the next 2-3 years? Please explain.

Rumors of Apple M1X and M2 specs seems to indicate that it will lead in performace/efficiency over Amd, Intel and Qualcomm for at least the next 3/4 years. I repeat if rumors about Apple and its competitors plans over the next few years will prove right.

Another point: Apple financial resources are X times those of its competitors, it can maintain the lead in chip for PC for the foreseeable future, as it has been leading in chip for smartphone.

No, it won't happen. M2 chips will dramatically improve performance in tasks where arm is historically bad. Apple will not stop enhancing its offerings.

I think so too. Apple will keep the leadership and I expect the gap with its competitors will widen at least for next 3/4 years

The only reason why Apple was able to surpass their competitors was due to the exclusive contracting agreements they forced on their component suppliers while they either replicate or outright copied Intellectual property in terms of SoC designs. Also I would be surprised if Apple didn't have a major NDA contract *cough* gagging order *cough* on their SoC suppliers / designers.

These will make for great Chromebooks. Too bad Microsoft doesn't have the software or experiences to take advantage of ARM and doesn't seem to be dedicated to building them.

You must be joking right? The chromebook market is small and made mainly of super cheap devices, the big ARM CPUs like the 8cx aren't going to chromebooks or Android tablets for that mater. Chromebook is just a bad version of windows in the eyes of most people.

Chromebooks took a slightly larger slice of PC sales because of the ongoing pandemic - with low stock and low availability of windows based laptops. Schools had no choice to buy chromebooks to provide to students so that they can study at home. Many high street PC repair shops had their entire laptop stock (that were not ancient) reserved for the NHS in the UK during the early days of the pandemic...

ChromeOS is made for ARM. Powerful chips like SD 8cx2 and MT8195 are designed for Chromebooks, and wasted potential on Windows 10 and Android, which are both complete garbage for a 2-in-1 mobile OS until Microsoft and Google decides to think otherwise.

Cortex A 55 core update is a great news. Apart from big cires Apple A series chips enjoy powerful performance thanks small ice storm cores which are way superior than current arm A 55 cores while using almost same power consumption.

The direct comparison of Apple silicon to these is ridiculous. The M1 is a 20W TDP chip meant to be a direct replacement for all its Intel silicon. Even now it is undergoing pains with this because that means Apple has to kill support for Intel (too bad Mac Pro from last year) to build features for M1 (honestly, this is how Apple has always done it). The WoA route is not to replace Intel silicon but to produce an efficient productivity level machine. The chips have a TDP of 7W for chirst sake. They easy outperform budget Intel chips and on optimized apps do at least as good as i5 chips. Hell my SD850 equipped Lenovo C630 does better multitasking in running an online class than my SP7 (i5/8). I will be replacing my SP7 with an SPX and leaving the Intel in my gaming desktop with the dedicated graphic card.