Around SPE for 15 March, 2009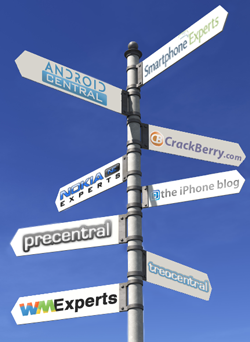 Welcome to Around SPE, where we highlight the big news of the week from around the network in a format that's more than just a list-o-bullets. This week we're putting the spotlight on Android Central, which saw a fairly hefty redesign on Wednesday night. Search, registration, commenting, navigation, the whole shootin' match is all much improved.
We're also proud to announce that Android Central made a donation to Olin College to help students there develop mobile applications (with a special focus on Android, naturally). You can find out more information about the class here, or better yet -- go check out the applications already in development this early in the semester!
In Android news, we caught word that Amazon was selling the Black G1 for a measly $97.99. Then it got even better with Costco offering the G1 for $79.99, a whole $100 off! Why the discounts? Recession? Pressure from the HTC Magic? Finally, the long awaited Cupcake update is supposed to come to Android by April. Paid apps came to the UK Android Market. And we wondered whether the T-Mobile G2 (aka HTC Magic) was going to show up at CTIA.
Now for the roundup of the week's news from our other SPE sites!
As we march through March, the BlackBerry world is yet again in a state of anticipation. On the app side of things, Facebook users are waiting for version 1.5 to be released, which thanks to a leak over the weekend many device owners running OS4.6 are already taking advantage of. RIM also promised that we'd see the rollout of BlackBerry App World this month, which should happen at CTIA in the weeks ahead. On the device front, CDMA users are getting stoked over the BlackBerry "Niagara" 9630, which must be getting closer to an official announcement as even more device photos have hit the net. And in the area of entertainment, Vodafone and McLaren got together with a couple of F1 & BlackBerry Storm fans to put out what has to be one of the sweetest pieces of corporate viral advertising to hit the interwebs in a while.
Nokia Experts
When Matthew Miller isn't busy appearing on the radio to talk about Nokia, he's keeping a close eye on Nokia's doings in the US. The latest: Nokia still doesn't seem to have worked out a solid strategy for a US invasion. Their big Comes With Music announcements and new music-centric phones all seem pointedly not bound for US release. Could US carriers be giving Nokia the brush-off because they're not interested in giving up any potential revenue to the Scandanavian giant? (signs point to yes). Regardless, the future Symbian roadmap should hold our interest even if US Carriers are yawning.
(Also: belated happy birthday and get well soon, Matt!)
This past week Palm pulled in enough cash to survive through the Pre launch amidst a PR mini-assault that included both a call in to Howard Stern and a yawner of a webinar. We did manage to glean some info from the presentation, however, including the details on Sprint's Palm Pre service planes and a look at a browser that appears to be 4 times faster than the iPhone's.
Oh, and did you see the Palm Pre appear on Jimmy Fallon?. We did and let us tell you, it was the perfect antidote for having to watch Palm backtrack on Roger McNamee's Palm Pre Hyperbole.. Hey, nobody's Prefect.
Previously on theiphoneblog.com: Apple's iPhone 3.0 Preview Event kicks off this Tuesday, March 17 at 1pm EDT/10am PDT. TiPb will be providing live meta-blog coverage, so be sure to check the front page and join us. Rumors include MMS, Tethering, also new SpringBoard (home screen app launcher), Cut and Paste, Push Notifications, and Compass functionality, and a Premium App Store for +$20 apps. Be sure to hit our iPhone Forums and let us know what you want to see in iPhone OS 3.0!
Meanwhile Apple updated us to iTunes 8.1 with iTunes DJ, and debuted a new iPod suffle. The App Store rejected Tweetie 3.1, a Twitter client, but then changed their minds. And Google shut down Infinite SMS.
TreoCentral and its sister site PreCentral.net reported that Palm announced they were exercising their right to remarket about 18.5 million common shares underlying 49% of the units of Series C preferred stock and warrants acquired by Elevation Partners in January 2009. Plus, the underwriters will have the right to purchase an additional 2.8 million common shares from Palm to cover over-allotments, if any. TreoCentral also talked about the 8K SEC filing (warning of lots of risks) Palm did to accompany their announcement. Dieter and Mike talked up lots of interesting Palm stuff in their latest PalmCast, Episode 61, including their eulogy to the PalmOS, chatting about Roger McNamee's hijinks, and the Sprint Treo Pro and Internet Explorer Mobile 6.
WMExperts
We ended the week at WMExperts with a full review of the all new consumer-level smartphone on AT&T, the dual-sliding Matrix Pro. The Matrix might not be the device for power-users, but it's an interesting form-factor (and solid upgrade) for consumers. Our real excitement, though, was the announcement that GrandCentral has returned as Google Voice.
Slightly bigger news for WinMo fans is that Microsoft has announced developer details surrounding Windows Marketplace and the details are good, but not jump-out-of-your-chair great. Check out our podcast for some analysis.
Get the Windows Central Newsletter
All the latest news, reviews, and guides for Windows and Xbox diehards.