Ask Nokia's Chris Weber any question you want on Twitter using the hashtag #AskNokia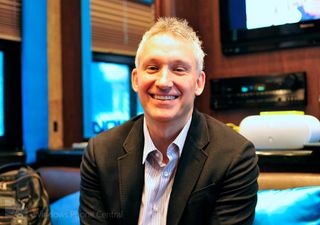 Today's a very busy day for Windows Phone users and developers all over the world. A host of exciting new features in Windows Phone 8.1 have been announced today by Microsoft at Build 2014. Nokia also announced two new phones – the Lumia 630/635 and the Lumia 930. Chris Weber, Nokia's executive vice president of global sales and marketing, is going on Twitter to answer your questions. Details below on how you can participate.
You can ask Chris Weber (@CWeberatNokia) anything you want about Lumia and more on Twitter. Just log on to Twitter and ask a question using the hashtag #AskNokia. You don't need to address Nokia USA (@NokiaUS) or Chris, just use the hashtag and he'll answer the questions.
Nokia and Chris will be answering the questions around 6:45 pm PST. Let us know what questions you ask Chris!
Source: Nokia USA
Get the Windows Central Newsletter
All the latest news, reviews, and guides for Windows and Xbox diehards.
Hey Chris.. When can we have "single tap to top of the page" feature on WP8.1??

Tweetin' right away :D
Why isn't anyone covering the WP8.1 lock screen?

EXACTLY THAT WAS REALLY COOL

is there anything new on the lock screen?

individual transitions look cool

yea i just looked at the build conference and it is really cool!

Will miracast come to the previous flagship Lumia devices (920, 820, 925, 1020 ) or is it exclusive to the newer lumias (icon, 930, 1520) with the Windows Phone 8.1 update?

Someone ask him if Lumia Icon will support glance!

Are they having a press event today? Its mentioned in some places but not listed on wpcentrals site, or any other big tech site. nokia doesnt even list it on their site.

Have you not read article Posted via the WPC App for Android!

The article states nothing about a press conference. Some news outlets stated for tonight at 8pm eastern but now there is no mention of one. This article only mentions twitter.

All the other like the phone announcements cyan firmware etc Posted via the WPC App for Android!

When will MS/Nokia do away the carrier exclusivity in US? Will AT&T ever support Qi wireless charging standard which MS supports?

Someone ask why they don't put micro SD slots in their high-end phones.

Cool, thanks. I doubt they'll answer though. :P

i think he is talking about the Lumia icon here.

I don't really think of it as a phone since it's so big, but yeah I'm referring to phones like the 920, 1020, Icon, and 930. Kind of silly not to have a card slot in phones that aren't exactly small and are expected to be used for lots of media.

bingo, flagship phone deserve flagship features... An SD Card slot is one of those features.

I never used up disk space on my 920. Oh well, I don't save pron there ...

Neither do others, its for the Games, Music and Photos and videos...

@BackToTheFuture So you have a SMARTPHONE that is basically a tiny computer on which you can install programs, and you have "never used up disk space on my 920..." So let's ignore the extreme example of porn, or even the more reasonable examples given by K Raghu, and ask why are you not installing programs. I can pretty much fill up 32 gb with programs and games, period. Not counting music I'd like to have stored locally. It sounds like your using a smartphone like it was a feature phone. If I have a toolbox, I am going to optimize my toolbox by filling it with the appropriate amount of tools. But what is a toolbox without tools?

Wow calm your tits buddy. I was joking of course. Regarding your question, I use a phone as a phone as in communication. I also store music, video, photos on it, and never run out of space. I simply delete or back up what I don't use to other storage. The phone is not meant to be a warehouse for crying out loud. Or I'm just busy working and living so I don't play with it that much.

That's a phablet, not a "high-end mobile". It doesn't count

That's exactly what I would ask. I mean, it's a top notch phone for cryin out loud!

just did as well... "Please, it's important to make something like the 930 BUT WITH AN SD CARD SLOT. The gnashing of teeth on the issue is deafening."

Dear Chris, when is GDR9 Purple Flurple expected to come out?

My question would be, "where the flip is the Sprint Nokia Windows Phone?!??!?!!!?"

I'm right there with you on that. Not in a rude way, but I think we should bombard them with carrier exclusive questions, and why the lack of love for Sprint?

Yep. I'm in total agreement.

That's exactly what I want an answer to! When can we get a Sprint Nokia Lumia Windows Phone?

I have a question for Sam Sabri.
Can you wake Cortana up from across the room, and get her to reply back❔... Supposedly the chips in some of our devices are capable of this, and I haven't seen whether that capability is there.

Can apps be installed in SD card in 8.1? Also where did the file explorer go?

Lol. I'm with you on that. All that fuss about WP getting parity with Android and iOS, and all those sdk leaks, and finally we hear nothing about the file explorer!

Is the Nokia Lumia 930 coming to Canada?

I'm gunna ask if lumia 520 has support for 3 tiles, as there have been videos in the past showing the answer to be yes... But videos can easily be faked....

yes it does. it gets all the 8.1 updates. here's a link to Nokia's article about 520. http://conversations.nokia.com/2014/04/02/best-selling-lumia-gets-better-with-windows-phone-8-1/

I think Belfiore told ALL devices, no mention to any screen size limitations.

In there here Daniel says iir 4.5 and up Posted via the WPC App for Android!

Serious question,, what about app to SD card option??!!

You're gunna be able to set it to download apps to your sd card in Storage Sense

Looks like the biggest challenge will be to have a high end Lumia with sd card besides the 1520.

The biggest challenge indeed, I can't believe the Lumia 930 didn't have that in it. Hopefully we get some kind of variant with a microSD card slot in it.

Yes, only the 1520 has it among the new high-end models. Last year only Ativ S had it so the upcoming Ativ SE will definitely have it too.

What plans does Nokia have for the U.S. market since there is no new Windows 8.1 Phone coming to AT&T or any other carrier?

I asked: @CWeberatNokia @nokia @NokiaUS #AskNokia #Lumia930 doesn't have Glance Screen on specifications :( Won't be available? And NOKIA said: Nokia USA ‏@NokiaUS · 48m @TiagoZapella Thanks for your question, we currently do not have information to share. Do stay posted for updates. :)

This was there answer to every question Posted via the WPC App for Android!

And ... what is that mean?

that means my thumb is currently well ensconced in an area that I cannot mention... it's typical horseshit language symptomatic of the tech companies failure to appropriately communicate with their customers.

Lol! That first line got me in splits! :D

Wait there is a press conference nokia tweeted this , http://t.co/YirFJrwwiw Looks like another phone might be announced soon.

This Q&A session was so lame. It wasn't even him giving the answers. It was the Nokia PR team, and they were half ass answers. Some questions they were totally skipping. My question never got answered.

6:45 pm Pacific time = 9:45 pm Eastern. Has not happened yet.

Is there a Lumia 1820 on the way?

Quick, everyone #AskNokia spam about Data Sense and AT&T.

He's not answering ANYTHING,WTF?

Yeah, like 5 questions and then nothing. Probably a tech issue or maybe too much entertainment.

#asknokia When Will you release a case for 920/1020 that has a built in battery? Something like camera grip but lighter. :)

will nokia launch an updated version of 720 ?? like 725 or 730