Will Microsoft use a Snapdragon processor in a Surface? #AskDanWindows Episode 34
By Daniel Rubino last updated
This week Dan answers questions about the status of iTunes for Windows Store, what is the future of Microsoft's Continuum (and what it really means), and whether we'll ever see a Surface device with a Qualcomm Snapdragon processor (Hint: Project Andromeda).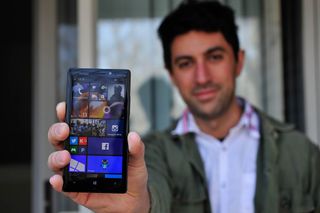 Tune in and find out!
Audience questions for Episode 34
Is iTunes still coming to the Windows Store - MaxLo
Now that Windows 10 Mobile is dead, what is the future of Continuum? - Prometheus2021
Will Microsoft releases Snapdragon-based surfaces devices?? - @ashmad1411
Thanks, everyone, for the questions! Make sure to use Twitter, email, or our forums to ask me your question for next week!
Email me!
Don't use Twitter? After much feedback, we are happy to announce you can forward your questions to AskDan@WindowsCentral.com to submit your requests!
AskDan Forums!
Hate using email? Join me on our #AskDan Forums at Windows Central! I'll occasionally jump in there to try and answer questions or take ideas for new episodes of our web series.
Ask Dan Forums at Windows Central
You can also find previous episodes of #AskDanWindows here on the main landing page.
Daniel Rubino is the Executive Editor of Windows Central, head reviewer, podcast co-host, and analyst. He has been covering Microsoft here since 2007, back when this site was called WMExperts (and later Windows Phone Central). His interests include Windows, Microsoft Surface, laptops, next-gen computing, and arguing with people on the internet.
Forget iTunes, what about bringing Office to the store for all users?

Oh, yes. Continuum is a great idea.

Especially the PC-Xbox-Continuum

Anxiously awaiting this thing called Andromeda. 👍

A Surface (not Pro) 2018 is all I'm asking for. Long battery life and powerful enough for 2D art. But more than 4GB RAM would be great.

Is it the screen size that makes you want an on-Pro, hte price, or something else? Newer CPUs are great at downclocking and sipping power, so if your concern is that Pro models eat too much battery, I wouldn't be worried about that (especially if you went with the m3 model).

I thin k the reason people preferred to buy the Surface 3 over the SP3 was the smaller size (around 10" screen) and low cost (under $600 CAD)

My desire for a non pro device is for field work. I want a device that is fairly small (although a pro device would still probably be fine). But it must have pen input, long battery life, and accurate GPS. No need for power, I am just using it to capture data from the field. And then legacy program support is an excellent bonus from windows products because we can use Excel Macros which we use for custom spreadsheets. Not necessarily required in the field, but it is a slight advantage for Windows.

Continuum became CShell, plain and simple. Yes, the courier/andromeda/speckled unicorn will carry a Surface name and a SD

If Windows 10 Mobile is "dead" why are there new apps coming out for it in the Microsoft Store? I've downloaded 3 new apps that were only added back in October.

For the same reason there are new phones coming out?

If it's NOT dead, why are there no meaningful hardware releases, OS updates, or big-name apps coming and some being discontinued or left without maintenance for years? The addition of apps as hobbies from diehard Microsoft fan developers isn't a sign of life on the platform.

New Apps?????!!! New Apps????!!!! I had to reset my Idol 4S, yet again and guess what. Guess!!! TubeGet for YouTube Premium, bought and paid for, is no longer in the store. Gone. New Apps?? I would settle for keeping the old ones. I lived through the demise of Symbian on my N8. I give up, I am not going to go through this again where app after app disappears from the store and everytime there is an "update" more apps stop working. Time to move on. I went and bought a new phone this afternoon. An android. I hope I can get something for this idol 4s that is not even 6 months old.

I did wonder about the Continuum thing, great episode Dan!

inb4 rodneyej comes to write his ridiculously stupid Surface "Scribe" lame name and thinks hes interesting

Apparently you better get used to that name.

I read comments and contribute occasionally just as anybody else, but I just got sick of seeing this bs under every article

So, you're saying the name is BS?

I've noticed that. He made that up, didn't he? He should stop trying to make it happen.

Me make it happen? Why would I waste my time doing that when MS already is?😍😍😍😍

It won't be called Scribe.

Yepers😃😃😃 Sounds like you love that name!

Make that 4 new apps. Ultra Player, Downloader for YouTube, Downloader for Instagram, Interop Tools preview. All great reviews in the Microsoft Store. Maybe someone at Windows Central can do a review?

The RBS banking app has just been updated with new features. Solid stuff from them.

at 2:40 this gaming mode is what i am asking microsoft for 2 years now hope they do it, it could reshape the desktop pc as a gaming machine for the large screen!!!

Do people use their continuum docks for anything else?

My daughter uses mine to plug her iPhone charger into.

Good to keep.around for future USBC enabled ARM devices.

A future set-up could be a "slow", always on ARM-based laptop with long battery-life. To get around the slow performance:
* a powerful "workstation" in the home,
* seamless connection from ARM-based laptop via "terminal window" to run the workstation and do computing intensive things,
* combination with a server setup in the home to handle storage, back-up, printer, media/entertainment, etc.
--
Such a system will only work with low-cost LTE/5G connectivity, robust network to the home, possibility to remotely control home workstation / server, and ease of use. Why bother with home-setup? Alternative: "cheap" access to cloud computing. Stream HD music. Buy/rent movies from Amazon etc.: it is much better that, e.g., Amazon stores a single copy of a movie instead of each home having to back-up their private downloads.
--
Still, I don't quite trust a 100.000000% up-time of connectivity with infinite transmission speed, so I prefer some local computing power+storage.

I think it would be interesting to see a Surface book with in the tablet a snapdragon for long battery life and in the base an Intel processor+graphic card for performance

I just got my new BLU WIN HD phone today...

The beard got Rubino lookin like a Bond villian...

How long before Microsoft abandons Discontinuum?

So how much does Microsoft pay you to keep saying windows mobile is dead?

I look forward to the bloopers at the end of every episode. Dan cusses in 9 out of 10 clips.

People need to realize Windows Phone is not dead, just the old "Windows 10 Mobile" operating system is being replaced.

If you are correct, it is the form factor what we are missing.
Windows Central Newsletter
Get the best of Windows Central in in your inbox, every day!
Thank you for signing up to Windows Central. You will receive a verification email shortly.
There was a problem. Please refresh the page and try again.