Can you make phone calls from an Always-Connected ARM-based PC? #AskDanWindows 43
Tune in to the latest AskDan video now!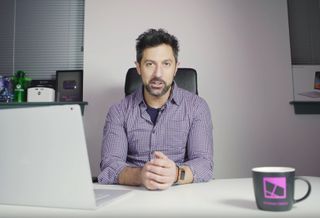 I'm back with another audience-driven episode of #AskDanWindows!
On this week's episode of #AskDanWindows I answer questions about PWAs, the status of "Andromeda," can you make phone calls from the HP Envy X2 and more!
Grab a coffee an tune in.
Audience questions for Episode 43
Am I right in thinking that Outlook.com is now also a PWA – do you foresee Microsoft replacing the Mail UWP app with this shortly? - Ed W.
What's the latest news regarding the "Andromeda" device? Should we hold off on buying a new phone? - Promethesus2021
Will it be possible to make a phone call from an always-connected pc such as the ARM-based HP Envy x2? - tzurp
Now that the OnePlus 5T is no longer available in the US, what Android phone would you recommend for a Lumia 950 XL user? Pixel 2 XL, wait for the new OnePlus 6, or another option? - David M.
Thanks to everyone for the questions!
Email me!
Don't use Twitter? After much feedback, we are happy to announce you can forward your questions to AskDan@WindowsCentral.com to submit your requests!
AskDan Forums!
Hate using email? Join me on our #AskDan Forums at Windows Central! I'll occasionally jump in there to try and answer questions or take ideas for new episodes of our web series.
Ask Dan Forums at Windows Central
You can also find previous episodes of #AskDanWindows here on the main landing page.
Windows Central Newsletter
Get the best of Windows Central in your inbox, every day!
Daniel Rubino is the Editor-in-chief of Windows Central, head reviewer, podcast co-host, and analyst. He has been covering Microsoft since 2007 when this site was called WMExperts (and later Windows Phone Central). His interests include Windows, laptops, next-gen computing, and for some reason, watches. Before all this tech stuff, he worked on a Ph.D. in linguistics, watched people sleep (for medical purposes!), and ran the projectors at movie theaters because it was fun.
If you look at pwa from twitter's app perspective everything will look nice and promising, but in reality it's always the opposite for Microsoft.

Because people expect thousand more apps to be same as twitter pwa.

Especially google maps it sks in UBER pwa and many more.

Hey Dan, I bought a surface Book 2 15 inch about 2 moths ago, I love the product but I seem to have some problems with it, Microsoft online support was hopeless , that's why I'm asking here for help, my problmes are:
File explorer and Most of the apps take at least 3 to 5 seconds to launch,
Snipping and changing windows sizes of all kind of apps is extremely laggy ( wines and uwp)
Chrome is supper laggy
The touch pad has some problems with gestures as well
And other parts of the windows shell is laggy as well.
What I have done so far is (and none of it helped )
I clean installed Windows and installed the latest surface drives ,
I have cleaned installed Windows and installed all the drives manually ,
I have moved to redstone 4.
Please help me...
Thank you...

Thanks for the info. One thing for sure a lot of Windows Smart phone fans want the Andromeda 2-screen PC Tablet device to come to the market place with built in 4G cell phone. If it does not some people might buy it because it will be a small Nifty PC tablet but Samsung and LG are coming out with nice Android 2 screen smart phones and these devices might outsell a Andromeda 2 screen PC tablet because they have a smart phone and a lot of popular Apps

"Mail is one of the best apps in the store", what a sad reality that is...

Mail is a super app and interface. Gmail is emulating its look.

It's a good app, why is that a sad reality?

When my beloved 950 took a header into the floor I was a cross roads as to where I would go and I really thought about my phone habits. A phone was for calls, messaging, pictures, multimedia, etc... but it was not for productivity (not to me). If I wanted heavy lifting I would pull out my SP or my desktop. So I just picked up an unlocked midrange Android for around $300 to use. If Andromeda ticks enough boxes when it comes out I won't be upset about trading up because I didn't spend a fortune on the cross-over device.

I can make phone calls on my dell computer right now using mobile connect VIA my iphone. No, not the same way of doing things as what the person asking the question was thinking but SLICK none the less. Works great, and if you have a headset either plugged in or connected via Bluetooth, you can keep the call off the speakers. The app is great. Just one other reason to go dell with your computers.

microsoft and its entire buggy and messy "ecosystem" are such hopelesss sh*t. Besides playing games on windows, thats usually a thing for kids there is absolutely no compelling reason to stick with Windows and Microsoft anymore. Not a single one really. Moving to Apple entirely finally

Yet the troll likes to hang around the Windows Central board?

Just love showing your ignorant soft parts don't ya.

Don't let the door hit you in the ass on the way out.

So the question was, 'would I make a call from a large Windows Tablet?' ... No.

No review of the WoA devices that are released? Are they that bad?

We don't have them, so no idea.

Do you plan on getting them? For a first in category device I would think you'd be all over that? No?

"and don't forget to subskibe"

Lack of fbombs is a detriment, agreed.

MS should definitely bring the calling feature to the LTE ACPCs.

Hey Dan! Just curious how much you think this new Andromeda device will be directed at artists. I would love to see the ability to use this as a secondary display for a graphic design rig to use for pen input/a drawing pad in photoshop/affinity photo running on a more capable device. Can you give us any hints as to if Microsoft is thinking Andromeda is something that digital artists could center in their work flow or do they think of it more as a journal to be used for basic sketching/scheduling/simple tasks to organize more major productivity?

FYI - Google is no longer manufacturing Pixel 2 devices. They are cleaning out inventory for the upcoming Pixel 3 devices.

Actually, yeah I would like to make occasional calls and texts from my huge 15" windows tablet. There's been many a time where I'm on the laptop, on a recliner, under a blanket, in front of the TV, and remember I need to call my brother or text my wife, and realize my phone is in the kitchen. I'd probably be pacified if on Skype I could both send and receive texts, as I can already make occasional calls using it. It would make Always Connected PC's just that much more enticing. That said, wish Dell's Mobile Connect app, as one user suggested, was part of the Windows OS itself. Bing'd it and it looks pretty cool.