#AskDanWindows Episode 10 – Will the new Lumia cameras fare well against the iPhone?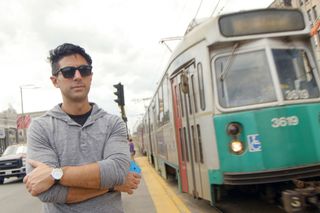 Before we head into berserker mode next week it's time for another episode of #AskDanWindows. See, we can be on schedule, sometimes.
This week I am fielding 10 more questions from you fine folks sent in over Twitter or email with many (not surprisingly) dealing with those new Lumias.
Let's get to it!
AskDanWindows Episode 10 Questions of the Week
Do you have any info or do u think Microsoft will release a Lumia 1020 successor? – Abhishek S.
When will you be receiving review versions of the Lumia 950/950XL? Will you be reviewing them before the official release? Jon L.
Do you think Microsoft will release more 'core games on the Windows 10 Store? – Tom F.
Is Microsoft following Windows Central or at least #AskDanWindows episodes? - Praha M.
Will those of us with the first Microsoft Band get a chance to trade in and upgrade for Band 2? - Samuel R
Are the other non-Lumia phones like the 8X/Samsung Ativ going to get Windows 10? - A. Andrei
If you are a Verizon customer with an 8X or an Icon, what would you do? - Ross
Does the Google Patent settlement help pave the way for Android apps on Windows phone quicker? – Larry K.
Will the Lumia 950/950xl have stylus pen support? – Terry M.
What do you think of the iPhone 6s and 6s Plus camera quality compared to the current Lumias? How do you think new Lumias will fare against the iPhone? – Manu T.
Thanks to everyone who submitted a question and as always, thanks for watching!
New email!
Don't use Twitter? Well after much feedback we are happy to announce you can forward your questions to AskDan@WindowsCentral.com to submit your requests!
About that office…
For those of you wondering about our office, we did our full office tour earlier this week. You can find that article here including our equipment listing or watch the video below!
Missed previous episodes? You may be surprised what I have revealed. You can find previous episodes of #AskDanWindows here on the main landing page.
Windows Central Newsletter
Get the best of Windows Central in in your inbox, every day!
Daniel Rubino is the Editor-in-chief of Windows Central, head reviewer, podcast co-host, and analyst. He has been covering Microsoft since 2007 when this site was called WMExperts (and later Windows Phone Central). His interests include Windows, laptops, next-gen computing, and for some reason, watches. Before all this tech stuff, he worked on a Ph.D. in linguistics, watched people sleep (for medical purposes!), and ran the projectors at movie theaters because it was fun.
Just been looking for this! Is there any way, or point, in Microsoft using Xbox as a Continuum dock?

Only for Miracast for the display which it already has or it's coming very soon.

Xbox currently has Miracast in its insider program which "should" allow you to dock your phone.
Though I have to point out that the Miracast in the Xbox One (based on my latest test) it incredibly terrible.
Even the average Microsoft Wireless Display Adapter looks like a bar of gold in comparison... In addition, Xbox One does have an HDMI in I believe (used for a TV receiver boxes). Didn't test it myself but I'm guessing that any device with an HDMI out should work with it (thus you can connect an existing Lumia dock to the Xbox, assuming the dock uses HDMI to connect to a screen).

Ok good, I was worried i was the only one who had a terrible experience with Xbox Miracast. Using it with my sp3 it freezes constantly, and disconnects. It seems to actually work better with my 1520 oddly enough.

With " Lumia camera app " yes, but it needs slow-motion and hyperlapse .

The iPhone camera had never been superior to the Lamias'. So, yes

This. Lumia camera is slow, iPhone is snappy. With children prancing around iPhone wins.

Yeah, they really have to nailed this down. The consistent complaints with Lumia cameras is how slow it is which is really crucial to real-world everyday shooting. 20MP is already great enough, it just needs some improvements and really snappy shoot performance. But yeah, also they don't have to forget to reimplement features that makes Lumia Camera and Lens App great.

The funny thing is in terms of speed my One M8 camera runs circles around previous iPhone 5 camera and earlier and Lumia cameras. Obviously the quality isn't on par but it's wild that they haven't been able to make the Lumia cameras faster.

Lumia 930 after the latest update is on par with the iPhone and the Samsung galaxy s6 in terms of speed and image quality... Not bad given this phone, which originally came out as the icon is over two years old!

I own a 930 and an S6. Please don't misinform people. The S6 camera is very fast compared to my Lumia running Tech Preview. Image quality might be the same though.

With children prancing around indoors in low light ..? iPhone fail...

http://allaboutwindowsphone.com/features/item/20233_camera_head_to_head_...

That is just plain untrue. I'm controlled tests, Lumias seem to hold their own, but in the real world, the iPhone takes better pictures more reliably than any other phone.

Not better than the 1020. Don't spread lies.

Especially than the 1020. The 1020 takes great pictures, but takes 10 seconds to do it. In the real world, you've frequently missed the shot. With the iPhone, you can grab a great shot almost instantly. Speed may be the most valuable attribute in a phone camera, and the 1020 is sorely lacking in that respect. ​ ​ ​ ​ ​ ​ ​

I agree, the iPhone has always had the most consistent quality when compared to its current competition. Its by far the easiest camera to just pull out and end up with the photo you want. I've owned most iPhones and most of the high end lumias, an m8, g3, siii, sii, and nexus 6. That being said, my 1020 and 1520 have produced the best photos I've ever seen from a cell phone.

Video recording pausing and continuing plzzz.... Its the basic feature and we don't have it

Fare well against the iphone? HELL NO! Even if they fully deserve to, people are so set in their ways when it comes to Apple it's amazing.

I've been critical of Microsoft cause I'ved been burned a few times with their products, but in the camera department, Lumia is #1

But camera was all Nokia. I hope they kept camera guys, whrn they bought mobile division.

They did. Same group, more or less, AFAIK. Their head of camera dev is in Redmond now.

The actual sensor was produced by a third party to which Nokia had exclusivity up until june of this year. You will see the sensors in the next crop of Android phones. The OIS and Zeiss lenses were Nokia. They need more than 1.9 s response time though. Xperia .1s ftw!

Uh... You aren't comparing similar things.

They did for the most part, although e.g. one of the key guys behind 808 and 1020 went to Apple, actually. May well have had something to do with Apple's Live Photos.. Posted via the Windows Central App for Android

They kept some of them, yes, namely Juha. Others left though. Partinen went to Apple and Damien went to Jaguar. At any rate, the hardware is provided by Zeiss and the technology belongs to Nokia and is being used under a license so they just really need Juha who has experience implementing Nokia's tech into the cameras and he can then help guide newbies. As long as Microsoft can keep the imaging licencing deal with Nokia, you shouldn't worry too much about camera quality.

Why iPhone? I heard Galaxy S6 has the best one beating iPhone. So, compare it to S6 instead of an Apple.

Dan, where do you get your hoodies from? I think they're awesome!

Thanks, that was from the Microsoft employee store in Redmond, though I think you can order it online too. The Sounders likely have it in their store too. It's very comfy!

Here's a link to their Merchandise Store...I get a lot of cool gear from here: https://microsoftmerchandise.com/Shop#/

I'll never quite understand the correlation between Windows fans and hairstylists in comments.

We just want to dress you up, or undress you like Barbie doll. Will WC be releasing an Ask Dan® Talking Dress Up Doll with Action Hair Styles?

Absolutely. It's coming soon™

Evleaks has said "yes" so........totally true

no need to take offence in that comment. rather take it as a complement just like Joe B does :)

It's been a long day today... I'm going to watch this video read some tech stuff and relax!

lets hope they do slow mo video at least... and that low light is at least as good as it was on 92x phones

Slo mo is pointless unless they increase the fps. Anyone know if the new cameras are boosted un this department?

Slow motion is built into the Windows Camera app on Windows 10 Mobile. My HTC One M8 for Windows has options of 1080P 120FPS in addition to 90FPS. Both modes crash the camera app. I think the software is detecting the Snapdragon 801 and trying to use the features that are for the Snapdragon 808 and 810. It's like the M8 is caught in the middle. Those recording options for slow mo and 90FPS do not show up on my 1520 so the Snapdragon 800 is detected properly. I hope Microsoft shows some amazing slow-motion videos with new Windows Camera features.

60fps would be enough for me, not that much for slow mo but I just try to avoid 30fps videos as much as possible nowadays

Agreed on the 92X low light comment, my 920 was an absolute beast for low light performance, I don't even understand where it got the light from, and it retained very little grain, that camera was amazing (in that regard, much better than my 1520).

Sadly, just having slow mo is not everything. It also needs quality. I hope Microsoft delivers! Also, a good Panorama would be nice.

Aren't these videos on Sundays?

Only the last one because the videographer was too busy with some phone launch.

Price is all that matters now. I know enough about this device that I'm ready to decide based on how much MS decides to ask.

Agree, it'll be interesting to see.

I'm going to posit $599 off-contract for the Lumia 950XL and $499 off-contract for the Lumia 950.

After the Google event, whose phones use the same SoCs as these bad boys + the intel sensor, I think you're estimate is accurate.

My guess is (at best) $549 and $649. And would not be surprised if higher at $599/$699, and of course hoping for $499/$599. Posted via the Windows Central App for Android

Well, price and availability. If the phones get limited carrier support (AT&T only in the U.S.) or only unlocked via the Microsoft store, I don't expect them to light the world on fire.

That's very true. Posted via the Windows Central App for Android

I Loooove the office setup. wish I had an extra room to do this. Also, what Camera are you all using??

Mark uses a Pansonic GH4 for these.

Good idea on the stand up desk... Sitting at a desk too much isn't good lol

I love my Lumix GH4 for video. Great choice.

iphone camera is far better as shown in reviews.. But same goes for 2 or may b 3 year old 930..so i think the camera is going to b dramatically better.

Wait... What? There are reviews of yet to be launched Lumia cameras?

Far better than what? Galaxy S6? Definitely not. The S6 has more MP, better low light performance, is faster and a lower aperture. Better than a Lumia 950 or 950 XL? No one knows but spec wises, Lumias win. Better than existing Lumias? In terms of actual IQ, even there I doubt the iPhone wins. If talking about performance/features, sure, it goes to the iPhone.

http://gizmodo.com/the-best-smartphone-camera-samsung-galaxy-s6-edition-...

I will never understand people that think that some article published by some guy is the ultimate truth against someone with a different opinion. Daniel has actually USED the cameras without being paid to do it. I'm pretty sure Samsung and Apple didn't ask him to kindly buy one of their devices and publish an opinion, let alone sent him one for review. So, maybe you should listen more to people who got the devices with no strings attached than to people whose paycheck comes from writting those things. I've not tried the camera of the 6S, but I have tried the iPhone 6 camera of a friend. I've also tried the S6 and the G4 alongside my own Z3 Compact. I can tell you that the only camera the iPhone 6 beat was the Z3C one and even there, only in daylight. The S6 was vastly superior and the G4 camera is even better than the S6 (it's basically the same camera actually, but LG added the full manual controls you're used to in Nokia/Lumia devices and that all other Android phones lack).

To me a camera is only valuable if you can actually capture the moment. When I had my Lumia 1020 I was always disappointed that the moment had passed before the camera was ready. Xperia .1s response or GTFO.

Yeah the Nokia 1020 is not ideal for quick captures. One of the reasons are the limitations WP placed on the hardware itself at the time. And then the 1020 was also not really designed with that sort of scenario in mind. It was designed, like a DSLR, with scenarios where you actually have time to set up the camera in mind.

Any Canon or Nikon dSLR is instantly ready for any shot you want, switch on time or shutter blackout has not been an issue for them for a long time. EVF/mirorless systems are something different. However the Lumia's are not the fastest phones for lock-on or taking shots but the quality is generally worth it. I'm the one that people usually come to get group shots at parties and what not when to comes to getting the images with a camera especially under low-light.

Well...those are only cameras. You must not forget that the 1020 was also a phone.

I have the mighty 1020, love it although it's slow. But at some point if you're really into photography, you just buy a real DLSR. Canon 5D Marklll, Lumix GH4 or Sony S7, real cameras, what professionals use. These after all are just phones with tiny lens cameras. Ever see 4k video shoot on an iphone6 compared to a Lumix GH4 or Blackmagic camera? The iPhone is complete shit. But technically it shoots 4k. At some point, it will matter and then people will spend some money on a real professional camera.

Yeah, absolutely. Although I also believe that there will come a point when DSLRs will be obsolete and mobile cameras will evolve to the point where they can do all that you now need the DSLR paraphernalia to do. It won't happen in a year or two but, at the pace mobile imaging is evolving, in 10 years time I wouldn't be surprised to see that happening. Which is why it's important to keep pushing the limits of mobile imaging.

Nobody will be making commercially available movies with a phone. Pushing the mobile envelope is one thing not knowing the difference between pro quality and consumer gadgetry is another.

I disagree, I think DSLR's will always have their place in a professional sense, it's like everyone said how laptops, and then tablets, were going to replace desktops. For your average consumer this is the case, but for people who really need a powerhouse for their profession they still don't cut it because, even though the smaller devices are constantly improving, so are the more high end devices.

I think you ment lumia were better, I guess??

I meant lumia cameras are better and will be better in future as well.

Would love a 1020 successor but I know it isn't happening any time soon. Still got my yellow 1020 with the backplate. Never getting rid of it. Posted via the Windows Central App for Android

Do you need to get rid of it? I use mine as a dedicated camera ;)

Just over 3 days to go! I've been wondering does the 950 / 950 XL support an ir blaster? So we can use them as remotes lol, yes.. I want a 3 tier cake and eat it :P.

Almost certainly not. Posted via the Windows Central App for Android

Well, you never know... a friend recently found that on his S5 and has been trying to wind me up with. Unfortunately some of the numpties in the whatsapp group have joined the band wagon. My answer is pretty much "and? could do this with a watch 14 years ago". But it is pretty handy when you've misplaced the remotes or have several for each device - TV, Set top box, HiFi system etc. As you can simply just use your phone instead.

Is it my impression..or most of the questions are now speculations rather than full facts... Just wait for the product launch to ask and compare...guessing is fun..but all the time is annoying...

Eh, true, but a lot of my "speculation" is rather informed. Look at what I've said so far regarding these new Lumias. Have I been wrong yet?

About this 14" Surface Pro 4. Will it just be a bigger version of the 12" or will it be more laptop like?

Well, you did say the 950 only had 2 rear flash LED's :P :P

i dont understand why anyone thought it was two? all the renders were showing 3 for some time but even with the renders people were saying it had 2?

If Microsoft executives including Satya Nadella read our comments at windows central then their presence in the comment section would matter a lot.

Can you imagine the agro? It would be a never ending stream of grief and questions they can't answer. Id be amazed if they don't stop by, but if I were them I wouldn't declare it.

Yes, keep it covert... lol as there is no saying what craziness some will respond with.

That's why I use this name ;)

Now we know it is you Gabe/Joe/Sat, can you let me know the release date for 950xl, Win 10 mobile?

iPhone 6s camera is worse compared to S6's on shot by shot comparisons (damn those names are confusing) :P The same goes for their video quality... Also the LG G4 is better than the iPhone on both scenarios (a close second after the GS6) The weirdest thing about the 6s is that when you record a video, the sound recording is mono.. I mean come on.. mono sound? What year is it, 1998? After 1 and a half years the 930/1520 audio recording is at the top and as you said, with the new hardware we will definetely have a winner here.. But again I'm most curious about the camera on this things, I hope they carry on the heritage of the older lumias/nokias!

Actually the G4 loses only into video section. I think the camera on both Lumias will be the best on the market (they don't have any other choice, camera must be the best), since both devices will have next-gen Pure View tech, and new algorithms.

I just hope that the 950 and 950xl keep or continue to improve on the existing microphone quality of the 1520. Its a really large component of why I love my 1520.

Well they do have HAAC microphones so they're at LEAST on par with 1520 and 930 and I'd think/hope they've improved on the technology

thanks Daniel for clearing about the camera...most of the tech sites were pretty much in awe of new iphones camera so i thought about asking if they are really that good.....bt yes new camera app needs to be fast really super fast as compared present one..wife's iphone5 takes faster photos than my lumia830 does..before today's acutal photos leaks i was inclined towards getting myself a 950 rather than 950XL (small hands issue :P) but nw definitely 950XL..the back reminds me of my old Sony Erricson W700i..and nw this rings looks beautiful..in black its looking...white will definitely make a kill shot at first sight :)...and hoping Micorosoft gets the price right and fits my budget...no need for them to have market beating price like iphone and galaxies and also they bring some easy payment options like Apple did, nt just in US but every market they are heading with these phones...strike before other can..Apple sold its iphone4s dirt cheap in India and people were crazy to get those old phones and helped Apple move the dead inventory..and increase inventory turn...hope MS takes the first pot shots and hit it right with marketing to get a foot hold..November is the right time this year big Diwali festival coming up....put some extra sweet deals and it will hit off.. :)

Do you think Microsoft should make mid range phones like LUMIA 750 with Snapdragon 6xx processor? What if the OEMs don't come up with good mid range Windows phones and again we will be left with only 5xx/6xx series?

Thanks Dan. Always enjoy getting answers to these questions as I often wonder them myself.

@Daniel What is your thought on MS keeping speaker phone on the rear side ( especially on flagship 950/XL), it does not make sense for Music lovers like me!

Music lovers should not listen to music on any phone's speaker.. ;) Posted via the Windows Central App for Android

I don't disagree with you but it matters too when you want to cover many consumers of diff kind! There are no too many OEMs :)

Well, not quite true. I listen to music on my PMS radio while making barbecue, so why not on my phone?

Yep!! MS must follow the consumers .. not asking them simply follow the mass!

Or baseball fans like me ;)

Since Nokia still own the Purview technology, it is more likely that the Lumia 1020 successor will be Nokia licenced Android device in 2017, when they are allowed to licence the Nokia brand and remaining technology to other Smartphone OEMs again.

If that's the case, I'll switch to Android. Of course I'd miss my Windows Mobile 10. But I won't replace my 1020 until something better comes along.

Nooo.. Availability in November? :( One more month of waiting? :(

Waiting for TH2 probably.

You should have expected at least two weeks after Oct. 6, W10M needs to be ready too and the phones' assembly needs to be finished, plus shipping. I assume the new build released next week will come preinstalled if there are no problems. The event is the best place to announce a possible RTM build as well, along the other devices

Great video Dan. The more I see them the more I'm beginning to like them.
Do you think we will get stereo speakers this time around?

None of the pictures indicate that. Posted via the Windows Central App for Android

Damn it Dan! Why'd you have to crush my dreams of a 1020 successor being available any time soon. How much longer do you reckon we might have to wait for one? Another year? Or might it depend on the sales of the 950/XL? Also do either the 950 or XL have physical navigation buttons? Cause in the image I only saw a software based one.

only screen buttons..frm whatever i saw on windows 10 mobile while using mouse and keyboard with bluetooth, you cannot use mouse with physical buttons..and that defeats the whole idea of continiuum

Can you clarify what you mean? Don't see why physical buttons would prevent Continuum. Posted via the Windows Central App for Android

while using the phone with a mouse your mouse will not come over onto physical back, home or search button..the mouse needs on screen buttons to work on phone

I very much doubt the mouse will cover the software based buttons either. It's likely going to be treated separately from the main window.

As far as 1020 or even a 1520 successor, it'll depend on the success of the 950 and 950XL. Microsoft will focus on these devices before doing more niche products.

But 950XL is a 1520 successor, just like 640XL was a 1320 successor

Yeah, that's what it sounds like which is why that's probably a reason I should support them. I just don't want the same to happen again where I bought the 920 while waiting for the 1020, but within a couple of weeks of me having it the rumours started and the 1020 was shortly released afterwards. And mo I couldn't justify buying another phone so soon afterwards.

it does works with software navigatio key..i have done it..i connected my 720 and 730 both with my lenovo thinkpad...worked fine...bt on 720 there was no way to use navigation keys by mouse..i should have made a video for that as since then the newer builds have come and phones have stopped getting connected to laptop... :(

But will it be better than the S6 edge or the V10. That V10 though....

I just noticed the countdown to new windows 10 phones timer on the home page.

If the cameras are as good and about as fast as s6, I am a happy camper. Posted via the Windows Central App for Android

Yeah, I've had to handle a few Android phones (specifically Samsung) and I have to say I was shocked by how fast the cameras are. It could just be that I've been using Windows 10 Mobile TP for so dang long that my expectations are dulled, but jee. Oh. I suppose using an 830 now over my 1520 or even my 920 could account for the difference. I know I didn't always feel this way. I take terrible pictures, always have. But it should be me, not my phone that is the reason my pictures are terrible.

Lumia cannot just match iPhone... They need to blow the sox off of Apple and Samsung...

The hardware often did. The problem is the software. WP simply isn't able to blow the socks off iOS let alone Android.

MS has the resources to kill iPhone but Nadella just does not have the will to do it... Maybe surface phone will start the process upward
...

They don't. If Microsoft could have solved the mobile problem by throwing money at it they would have done it already. The problem is that the market has already settled for 2 players and the developers settled for those two too. The Surface Phone may help in the business side of things, but not the commercial. Though in the business side Microsoft does have the advantage since the only real competition is Blackberry. However, with the Priv and BlackBerry going Android, it may prove to be now a thougher path than it was a year ago. Microsoft, again, fell behind. And I don't blame Nadella for it. He's just trying to make Microsoft a stronger company and curb the losses of Ballmer's terrible management. The mobile game is lost for Microsoft, but that doesn't mean they can't profit from the winners.

Dan my LA Galaxy are gonna put the whoop down on your Sounders this weekend!

As always thanks for sharing your insight Daniel. Just 4 more days until all hell breaks loose on these forums. Some people will rejoice others will be poopy-butts.

Great stuff, very informative as usual. Looking forward to being at the MS Event on Tuesday night.

Great stuff... Thank you!

Thanks Dan. Do you think there will be any major surprises in the software to be showcased in the Lumia 950 and 950 XL insiders haven't seen?

Since there was no build this week I assume it was kept for the event week. Depending on how that goes, we might see a RTM very soon. About the Google apps, Google itself shouldn't care about which platform they are on since they only want to give you ads. They can do that with their apps. Google itself doesn't make phones but I guess that due to the OS not being theirs they can't sell ads that easy compared to their users. About the stylus pen support, with Panay being in charge with the phones as well now, you'd think he would ask for stylus support built into W10M. If someone has a Surface tablet with W10, the stylus should work perfectly for the 950XL as well

Lumia's camera is better than the iphone....but have u heard about the LG V10?

#BerserkerMode ... Finally.

"Niche" rhymes with "quiche" not "kitsch" :P

MS need to do a deal with Canon or Nikon and release an app under thier name.

Anyone know what wallpaper Dan has on his displays? That is one fine and simple lookin' green background!

Snapchat snapchat snapchat

So where is your Seattle Mist pull over hoodie? Come on I KNOW you are a fan right?

I'm a happy user of a 1520 for the last few years. What should we expect Microsoft to put that'll be the successor to this fabulous phone that does everything except Windows Hello? Also does anyone know if the if the Microsoft Band 2 will land in Toronto? Thanks in advance

I sure hope that pen can be used like a stylus.

Daniel Rubino, are you one of the owners of the Windows Central forums? If so, could you discipline the moderator named fatclue_98? He/Shee seems to be power tripping deleting posts that question his/her comment. If you have a concern with my wording, simply edit out the word, not delete my entire post questioning your claims...that's just abuse of power. Now that I said that to him/her, he went and banned me...such arrogant fellow shouldn't be in power.
Windows Central Newsletter
Thank you for signing up to Windows Central. You will receive a verification email shortly.
There was a problem. Please refresh the page and try again.