Asphalt 7: Heat updated, reduces file size, now plays on 512MB devices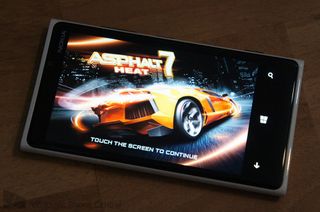 Graphically Asphalt 7: Heat is by far one of the most impressive games on Windows Phone. Gameplay is fun, visuals stunning, and the choice in cars should keep most gear heads happy. One big complaint about the game though is the amount of space it takes up in storage.
The game was 878M but required 4.7GB of free space. Ouch for users with limited storage – like the 8GB version of the HTC 8X. An update today knocks some of that space down.
If you update Asphalt 7: Heat you'll see that the install went down from 878MB to 512MB. No word on how much extra space it takes up. But it's better than nothing. In addition, devices like the Lumia 620 or 520 with a more limited 512MB of RAM can now download the app and play along...huzzah!
Playing around in the game we didn't spot any other additions or differences. Your battery will still need to carry around a whistle for protection.
You can get Asphalt 7: Heat for $0.99 (free trial) for Windows Phone 8 devices right here in the Store, use the QR code below, or swipe to the right in our app.
Thanks for the tip @littledictator
That is cool for everyone with devices that were previously not supported!

Nice to see continued support!

It wouldn't be so bad if there were a way for us to access and manage the save game data so we could uninstall and reinstall games without losing everything.

I agree that we need this but I think what you're looking for is the "update" button.

Really, no. It is space management. This would be practically the only "app" you could have installed with the small memory availability of some WP8 devices.
For big apps like this, and memory management reasons, I would love the ability to swap games in and out without losing save game data.

+1 that would be a neat feature!

I bought a Lumia 820, I do feel the same...

Be happy with what you got, if you can design better, pls do

Moron.
He is a paying customer and can demand such a basic feature from both game devs and Ms(if it happens to be os limitation)

+1
The back up feature would be ideal and it is up to devs to implement. Look at Dragon's Blade X for example which backs up your saved data and that's an indie developed project. From an MS prospective, they should allow Xbox branded games to tap into the cloud storage feature that the 360 uses, only makes sense as the live account syncs achievements on all 3 platforms.

As far as i am aware, cloud backup for games is available, but very few games use it. Somebody important might prove me wrong on this, but i'm sure i read it at some point on this site. Would be great to make cloud game saves mandatory.
Plus i don't think ios or android can do it, so thats also a nice bonus

I never heard anything about a unified cloud storage option on the windows phone provided like it is for the Xbox 360. Some individual games do attempt to use their own servers for cloud storage of your saves. This ends up being a crash and burn in most cases. In this sense of cloud storage, both ios and android are already doing this as well, as it is up to the developers to include the option for now.

With Galaxy on fire 2 on iOS, this feature was debuted with the iOS where iCloud was a HUGE thing with their new iPhone, I strongly feel that was iPhone 4

They just need to add the ability to backup to cloud.

Hopefully all of the other newly released games and apps will be optimized too. With Nokia pushing for inexpensive phones, standard specs of minimum is needed so people won't feel gipped for the phone they purchase. Love my 920, though :)

How come the game remains the same when installation is so much smaller? Compression? Would it effect performance or quality? Any word?

The thing is with programming, you can always find a way to make the code more optimized and less cluttered, hence less bits for each correction you do. Since these programs are often tricky, once they optimize it, it tends to reduce the size greatly, yet with still the same performance. Software engineers have gotten far :P haha

The installation size would have much less to do with the actual workings of the game (what people think of when they hear "code") and more to do with the (graphical) assets.

Oh. I installed it before and it takes 1.7GB internal storage. How about this version?

I have a Lumia 620 and I was excited that this game now works with 512MB RAM devices, but the store is not working gives me the c101a006 error WHY? MS WHY??

I'm getting the same error, trying to install it on my 620!

That's a store problem, not a game problem. You are not the only one

An Xbox Live update!!! Woahhhh. Nice to see more eligible players on A7

I think he means that because 512mb devices are now eligible that it increases the potential players in mp?

Sevendeadlysins - yeah that's what I meant.

Because now people with 512 MB RAM devices like the HTC 8S and Lumia 620 can play.

If this game can be optimized for 512 MB devices, then games like Temple Run can be optimized too. No, it's not Microsoft's fault. Point your blame finger to Imangi Studios, let's see what they say.

Thing is, they JUST ported it. Give them a little time that's a little unfair...

No, I understand they need time to optimize it. What's really unfair is all this blame heading towards Microsoft for every single little thing.

FINNALY SOMEONE WHO REALIZES THAT ITS NOT MICROSOFTS FAULT! lol

Don't worry, they'll find another thing to blame Microsoft all the ways, sooner or later.

Now fix the horrid frame rate on Spiderman and batman and ill be a happy camper.

It would be great if anyone with lumia 620 or htc 8s could make a video about how the graphics are on those devices.

This is great news. Hopefully the rest of Gameloft's games are further optimized for 512 MB phones. With that said, im irritated I can't play Ms. Splosion Man or Chaos Rings....

im still bitter about chaos rings. paul any word on that game coming to wp8?

They removed the road reflections (from sunlight and moonlight), presumably so that it will be playable on the slower devices. Wish they'd at least kept the effect on the higher memory devices.

I just played a couple of games. Yea they did do that. the frame rate seems a lot smoother though.

Great, now it crashes at the title screen on my 920.

Edit: A reinstall fixed it... but of course that meant i lost all my progress. And of course I still can't get past the overzealous username filter to be able to actually play multiplayer without creating a new account, because apparently the 'HOF' part of my username is somehow a swear that can't be in an online gaming username (despite the fact my Gameloft account already exists, and logs in for the "Gameloft Live" section of the game).

Hey same happened to me contacted gameloft and asked me to give them a new username i would like and its all back up and running for me couldn't have 3zs in my username

Thanks, I might have to try that, but last time I contacted Gameloft about the issue, they told me "We're looking into it" and nothing else, which of course was completely unhelpful.

same thing here, it was fun while it lasted, supposed ill reinstall it down the road but starting over will suck

Can the world stop saying 'huzzah' please. You sound like children. Thanks.

The world kindly disagrees. You sound like a grouch. Huzzah!

Ironic your comment sounds childish too :)

The question is does it run smooth on 512MB ram?

Do you have a 512mb device? Use trial mode to test it.

It runs great on my 620, looks like the same frame rates as I get on my 920. I might be just imagining things, but frame rates looks slightly better on my 810 than the other two.

How about on your 520,720 and 820?

810 has the same GPU and RAM as 920 but less resolution to push, so it should be smoother.

The 810/820 are the more powerfull devices, they have same hardware as the 920 but they only need to power 800x480 instead of 1280x768. That is the reason why it runs smoother if i could guess.

Disappointed. Graphics are definitely lowered. For some reason that killed my desire to play it. Was playing it quite often before I updated too.

Are you kidding...? The lowering of the graphics makes the game playable (now that it has been optimized for the Adreno 225 limitations), making the game FINALLY run at 30 fps. Prior to this update, I hardly played the game due to the low framerate. This is huge, as it shows Gameloft recognizes the limitations of our hardware, and will most likely do the same for other games to run smooth...
Say what you want about it, but facts are facts: we have a GPU that's isn't exactly that great. Its not TERRIBLE, but Microsoft should've definitely gone with the 320. The 225 should be fine for a while until people can upgrade to newer devices released down the line, but it will require this type of stuff to happen for games to run smoothly...




Ran perfectly fine on my 920. Runs better now, I give it that.

It now runs better than perfect?

How much space in total does it take on my 620?

A shit ton. In our review Paul said 800MB + ~1.8 GB. On Twitter the Windows Phone Support account said you need about 4GB to install it :(

How much space you need to install? Says not enough space

Does it still cook your hand. I stopped playing after I felt a burning sensation on my fingers. I hope this gets a bit better.

Downloaded the update, lost all my progress. Sigh. At least now I can delete it.

Going by Nokia Storage Check, the update now uses 719MB after install. I can't remember what it was before but I know it was well over a gig.

Mine shows 1.3GB pre update

let it be Available to W7 phones that has 512MB like Lumia 800 and 900.

Now this game runs on 512 MB ram so let these games be available for Wp7 devices Such as Lumia 800 & Lumia 900.

WP7 Snapdragon S2' GPU can't handle these games.

8gb version of the 8x? Didn't know that that existed...

Yup. Cheaper and often is what MS uses as promotion devices too. Like smoked by windows

I don't know if it's just me, but the frame rate seems WAYYY smoother after the update.
I'm a frame-rate junkie and I almost un-installed Asphalt 7 because it got choppy, but I tried it again on my HTC 8x after the update and it seems smooth as a baby's bottom.
Can anyone else try and confirm?

Yes, that was my impression too. I own the 8X and I just fired up the game after the update just out of curiosity and I was impressed because the race was visible smoother, but that didn't helped me finish the time race lol. Anyway great improvement; I'm happy to see that.
Unfortunately I don't know if it because my location in Europe but I can't seem to have any online races, I only had one when I purchased the game and that was it.
Why people don't play online?

Imo it is just as smooth but a little nit less detailed. The cars have less reflections as before...

LOL the app kept giving me an error :(

Damn why did i see this post after leaving my home WiFi zone? Now i have to wait all day. Do the graphics looks poor now? Would be disappointing get a visual downgrade, but appreciate the optimisation as it freezes when playing personal music in the background.

The graphics definitely took a small hit, but the game play has improved as a result of the much better frame rate and I feel like it's a pretty fair trade off.

WP apps developers forget about WP 7.8 support

Went from 1.6gb free space to 2.65gb free space after update. Pretty happy about that :)! Other section is still well over 4gb :(. Hopefully HTC will update their phones soon!

I love to see nova 3 and mc4on Nokia Lumia 620.Through they should plot the classics ones like nova 2 ,mc2/3 and 9mm

can Anyone tell me when Temple run available for 512mb ram

Lol... that word "soon" will be the curse-word of the Windows phone platform in 2013. :D

In other news: Doodle Jump pulled of he Marketplace.
I deleted it to make room for Asphalt, which of course still failed to install, and now I can't reinstall Doodle Jump because it's "no longer published".



Get the Doodle jump XAP file from the internet and sideload it whenever you want.

Couldnt find it in store with htc 8s, and it says not supported when try to install it from sdcard... :/

The game definitely runs much smoother, but it also looks like crap. It seems they applied heavier compression to all graphics so there are a lot of visual artifacts. There's something off with in-game textures, like they're lower resolution. I haven't played enough to see if they've disabled reflections as they had on Android. Basically it does look more like the Android version, which had left me unimpressed.
As far as I'm concerned it's not an improvement; I thought framerate was decent to begin with. I would have at least prefered an option. Why can't they offer a quality slider like you get with PC games?

Okay, having played a few rounds I have to go back on some of my criticisms. I still think textures seem slightly lower res. It also seems there's less ansiotropic filtering than before, so the road lines blur out a lot closer to the foreground than before. On the other hand, it appears there have been some updates. Everything looks more vibrant and brighter and there's more detailing on buildings. There's a bunch of stuff like grafitti and signs I don't remember seeing before. Now when you take shortcuts you can actually see where the road goes. Car reflections are still there and unlike the Android version textures are still present on buildings in the distance. I've got to say, the consistently smooth framerate is nice. The game seems easier, I don't know if AI has been adjusted or the framerate improvements. Without question, UI items look a lot worse, but the game is down to 900MB from 1.6GB. One of the reasons I uninstalled Asphalt 6 off the iPad was because I was running out of storage and this was the biggest app by far. That said, I still would like a quality slider.

Now game is crashing at title screen on my 920 :/... Wat 2do nw?

Restarting the phone helped :)

Awesome going to try it on my 620!!!!

Sorry but i think that those complaining about a drop in graphics detail are experiencing the placebo effect. Looking for something worse because of the drop in file size. I don't see it, sorry :-)

As much as I would like to attribute it to a placebo effect, I just did a race in Paris and that course really looks like crap. To be fair, other race courses seem to have suffered less. I just wish they had included a quality slider in the settings menu, as was mentioned before.

I haven't seen Paris yet.

I was playing in Paris before the upgrade and after it I thought for a moment something went really wrong as instead of the sky there was a plain white color, the brightness was up 100% and everything looked like crap. This track is really the worst of them all now and I wish I could downgrade to the previous version. Also the textures are definitely in lower resolution, especially on buildings from close distance. I'd rather have lower framerate and superb graphics quality than a game that looks like crap. I hope Gameloft will fix that in future versions or they could simply publish two games - one for lower spec devices and the second one "HD" for the high end.

Could someone show the before and after. I'm scared they lowered the graphics too much and right now on my 920 it runs really nice no problems whatsoever with frame rate. So far I think I'll pass on this update.

Try playing while playing your music. You think it runs smooth until you try the update.

I have 1.2GB left on my lumia 620,whenever I try to download this game,it says not enough space! 2.8GB of internal memory is occupied by "other" storage

It needs more space to install. Try removing stuff then installing from the web marketplace to bypass additional storage space checks.

Thanks I installed it via PC,it takes 870mb after installation,works very smooth on 620

I'm STILL getting the back button bug, PLUS the game CRASHING upon Main Menu access. Oh, right, Gameloft.

No issues here on 8x. What phone you have?

I still can not install it on my HTC 8S.It`s listed under unsupported applications.Any idea why?

Lumia 620 User.(WP8)
I have some problem.
I Manually Downloaded the APK file of ASPHALT 7 HEAT. (Trial) from official Market site.
I have 3.06 GB free in Phone and 3.19 GB free in SD Card.
Copied the APK file in SD card, Put it in L620, Rebooted it.
Store > SD > Asphalt 7 Heat >
Now as there is no "downloading" to be done its just Installing where after (~roughly) 25% of installing it throws an error "Attention required. Tap here".
No matter what i do this doesnt seems to let me install it fully.
Wifi always on, No battery Saver, Find My phone ON (but shows off in little fonts, but its on i think.)
Anything more !?
I planned to check out the trial version of Heat and Buy it afterwards, but this is really not cool.

Same problem for my Lumia 720

hi please tell me how to get Asphalt 7 heat because its not listed in the store & when I download it from external source it ain't sowing up in the sd card section of my phone please do tell me how to get the game

Suddenly it has now started saying "Your phone doesn't meet the minimum requirements needed to run this app." Why?
Windows Central Newsletter
Get the best of Windows Central in in your inbox, every day!
Thank you for signing up to Windows Central. You will receive a verification email shortly.
There was a problem. Please refresh the page and try again.