Asphalt 8: Airborne adds more cars and new location in latest update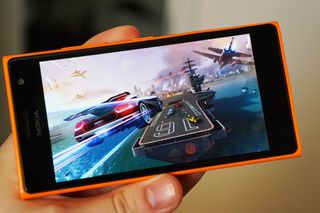 Gameloft's popular arcade racing game Asphalt 8: Airborne got a new update this week for both Windows Phone and Windows 8.1, adding a new location and more cars along with other content.
Here is the change log for the new update:
Discover the high-speed heat of San Diego Harbor. Take off from an aircraft carrier and dodge helicopters while taking in the sights!
5 new cars to master: The Koenigsegg One: 1, Mazda Furai, Maserati MC12, Savage Rivale GTR and Peugeot Onyx. Look for each one coming out over the weeks to come!
Multiplayer Events: Race head-to-head for the ultimate rewards!
4 new car collections. Time to stock your garage and get your rewards!
What do you think of this latest update to the game? Thanks to the many folks who tipped us!
Windows Central Newsletter
Get the best of Windows Central in your inbox, every day!
Is it possible that they do an update to reduce the big space it takes?

After the Update the Game takes less space on your Windows Phone.

Btw the update is of 1 gb or something less ???

Have to download 970 mb again. This is ridiculous!! They update this game frequently and it means Every time you have to download 1 gb. It is inconvenient for limited data plan users. Though its good they update it.

Since the Download Limit over Data Lines is 100MB i doubt that it will affect any limited data plan user .. except of that he cant download it without the wifi

Well I installed it from pc, now ihave to do it again.

970 Mb b4:installation after installing and decompression it goes up to over 2gb check storage sense

They did it. The size of the game had defeated from 1.70 to 1.24 gb

Biggest issue I am seeing is that it will not let users update it even with 2 GB of free space. Should not have to delete so much other stuff in order to update an app.

Should be good this game is one of my favs

Yay new location :D.
On a side note, we actually have cross platform saving through Facebook connection right? I.e. I have an iPad and this Lumia, when I connect asphalt 8 in both devices to my FB account, I can cross platform save right?

Doesn't work bro, not cross platform

It is not a cross platform game. You can sync your progress only on Windows Devices i.e Between WindowsPhone 8/8.1 and Windows 8/8.1/10.

I just replaced my old phone with a new one and I lost all my game progress which was about 85% game completed. Anyone knows how could I restore my data?

Data gets saved when you get connected to internet, i think you should have played it offline, so it was not saved i think.

Well no, I'm sure I played it online. I also lost all progress on Minion Rush game.

When you install again, it ll ask you for store cloud data or local data. Store cloud data. Work great for me

Yes, but on my old phone. I don't get that on new one. It just starts from beginning.

You have to sign in to your same account, usually a Facebook account and then it will ask you if you want to synce your cloud data. Without signing in, it sees you as a new player with only your locally stored game, as in, starting over.

If you have connected it with your FB account you can mail Gameloft customer care about it.They will help you to get your data back.

Just connect n sync ur fb account.

Which season is there san diego maps ?

Season 3 is the first with "San Diego Hafen" I think.

I don't think thats a real game playing on Lumia 730....Windows Os need some graphics just like iphone...Asphalt 8 on iphone has metal graphics which looks awesome.smh :3

Bruhhhh....I got a 520 and I play that game on it and you're saying that the 730 can't play it???? PLEASE!! SMH

I m saying about the graphics...they just need to alter the graphics on Windows Os i know gpu plays a important role in graphics ;)

I thought you meant that it couldn't play it at all

Maaaan I had just updated the game few days ago....and now another one!!

Already updated.. My fav game..

That orange 730 is looking awesome!!!!

I can't download the update it gives me a error and tells me to update my phone. I have Lumia cyan with 4gb of free space so it should work.

Darn it.. I just downloaded the game yesterday before the update came and now I have to download update again grrr

Your words do not match the reality of Asphalt 8.

We need something like forza horizon!
Maybe a GT racing 2 and asphalt 8 crossover!

Did you mean RR3 from EA ?

No. Forza Horizon is more of an open world game. RR3 is a prettier/better version of GTR2. Noob Saibot 2011 would like to see a game like Forza Horizon for mobile, open world, beautiful graphics and adrenaline fueled racing.

Will redownload to my 1020 once it returns from repairs.

They should give the update which is required.. Like what changes they have made.. Which would be our should be >300mb.
As its very painful to download 1GB update every time they throw it.

Oh, theres 1 Nissan car now, maybe I will gige it a try again.

How much free storage do you need to download the update

I cannot install the update with 2.21 GB free, so I would love to know the magic number as well. Should not have to transfer all sorts of photos or videos in order to do a simple update.

Downloaded and installed it easily on my 520 with 3.8GB free space

I noticed that when you're watching the car in the store, it turns faster

I can't even install it! Lumia 920 Dev. Preview.

Why i didn't get any discount for each car like android version? And did i missed any update which, if i hit wall or stone my screen will broken too? I don't have it. Whyyy??

There was a couple of discounts in past weeks, as well as virtual money. I am not sure how often it happens on Android phone. I just have to check-in game every day.

Please help me!! In the store it says that I've already installed it, but I don't have the game, so I can't install or even erase it, it occurred after this update. What can I do??

Best racing game for windows phone. I updated this game 3days ago and now again a new big update is here. Everything is ok but update size should be less for each new update.

Do u get any discount for car?

Stop updating the game fuckin everyday... I download the xap from our college lab and it becomes useless after some time ... We have to update the whole game.....

Love this game! My favorite game in years

Seems like graphics are degraded a bit from the last update on 512mb ram devices. But anyway great update looking forward to the koenigsegg one

need help,after downloading a xap file ive installed asphalt 8,but after installing do ive to dwnload smthng more??