Asphalt 8: Airborne, HERE Maps and 6tag for Windows Phone receive minor updates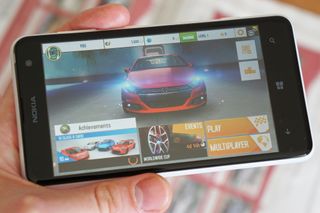 Three popular apps in the Windows Phone Store have each received small updates. Gameloft's free-to-play racing game Asphalt 8: Airborne has a new version to download, as does HERE Maps and the third-party Instagram app 6tag.
Asphalt 8: Airborne's new version number is 2.0.2.2 and it only lists "Minor bug fixes" in its change log. The most recent content update for the racing game was in August, which added some new cars, decals, and over 1,500 new challenges in the Car Mastery feature.
Download Asphalt 8: Airborne on the Windows Phone Store (Free)
HERE Maps got updated with the version number 3.9.160.1, but the mapping app, which Nokia recently sold to a German auto group, only lists "Bug fixes and stability improvements" in their newest change log.
Download HERE Maps from the Windows Phone Store (Free)
Developer Rudy Huyn has been busy adding new features to 6tag recently, but this latest update, which has the version number 5.7.1.1, has no change log at all. It's safe to assume this is a bug fix update.
Download 6tag on the Windows Phone Store (Free)
Thanks to everyone for the tips!
Get the Windows Central Newsletter
All the latest news, reviews, and guides for Windows and Xbox diehards.
Here Drive + got an update also...

Also updated were HERE Transit and HERE City Lens

It's good to see updates for Drive+

and here city lens HERE maps seems faster to me :)

Besides being faster, I don't see anything, here.com provides much accurate and updated stuff. Also their aerial photography sucks, the place where I am located is covered with clouds and I thought this would be updated in months but it's been years since they have updated it. But its usability makes want to keep using it else would have moved on to Bing maps.

I cant see the scribble in 6tag while playing a video. Reported that but isn't fixed yet.

Do the here things work with windows 10 Mobile now and can we actually look for HERE in the store and find the app?

Yes.... You can.... :) And it works.... :)

Well my "here" and "HERE" search just gives me 200 unrelated apps in UK Store. Great Stuff!

Same HERE, LOL. Had to. Seriously, no Nokia stuff shows after a search on Win 10 Beta.

Downloading new updates while I type . Seems to be installing.
Got 3 updates - Maps, Driving and Transit - all seem faster, may just be me though. Working on Lumia 635 build 10512.

I'm on the latest windows 10 build 10512 and searching for Here apps doesn't give any results. Clicking on the download link opens up the app in the store with a message saying that the app is unavailable... That's on my Lumia 930 and 925. The install button is greyed out.

any news about window 10 mobile next build ... just wait wait n wait ?? anyone know the answer or admin plzz reply

I'll answer you politely: shut the F* up ;)

Gabe said he's on holiday

When is quizup getting an update, cant even search for opponents now, leave accepting challenges nd send them! Pathetic app , crashes , freezes everytime... Very disappointed...

Why don't you email the developers and ask them?

Comeon gameloft you cant just make an minor update for asphalt 8. You must be kidding.

They should move over to appx. That can allow for delta updates instead of downloading the whole 868MB XAP all over again.

I uninstalled for that reason..its a pain. They really should

Appx! Must be there for every app. It resolves various resuming issues too.

Probably fixes the infinite falling glitch in A8

Does anyone no why on certain sites you can download a app and it takes you to play store?

The browser will use an Android user agent so that the website thinks you're using an Android phone and provides a mobile friendly page

1 GB download again for only bug fix. No.

"Downloaded Asphalt 8....10 days ago....now again update
It means....1Gb....5 hours download....no way.......देखेंगे....सोचेंगे फिर update करेंगे."

Be happy bcoz its not windows 8.0 wheere we had to delete the game and update again due to inability to install apps on SD card specially low end lumias. I still njoy playing asphalt 7 on my 512mb device.

Bro same here, do you also use bsnl dataone unlimited with speed of 512kbps, :|

Yupp.....but its good....starting 8Gb 1mbps...and then 512kbps.....

I will definitely update lol. Just update at night and sleep ;)

They can do us all a favor by moving to the universal app format.

5 hours? I did just +/- 30 minutes by internet sharing

How about a modern combat update that allows multiplayer over 4g... For the love of god

Or to make the game actually playable on even Wifi multiplayer. After the recent 2 updates I can't even play the game anymore, barely on campaign mode with all the lag (and I have a Lumia Icon).

Yeah true. I even installed it on my laptop but the game play was horrible... It needs to be fixed

Same story.....pc/laptop version was worse than phone....

today at 7 am,,i installed this ,,and now its update available,,,huhhhhhhhhhhhhhh 1.5 gb again

A new mobile app in the philippines. BPI.

Deleted that piece of sh!t A8

Instead of updating the same game, now the time is up for new asphalt... I.e. Asphalt 9: Beyond

Bloody useless Drive+ still freezes despite the upgrade. I've given up on it. It was better on Symbian on my N8!!!!

So does "minor update" mean you don't have to download 1GB+ for Asphalt 8?
Why did Microsoft drop incremental updates, one of the magnificent advantages of Windows Phone 7?

This makes me to hate asphalt 8...

Oh god! Asphalt? Once again.... Nooo

Will this update redownload the 800MB+ .xap file or just a small increment?