Asphalt 8: Airborne updated with new cars, decals and new mastery challenges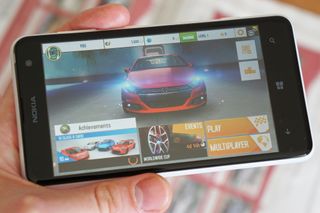 Gameloft continues to support the Windows Phone platform with a major new update to its popular free-to-play racing game, Asphalt 8: Airborne. The latest update adds eight new cars to drive around, along with new decals and a new Car Mastery feature.
The 2.0.1.0 update includes the McLaren P1 GTR, the Mitsubishi Lancer Evolution X and the McLaren 675LT vehicles, among others, along with new unspecified decals to customize your rides. The big addition is Car Mastery, which gives players over 1,500 new challenges to complete so they can access unnamed but "exclusive and iconic cars".
Thanks to Jake for the tip!
Download Asphalt 8: Airborne on the Windows Phone Store (Free)
Windows Central Newsletter
Get the best of Windows Central in in your inbox, every day!
Is there any way I can portate WP asphalt's game data to android?

you can connect with facebook to sync

Nope, it is specified on the gameloft official website that progression sync is only compatible between application of the same OS. (WP and Windows 10 is okay) I've just tried it on my android device, was not able to retrieve the save, send a ticket to gameloft support service and was answered that it is not possible.

Jake is me. Wrote in the mail too.

Fck yeah.. Lancer evo x.. My fav.. ;)

Same here! Been waiting for that car way too long!! XD
Asphalt 8 here come I!

is this update for pc too???

holy cow, is it downloading the whole 1.6GB for an update?? and name ur xbox gamertag. maybe i'll see u in the friends list

IKR!!! I just updated Asphalt 8 two weeks ago. I love the support but I need to download over Wi-Fi every time, and I don't have reliable Wi-Fi at home.

1.6 gigs arghh, well it's probably already updated.

My favourite driving game...free or paid!
Citroen Survolt with a full tank of nitro. Knockdown central :)

This is one great game... Amazing support

Mazda Furai with full tank of nitro is the Citroen Survolt killer. IF you know how to drive it (most Furai drivers don't drive it correctly) Nothing I enjoy more than destroying Citroen's because so many people drive them, or watching them drop out of races early when they realize they cant win :)

What about graphics. Are they better now. They had previously removed the shadows. What about this new update?

i've always seen the cars' shadows if that's what you are talking about

On a 1gb device, if the roads of Tokyo isn't wet as they should be, then the graphics wasn't restored. The shadows should match the shape of the car.

Yes make in option graphique élevé

Is that a Dodge Dart in the pic?

1.6 GB download, here we go again.

Still don't have my Æ86 on the roster? Maybe in Asphalt 9...

I just downloaded it yesterday!!!!

I was just thinking last night when will get an update , well that's mighty fast.

This game needs a refresh before year end. Boring and crazy long if you're not into forking out tons of cash in IAP

Yes... I love this game. But tired of playing 4.600 cash races to raise money and buy the cars to finish all chapters without spending real cash. It will took years to finish without spending real money. Just one achievement to unlock it =/

You can collect 100 tokens easily by its event, then use it to buy the double credits for 24 hours to farming the credits, actually you can get 2,500,000 credits in 15 hours, 9 hours for sleep. Lol

john,did they remove download and install manually option??

Asphalt is a favorite around here and both sons woke me up for this today.

Completed the main part of the game

Never got around to playing any of these titles so recently had to delete them since they were taking up most of the space. If available on pc might try them

Yes! Glad to see that this update has arrived now.

Yes new option for graphiques élevé is like Android

I saw one of the tracks today, I love how some of you like to take out other drivers when the race begins. See you in multiplayer mode; although today I didn't have a great day racing as the other day.

Sweet, loving the new car list, Evo X is a favorite of mine, P1 GTR is an absolute beauty.
1up :D

Gents, help me out - Lumia 930 just updated to the new version and all I can see is Gameloft logo, the game is not loading :( :( I restarted the phone, but didn't help, anyone experienced this? I'm worried about my progress in the game, so many hours devoted to it. regards

How can I download the installation xap or appx files for offline? The former windows phone store allowed that.

Updated on my Lumia 1520. But game crashes at gameloft logo. Tried restarting the phone. Moved it to sd card. Still no use. Anyone knows a fix?

Stay away from Gameloft games especially if you're in South Africa. I got changed 10x the amount on in game purchases and Gameloft refused to compensate me. They're like a scam and have no respect for their customers. I've removed all Gameloft games from my device I suggest you do the same.

Hello, I have a problem. When I want to launch asphalt 8 airborne, I get that screen: https://scontent-fra3-1.xx.fbcdn.net/hphotos-xfa1/v/t35.0-12/12032799_10... . The problem is, that I have already updated to the latest version, but I still couldn't play this game and I do not know how to turn off that screen in order to play the game. Can anyone suggest me what I have to do in this situation?

Hi ! Got the same problem, downloaded the latest update and it still open the update window when I start the game. Use Nokia 925 lumia. Anybody have a idea what to do ?
Windows Central Newsletter
Thank you for signing up to Windows Central. You will receive a verification email shortly.
There was a problem. Please refresh the page and try again.