Asphalt 8: Airborne gets updated, adds the SSC Tuatara to the garage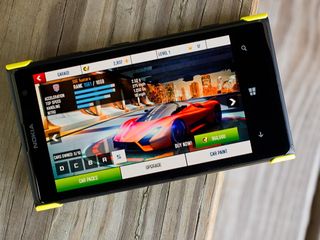 Asphalt 8: Airborne is one of the best racing games available for Windows Phone 8 and Windows 8. The graphics are stunning, game play challenging and you'll find yourself leaning into the turns as you speed down the track.
An update was pushed out this morning for Asphalt 8: Airborne, taking the game to version 1.3.1a and adds the SSC Tuatara sports car to the game's garage.
We have seen a few updates to Asphalt 8 here recently that has added new racetracks and cars to the game. We have seen the Ferrari Testarossa, Dodge Challenger and Ford F-150 added to the fleet (yes, you can race a pick-up truck!) along with racetracks set in the Far East.
You should see the update being pushed out across the board for both Windows Phone 8 and Windows 8 devices. If you like racing games, you will definitely enjoy Asphalt 8: Airborne.
Asphalt 8: Airborne - Windows Phone 8 - Free - Store Link
Asphalt 8: Airborne - Windows 8 - Free -Store Link

(opens in new tab)
Thanks, Mohsin, for the tip!
Get the Windows Central Newsletter
All the latest news, reviews, and guides for Windows and Xbox diehards.
George is the Reviews Editor at Windows Central, concentrating on Windows 10 PC and Mobile apps. He's been a supporter of the platform since the days of Windows CE and uses his current Windows 10 Mobile phone daily to keep up with life and enjoy a game during down time.
After latest update it keeps on crashing on startup anyone facing this issue? Edit: Reinstalled the app its working fine now:)

Not for me. Lumia 1520 WP8.1

I have 520 with WP8.1 and it keeps on crashing

I also have a 520 with WP8.1 and works like a charm for me, the only thing I've noticed is that since last update adding cars, tracks and songs, the game has become a little bit slower, but all you have to do is restart the race so it works fine again.

Still trying to download last update on my windows 8.1 and wow here comes a new update lol

I have a Lumia 1520 with 8.1 as well, I recently uninstalled because of poor frame rate after updating to 8.1.
Has that been resolved?

Does is still lag? After updating to 8.1, I'm getting occassional lag in most games, even in Subway Surfers... maybe Cyan will fix it. Who knows.

It crashed first time after update but after that it has been perfect. Working like a charm. NL620 user. :)

Yeah it does crash for me too

949MB For One Car ? Are You kidding me!! -_-

Car was added few days back and it cost 950000

949MB is the entire game, not just one car. Try to think...

But we cant download that car separately can we? In that sense, yes 949mb just to add that car (for users who've asphalt 8 obviously)

That's because you are basically installing the entire game again, but modified, with that car in there. That's how it works. Independent of what the update adds.

As skyrocker007 said before, the car was there before the update, I had it too, the update must have other stuff.

Yep. Even i had the car for same price and i haven't even updated.
@ Daniel you have to modify the title and contents. The update is there and it definitely has nothing to do about the new car. Mine is Lumia 920 india

Why the hell it has been removed from the store of L 525

Asphalt 8 not available for Lumia 525 in India since April.

Any reason? It's there for Lumia 520 though...

Best ask Ryan on the forum. He has a sticky in the games section.

I can already see the car in my garage. But there is still an update available for me wtf

Uh, I didnt have to update but its already available in my game, how?

Do you have automatic updates enabled? That's probably why.

The car was added few days back

Oh man, Hate when this game updates. It takes me like 3 hours to update it.

Exactly the same here. The installable so so big and it becomes a pain to update it just for a small addition of a car.

The car was added on 23rd may and make sure to back up your data as when i updated it.
It always crashes during startup.

Did MS not include something in 8.1 where in the apps dont have to be downloaded all over again? Will that be irrespective of all the app engines & middle ware that the devs use? (for the love of God & world peace, I hope so :P) is that not effective yet as 8.1 is only through developer preview or are there more anomolies?

Is the Tesla Model S one of the cars in the game? If so, I'll take almost a gigabyte out of my 1520 right now! Or just get a micro SD card and add it to that.

Tesla been on there. It's slow tho.

It's my favorite car, so I can live with that.

Just be ready to abandon it once you realise you can only actually use it competitively for like five races.

That car is trash in this game. A forced purchase. The one thing I don't like about this game are the force purchases.
Asphalt 7 is much better in that respect as it has a more traditional career mode and allows you to realm earn you way through in game rather than cornering you into over grinding of squeezing you of cash.

It's from class D though :/ but I also love it

and for a single car it is required to re-download the entire game, microsoft should fix that behavior, even a change of the app icon would force you to redownload it, thats just unacceptable in this age

The car was added on 23 may i guess george noticed it today.

After the china update.. It is not running smoothly as it was earlier on my 620..

I still prefer asphalt 7 its not at all buggy while racing and its Xbox live

I still prefer asphalt 7 its not at all buggy while racing and its Xbox live

Car was added before the update!!

Why is there no WP Store displayed in the vid? That sucks!

What about Lumia 525 users. Not in store.

I ended up deleting it & other apps yesterday to see if i could get another games background task to activate again

I have a already ssc tuatara on old version

Already got that car since previous update...

I think games this big should have their own in app update option. Its not always affordable to download 900 MB again.

This game seemed good at start but later got sick of the high prices.Unlocked Ferrarri Evolutionze and almost finished season 7 with just a couple of cars.All games are losing their touch because of in-app purchases.Feel like leaving these high end games for good!

Seriously the great gaming experience died with Asphalt 7 it played more like a console game Asphalt 8 while a bit more exciting has been designed to gouge you at every turn it makes for a terrible overall experience.

If they updated it with Xbox Live, I would get it but, no Xbox no buy #SaveXboxWP Have not played this game once due to the lack of xbox

I didn't download the update but this car appears in my garage,,.any thoughts on that?

So I've already raced against fully upgraded sscs...it wouldn't surprise me if some ppl have money cheats for this game.. They must be looking at 1.5mill to have one of those souped up... And in this game, money is ridiculously hard to come by (would take about 200 races to get to 1mill if u win every time)

Of course there are money cheats. They're called In-App Purchases. -.-

Just tell me how the hell could i get a 950.000 !!!!

I hate when this game updates b/c i never have enough memory to install it. Last update i needed about 3.4 gb of free space to install. Thats insane!

I already have it in the garage ... But still i need to update.. I got it in garage without update

I'm not a big gamer but have really enjoyed playing this game. How though do you sync results ect. between devices (WP8, Win 8)? Do you have to log in through facebook to accomplish this?

Yes. Facebook login required for progress syncing at this time.

Doesn't open on my Lumia 720. Crashes if I open it.

What's with companies only showing "Download it from the Apple Store or Google Play"? e.g. This game is available for Windows Phone too, but the "Download From the Windows Phone Store" logo is not even listed at the end of the video. I notice this issue a lot on websites as well. How hard is it to add a logo to the download page?

I want a Nissan S14a to cruze in :'(

Not available in the store for Lumia 525. Why oh why??????

Still missing the tire shine on Windows 8 and Windows Phone that is present on Android and iOS. There really isn't a reason that tire shine and other effects are are missing, especially for Windows 8. I've been playing Asphalt 8 on iOS and Android since launch so it is definitely noticeable. Not a deal breaker by any means but it makes me wonder what their reasoning is or did the graphics artist simply forget to turn the Tire Shine from 0 to 1.

I love this game, started playing it on my phone then tablet then my 3 monitor 30" desktop haha. Have had the tuartara for a few days already. 950,000 was a lot of cash but money is a lot easier to get since china update and playing the events. Have all the cars fully upgraded and several mill in the bank still. But I do find myself playing this game a lot

How did you get it to run on the 3 monitors???

Why update the software up to 8.1 when isn't stable?

Best free racing game on Windows Phone! Reminds me of Burnout Revenge!

Tuatara is a lizard in New Zealand haha

The Tuatara was already there, this update does something else.

I want to see Nurburgring Nord Schleife 27km long full track.

Yup Tuatara was already there!! Bought it 2 days ago and played the event. Wonder if this update brings the mclaren p1 - that's the car i'm waiting for. I'm downloading it now.. Stil can't get the Ferrari Testarossa, Dodge Challenger or Mclaren p1. The F150 appeared 4 days ago...

Sorry the Dodge Challenger is there as well so just the p1 and the ferrari...

I have dodge challenger but no p1 and testarossa. Iritated.

Crash at start a lot like a wrecking balls

Ssc tautara was already added no need to update !!!
Ssc tautara in the garage is not a change log!!!

Lol it got updated for me when I was asleep and on wifi

Before, I had to race a lot to have Agera R. Now that process has to be done again, this time doubled... :(( 950k for a car... 210 more races and I will have it :-o

I have to do a hard reset on my L920, is the game progress lost after reinstalling the game?

Sign in FB and get the save from cloud.


how make you hack money car
because IOS & Android
Can to hack money car
how about Windows phone 8.1?
Please answer me!

How big is the game after installation....i have 2.83 gigs free now...

Even after the update, I didn't get the car, WTH!

applied the update... uninstalled then reinstalled it to my lumia 1320... suddenly i cant see the tuatara anymore... anyone can help?

I can't see SSC TUATARA in my asphalt 8 when I update ver 1.3.1.1 in 28/5 :'( ( lumia 520 8.1)

how can I update to this version? I got a notifiaction about the update when I was playing but when I click on "Update". It lead me to the Store and nothing happened! "Last updated on this PC on 7/14/2014". what should I do now? Ps: I'm using Windows 8.1 Pro. Thanks.