Assassin's Creed Pirates drops anchor on Windows 8, Windows Phone version temporarily delisted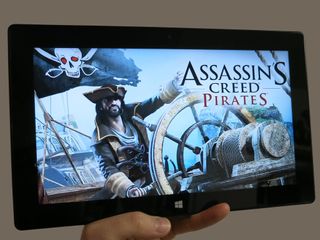 Long rumored, but only officially confirmed just before release, Assassin's Creed Pirates finally sailed onto Windows Phone last week. One week later, the phone game has been delisted due to many users experiencing crashing issues. In its stead, the less buggy Windows 8 and RT version of Assassin's Creed Pirates has arrived. Tablet and PC gamers can now take on the role of an eighteenth century pirate and terrorize the seas!
The Windows 8 and RT versions also bring along a couple of caveats. First, their Xbox Live Achievements don't work just yet. For whatever reason, it's not uncommon for Achievements on Windows 8 and RT to kick in a few days after a game becomes available. This game's Achievements will arrive soon.
The other bad news? Like Ubisoft's Rayman games, Assassin's Creed Pirates is not a universal purchase. Still, the game is worth buying at least once. Read on for our early impressions.
Less assassins, more pirates
Players take on the role of Alonso Batilla, a new character in the Assassin's Creed franchise. Since this spin-off revolves entirely around piracy (not assassination or the recollection of a past life), Alonso doesn't don the series' traditional assassin's robe. Instead, he'll build a reputation as a pirate and seek a legendary treasure.
The protagonist doesn't start out as an established pirate. When we first meet him, Alonso has been taken captive aboard a vessel. His captors come under attack from the pirate La Buse's ship.
Captain La Buse quickly takes a shine to Batilla. Not only does he free Alonso, he gives the former prisoner a ship of his own. Talk about moving up the ranks! Perhaps La Buse's reasons for trusting Alonso will become clear later in the game.
Navigating the waters
After the introductory cinematic wraps, players will set sail towards their meeting with La Buse at Scorpion's Reef. Steering the ship takes place in a first-person perspective, just as in Assassin's Creed IV. Swipe left or right along the ship's wheel in order to navigate the waters and avoid obstacles. Buttons at the bottom-right corner of the screen control acceleration and deceleration.
Assassin's Creed Pirates naturally supports mouse and keyboard controls in addition to touch. Sadly, it does not work with Xbox controllers. That's a missed opportunity given that Assassin's Creed IV already provides a blueprint for how the controls could have worked.
Since the steering is so simple and intuitive, you'll have ample time to take in the lush islands, volcanoes, and other landscapes of the Caribbean Sea. Speaking of the sea, Assassin's Creed Pirates features some of the most realistic and eye-catching water ever seen in a mobile game. The fantastic-looking water is a good thing, considering the game takes place entirely on the ocean.
To the cannons!
Before long, Alonso's ship will encounter another seafaring ship and attack it. This is a game about piracy, not diplomacy.
Ship battles consist of attack and defense phases. Drag left or right to aim your cannons. You'll have to lead a little to compensate for the opponent's movement, but firing too far ahead can lead to a miss too. Cannons take a little time to recharge, so all the more incentive to fire carefully.
Your opponents won't just sit there and sink without a fight; they shoot back too. When an enemy ship prepares to fire, the camera pulls out to show their planned trajectory. You can then tap left or right to dodge in either direction. Successfully avoid damage to receive a Perfect Dodge rating (and keep your ship afloat).
After sending an enemy ship to Davy Jones' locker, players will engage in a fun little salvaging mini-game. Boxes of supplies can be roped and pulled aboard. The harvested resources can then be spent on items, crew members, combat techniques, and even new ships. Then it's off to the map screen, new locations, and lots more naval pirate action.
Windows Phone version takes a break
It looks like the Windows Phone game launched a little earlier than it should have. Only a few days after release, the phone game has been pulled from the Store due to widespread crashes and errors. Hopefully Ubisoft can patch up the Windows Phone game and get it back in the water soon.
Is Pirates a sunset or the dawn of further adventures?
It's great to have Assassin's Creed Pirates on Windows 8 (and Windows Phone) at last, albeit a whopping eight months after releasing on Android and iOS. Will Ubisoft continue to make games for mobile Windows platforms? It almost doesn't matter when they come out so much later than on other mobile operating systems.
Still, more games is always better. Ubisoft never really promotes these games, so it's hard to say if the publisher has anything else in development. We can always hope!
Assassin's Creed Pirates – Windows 8 and RT – 945 MB – $4.49 – Store Link
Assassin's Creed Pirates – Windows Phone 8 – 940 MB – $4.49 – Store Link (Currently unavailable)
Get the Windows Central Newsletter
All the latest news, reviews, and guides for Windows and Xbox diehards.
Paul Acevedo is the Games Editor at Windows Central. A lifelong gamer, he has written about videogames for over 15 years and reviewed over 350 games for our site. Follow him on Twitter @PaulRAcevedo. Don't hate. Appreciate!