Assetizr review: The easiest way to resize images on Windows 10
Resizing images couldn't be easier on Windows 10 thanks to Assetizr, an impressively-effective and simple application.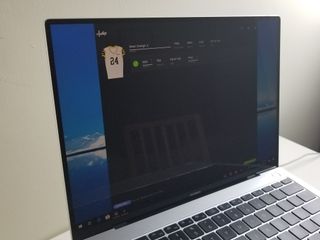 When dealing with images and designs, you often need to resize them to fit into website designs, printed pieces, or other materials. While many photo editing programs allow you to export images into different sizes, Assetizr makes it easy to resize preexisting images.
I found Assetizr incredibly simple and effective. I was also pleasantly surprised by some of its features, such as the automatic updating of your resized image inside the File Explorer every time you make a change. This reduces clutter and shows an attention to detail from the developers.
The app is available for $9.89 on Windows 10, but you can grab it for free if you act quickly. It should be available for free until February 6.
See at Microsoft (opens in new tab)
Simple sizing
The best attribute about Assetizr is that it's dead simple to use. When you open the app you're presented with a clean dark window that you can then drag images into or add images to through select files. You can have as many images as you'd like within the window and can resize them by clicking the up and down arrows or typing in your desired export size.
You can resize an image and also export it in multiple file formats. For example, I deal with a lot of logos for graphic designs. With Assetizr, I can take a PNG with a transparent background and convert it to a JPEG. This only works in one direction, though. You can't convert a JPEG into a PNG using Assetizr.
You can use Assetizr to create multiple exports from the same source image. This makes it easy to take the same source image and create JPEGs, PNGs or WEBP files of various sizes. I love that when you change the size of an image you'd like exported, Assetizr automatically updates the exported file inside the File Explorer. This clears up clutter by making sure you don't have multiple versions stored because you changed the size you wanted. If you want multiple different exports you can still do that by adding more below any source image.
A few missing features
I'm generally a big fan of Assetizr but there are a few little things I'd like to see improved. First, I'd like the developer to add an option to export JPEGs as PNGs. It's a fairly common task to take an image with a pure white background and turn it into a PNG. Adding this ability would be a big boost to Assetizr, and it's disappointing that it isn't available now.
I'd also like the option to hide images that I've resized. If you delete an image that you're resizing within Assetizr it also deletes the exported image in your File Explorer. I'm not sure if this is because of coding restrictions but I'd at least like the option to hide previous images without deleting exported files. At the moment, to keep these images you'd have to copy them from your Assetizr folder and paste them somewhere else.
Simple, yet effective
Assetizr is a must-have tool for people who frequently need to resize images. It has a clean design, simple interface, and it works very well. I'd like to see it gain a few more options like converting JPEGs to PNGs, but even in its current format, it's easy to recommend.
The app is available for less than $10 which is reasonable if you use it on a regular basis. If you manage to get it for free when it's on sale, I don't see why you shouldn't at least give it a try.
Pros
Simple to use
Works smoothly
Updates files to limit clutter
Free
Cons
Limited options for some file formats
Lacks option to hide images you've resized within the app
See at Microsoft (opens in new tab)
News Writer and apps editor
Sean Endicott brings nearly a decade of experience covering Microsoft and Windows news to Windows Central. He joined our team in 2017 as an app reviewer and now heads up our day-to-day news coverage. If you have a news tip or an app to review, hit him up at sean.endicott@futurenet.com (opens in new tab).
Of course it converts only from png to jpg.
Converting a jpg image into a png doesn't make any sense. It adds only weight to the image.
You just keep your jpg image.

I don't know enough about picture file extensions, can you explain in more detail why it adds more or whatever if you go from jpeg to png?

JPEG is a compressed format, whereas PNG is a lossless format. Think about the analogy with sound files. It makes sense to convert from WAV to MP3 (you save a lot of space while not losing too much quality), but not from MP3 to WAV (you increase the file size while keeping the compressed quality of the MP3). In the same way, it makes sense to convert from PNG to JPEG because, again, you save a lot of space while keeping a reasonable quality, but the opposite conversion only adds file size without any other advantages.

The big difference is that JPEG doesn't support transparent backgrounds, but PNG does support them. JPEG is a lossy file format, so it takes up less space than PNG, which is lossless. In my opinion JPEG is usually better unless you need a transparent background.

Simple yet effective? Then you should try "Image Resizer for Windows". Just a simple right-click on the file gives you all the options most people will need. http://www.bricelam.net/ImageResizer/

IrFanView does this for FREE (and much more.) https://www.irfanview.com/index.htm I've been using it for years now to do this.

2nd for IrfanView. It's also in the store! https://www.windowscentral.com/e?link=https2F%2Fclick.linksynergy.co...

Actually, Paint does a fine job and it's included for free.

Hi Sean, thanks so much for your positive feedback! I'm Lukas from the Assetizr team. We are currently working on new features and we can probably add in the setting to not delete the files when clearing them. Cheers, Lukas
Windows Central Newsletter
Get the best of Windows Central in in your inbox, every day!
Thank you for signing up to Windows Central. You will receive a verification email shortly.
There was a problem. Please refresh the page and try again.