Astroneer gets explosive new update for Xbox One and Windows 10
The next update for Astroneer on Xbox One and Windows 10 is here, and it's explosive!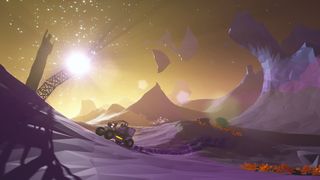 Update: Astroneer's latest update, Patch 125, is now rolling out on both Xbox One and Windows 10 versions of the game. A wide range of changes have been introduced as a part of the patch, including the introduction of dynamite, tweaks to animations and various in-game item adjustments. A number of fixes are also being deployed, affecting both overall polish and performance. Here's a full list of patch notes, as seen on System Era's official forums.
PATCH NOTES
New content
Dynamite now craftable from backpack
New dynamite art, fx, audio
Dynamite can now be used to destroy base buildings and other objects
Added character idle animations
Added 9 new discoverable wrecks, including their collectible items within
Additional organic research items added
Updated Dropship model art
Updated RCS thruster effects for Dropship
Updated model art for Tradeplatform
Updated model and FX art for Smelter
Added new refinery / smelter audio
Added sandboxing of saved games when running the Steam Experimental branch.
Improved game pad support on launch menu
Performance improvement: Added a system for fully despawning decorator sets as you move away from them.
Slight GPU performance improvement to terrain (use 16 bit indices)
Fixes
Researching an item when you have already researched all recipes will no longer "use up" that item in regards to when future updates add new recipes. It will now also give you a resource.
Fixed several issues with how decorator states were saved and restored.
Fixed race condition causing occasional anomalous terrain generation.
Seed fixes, including shift-click issue and seeds growing in backpack
Fix save game issue where conduits don't attach after saving a leaf and building platform
Fix save game issue where conduits nubs don't disappear after a save game and using dynamite on the leaf
Updated oxygen tank fill looping sound. Fixed Xbox bug that caused it top play at full volume.
Original story:
Astroneer is one of an increasing number of games with Xbox Play Anywhere support, across Windows 10 and Xbox One. As a title in Game Preview, Astroneer is a work in progress, but it's already awesome. The game is a procedurally generated space exploration game, complete with base construction, terrain shaping, and crafting. The amount of content available in the game is a little on the thin side for the time being, but the potential is huge. With subsequent updates, Astroneer could be a big deal.
System Era is hard at work developing the next update for the game, which among other things, will include functional dynamite.
The experimental build is currently in testing on the Steam version of the game. Here's what System Era have included in the update, which will likely hit Xbox One and Windows 10 in the future.
Step 1 of our sweeping performance update. Flora, grass, and small vegetation now optimized to load/offload more intelligently.
Dynamite is in and can destroy terrain and things under them. E.g. Place them on top of a rover (don't snap them together) and activate the Dynamite. Boom, no more rover.
Updated art and effects: Drop ship, Smelter, Trade Module.
Updated launch sequence + effects.
New research items to discover, tweaks to Research gameplay.
New wrecks to discover.
New idle animations.
Astroneer currently supports cross-play between the Xbox One and Windows 10 versions of the game, in addition to cloud save syncing and cross-purchasing. It's a wonderful title for gamers of all ages, and we definitely recommend it. We'll let you know when the next update goes live to the public.
Jez Corden is the Managing Editor for Windows Central, focusing primarily on all things Xbox and gaming. Jez is known for breaking exclusive news and analysis as relates to the Microsoft ecosystem while being powered by caffeine. Follow on Twitter @JezCorden and listen to his Xbox Two podcast, all about, you guessed it, Xbox!
Is the game concept similar to No Man's Sky?

It has been called "The game NMS was supposed to be". So yes, there is a similar concept. Personally I love it on the Xbox even though it has some ways to go to become fully enjoyable (some performance issues)

Similar. But I tend to stay awake more in Astroneer.

I don't think it's anything like No Man's Sky... other than it's in space.

It's like NMS but even though it's still in pre-alpha, it's already better than NMS.

Any idea on how successful Play Anywhere has been so far? I struggle to believe many Steam users will have been tempted by it, due to loyalty to Steam.

Does it matter? It's for Xbox users

Play Anywhere isn't just a gift to us, it's a strategy to attract Xbox gamers to PC and PC gamers to Xbox. But to be honest that's even harder than PS4 to PC so I'm wondering how it's going

Play Anywhere really is just a gift to us. I've spoken at length to Xbox execs and their strategy is to make Xbox the best place for Xbox customers. They have no intention of taking on Steam.

That to me feels a huge missed opportunity. I guess they are trying to convince PC gamers considering a PS4 or XB that XB is the way to go.

For me, the only thing it tells PC gamers is. Don't get a XB1 because all their exclusives are on PC. If you want to buy a new console get a PS4 because you can play all these other games that you can't play on the platform you already own.

If I were to buy it, I'd get the Win 10 version.

I got it on the store over steam. I have over 400 steam games too. But play anywhere is worth it to me.

Agreed if they were the same price. This issue I find is that most games I buy aren't directly from Steam but from 3rd party sellers that can be redeemed on Steam. But even if you could convince them to start using the Store, I can envisage some Steamers having issues with it

In my country it's cheaper for Windows than steam. Usually bigger game aren't, but indies are.

I don't know about the general public, but I, for sure, bought way more games than before since it's a thing. I always was a torrent guy, so I don't have any games on Sream, but now that I started working instead of university, and given how easy to reach the Windows Store is, I just started buying games :D And they're finally coming :D And yeah, owning two Windows phones also helps with being familiar with the Store :D

Love this game. Been exploring since it was released and so looking forward to the performance update.

What happens if you snap the dynamite together with the rover?

You probably can't light it then

I wish I could figure out why I can't force UWP games to the dGPU on Surface book. They will not show in the list. Not sure how Jez and others got them to.

You need to use the advanced tab or whatever to hunt for it; won't show up in the default list.

I have. :( I tried to add manually from the WindowsApps folder. I have granted myself permission to access those folders. When I try to add from the folder it states I don't have the permissions, though I have opened up access to those files. I wonder if it has anything to do with folks on RS2. I am on Release Preview, so might be a CU thing... I am not really sure. I have tried many times.

You and I have the exact same issue. The only option I have found is to set all programs to default to dGPU. But then once you are done with the game you will ahve to open the panel back up and set it back to normal and reboot before you can detach the screen again. Pretty annoying.

I'll look into this for you.

I get a weird thing where I manually add the app, but instead of calling the app what it is in the default list now, it uses the actual name of the folder which is usually a list of incoherent letters and numbers. When you look at the list from then on, you really dont know what that is unless you somehow memorize that dribble.

I see the apps listed like that in the WindowsApps folder, but cannot get them to add to the list. Is it working for you once you decipher what the app is?

Ok. So what I see is I hit to add manually. It says Astroneer (Preview). I hit that and it moves it to the main list, but it isn't called Astroneer anymore. Its the name of the publisher plus a bunch of random letters and numbers, but that is definitely it.

Gotcha. I don't even see them in the Add list.

Hmmm. That sucks. My biggest problem is often when I shut a program down that is using the graphic card, it continues to run, getting extremely hot, and fans blowing, even though im only using the desktop.

I discovered this game on the Steam 'New releases' carousel and have invested over 105 hours since. The experimental update (soon to hit the main branch) has very noticeable performance improvements and not just talk. 10/10 would support System Era again.

I guess I'll have to buy this game since it has such positive reviews :]

I really like this game, but for some reason I can't play with friends through Xbox app on PC. All tried to reconfigure network as app supposes but no luck. No problems with multiplayer on XB1 or in steam (other games). Really disappointing.
Probably we had same problem in RotTR co-op - hard to connect and disconnect after 5mins :(

I've received the update today... But it doesn't say "Experimental" on the main screen

The trial won't work for me. Is it worth the $20?

It's still in alpha beta... But I would have to say, yes it is!

Cool. I buy it. You're responsible now. Lol

I want to love this game and I do but after a couple hours you've done it all. I was hoping that the next update would have been pretty outstanding, not one item that doesn't really add to anything. I can't even figure out multiplayer on the Xbox One when I've seen people playing multiplayer. So I'm pretty bummed but not giving up support.

I have the update... But the dynamite isn't available on my backpack ☹
Windows Central Newsletter
Thank you for signing up to Windows Central. You will receive a verification email shortly.
There was a problem. Please refresh the page and try again.