ASUS announces the compact yet powerful G20B gaming small-form-factor PC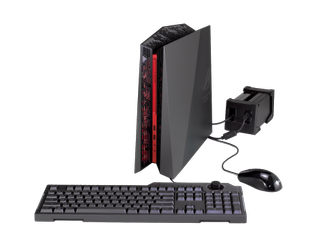 ASUS is taking gaming to the next level this year and the company isn't hold back on announcing yet more hardware under the Republic of Gamers brand. The G20B is a small-form-factor PC that packs a punch when it's required to do so. From deploying the GameAlive suite for component monitoring to utilizing the latest Intel processors, it may be smaller than your average desktop, but the G20B from ASUS certainly no slouch.
Taking full advantage of the latest in lighting tech, ASUS has implemented customizable LED effects with the choice from around 8 million colors. As well as the GameAlive suite of tools, the company will also package Aegis 2 with the software for easy gameplay recording, editing and sharing on social websites. Windows 10 is on-board, which will allow you to hook up a plethora of peripherals via available ports.
As for specifications, we're looking at a 6th-generation Intel i7 processor, NVIDIA GeForce GTX 970 graphics, and can be configured with a variety of options. SSD solutions and 16GB of DDR4 SDRAM are available should you require the absolute top-end when it comes to power and performance. Interestingly, the G20B doesn't have any visible exhaust vents. The chassis features an integrated thermal design to take advantage of natural convection with a hidden airflow channel. Two internal fans aid with the heat dissipation.
The ASUS G20B will be available in the UK from Currys PC World for £1,499.99 come November. It's not a cheap option by any means, but you will be getting a capable gaming rig inside a small case.
ASUS Republic of Gamers Announces G20CB
London, United Kingdom (11 September, 2015) — ASUS Republic of Gamers (ROG) today announced G20CB, a compact and powerful 9.5-liter gaming desktop designed to dominate the small-form-factor segment. ROG G20CB packs up to a 6th-generation Intel® Core™ i7 processor and NVIDIA® GeForce® GTX™ graphics for exceptional gaming and multitasking computing performance. ROG G20CB has an aggressive chassis design that features a matte-black finish, Mayan-inspired markings and customizable 8-million-colour LED effects. The exclusive Aegis II app helps gamers monitor system performance, with GameAlive allowing for easy gameplay recording, editing, and sharing on social media.
Intel Core performance and NVIDIA GeForce graphics
ROG G20CB is designed to be a one-stop gaming and entertainment system. Its 9.5-liter chassis houses a 6th-generation Intel Core i7-6700 processor and NVIDIA GeForce GTX 970 graphics. The former delivers a 10% performance boost and 23% more efficiency over previous-generation Intel processors to give ROG G20CB the power to take on the most demanding of tasks, allowing users experience today's games at their highest settings. NVIDIA GeForce-powered graphics draws gamers into an immersive world of colours; it even supports output on up to three HD displays, while a fourth display can be added via a HDMI connection.
ROG G20CB is available in several configurations and can even be specced with a solid state drive (SSD). The latest M.2 PCIe® Gen 3 x4 SSD provides data access speeds of up to 2Gbit/s – four times faster than SATA SSDs. This lets G20CB boot up faster, load apps quicker, and in-game wait times are reduced. DDR4 SDRAM provides speeds of up to 2.1GT/s — twice that of DDR3 1066 — for highly-stable performance.
Efficient thermal management
Cooling performance is often an issue when it comes to small-form-factor desktops, and the G20CB's use of high performance components requires exceptional thermal management to ensure stable performance for gaming marathons. Despite its compact 9.5-liter chassis, ROG G20 is designed with no visible exterior side exhaust vents, and features an integrated thermal design that takes advantage of natural convection. It has a hidden airflow channel that ensures efficient heat management, while two internal fans and copper pipes further help dissipate heat. G20 isn't just powerful; it runs whisper-quiet at just 22dB at idle — quieter than a typical library.
Designed for gamers
G20 sports a bold design — boasting a matte-black finish, aggressive lines, Mayan-inspired markings and customizable lighting effects that showcase up to 8 million colours, allowing users to tailor it to reflect the feel of the game currently being played. In addition, two new modes have been added. The multi-colour mode cycles periodically through up to 10 different colours; while the music mode synchronizes the LED effects with audio volume.
The exclusive Aegis II system performance monitoring app enhances the gaming experience by letting users track CPU/memory use and file upload/download status. It also provides warnings if the system exceeds temperature and voltage thresholds. GameAlive lets gamers record, edit, and share gameplay videos on social media; while Boost Launcher automatically frees up CPU and RAM resources to ensure smooth gameplay.
Earlier G20 models have been well-received by the industry, winning international accolades like the CES 2015 Best Innovations Award, a 2015 iF Design Award, and the 2015 Taiwan Excellence Gold Award
AVAILABILITY & PRICING
ASUS ROG G20CB will be available from early November in the United Kingdom from Currys/PC World for £1,499.99. Please contact your local ASUS representative for further information.
Rich Edmonds is Senior Editor of PC hardware at Windows Central, covering everything related to PC components and NAS. He's been involved in technology for more than a decade and knows a thing or two about the magic inside a PC chassis. You can follow him over on Twitter at @RichEdmonds.
Looks like Alienware among PCs with the shape and customisable LED colours. Very cool and powerful.

Agreed. I like the design and short form factor - I'm sceptical of the claims made about the thermal design... Vents and fans or water cooling, that 970 can run hot. Either way I'm interested.

reminds me of the diviner from agents of s.h.e.i.l.d. Posted via the Windows Central App for Android on WM10

Is it me or are gaming PC's drinking down to console size since the announcement of the steam machine.

For nothing beats the custom pc with big shape like CM cosmos cases. Full WC and clean cable management.

Competition is good for us. :) I might trade my laptop(non gaming) for this Asus. Hope it comes to Asia.

I have the g20a, it's really nice, u can buy one now at amazon for $777, i5 3.2or 3.4 GHz, 8gb ram, 1tb hd, gtx 750 2gb. Of course u can get higher powered options but this one is the cheapest and it's small, great form factor looks so amazing, and easy to upgrade.

Combined with an asus gaming monitor, looks and performance is really good.

If you want to see what they look like I dont know if the g20a and the g20b are the same size (they look the same) THEY ARE SOLD AT BEST BUY, U CAN SEE THEM THERE

Wow GTX 970 not even GTX 970m.

Well it's a reasonable size chassis, why on earth would one put a 970m mobile processor in there? This is a proper pc!!! :)

I have an Alienware 18 with gtx 880 in sli that I use with a 27 inch Asus monitor and I been looking to either get an Alienware area 51 to go with it or upgrade my Alien and get a cheaper desktop. Reason being I will never let go of my current Alien but want something so I am ready for VR next year. I will probably wait 6 months or so but one of these Asus desktops are on my short list. They have a really nice thing going with the ROG line. Love the laptops as well. Wouldn't get one since they are all soldered BGA and nothing is upgradable but still really like them. A top of the line version of this 6 months from now might be really cool to play around with. I wish they would bring back the Predator transforming desktop from a couple years ago. Thing was a beast. Asus makes damn nice products.

I remember reading somewhere (anandtech I think) that the skylake chips will be soldered - I think that's why the refreshed alienware 18 is a haswell chip... Wait a bit, I'm sure you'll find an excellent bargain! Even if you build your own ;)

Broadwell, skylake and all future Intel laptop chips will be BGA soldered, Haswell mobile is the last socketed line-up with no future upgrade path.

That's alot of humppphhh for such a small factor PC.

Too bad it looks like a bag of turds, like most other gaming stuff.

Agree - never understood how adding vents and lights make items more masculine or appealing. But then I've been building computers for twenty years or more and the trend seems to be increasing. I dunno - I prefer to be understated so trend to make my own gaming rigs.

I guess its meant for lan parties.

This is an awseome looking system.. However go read the Reviews on the previous models. I returned my old one. I do hope they fixed the issues.

I agree. I have 2 ROG laptops. Terrible, lots of issues and Asus support is terrible! Also have a few other Asus Vivo and just after 30 days the keyboard went bad and they would not replace it. Was told I needed to buy a new one!!

Sooooo stupid. There is no reason for a gaming PC to have an i7 over an i5 or 16GB of RAM. Also, the 970 is going to be irrelevant and obsolete very soon. Should've gone with a 390. This is just price gouging.

Why not? Just because you deem its not necessary doesn't mean it's stupid. Plus you can use PCs for other things you know like CAD, video editing etc.

A couple months ago I was read about his on tomshardwareguide
Windows Central Newsletter
Thank you for signing up to Windows Central. You will receive a verification email shortly.
There was a problem. Please refresh the page and try again.