Asus announces the crazy slim and light Zenbook UX305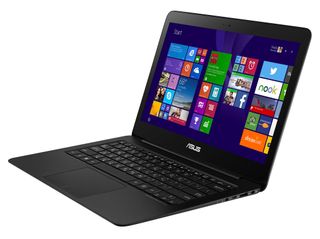 Asus has announced the latest addition to its Zenbook Ultrabook line, the UX305 with Windows 8.1. And it's crazy slim and light, comparable with Dell's all-new XPS 13 in these regards. The UX305 is a 13.3-inch laptop with a Full HD touchscreen display, Intel Core M CPU, 8GB of RAM and 128GB of SSD storage. With a promised battery life of around 10 hours, it's going to be an option for those on the go.
At 12.3mm (0.48 inches) thin and weighing in at just 1.2kg (2.65 pounds), the UX305 is going to fit inside your bag no problems. As is often the case with modern Ultrabooks, it's made up of a wedge shaped design, tapering to its thinnest points by the trackpad. The keyboard has an "improved layout" and is backlit for those late night typing sessions, and the whole thing will be available in a color that Asus calls "Obsidian Stone" with a spun metal finish.
So, what else do we get? Well, there are 3 USB 3.0 ports, with one of them containing ASUS Charger+ for rapid recharging of mobile devices. A USB Ethernet adaptor comes bundled with the package along with a miniDP to VGA cable for plugging into an external monitor. And the Asus Sonicmaster sound technology will keep you booming on the go.
It'll retail for £649.99 in the UK and will be available from John Lewis and Currys PCWorld. So it's not at the top end of the price range for what looks like a solid Ultrabook. Check out the full press release and some more images below.
Taipei, Taiwan (9th February, 2015) — ASUS today announced the elegant and powerful ZenBook UX305, at just 12.3mm. UX305 weighs just 1.2kg and features a crisp and vibrant in-plane switching (IPS) anti-glare display with a stunningly-detailed 1920 x 1080 resolution. Powered by the all-new Intel® Core™ M processor for seamless multitasking, and featuring an ultra-fast 128GB solid-state disk, UX305 is the ultimate ultraportable laptop for discerning users. The battery life of up to 10 hours[1] gives users true all-day freedom.
ZenBook UX305 has a sleek new wedge-shaped design, crafted from solid aluminum and enhanced with diamond-cut highlights. It is available in Obsidian Stone.
ZenBook UX305 is the recipient of a 2014 Good Design Award from the Japan Institute of Design Promotion (JDP), and is also included in the Good Design Best 100 list, which is a selection of products receiving special recognition from the jury of industry experts for their exceptional and forward-looking designs.
ZenBook UX305 has also recently received a prestigious 2015 iF Design Award, an award recognized worldwide as seal of quality for products that excel in specific criteria including design quality, degree of innovation, functionality, ergonomics and more. An independent jury of 50 experts from all over the world assesses products and selects winners.
Super-slim elegance with cool new colour
ZenBook UX305 has a subtle and refined new shape that incorporates the DNA of the classic ZenBook. It features an elegantly-tapered wedge design with smooth, comfortable edges and diamond-cut edges that subtly emphasize the sleekness of the 12.3mm-thin chassis.
The full-size ergonomic keyboard has an improved layout for comfortable and accurate typing in any lighting conditions, and the large responsive touchpad supports Smart Gestures for intuitive control of Windows 8.1.
Continuing the long-established Zenbook tradition of combining performance with luxury, this gorgeous ultraportable — which weighs only 1.2kg — is available in a sophisticated new Obsidian Stone colour with Zenbook's signature spun-metal finish with its Zen-inspired concentric circle pattern.
Powerful productivity with all-day battery life and full connectivity
ZenBook UX305 is powered by the all-new Intel Core M processor, a remarkably power-efficient processor that effortlessly delivers smooth performance for any task. In combination with 8GB of RAM and an ultra-fast 128GB SSD, the UX305 delivers impressive all-round performance. The blindingly-fast SATA 6Gbit/s SSD — which is up to six times faster than a traditional hard disk drive — helps make light work of file-intensive office productivity tasks. Applications load in an instant, and boot time is also reduced significantly.
The advanced ASUS thermal management design removes the need for cooling fans, so UX305 is fast yet completely silent, and remains cool at all times. ASUS IceCool technology ensures that the palm-rest area remains below body temperature at all times for maximum user comfort.
The use of a lithium-polymer battery and power-efficient components means that UX305 provides all-day computing with a battery life of up to 10 hours1, perfect for busy on-the-go professionals.
Despite its slim design, UX305 offers users full connectivity, with a total of three SuperSpeed USB 3.0 ports, offering data transfers that are up to 10 times faster than USB 2.0. One of the USB ports supports ASUS Charger+ technology for rapid recharging of mobile devices. A USB-to-Ethernet adapter is bundled with UX305, along with a mini DisplayPort-to-VGA adapter for connecting to an external monitor.
Stunningly-detailed FHD display
A stunning ultraportable needs a display that's out of the ordinary, so ZenBook UX305 is fitted with an ultra-sharp 13.3-inch in-plane switching (IPS) multi-touch display with an FHD resolution of 1920 by 1080 pixels and wide viewing angles. With 300cd/m2 brightness, a contrast ratio of 770:1 and an ergonomic anti-glare coating, blacks are deep, whites are stunningly pure, and the wide gamut (72% NTSC) ensures accurate colours.
Incredible Touch, Incredible Sound
Touch is at the very heart of ZenBook UX305. With its ultra-sensitive touchscreen, precise multi-touch touchpad with Smart Gesture support, and a superbly-engineered backlit full-size ergonomic keyboard, every part of UX305 is designed for the ultimate touch experience in Windows 8.1.
Incredible sound has always been a feature of the ZenBook family, and UX305 is no exception. ASUS SonicMaster audio, incorporating ICEpower®, Bang & Olufsen technology produces sound like you've never heard from a laptop, with deep rich bass and crystal-clear vocals. The easy-to-use AudioWizard software has five presets optimized for different sound sources, so users can always enjoy the ultimate listening experience.
Richard Devine is an Editor at Windows Central. A former Project Manager and long-term tech addict, he joined Mobile Nations in 2011 and has been found on Android Central and iMore as well as Windows Central. Currently you'll find him covering all manner of PC hardware and gaming, and you can follow him on Twitter and Instagram.
Right? Pretty excellent for the price IMO. Asus is love.

Like the article said; for on the go. Core m will do fine.

Man..u dont have laptops for " on the go " :o

Why? What a daft out of context comment. Even an Atom is enough for Office which is what this sort of device is aimed at. Its not intended as a gaming, or video editing or CAD machine, which are some of the few tasks needing anything other than standard processing these days. This will be faster than an Atom, and run cool and presumably silent? Seems like a cracking device.

He's being sarcastic, note: Emoji

I dont see an emoji. Just "Core M... Passsss" ?

The :o thing at the end. Granted, its homemade, but it works.

All he said was "Core M... Passsss". I mean.. did he ask YOU to pass it.? Maybe he is looking for a gaming laptop and was expecting one but when he saw this he said.. "ok.. core M.. No thanks, I'll Pass." .. The comment was neither daft or out of context. It was just his opinion on whether he would like to buy this machine or not. You love it so much, go buy it. No point in you baddgering him about his comment. Peace.

Exactly. Today, I use my Dell XPS 15 for my everyday laptop and I don't want more laptop (except the tablet like Surface Pro 3).
So my next laptop won't be Intel Core M or Core i Ultrabook series (but if it is a tablet, I'll consider about that) because the performance is not the best.
It's ALL of my opinion.

I didnt badger him. Just pointed out his post was pointless. What would the world come to if every comment was just whether someone was going to buy or not. He is free to post what he likes, as I am free to point out his post has 0 value. Pointless post, with not even any context, which even with context will still be pointless, why would anyone care whether he will buy or not? Numpty post IMO.

Nice. I would love to try one of these laptops to see how well the Intel Core M processor performs. This one looks like a good choice.

I have a new Yoga 3 Pro and so far it's way faster than my Core i5 Sandy bridge. Just saying.. It would be nice if someone makes a truly fanless Core M, though.

That I5 is a beast but your Yoga 3 beats that? Wow. Thats interesting. I'm curious to know if it'll work the way I work. I still have my desktop. I don't think I'm abandoning this for any laptop. But who knows.

Lol nice try Richard. It's too thin to have those specs. Can't fool me.

Yeah, three USB ports! Apple is ditching ports for the sake of thinness.

They need to announce a crazy slim WP10 device.

A Zenphone 2 running W10 would be pretty cool.

Hey, that Zenphine 2 has a crazy new camera module.... MS has to be coming up with something crazy for the next exotic camera phone..

I just read that Olympus which uses Zeiss lenses exclusively just announced an external lens for smartphones. So you know the 1020 and other camera centric Lumia phones will be on that list. I forgot what they are calling it. Just Bing it for the news item.

What's killing me is not knowing if they will have a camera centric device, or just put the ultimate camera on a new 940/1540, which is what I think they should call it.... They should make four high end devices... An Icon/Icon L, and a 1040/1040L... I just want a 6"-6"+ Lumia with the next extreme camera technology..
.........
I want a Super Phablet, damnit❗❗❗

To be honest, it is hard to look at anything else now that I have my XPS 13 (2015). This looks very nice, but not sure I can go back to the chassis size of normal 13.3" screen laptops. 11.6" chassis size with 13.3" screen is hard to beat (for me). On top of that, the 13+ hrs of battery life is also hard to beat.

Does your 13 have the coil noise/whine?

No. I haven't even heard the fan yet. I haven't read of anybody with the 2015 model having coil noise, I believe that was fixed from previous models? There seems to be a very few number of cases where units had excessive fan noise. Returns took care of it.

I have two of the early XPS 13's, one core i5 and one core i7, neither have the whine either. I have read all the complaints about the last gen XPS's and I am shocked. Definitely made me wait to upgrade my existing XPS 13. Now I want one of these brand new XPS 13.

Hope they bring Zenfone & Phonepad also to Windows

Does it have the coil noise issue the dell has?

I took care of it yesterday.

Just because it isn't enough for you, does not mean it is not enough for plenty of others. 128GB is perfectly acceptable to me, especially since it helps keep a lower entry price. An ultrabook is not meant to be a workstation and for most people it will not need loads of space. Buy the larger capacity if that is what you need. People always complain about entry level spec and want the higher tiered configurations to be at the entry level price.

Suppose if I consider this as a replacement for my present laptop(i3 3gb ram 500gb hdd) should I go for it? What do you think considering the memory is less..

That's tough to answer without knowing your exact needs and uses with your current laptop. I also don't know all of the upgrade options that this one will have available with it. As far as performance, the SSD in this will be MUCH faster than your standard HDD in your current laptop, but at the cost of capacity. They should have a larger capacity option (probably up to 512GB), but it will be much more costly. If you live off of your current laptop (no desktop) and you have a lot of space filling it up, then this may not be the right option for you, if the cost to upgrade the SSD to 512GB is too expensive. You could also get an external for cheap if that fits into how you work with your files.

Thanks for the answer..I only have my present laptop as the daily driver so I guess its not the right option..

I decided to stop using my local storage as my only storage. I now use OneDrive to store pretty much everything and only keep my most important documents available locally.

Smart, see comment below.

Unless you attach said external ssd to "Smart: aka cleft palate, retarded TV" and it corrupts the files after watching torrented movies (all 1080p of course) and have to reformat, lose everything. ------
I suppose that is what I get for torrenting.

You really should always have a backup solution, whether or not you do everything on a laptop, everything on a desktop, or everything in between. Nobody wants to pay the money for a simple backup solution until they lose everything. Then they can't pay enough!

Man just get an external hdd its cheap and can store all your files and whatnot.... Just store what you want to use at the moment....I think this is a sexy proposition

Actually I use my ultrabook as my development machine, as my laptop, as my tablet, and as my only PC device. It performs perfectly to my needs, but have in mind that I am a sane user - I don't expect it to do miracle computing.

Come on now, we WP folk gain sane nor logical according to apple and Android users. They say market share, ya gettin the point?

US currency please..... This is .com not .co.uk (at least for me)

1) The world (and this site) is bigger than the U.S. 2) The press release came in from the UK arm of Asus. Hence there is no U.S. availability and price provided by them. Converting to $ doesn't work either before you ask because UK prices are inclusive of 20% tax and general marking up it seems over U.S. prices.

Ask Cortana to extrapolate in usd, I didn't try, seems a reasonable request to me. She can speak fucking Klingon, so why not convert currency?

Seems Mr Devine provided an answer to ye...

Idiot comment...
Just learn to use a currency converter!

Which one, we got many. And, not really idiotic based on Devine's comment.

Really. So .com means US now? Posted via Windows Phone Central App

There are 3 different configurations of UX305 available in my country but none of them have a backlit keyboard, that's why I haven't bought one.

Core M is no good... Bring an i3 atleast

Intel claims Core M to be way better than old generation i5. If that is the case, I don't think core M is bad at all considering the power saving it brings along with it.

Where is it? I can't see it...
;) Core m isn't all that bad
http://www.techradar.com/news/computing-components/processors/intel-core...

its still 1000 bucks for a core M cpu? thanks nope.

I was looking forward for this model. Then XPS 13 came in. But now that I heard XPS 13's Linux support is horrible, I want to reconsider this. But core-m and not having battery life as good as XPS 13 are huge disadvantages compared to XPS 13. Not mentioning about the form factor...

It's amazing considering how thin it is that they still manage to cram on three USB ports! Bravo Asus. Want.

Am in love with this laptop

Very interesting. Shame it doesn't appear to have hdmi in any form but an adapter can always be carried around. I'm trialling two cps 13's; the i7 with the qhd screen and an i5 with 1080p: Both are outstanding devices but the price on this is crazy good. The new macbook air is going to have such competition! Good times in tech ahead! I have an msi gt80 titan and it's insane how svelte these are in comparison. Wow.

Looks like that is dual screen laptop :D

Wonder if IDC and Gartner woudl put it under PC or not. to me it looks everybit a PC, but is more portable and powerful than a Tablet. Great to the lines blurring but I hope the price points of these devices come down to less $800 for them to make a big impact in terms of shipments.
Windows Central Newsletter
Get the best of Windows Central in in your inbox, every day!
Thank you for signing up to Windows Central. You will receive a verification email shortly.
There was a problem. Please refresh the page and try again.