ASUS announces new 4K ultrabook, Android hybrids, and more at Computex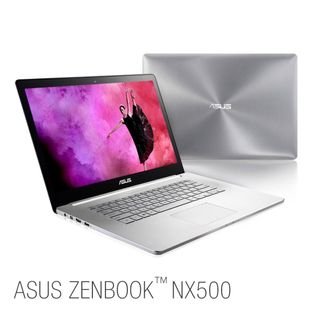 ASUS has unveiled a number of new products at Computex, including a handful of Windows devices to celebrate 25 years in the business. The company utilized the tech event to announce a new Zenbook NX500 ultrabook with 4K display, a new 4K monitor, tri-band 802.11ac Wi-Fi router, Transformer Book V with both Android and Windows 8, the Transformer Book T300 with a super-thin display, as well as other new Android hardware offerings.
Zenbook NX500
Pictured above, the Zenbook NX500 is the latest offering from ASUS, combining the usual aluminum body with a super-slim form factor we've come to expect from ASUS and the company's ultrabook family. Powered by Intel processors (up to i7) and optional NVIDIA GeForce GTX 850M, it's the beast of workhorses indeed. Then there's the additional 3-stream 802.11ac Wi-Fi and the choice beteen SATA 3 RAID 0 or PCIe x4 SSD for inernal storage. The main highlight is the display, though.
The NX500 will be the first ASUS noteook with a 4K/UHD IPS display with a resolution of 3840 x 2160. For media playback, the Zenbook combines the display with titanium-film speakers and SonicMaster audio technology. If you've been holding off for a new ultrabook, the new Zenbook may just be the perfect choice for you.
ProArt PA328Q 4K Monitor
ASUS has unveiled a new 32-inch 4K monitor for those who require higher levels of detail while working away on the PC. Featuring a 16:9 aspect ratio WLED display with a resolution of 3840 x 2160 and pixel density of 138 ppi, the screen will provide more space than the standard HD display for more work to be processed. There are a variety of input options too:
DisplayPort 1.2 (4K at 60Hz)
Mini DisplayPort 1.2 (4K at 60Hz)
HDMI 2.0 (4K at 60Hz) / MHL 3.0 (4K at 30Hz)
HDMI 1.4 (4K at 30Hz)
4x USB 3.0 ports
An interesting feature of the display is the ability to view content from two separate sources simultaneously. Picture-in-Picture places a second source window in a corner of the display, while Picture-by-Picture splits the screen in two (much like apps in Windows 8).
Transformer Book V
The Transformer Book V is a five-mode laptop that sports both Windows and Android. That's a setup we've covered in the past, but was blocked by both Google and Microsoft for various reasons. Now we're seeing the end result with a Windows laptop, Android tablet and even a smartphone. If you were searching for a product you could utilize in most situations, the Transformer Book V is ASUS's first attempt.
The detachable 12.5-inch display enables owners to rock on with a touch-friendly Windows/Android environment, while a separate 5-inch smartphone docks into the tablet itself. Think of the laptop as Russian Dolls, each docking into the larger sibling. ASUS has added a dedicated hardware button to switch between Windows and Android and packs a punch with a Intel CPU and up to 1TB of internal storage.
The tablet itself comes with 128GB of internal storage, while the Atom-powered Android smartphone with LTE support has a 2500mAh power plant to provide ample juice to get through the day.
Transformer Book T300 Chi
Thin is good in 2014 and ASUS has created a super-thin 12.5-inch display tablet, which also performs well as a laptop. Powered by Intel, the device has no fans, no exhausts and is thinner than majority of ultrabooks available today. Detaching the tablet reveals just how thin the product is at just 7.3mm thick. The Transformer Book T300 Chi features LTE support and is equipped with a 2560 x 1440 WQHD IPS display for stunningly detailed visuals.
RT-AC3200 Router
ASUS has also unveiled a new tri-band 802.11ac Wi-Fi router that delivers speeds up to 3200Mbits per second. Various features are included in the package, including SmartConnect to automatically select ideal bands for connected devices and ASUS AiRadar to strengthen wireless signals and improve overall coverage and stability. The company boasts not only a 30 second initial setup time, but also an easy-to-use interface for consumers who aren't tech savvy.
Portable AiO PT2001
Finally, the ASUS Portable AiO is a 19.5-inch touchscreen All-in-One PC for both the home and office. Weighing just 3.2kg, the PC itself is easy enough to carry around and has an internal battery for limited use while not plugged in (for up to 5 hours). Just 12.3mm thick, the unit can be laid flat to enjoy touch-based games or configured for home movies with friends and family thanks to the full HD IPS display.
Specifications include 4th generation Intel Core processors, NVIDIA GeForce 820M and optional 802.11ac Wi-Fi.
Source: ASUS (opens in new tab)
Windows Central Newsletter
Get the best of Windows Central in in your inbox, every day!
Rich Edmonds was formerly a Senior Editor of PC hardware at Windows Central, covering everything related to PC components and NAS. He's been involved in technology for more than a decade and knows a thing or two about the magic inside a PC chassis. You can follow him on Twitter at @RichEdmonds.
The Zen book looks nice, but how much will it set me back !!

And what is the screen size?

15.6" with 3,840 x 2,160 resolution. Bing is a wonderful tool. ;)

I feel like 15.6, 4K is just as beautiful as 12, 2K on the SP3. Therefore, I'm still on the Pro Train.

Good point but this thing is packing a gtx 850 discrete gpu so its going to have a load more grunt driving that killer screen! Looks like a really hard choice. Either way apples going to have to announce something major to sway buyers to the rmbp...

Only without android, please. Even if dual boot, I m sure its presence will slow down things (it s in its nature).

Hahahahaha you just made my afternoon

Thanks Asus for embracing LTE. MSFT, your move.

"Please buy our partners products" -Microsoft

LTE isn't a partner product buddy. It is a connectivity option they offer already in surface 2.

What are you saying with your hipster mouth?

If the Zenbook has a touchscreen and its not too expensive with the GTX 850M, I might get one. If not, I think I'll get the Surface Pro 3 or I might get the Transformer.

With a 4k screen? A Surface Pro 3 will seem cheap in comparison.

The Toshiba 4K laptop is $1800 so I'd imagine this is somewhere around there.

Android hybrid? Erm, what "programs" does it run? lol! Better off with Ubuntu.

Everything that runs under windows as well as everything that runs under android?

Doubt it. Just Android with a mouse and keyboard. I've seen one before. Hybrid is a misleading name for such a device.

i have the Asus Transformer Book T300 .. an awesome device with great specs and materials ... Asus is a great company RESPECT ..

Hows the hardware? I've heard some negative reviews about this model. Also isn't the usb keyboard charging too much of hassle?

i5 256 Gig 4 Gig Ram all metal the device and the keyboard .. and no problem with the keyboard ... charge fast

Ohh... I don't think this model is available in India. How much did it cost you? And do they offer world wide warranty? I could import it.

here is the link to the same device it got : http://www.adorama.com/AST30DH51T.html world wide delivery to any country

How so? All of their Transformer Book products have come to market in the past so far as best I can recall.

I'm quite intrigued by the Transformer Book V. Definitely will want to check it out, as I like Asus a lot and their products have never let me down.

The T300 is something I really have my eye on. If they price it perfectly (just like the T100 before it), I can see it being a massive success.

Guy who linked in the comments above shows $950.

Ate you guys sure about the GTX in the zenbook? AFAIK up to now Asus only used GT class geforce cards in their ultrabooks, leaving GTXs only in RoG laptops

That's what their official press release says: Gtx 850 http://press.asus.com/PressReleases/p/ASUS-Presents-the-Ultimate-Digital...

Compared to MSFT Asus has delivered the specs, however they fail to release their products!

Asus is one of my favourite vendors, really good products.
I developed a kiosk solution for a client, to run on a cheap Asus eeebox, well, about 15.000 kiosks were distributed all around Italy, and I think less than 10 had problems in two years !!
This is what I call "solid".

They should work on their customer support instead. Very bad experience, never going to recommend Asus to anyone.

The Transformer Book V sounds very expensive ....

interesting that the Chi is so thin with a fanless design. I wonder what tradeoffs had to be made, if any. can it drive an external 4K display? does it have the same processing power as the SP3, or are they throttling the Intel chip?

I bet it is a bytrail or cherrytrail cpu (atom). unless it is an i3, I don't see how they can do away with the fan yet.

read it again, it's "next generation intel core processor", a.k.a. broadwell.

What has this got to do with windows phone?

Every time this is asked... Windows 8 growth helps promote Windows Phone 8 growth... Same UI, closely linked to each other with very easy syncing, etc... All of this is under Microsoft and now a lot of W8 apps have their WP8 variant and u can pay for just one of them, and the list can go on... So it's a no brainer why this is mentioned really. Edit: Oh and they probably mentioned android hybrid cuz that's a really eye catching feature that people will notice. It's a news source afterall

This is so stupid! Why would I want android when I have a full blown version of Windows?

More apps than W8? Appeal to those torn between a laptop and a tablet?

I guess if I had been on the forums for as long as you it would be a no brainer, but I haven't.

The nx500 looks like a killer. Will have to see what the battery life is like. Was considering the xps15 but this is interesting. I was also considering the sp3... Price and battery life will be the kicker!

If priced right, I think we have a winner. Posted via Windows Phone Central App for Android!

I hope Transformer V won't cancel just because of Microsft's/Google's reasons as always. Like what happened on the Ativ Q.

I think I'm the only one who likes this dual boot!

android OS?!!!! haha good joke! android is not even near an OS... AutoCAD, 3D max, Photoshop,..... and more 6 billion program are missing! sorry for Asus for such a silly product manager...who made 4K display for such a poor toy box! (ANDRUIN). The one and only Productive OS in the world is Microsoft Windows 8.1 Update1. that you can rely your Company on it!

I currently run dual 24" Asus PA246Q's's it would be awesome to run dual 328Q's

Suprised by the T300 Chi. Very thin.
Windows Central Newsletter
Thank you for signing up to Windows Central. You will receive a verification email shortly.
There was a problem. Please refresh the page and try again.