Asus announces Transformer Book Chi series, world's thinnest Windows tablets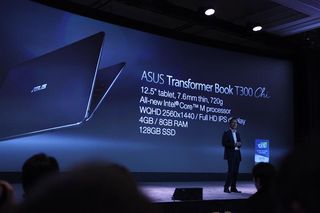 As part of their CES 2015 press event, Asus just took the wraps off of its new Transformer Book Chi series. Asus says that this series, which brings a set of three new tablets to the fore, represents world's slimmest Windows tablets at just 7.6mm thick.
The Transformer Book Chi comes in a few different flavors, all featuring Intel Core M processors and keyboards. The first of which is the T300 Chi which features a 12.5-inch display with your choice of WQHD or HD resolutions, a 128GB SSD, 4GB or 8GB of RAM, and 8 hours of battery life.
Second up is the T100 Chi, which features a 10.1-inch 1920 x 1200 display, 10 hours of battery life, 2GB RAM, and 64GB of storage.
Lastly is the T90 Chi which features an 8.9-inch display with a 1280 x 800 resolution, 2GB RAM, and 32 or 64GB of storage.
For price and availability, you can expect the tablets to be available in February for the following prices:
T300 with WQHD display: starting at $799
T300 with HD display: $699
T100: $399
T90: $299
Press Release:
ASUS Announces Transformer Book Chi Series
ASUS today announced Transformer Book Chi Series, a family of beautifully-engineered, razor-thin 2-in-1 Windows detachables, offering the unrivalled convenience of a powerful laptop that transforms seamlessly into a handy tablet whenever needed. Transformer Book Chi is fast but silent, featuring a fanless design powered by up to Intel Core M processors, for amazing performance that gives users the freedom to work and play with effortless mobility — anywhere, anytime.
Featuring some of the world's slimmest tablets, and with a gorgeous precision-crafted all-aluminum design, the Transformer Book Chi Series offers unprecedented sophistication and elegance in a 2-in-1. The Chi range comprises three models, headed by the flagship 12.5-inch T300 Chi — recipient of a 2015 CES Innovation Award — that is powered by the all-new Intel Core M processor for outstanding performance and power efficiency. T100 Chi is a compact 10.1-inch model with all-day battery life, and T90 is an incredibly-light 8.9-inch powerhouse for on-the-go productivity. All models have a bright, crisp and clear IPS display with up to WQHD 2560 x 1440 resolution for detailed and vivid visuals.
The flexibility and power of Transformer Book Chi means that users can now work and play more efficiently, with no need to carry multiple bulky devices — Chi can do anything you need, whenever you need it.
Inner power, outer beauty
All Chi models are distinguished by their razor-thin profiles and quiet performance, made possible by the fanless design. T100 Chi has the world's thinnest Windows tablet at an incredible 7.2mm, T90 Chi has the world's thinnest 8.9-inch tablet at a mere 7.5mm, and T300 Chi measures just 1.65cm when docked, which is even thinner than an Apple® Macbook Air®.
As well as being amazingly slim, Transformer Book Chi has a luxurious and sophisticated feel, with precision craftsmanship and engineering expertise combined to realize the seamless all-aluminum unibody design. The edges of Chi are enhanced with diamond-cut chamfering, adding brilliant highlights to the elegant metallic body. Chi's instant, seamless transformation between handy tablet and powerful laptop is made possible by the uniquely-designed magnetic hinge mechanism, which uses powerful neodymium — the world's most powerful magnetic material — precisely arranged to ensure secure, reliable and fuss-free docking, every time. The comfortable, highly-ergonomic keyboard is connected via Bluetooth, with a working range of up to 20m.
Beautiful high-resolution displays
Transformer Book Chi Series uses in-plane switching (IPS) displays enhanced with ASUS TruVivid technology, giving wide viewing angles with amazing clarity and brightness. And with up to WQHD (2560 x 1440) resolution and a class-leading pixel density of 235ppi in the T300 Chi — even higher than MacBook Air's 127ppi — users will enjoy incredibly crisp and detailed visuals.
Chi's displays also have an sRGB color gamut — 20% wider than the gamut of standard displays — that gives richer, more vivid and more accurate color reproduction. Colors are enhanced even more with ASUS Splendid technology, which optimizes display settings for a variety of different usage modes.
Rich, clear and powerful stereo sound
ASUS SonicMaster audio technology gives Transformer Book Chi Series the edge over the competition when it comes to sound quality. The superior engineering and cleverly-designed software delivers immersive sound that is rich, powerful and distortion-free, with clear vocals and a full-range frequency response.
Incredible performance for quiet and effortless mobility
Powered by an up to Intel Core M processor in the T300 Chi, Transformer Book Chi Series delivers smooth performance for all daily activities, whether for work or entertainment. The incredibly power-efficient Intel processors allow Chi users to enjoy up to all-day battery life with no performance compromises. This superb power-efficiency, combined with an advanced thermal management design from the ASUS engineering team, means that Chi needs no fans to keep cool. The clever fanless design enables Chi to run silently, while still delivering better performance than other currently-available Intel Core M-powered devices.
Ultra-fast, responsive all-solid-state storage is used in all Chi models — giving performance that's up to nine times faster than traditional hard disks — so users will spend less time waiting and more time being productive or having fun.
Transformer Book Chi features convenient, fast USB 3.0 connectivity — via a Type B USB port — for data transfers that are up to ten times faster than USB 2.0.
Luxurious and practical accessories
To complement the sophistication and elegance of Transformer Book Chi, a special range of beautiful yet practical accessories is available.
The Active Stylus Pen allows users to write, draw or annotate items anywhere on the screen, and features a pencil-like feel and palm rejection that allows the user's hand to touch the screen. With a rechargeable battery that lasts up to two months battery life on a single charge, it's the perfect on-the-go productivity companion for Chi.
Chi TriCover is a luxurious magnetically-secured cover that provides full protection for Chi, and also has a built-in multi-position stand that props up Chi at the perfect angle for typing or entertainment. There's also a handy pen holder on the cover.
Chi Case is an ingenious two-piece cover that gives full all-round protection for Chi's tablet and keyboard, while also allowing the two to be detached. Made from wonderfully-tactile materials and featuring openings for all ports and connectors, Chi Case maintains the sleek lines of Chi while offering stylish protection.
Windows Central Newsletter
Get the best of Windows Central in in your inbox, every day!
Dan Thorp-Lancaster is the former Editor-in-Chief of Windows Central. He began working with Windows Central, Android Central, and iMore as a news writer in 2014 and is obsessed with tech of all sorts. You can follow Dan on Twitter @DthorpL and Instagram @heyitsdtl.
Bummer that they didn't announce a Zenphone 2 for Windows too. I think that was the only Android at their event lol

These are consumer laptops, right?

Yes, it is the CONSUMER electronics show ;)

Still, Lenovo shows some of their business line.

Are these laptops or convertibles? Does the keyboard detach?

Got your answer right here. http://youtu.be/S4tBXr_bVXA

I wish the Surface had that quality of a detachable keyboard. That's nice.

seems that there is no kind of displayport, only usb3

I want one... To replace my current Gen T100

I want 1 too...so I don't have to save for Surface Pro 3. Hehehe. Sorry MS or maybe others will launch something better and cheaper. Lets wait till CES ends ;)

No you don't. I was excited about replacing my T100 also until I found out they did away with ALL the ports except one micro USB. Not even the micro sdhc port is there. POS.

No USB port?! That sucks!

.... That is insane lol... I guess someone really took cost cutting a little too seriously :p

What an aggressive price for the high-end Chi. That'll sell super well, especially when compared to Samsung's Elite 9 series and the SP3.

That's starting price; let's see the full pricing sheet

agree again, but will be cheaper than sp3 hopefully :)

Nice lineup. I'm anxious at looking at these devices in the stores.

Any of them have active stylus support?

YES! I need to know this as well!

For sure, that is my prime criteria to upgrade from the dv8 pro

At the risk of being "that guy"... read the the article. "The Active Stylus Pen allows users to write, draw or annotate items anywhere on the screen, and features a pencil-like feel and palm rejection that allows the user's hand to touch the screen. With a rechargeable battery that lasts up to two months battery life on a single charge, it's the perfect on-the-go productivity companion for Chi." It's almost like the author is trying to answer all your questions before you even ask them... go figure. Reading Is Fundimental (RIF)

Any ideas what pen technology is used?

Not off the top of my head, but at those price points I'm pretty sure it's not Wacom. It could easily be the Synaptic that's in the Dell Venue 8. But its all just a guess game right now.

These shows are so ridiculous. It is simply incredible how much bullshit is said on these stages. I had to turn it off, it was that bad! The Transformer Book Chi is amazing, it looks extremely perfect. The name though.... Pretty obnoxious and lame. Asus Transformer (Yeah we get it, it transforms) Book (Yeah we get it, it transforms), CHI (Yeah we get it, it's spiritual and not really "technology") T300 (Oh there's a model number too ;) )

You cracked me up man. After reading your comment, my coworker n boss had to come to by cube to make sure I was ok cuz of the sudden hysteria that was happening in my cube. You sir, can definitely star in Comedians and Technology (not Cars). Your comment do make sense though...it's like a fashion parade with these product unveilings and it's a shame sometimes they don't live up to the stage hype.

Waiting for the Asus T1000, which morphs into whatever I need. :P

If it doesn't make the transformer noise I don't want one.

Autobots, transform and roll out!

T200 for 500$ would have been a slam dunk for me. Still, I predict good success to the new T100. Does it really come with Core-M? That looks unlikely. It should be Cherry Train in there.

Trail. Train sounds cool though.

No ports. They did away with all bit the micro USB port. Not even a SD slot. That sucks and makes it worthless to replace my T100.

8.9 inches doesn't sounds good to me. And worsen is they have no keyboard. Not sure about this. Competition for the surface?

Was excited about the T90... Then I saw the resolution. 1280x800?? It should have been at least 1080p. We're in 2015 for crying out loud.

Tell the Macbook Air that....

The T100 Chi looks bad ass. Would be great budget alternative to the Surface Pro line.

Why don't Asus give the keyboard dock a battery that can be used to extend the tablet's battery life? Posted via the Windows Central App for Android

Because it would make it thicker. They should of made a slim keyboard and battery keyboard. That's what dell did. But this is way way way thinner than my dell venue 11 pro (i3). That thing is so heavy especially with keyboard dock Posted via the Windows Phone Central App for Android

Regardless, that's what I love about my TF701 (and my TF201 before that). I just want something like that with Windows 8.1.

I agree with TonyRAnderson. These do look bad ass. I'm heading to CES tomorrow and I hope I can get a closer look and take some photos.

Why! A 9 inch model! Too tiny!
Well I am still keeping my i3 dell venue 11 pro, I think 2 of these docked would be thinner than my dell with keyboard dock. Posted via the Windows Phone Central App for Android

Why can't the little one have a 1080p display. I have/use an iPad mini with Retina, a nexus 7 2013 and a DVP8. The difference in the high quality displays is noticeable. With the way the modern apps do display scaling this should be a no brainer.

I don't like how trend goes these days.., there was oppo with the thinness phone on planet, which doesn't even have normal Headphone jack due to it doesn't fit. Now this... Which seems to only has 1 connector... Micro USB... Heck? It'd be far better if they make them a bit thicker so it has better battery life time, more peripherals, feel solid in hand, and no ugly protrudingcamera... Etc... Being thin is not always good people. :|

Touch screen? If not, forget it!

I was impresed till the time I read about USB ports in the comments. Is it true that it has only one USB port? If so, then that would be a big let down in what is otherwise almost a dream machiene.

It's just one Type B USB 3.0 port, like miniUSB. No full USB port on the keyboard dock either.
Windows Central Newsletter
Thank you for signing up to Windows Central. You will receive a verification email shortly.
There was a problem. Please refresh the page and try again.