ASUS' latest Wi-Fi 802.11ax router can hit speeds of up to 10Gbps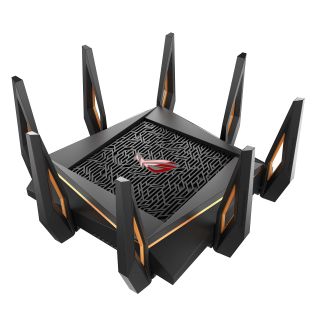 With the 802.11ac standard now mainstream, ASUS is looking ahead to the 802.11ax spec with its latest range of routers. The manufacturer is rolling out three routers that take advantage of the upcoming standard, with the flagship GT-AX11000 touted with a 10Gbps throughput.
Like 802.11ac, 802.11ax leverages the 5GHz band, but uses more spatial streams to deliver increased bandwidth. We're broadly looking at a throughput of 4.8Gbps for the 5GHz band, considerably more than that of 802.11ac.
Rapture GT-AX11000
The Rapture GT-AX11000 is the world's first tri-band 802.11ax router, and ASUS claims it can go up to 11,000Mbps. That's because the router has two 5GHz bands — much like the RT-AC5300 — and a single 2.4GHz band. And like the RT-AC5300, the GT-AX11000 has eight antennae, and the router retains the same arachnid design.
The GT-AX11000 is able to achieve 9608Mbps from the two 5GHz bands, and 1148Mbps from the 2.4GHz band. The router has a 2.5Gbps Ethernet port for those looking to bridge their NAS connections or maximize Gigabit throughput, and you also get standard Gigabit Ethernet ports.
Like previous offerings in this series, the GT-AX11000 comes with a QoS that automatically prioritizes gaming traffic.
ASUS RT-AX88U
The ASUS RT-AX88U has the same underlying specs as the GT-AX11000 but in a much more conventional form factor. The RT-AX88U has a single 5GHz band, so the maximum bandwidth is only around the 6000Mbps figure: 1148Mbps from the 2.4GHz band and up to 4804Mbps on 5GHz.
The router has two USB 3.1 Gen 1 ports and eight Gigabit Ethernet ports, double the number usually found in this segment. There's also a provision to hook up a 4G dongle to the router in an event where your internet connection cuts out.
AX6100 mesh router
ASUS mentions that all of its 802.11ax routers — as well as several 802.11ac routers — will work with its AiMesh tech, but the manufacturer is rolling out dedicated hardware nevertheless. The AX6100 mesh routers are sold in a pack of two designed to boost Wi-Fi coverage throughout your house.
The router looks diminutive (next to the AX11000 and the AX88U), but it has a tri-band design that allows it to hit a max bandwidth of 6100Mbps: 4804Mbps on the 5GHz 802.11ax band, 866Mbps on the 5GHz 802.11ac band, and 400Mbps on the 2.4GHz band.
The trio of routers will go on sale sometime during Q3 2018, and for now, there's no word on pricing or availability.
Windows Central Newsletter
Get the best of Windows Central in in your inbox, every day!
Thank you for signing up to Windows Central. You will receive a verification email shortly.
There was a problem. Please refresh the page and try again.