Asus' ultra-thin ZenBook UX305 lands in the U.S. for $699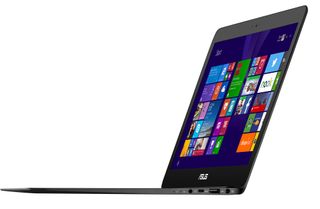 Asus launched the latest addition in the ZenBook series, the ZenBook UX305, in the UK earlier this month, and is now bringing the Ultrabook to the U.S. The 0.48-inch thick notebook will be available in the country for just $699 for the full-HD model, with the QHD+ variant set to debut at a later date.
The ZenBook UX305 features a 13.3-inch full-HD display, Intel's latest generation Core M CPU, 8GB RAM and 256GB SSD. There's dual-band Wi-Fi connectivity, Bluetooth 4.0, a USB to Ethernet adapter, one micro-HDMI port and three USB 3.0 ports, one of which can be used to charge your mobile device quickly through Asus' Charger+ technology. Also included is the vendor's SonicMaster audio technology that delivers clear sound from the built-in speakers. The notebook runs Windows 8.1 out of the box.
The all-aluminum Ultrabook comes with a wedge design and will be offered in an Obsidian Stone color variant. The full-HD model will be available in the U.S. for $699, which is much lower than other notebooks that offer similar specs. We'll let you know where you can get one as soon as it goes on sale.
Please let me know when you know. All kinds of goodness in that laptop.

Asus sucks gay balls compared to dell.

You are incredibly wrong.

What do you guys think about the Core M processor?

Mid-range processor, so no crazy computing tasks on that system. However, the full SSD and 8GB of RAM will make up some of the lost processing power with speed ;) this one is a good laptop all around :)

Definitely a good buy Posted via the Windows Central App for Android

I guess that's how they managed to get the price so low. Usually they go for about $1,000 with those specs.

I have a Core M and I'm super happy with the choice I made. It works really well for me, but if you have any specific questions for me I will answer if I can.

Core M= i3 or less than i3?

This ships with Core M-5Y10. That's somewhere between typical i3 and i5 found on laptops. So it's a solid performer. http://www.cpubenchmark.net/cpu.php?cpu=Intel+Core+M-5Y10+%40+0.80GHz&id=2316

For this price and THAT build quality? Yes, a good buy. In a $1000 machine? No. Never.

Precisely. The core m is a decent and power efficient lower end CPU, and that is reflected in the price - but it isn't a full bore haswell or broadwell part. But then this cpu isn't meant to go in higher end work devices. Even the xps13 is a brilliant all round media device - but struggles in the ram and heavy lifting department - I've got two i5 and an i7, vm work can be tricky on heavier loads - but then these are not work stations. I can't wait to see a refreshed xps15 with the new quad core broadwell parts...

XPS15 with a bezel-less display like XPS13 and lower weight would be THE machine of the year. Also pretty excited about seeing the 15" Ativbook and the high-end Zenbooks by ASUS. Those things slay every year.

This if u dont want a tablet

The surface has a more powerful cpu, but for more money

Loving the paper thin laptops that are inevitably accompanied with horrendous battery life. Great work, manufacturers.

6 hours is not so bad, but it could be better for sure. It's the design choice for the buyer ;-)

The problem is that it's 2015 and there still isn't a legitimate MacBook Air competitor. The Air is thin enough and reaches its battery life with last-gen components.

Well how about the new Dell XPS 13?

Great screen, but consensus seems to be that it gets in the range of 7–8 hours which is pretty ordinary.

The Air's resolution sucks, it's 2004-ish. You have to compromise battery life for higher resolution

The battery in this is rather large, actually, and the battery life ranges from 6 hrs (videos) to 10 hrs. (general work, web surfing, nothing processor intensive). Go in search of some of the images of the inside of the thing-- The battery takes up a lot of space in there.

That price is tempting me to buy a Windows laptop! Posted via the Windows Central App for Android

I absolutely hate it when laptop and notebook and tablet news are shared with every goddamned detail about it except for its weight! Reviewers, please keeps your scales with you.

Now if ASUS would take this a bit further and turn it into a 2-in-1 design and utilize 16:10 aspect ratio display.

Boo core M. I wanted at least an i5.

Come on, look at that price tag. High-end useless Android tablets cost near to that price with far lower utility. This is a great machine.

i5 would be far less efficient in terms of battery life.

Wow this looks sexy. Too bad it's only 6 hours with a core M processor.

It was the QHD resolution I think, so this full HD version might have better battery life. But I wonder how much better it is.

Other reviews are saying 6 hrs is when you're watching videos or doing CPU-intensive things. Regular use goes from 6hrs to 10hrs.

Is this laptop good for design graphic?

Probably not. Graphic design apps require more powerful processors.

I'm guessing that's nontouchscreen just like dell's entry level.

Base model is matter without a touch screen. Other models will have a glossy touch screen for a higher price.

Now that I heard Dell XPS 13 (2015) has horrible Linux support, I wonder the Linux supoort on this device.

Linux support is coming on the Dell XPS, the devs behind it did an AMA a few days ago saying that they are actively working on driver support for the Dell XPS 13 and that a developer edition is coming out soon. Broadwell is just too new.

Always nothing for Africans

How much ghz this notebook has got in its processor??

800MHZ boosted up to 2000MHZ, it's the Intel Core M-5Y10c

Why it's so expensive in UK.Pc world in uk selling it for £649.99

And notice how the ssd is only 128gb. UK stinks for prices. Time for a revolution!

Not saying the UK is price is fair even after exchange but you guys outside of the US and Canada should realize prices here are listed without sales tax and environmental fees. Depending on state/province add another 8-17% for sales tax plus usually a small enviro fee

Already available on Microsoft's online store

Am I dreaming? I've been looking at Asus ZenBooks, thinking it'll be the next one I get, but the ones from last year with specs close to these were $999 at best. This feels too good to be true, hope that $699 price holds because this will be my next laptop for sure if it does.
Windows Central Newsletter
Thank you for signing up to Windows Central. You will receive a verification email shortly.
There was a problem. Please refresh the page and try again.