AT&T begins rollout of Windows 10 Mobile OTA update to its Lumia 830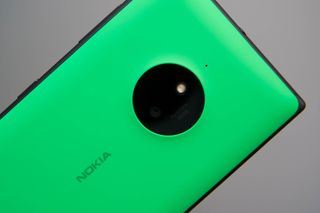 AT&T has begun rolling out its over-the-air update to its Lumia 830, updating the phone to Windows 10 Mobile.
As with previous OTA updates to Windows 10 Mobile, the download for the AT&T Lumia 830 will require the use of the Upgrade Advisor app from the Windows Store. Here's what's AT&T (opens in new tab) says Lumia 830 owners should do:
AT&T adds (opens in new tab) that the download size for the update will be 333MB Update Looks like that AT&T got that wrong; its more like 1GB in size.
Once it is installed, the OS version number will be 10.0.10586.218 and the firmware number will be 02179.00000.16201.54051.
Thanks to Long Syntax for the tip!
Download Windows 10 Upgrade Advisor from the Windows Store (opens in new tab)
I hope no one is still suffering with this phone.

While overpriced, the 830 was/is a wonderfully capable device with great looks imho!

I liked the design too, but there's no denying the phone had/has serious issues ranging from build quality to faulty hardware components. I've owned about a dozen Windows phones, mainly Nokias, and the 830 was by far the most disappointing, poorly built, poorly engineered, over priced phone I've ever had.

I never heard of anything else except being over priced..

Read the forums, here and elsewhere. GPS, Bluetooth, capacitive buttons, cellular reception, over heating, etc. ... You guys can keep down voting and acting like its a perfect device, but facts are facts. I would have loved for this phone to be what I expected when I left Verizon after 14 years to get it on AT&T, but it just wasn't - not the first device, second, third or even fourth.
When I got my 950, I took great joy in smashing my 4th 830 on the concrete.

I cannot recall being as disappointed with any other Windows Phone as I was with the 830. Performance just was not there on the one I had for a month. The fact it was ridiculously overpriced did not help it one bit. Should have been $300 off contract when released tops.

The only thing this phone is good for is people like my parents that use it for calling, SMS, and watching online videos.

to be honest the same goes for the 950s running beta WM10. The 830s had one thing going for it and that was 8.1 was more stable. BTW using MS Edge on a Win10 laptop and it sucks! Trg to type this post and seems like the laptop will catch on fire!

It's as stable as WP8.1 on my phone.

Not had any issues with my 830 in the 19 months I've had it. Only had the 950 for 2 months but haven't seen any issues on that either. As for saying "facts are facts" I'd argue otherwise, since my experience of the 830 doesn't back up your complaints with it.

Your experience w/ 1 830 < my experience w/ 4 830. Plus the hundreds/thousands of complaints in the forums here. Facts.

May be people have better experience with it..

We don't smash windows phones. Android on the other hand.... (I smashed my htc evo 4g 4 years ago. Switched to tmobile and got the 810 and been with windows since!)

I've got 2 that are still banging like champs, despite one of them having a broken screen from a nasty fall. Sorry you had bad luck..

I got one that drowned, and the speaker doesn't work, but phone still does, so kids are gaming on it. Sound will work over bluetooth.

Mine works great with Windows 10

Phone works fine for my wife without issues running W10M.

Two of my kids are still rocking this device and love it. I still have some envy at the lovely build quality of the 830 compared to the 950XL.

I did liked this phone, but with WP8.1, after W10M, it is one of the worst experiences, not exclusive to this device.

I "suffer" through this phone every day. I hate how its fast and light. I hate that it has a 128 SD card in it. I hate that the 2 yr old camera is still better than my iPhone 6. I hate that it has Qi charging and I hate that it runs W10M jsut fine. I cant wait to get rid of this POS.

That suffering must be the worst thing ever. There there! I have my iPhone 6S, and you're right, the camera on this Lumia device is awesome!!

So much hate!!! I love the fantastic front camera!! It's awesome!! Haha

I'm glad it works for you.
But fast? It's processor was old and under powered before the phones release.
Light? Not really,
Better camera than the iPhone? LOL of course! The 8 MP camera on the 822 was better too!

I don't have any problems with its speed, it is much lighter than a 920 or my Galaxy S7

Hard to believe It's lighter than a phone from 2012 and it's only 0.07 oz lighter than the S7.

I GET IT YOU HATE THE 830. ITS OK.

Yes, and I get that many of you refuse to acknowledge this phone's shortcomings or any mistakes by Microsoft/Nokia.

Why you worried about what others think of their phone what difference does it make to you

AGREED! Damn thing is excellent, but I should throw it in the garbage. Posted via the Windows Central App for Android

Man, I still am suffering... :( and im stuck with it for another 8 months.

I am currently using it as a back up. No issues with it on W10M. 950 went down and it has no issues.

the only thing they could be suffering from is AT&T. Glad I'm with Tmo.

I had an 850 for 2 years with no problems. Now I have an 950. I've had Windows phones back to Windows Mobile 3.

Agree with you. Worse phone I used ever along cheap Android phones. I had to glue the screen back on as it kept on falling off. The screen keeps flashing for no reason at all. Constant hanging. Speaker gives problems and need to restart it to make it work again. The only reason I keep using it is because I got it for free from a local Microsoft store which was going out of business.
Can't wait for Galaxy Note 7 or the iPhone 7.

I think everyone acting like they've never had a problem with the 830 is a lying fanboy that is only hurting us all.
I love Windows phone, I've almost certainly had more of them than the rest of you, but I know when to call a spade a spade.

I just upgraded and everything works fantastically! No problems. Battery life great. Smooth and fast. All apps restored with no problems. Posted via the Windows Central App for Android

Finally! Now my backup phone can be "official" win10m... or I can sell it :-)

How do we get the firmware update if we are a Windows insider?

It doesn't matter if you're an Insider for firmware. Hasn't for months now.

What do you mean? It's been a while since I've cared about firmware. Should I get the update via Update Advisor or OTA? As of now neither give me a firmware update (Could be impatient), I'm still on 02179.00000.15455.24047 Thanks!

Here's the thing you're assuming: that there is a firmware update. 99% sure there is no firmware with this release. If there WERE firmware, it would show on both OTA and WDRT. It doesn't matter if you're an Insider, or what build. Firmware, if available, will get pushed to your device. No devices besides x50 series, has been getting firmware. It's not need for Windows 10 Mobile.

I'm hoping I didn't waste my time here, because I rolled back from redstone. The way I see it, 02179.00000.16201.54051 > 02179.00000.15455.24047 - and I"m hoping it fixes the blinking screen issue.

Exactly my issue! Hoping not to roll back. Not sure if I can restore my backup since I'm running the anniversary update already. Sound has always been buggy at times too no matter what OS I'm running.

I really dont want to roll back, have everything exactly the way I want. I'm glad to hear I'm not the only one with the screen flashing out issue, I figured it was a defect on my device only. Any chance the firmware only will come down by leaving the insider program or some other level of it, like release-preview?

i didn't want to roll back but I tried leaving the insider program and that didn't show any new updates afterwards.

Did anybody figure out how to get the update without wiping everything out and starting over?

I can confirm, ATT 830, if you use the upgrade advisor then you do get a firmware upgrade with this update.
I updated my wife's phone today, first pass I mistakenly went to Windows Insider, updating that way provides no new firmware. I reset the phone with the WDRT to 8.1 and updated again with the Upgrade Advisor and that brought the firmware update. Not sure how else you would get this firmware, but it wasn't readily available through Windows Insider updates.

T-Mobile? Will they ever give US this update !!

Did they even carry the 830 like they said they were?

nope never had the lumia 830

Wow, only six months late. And then it will update again to Redstone on Tuesday? Maybe they want to avoid all the "everyone else has Redstone and I still have 8.1" support calls.

The Lumia 640 XL hasn't received the update officially from AT&T yet. I bypassed them and put Redstone; having no real major issues, battery life is great.

Did att officially carry the 650xl?

Just FYI update size is 1060 MB, not 333 MB as the article incorrectly states. 333 MB is the size of the previous update for the lumia 830 on AT&T which added HD voice.

w10.1m is almost out and they just now decided to send w10m to it? btw how can it weight just 333mb?

It doesn't that's an error in the article. It's actually over 1GB.

I dunno but its not so smooth as 8.1. some part of the OS are too laggy . Posted via the Windows Central App for Android

Hey that's great to hear for these Lumia 830 owners! Hopefully my dads Lumia 640 on t mobile will also get officially updated.

Used it in windows 10 for almost six months before I got the 950. World smoother and faster, bout wasn't as reliable as 8.1 also. After the last update some two months ago, the camera went dead. But it's a great device

Same here. Updated to windows 10 and camera stopped working. Haven't found a fix. Luckily I had a 640 to keep me going.

I would love to put it on my 830 but I apparently made a critial error. I removed it from my Microsoft account a few months back. Afterwords I reset the device. Then the Reset Protection thing came up and wants me to put in the key... I don't have the key as I apparently deleted it. So a legit owner got locked out of my device. You'd think it would give you the option to log on with your Microsoft account with reset protection but nope!

Use the Device Recovery Tool and during setup make sure it's connected to the Internet through Wi-Fi, it worked for me.

Hmm... I'll try again. It is definitley on wifi. Thanks for the info!

Dude! It worked! Thanks for encouraging me to give that another try. I must have just hard reset previously vs using Device Recovery. Thank you :)

Haha, no problem, just glad to help!

What's the difference in the 10.0.10586.218 build and the insider fast ring build? 14393.5 or something.

First one is Threshold (a version that has been out for two months actually), then 14393.5 is Redstone (or the anniversary update).

Difference in features and stuff?

A lot, more than I can remember.

Not much. Same bugs in both!

Well the messaging attachment bug isnt as prevalent at least

I installed this last night and everything was smooth sailing. Seems to have breathed new life into the old girl. So far, everything is quick and responsive. I just wish it would have gotten my earpiece working again. No such luck and out of warranty. Might have to trade up anyhow.

Finally Windows 10! I have had my 830 for over a year now and it has been a great phone! Battery life has been superb. Hope that continues after Windows 10 upgrade.

Do note that battery quality degrades over time, & W10M's known to be a bit more resource heavy. So you may well notice a slight degrade in SOT... Does the 830 have a removable battery, if it does, might be worthwhile investing in a new one.

Yes, but not sure if any batteries are available.

I'd be surprised if there's not, even if there's no "official MS" one (YTBD), there'd likely be suitable ones via the usual channels.

Let's not forget that there was a time where an AT&T rep stayed there would be no new updates for this phone. This is good news for all who have it. I loved it when I had it, but really wanted a more flagship experience. Traded it in for a Lumia 950. Looking back, wished I could have had both.

I have one of these to ditch, what a disappointment this phone was

I got so excited when I read the title...I thought it was firmware for AT&T's 950...

I thought that was rolling out too??? Or was it just the unbranded unlocked ones getting it.

I updated my L830 on Release Preview to build 14393.5 last night. But I'm seeing an older firmware version (02179.00000.15455.24047) on my phone. How do I get this newer firmware? Is it available on WDRT? I plan to hard reset and do a fresh install sometime next week but would love to get the latest firmware to go with any new builds that might come on or after 8/2. Thanks!

This is great news. Now that the Lumia 830 will have Windows 10 it won't have to wait for AT&T for OS updates anymore so it should be on the same schedule as the other Lumias like the 950, and 950 XL.

My wife and mom have 830's, no issues

I'm pissed I lost my messages after last hard reset. Anyone else have this problem? They didn't restore and I always backed up my phone

How long ago? Keep manually syncing your outlook email and they should come back. Soon!

Impressive! Just picked me up another 640XL, my last one was bunk, hope it comes to that too, with Wi-Fi calling!

I'm still waiting for the firmware update for lumia 950 on ATT.

Do I just keep hitting refresh on the outlook mail app?

So, I'm on insider preview ring. How can I get firmware?

Have L830-rm985 for about 18months and never had a single issue with it. Use it with cricket and I decided to keep 8.1.

Smart. Windows 10 is bug filled BETA crap and has been for one year now!!

its alot better these days especially RS

I really wanted to love the 830. I had it for 3 months back in 2014 when it came out. It felt so premium and was very handsome. Unfortunately it had issues and I sold it for an iPhone 6 before the value tanked. There is no way I could have waited two years for Windows 10 mobile to get to the stage it is now. Glad I bought a solid 640 to test out the new soft ware

...and I still don't have a decent answer to my mom and sister clamoring for an update on their Lumia 640XL's from AT&T

Please is there windows 10 update for Lumia 930?

HELP! My 830 downloaded and installed the update last night, and now my phone won't load at all. Just endlessly cycles through the initial Nokia screen, and the OS never launches. I had WM10 on here as part of the Insider Preview ring, I was on the slowest ring. Am I toast?

windows device recovery tool is ur option !!

This l830 has a screen blinking issue

Rogers/Fido is available too since a little while...

Does anyone know if ATT 830 has Call recording ?

guys anybody having screen blinking issue on win 10 latest build ?

I have the 830 and have NEVER had any of the problems you mentioned. Capacitive buttons could've been backlit. Other than that, spectacular phone, esp the camera. Posted via the Windows Central App for Android

My experience going to W10M with my Lumia 830. After reading good and bad about this I wasn't sure I should do this. I do have a Lumia 820 I could go back to. I used up a few hours last night and a bunch more this AM. Last night after watching the gears spin for a while, they finally disappeared and I thought I was good to go. But just about everything I opened needed to then be individually updated. There was a lot of waiting. Sometimes when you opened an app, it would pend for a while, while it downloaded an update or a bunch of other apps. For example, when I first opened Excel, it went to pending status and I noticed a faint downpointing arrow with a faint number next to it, located near the upper right corner of the screen. As I looked at it, I noticed the number changed from 17 to 16, and then it slowly counted down. Excel finally updated when the number got to about 4, and then Excel could be opened and worked fine. For the switch to Maps, there is an option to move your downloaded maps to the SD card, which takes time. I found I had to check all my settings because a few of them changed. Some apps that don't have W10M versions disappeared. A number of pinned tiles went blank, but often if I clicked on them I could figure out what they were. I could usually restore the ID of the tile by unpinning and then repinning the tile. You might want to make a list or take a picture of your apps and start screen before you start so you know what changed. Also, I read in the documentation that Tasks would not work in the W10M calendar. Since I sometimes used that to keep some notes, I simply copied and pasted that info into a word document before I started and saved it in OneDrive. Sure enough I don't see Tasks on the new calendar app, so I'm glad I did that. This morning my phone informed me I needed another restart, which I did a couple times. But I kept getting the same notification. I then went through settings and found a restart scheduled for 3 AM. I opted to select the button to update now, and I had to suffer through the spinning gears again. After more checking and updating and tweaking I think the phone is set up about where I want it, and I think I am going to like it. At least I hope so. So if you choose to do this, I suggest you need time, patience, and attention to detail. Don't expect to be able to use a lot of the apps right away without needing more time updating, checking and tweaking. I spent several hours over two days on this. Oh yeah...when I opened PowerPoint to update it, the screen became unresponsive to any touch. I tried to shut the phone down but I couldn't even make the screen slide down to turn it off. I removed the battery, then put it back in and problem solved. I will probably report if major problems develop. Good luck. I hope this works out.

This phone is hot garbage. I was so stoked to get mine and really loved the looks until I received it. The screen is awful, the front camera is awful, and I remember having issues where the sound was almost muffled and had a screeching sound during notifications.

Ugh. I have no desire to roll-back & lose all sorts of data due to running the Redstone release already. My firmware is ancient though... 02040.00012.14404.07019 is showing in the Info page. HW Revision 1.0.0.0 too. Might explain the voice quality complaints people have when they're on the phone with me.

I don't know if it was supposed to happen this way or not, but my phone updated a second time today. Now it is at version 1511, build 10.0.10586.494.

I have the 1520 and everything was fine and Cortana worked great until the last 14393.5 update. And my messages I backed up haven't come back!! Anyone else have this problem?? I also did a hard reset

I've been using it for a year and while it has a great camera a very nice design and a good battery life the buttons are plastic unlike the frame and the paint peels off them after a while , very overpriced considering the old hardware and many MANY bugs after w10 update however camera quality is amazing I get many wows for it and I got it in a discount so I can't complain ;)

Getting my 830 in a couple of days lord willing. We'll see how it goes with win 10. So far my 650 and 640 XL are running anniversary update through windows insider with no problems other than a text scaling issue that was fixed by a hard reset. Win 10 is soo much better now than it was back at the beginning of the year. Much more stable now. It can only keep getting better, at least that's what we hope.

Ever since the last windows 10 update my rocketmail account keeps blocking my nokia 830 I can logon to it through my phone internet but it will not connect with the app. It keeps sending me emails says someone has attempted to log in.
Local ATT or Microsoft store doesn't know what's going on.
Terry
Windows Central Newsletter
Get the best of Windows Central in in your inbox, every day!
Thank you for signing up to Windows Central. You will receive a verification email shortly.
There was a problem. Please refresh the page and try again.