AT&T discontinues U-verse app for Windows Phone 7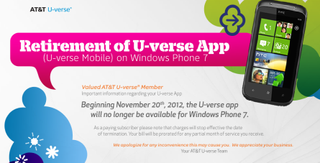 We don't happen to use AT&T's U-verse service (opens in new tab), which allows users to download and watch some big name TV shows on their Widnows Phone. The service is part of the whole U-verse package from AT&T and while the app only had some mediocre reviews, it was still a nice option if you had AT&T's internet and TV package at home. And even if you didn't have their services, you could still opt in for $9.99 a month.
But it looks like it wasn't meant to last as AT&T is discontinuing the app effective November 20th for reasons unspecified. Perhaps it is because they have a Windows Phone version coming out and they don't want to support both or maybe not many people used it—we'll never know.
Source: AT&T; Thanks, everyone, for all the tips!
Windows Central Newsletter
Get the best of Windows Central in in your inbox, every day!
Daniel Rubino is the Editor-in-chief of Windows Central, head reviewer, podcast co-host, and analyst. He has been covering Microsoft since 2007 when this site was called WMExperts (and later Windows Phone Central). His interests include Windows, laptops, next-gen computing, and for some reason, watches. Before all this tech stuff, he worked on a Ph.D. in linguistics, watched people sleep (for medical purposes!), and ran the projectors at movie theaters because it was fun.
I hope we can still access the app. I use it to set my DVR when im on the go and is very useful........

have you been able to use it lately? About 2 weeks ago it started to give me errors and won't let me sign in. I haven't been able to use it for a while....
I don't care if you take away the app, but you BETTER give me a viable mobile website option then!!!

...... and just to see what is on as well. I used the U-Verse app to make sure the families favorite shows were covered and tell what was on when. Seems a little unsettling the Premier Windows Phone carrier is cutting the cord on this.

All the more reason to buy a WP 8. This may be the beginning of the end for WP 7 support.

Doesn't buying a WP8 phone simply reward AT&T for their behavior?

Same here...they web site doesn't work well on mobile browsers for managing the DVR.

Will it be available for 7.8 phones? And will it be on 8.0 phones?

Ok, I've been anxiously awaiting the pre-order announcement for at&t and had a mini-heartattack when refreshed browser to see at&t at the top of WPCentral! And it was about a service that AT&T doesn't offer in many area's around me to begin with.

who uses U-Verse?
Now who uses U-Verse and a Lumia 900?
exactly

I use Uverse and have a Lumia 900 (soon to be 920). Granted I rarely use the WP7 uverse app, the iPad one is amazing. I am hoping they bring over the iOS uverse app to W8 and WP8. SmartGlass and the Uverse app would be awesome to have on the Surface.

Not even close on my Focus S either!

I do and I use it alot just because I was able to set my recordings on the go.

There is no U-verse in my city, and I dropped AT&T as my ISP anyway when they capped bandwidth.

That's a shame. The u-verse app has been around since the WP7 launch. It wasn't the greatest app, but it worked pretty well for basic scheduling. Searching for something and/or trying to watch mobile content was kind of a joke, though. Tried to find the time for a game to record and it would show me the team, then I could see the scheduled games, but I couldn't get both filters to work at the same time. :P
Hoping they do some updates for a new version of the app on WP8. It does have its uses, even if they're somewhat limited.

Did they ever re-release the 360 uverse connector/app?

No, it was kind of bad. Xbox could be a receiver but it had to always be powered on....never heard why though

Yeah fudge ATT. I got uverse and I used my app.

Boo Right before I switch over to AT&T for the L920. :(

Its discontinued for WP7 not WP8... And I am sure it will pop up later for the WP7.8...

I couldn't get it to work consistently. I gave up during the Olympics.

With all the MS fanboys on this site I'm surprised more of you don't use U-Verse TV as it's built on the Microsoft IPTV platform. I evaluated it but found Xfinity to be a better fit for my needs. Even so, I'm sad to see the U-Verse app shuttered.

Yeah, it's a wonder more of us aren't reading android central...

Clue is in the site's name.

WP Central does not equal MS Fanboy Central.

I am sure there is a more robust version being released for WP8...

Um...what phone is listed in the bulletin? Looks like a HTC trophy....which is on Verizon. Way to go AT&T

It IS the Trophy, it is the stock photo for the UNLOCKED Trophy (look it up, even has the same stock price at the bottom, haha). So, it isn't a Verizon phone, but you get the point. I agree...can't believe they didn't use a stock AT&T phone, Cynergy...WTF is that?

It's not a Trophy... It's an HTC Mozart, which BTW was the best first generation Windows Phone device of them all.

Looks like the HTC Surround to me witch was an AT&T phone.

Maybe this is ahead of new WP8 app?

I hope so...branding is changing a lot there recently.

This app was pretty useless anyway, i couldn't ever sync anything i actually wanted to watch

i would be ok if ATT would discontinue all of their dreck apps. In fact, they can discontinue their app hub altogether. They only need one app in it and that being a link to the Straight Talk website to get proper service.

Good riddance. It never worked for me on my Focus, HD7S, Titan or Titan II.

Meh! When is MSoft going to convince Comcast, HBO, & Showtime to show us some luv?

I am sure HBO-GO will be on WP8...

I would have liked to use it. I have Verizon phone and uverse TV

Well... they should at least let all Window Phone 7 users get an upgrade subsidized too :P

I wished the author would have asked AT&T what their plans were as i am sure they are actively developing new more robust aps for WP8. AT&T were always on top of making apps for every version of Windows mobile phone OS. We may not have wanted them but at least they always had more then a few pre-installed...

AT&T U-Verse website does not allow you to control your DVR unless you have AT&T U-Verse Internet service. Now that the Windows phone 7 app has retired, I have no option but to switch back to DirecTV.

I think in the ATT video of the lumia 920 the new app was on the phone and it had a slightly different name.

I contacted AT&T to terminate my U-verse service because the app is being retired. They stated the are retiring the app because of the small customer base that uses the app doesn't justify the cost to maintain Windows Phone apps.

The new app on Windows phone 8 they want 9 dollars a month to use it
Windows Central Newsletter
Thank you for signing up to Windows Central. You will receive a verification email shortly.
There was a problem. Please refresh the page and try again.