The AT&T Lumia 1520 is now getting the Lumia Denim software update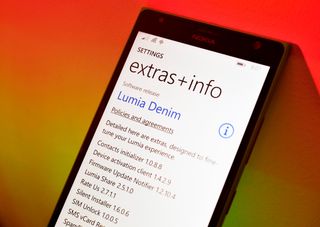 AT&T has finally come around to getting the Lumia Denim update, at least for one of its flagship devices, the Lumia 1520.
Windows Phone 8.1.1 (build 14219) and firmware 02540.00019.14484.37028 are now live starting at 1 pm ET. Users can head into Settings > Phone Update and 'check for update' to grab the necessary files. If you are enrolled in the Preview for Developers program, you can leave it enabled.
Lumia Denim brings numerous OS fixes and changes to Windows Phones, including Hey Cortana for passive voice listening and Lumia Camera 5.0 support with HDR, Dynamic Flash and faster shot-to-shot times.
Source: Microsoft (opens in new tab); Thanks, Aakash S., for the tip!
Windows Central Newsletter
Get the best of Windows Central in in your inbox, every day!
Daniel Rubino is the Editor-in-chief of Windows Central, head reviewer, podcast co-host, and analyst. He has been covering Microsoft since 2007 when this site was called WMExperts (and later Windows Phone Central). His interests include Windows, laptops, next-gen computing, and for some reason, watches. Before all this tech stuff, he worked on a Ph.D. in linguistics, watched people sleep (for medical purposes!), and ran the projectors at movie theaters because it was fun.
Sorry off topic but...when should we expect the next build of win10 TP for phones?? Is it once a month or every three weeks??

Once a month from what I remember

Dumb question. I have a1520.3 on AT&T. Do unlocked phones get the same love?

Nope, have to wait for Mexico CV to get it.

Thanks for the reply. Still new to the whole unlocked phone thing. Will the update still be automatic, or will I have to look for them?

It will be over the air so if your phone is set to automatically check you will get it, else do the insturctions above to manually check. Or be like me and manually check every hour and get pissed at Microsoft for holding this up haha.

Samething I do too.. all day long. But my phone shows it has denim when I disable the DP, but when I enable DP it shows Cyan. I thought the false Denim shows up when you have DP enable. One more day hopefully!!!!!

I literally said the same thing in my head lol.. Posted via the Windows Central App for Android

i see no resuming..yet, will check xbm

absolutly no resuming no matter how fast i switch apps...hmm, hope this holds up.

So far so good, like a new phone.

I'm still having this problem with my hardware button... Doesn't work most of the time... IDK what's going on with it...

Oh. I meant my Camera button... It'll focus, but it won't snap... Weird

Really. Well, that there smacks of a hardware issue, you know with the two step switch...half for focus, full for image capture...i am an xray tech (don't practice post master and PhD, still certified and licensed) the radiographic equipment works the same way...well the exposure control anyway.

Yeah.. If I play with it for a little while it works.. It's working now.. I guess I should use it more..
.................
Don't

Wish it fixed the phantom touch issue, tho.

Woo from me! That means my 635 is next! (I hope)

Wow.. But STILL nothing for the 1520 RM-937. Un-effing-believable.

Microsoft seems to be keeping to this 'by end of February' thing, so hopefully it won't be much longer.

Think they will miss it with at&t's 830 since at&t only does releases on Thursdays

Thursday ain't over yet! (at least as of the time I am posting this...)

I was under the impression the 830 shipped with Denim? What am I missing here?

It was a half baked Denim package if you will. I think the phone came with 8.1.1 but the firmware itself was not up to par as the firmware rolling out now to these devices.

Have to wait till Mexico CV is released.

Mexico Country Variant Ohhh by the way, my RM-940 finally received some love from Denim!!!

Still waiting on my att 830 lol I hope Feb, the orig said it'll come out, then they say end of the year, now nothing lol

I have an international version RM-937 Hong Kong on ATT. No update for me yet. :-(

I still say there's no way they'll get this done. Look at the progress in the first post here: http://forums.windowscentral.com/windows-phone-8-1/340792-denim-rollout-... Unless there's a sudden flood of updates, this is more likely to be done by April.

That's why I hate when they keep on saying, "all Lumia's will get denim update by end month". They have been saying that since last year November.
That's what am thinking the last phones will get the update by end April or May.

Nope: https://www.microsoft.com/en/mobile/support/software-update/wp8-software...

God's holy trousers! I noticed from the link you posted that all 1520s EXCEPT HK and PH country variant are all on Denim! Im from PH and have a 1520 RM 937 HK. What have I done to deserve this?

Actually quite surprised the att version gets the update first before both my 937 and 938 CVs... A little impressed with att

I feel you. Luckily I've got a new 1520 ( green international version ) with denim update straight away. The main thing was getting rid if the tap/scroll issue on my RM-937. It's like a different world! :D

Did denim solve that problem or your model you bought? I have that problem and it's annoying as hell.

I think the problem had already been solved on later models. I still think it is a hardware issue with earlier models. I now have the RM-937 eu euro2 211 model and have no issues but this is new as i say.
On my previous 1520 the cyan update fixed a lot of issues but it still had the tap/scroll problem. Everything else was great.

Is it really gone? If so, what got rid of it. I ditched mine in December. That issue drove me nuts.

They issued an update way back before cyan. Fixed mine. I sent mine in for repair for another reason and got two 1520's in return. Both are fine, though on one I could tell the screen was opened.

They replaced my screen, the whole panel. After they returned, i realized the gps is not working already. Phantom touch gone, gps gone.

It happening! I kinda was thinking it might happen on their release Thursday on the last week of the month...but I sold and rebought the 1520 purposely for this update....over two months ago! About time ATT!

I have been waiting for this one. I really want the hey cortana thing to complete a hands free operation. Now, give us a proper BT stack with controller support, mouse, and keyboard, plus OTG. .. It restarted after install, now lets see what is what..

ok, the 21 steps..makes becoming sober look like a small feat.

I don't know who's down voting you but these 21 steps... are painful. Don't get me started on step 15. Takes forever. I wish MS would show what its doing or at least say something funny like ...petting all the puppies in the world...

Oh my god! Hong kooooong please!!!

That's the version I have here in the states

That's the same version I have in UK.

thank you, i will check now

Now someone just needs to give me a 1520 and ill be set!

If you're just giving away a 1520, count me in! :)

I have one but it might be too big for you to handle. If you can take the size, I'll be more than happy to give it to ya. How would you like to receive it, fast or slow delivery? Maybe I shouldn't give it away free. I mean I love it. I love to hold it. Today, a coworker picked it up, held it in her hands and said, "wow! This is huge! Is it a galaxy?" I said no! it's the universe! Kidding. Since she on Verizon, I suggested the icon vs HTC m8 for windows. Do they still have the icon available?

About time! Even I, who doesn't complain about updates, was about to start complaining.

This close enough to a complaint!

Not even close to a complaint. More of a sigh of relief so-to-speak.

Hahahaha, nooooo they beat my CV 1520.3. Oh well, Good for people that own the AT&T variant. They will be happy!

Thanks for a good comment and yes, I am happy about denim for my AT&T 1520.

Hey, thanks back at you! :)

I'll stuck on Cyan,because I have Lumia 1520 and it's a Hong Kong variant.

Its their marketing department...

They should've marketed the Denim firmware update more... SMH

One man, who also has the janitorial position for the entire MS campus can only do so much including marketing, lol.

Maybe he can get his kids to help....... Heck, they could probably do a better job then what's being done now.... Lol.

Of course. You don't post unless you are placing blame on somebody. At least you're semi entertaining.

omg, its downloading, im just happy

After all this waiting I wonder how many devices will get bricked, hahaha

Mine feels like new. Someone with an icon had said the same thing. Its true. Absolutely no resuming. Camera is great, hey Cortana even better, so much faster to wake her up.

Yep!!! I just wish I could use HC with my BTHS

Yeah, I've got a Sony sbh52. It behaves like a small phone for larger phones like the Xperia Z ultra. It's functionality is limited because it has a an app available for Android. But, it works in its simplest form on WP.

Ohhhhhh, don't get me started... Lol.

Do you know of which BT I speak of?...it was a pain to locate when it first came out, now, or at least it was on amazon us.
...
But it I fancy, receives updates via the app over bt (obviously being it is a BT, still neat) and works as a loudspeaker, rivaling the external speaker of a good phone.
..
Maybe I should do MS'S marketing..listen to me go on about a BT headset...but did I tell you can use your own IEM'S or headphones, lol

No, I'm not really familiar with it... Does it have two earphones? That's what I neeeeeeeed...
.....
Please.. Please go help MS with marketing.

Here, its UK Amazon, this is it, yes, it offers stereo.:
..
http://www.amazon.co.uk/Sony-SBH52-Bluetooth-Wireless-Connectivity-Black...

Oh, wow❗ I need to check that out❗❗❗

Lumia 635 must be next along with the others. Even though it will be very minor the updated drivers should go well with PfD 8.1.1 and improve performance/battery life, even if only slightly. Everyone should have something to look forward to regardless of device. :)

Love when Firmware Update Check LiveTile became green XD

Come on at&t only 5 or 6 more phones....Yeah they have more than 1 or 2 to update people quit your complaining.

Yay, another set of whiners silenced! :)

Well, we are the majority

Whiners are the majority?

Yes and no..whiners get most of the attention , ATT offers most WP in us..

Pretty sure India has you beat....

You might be right..., hung kong cv is raising their head though

Don't forget Philippine CV.

Will this cure the "constantly gets super hot while in my pocket not being used" problem? Here's hoping!

I hope my battery quits running at 4.5 to 5% per/hour

If that's happening, your device is likely struggling to maintain a proper tower signal. That, or you have background activities you're unaware of.

Background... I'm aware, I'm just busy on it, lots of video and big display doesn't help.
..
Signal does suck sometimes, one to two bars...

I've turned off background running for anything I can, and I close apps when I'm done with them. Not really sure what the deal is, but I see there are plenty of others who have it, too.

My flashlight app will do that to my 1020, whether or not the flashlight is on. I have to make sure to close that app when no longer using the flashlight.

I dont mean this to sound like its going to, but my phone seems to respond ..faster, really. Maybe its just me. I can say Cortana wakes up much faster by calling for her than the magnifying glass icon, course I haven't checked that yet, hang on..actually she is much faster, about the same..whether I yell at her or point at her, she's faster.

Lucky! I hate tap n hold search key! Back in the good ole WM days I would assign one of the many available hardware buttons to Voice Command and it was awesome! Then came the trend to not having hardware buttons! I blame Apple for this -- the basterds...

She is fast to wake. I have no problem talking to my phone, some say they do, very efficient.

That is an app or a game that does that. Pastry Paradise does this as Facebook plus Facebook Messenger, too.

Effing Sweet. Will probably put the HTC One away for the weekend and check out this firmware, finally.

Classic autocorrect mistake.

Lol, holy crap, that op and comments made my day..along with denim.

killer Amoeba from outer space !

I got it too!!!! Country variant in palestine

Soooo glad I have an unlocked 735 on T Mobile. Had Denim since last November. It's awesome.

Hopefully the 830 is on the horizon as well.

Hhhhhhhh.I am on denim from long time with my Lumia 1520 in KSA

I just got it in Palestine :]

Waiting for them to release it for my 925

925 was T-Mobile's phone. You have to look to them. As far as AT&T is concerned it would be a 920.

There is an at&t firmware for the 925, also. It was sold by at&t after tmo. Not sure, but could be still selling.

I stand corrected. Thanks guys. I forgot about AT&T eventually selling it.

Seems like they are trying to migrate more phone before MWC. Now, Latin America variant.

Glad my schedule is open right now so I can do this, then a clean factory reset.

Still waiting for my Country Variant BR RM-938 1520.3..... :/

Please give us update for Lumia 930 CV Belarus

And yet my unlocked Swedish version hasn't gotten it. Shame on you MS.

OK I'll straight to my home to hook into WIFI and download it
F*ck yeah it was about time!!!

can any one tell the file size? cause i'm at work and i got 5 hours to go, i have my blu win JR and would share the data from it but i wanna know the size first. I WANNA GO HOME!!!!!!!!!!

Finally. My 1520 was downloading already and I didn't event realize....jajaja..

Hey Cortana works well, responds faster than holding the search icon

Hurry up 1520.3 RM938. This phone should have been the first to get the update. It's not even locked to a carrier!

Non carrier phones getting updates first is a misconception here. I know non-Americans love to bag on US carriers, but times like this prove that carriers can provide updates before non-carrier devices.

Sadly, you are correct. AT&T actually gets new software to their newer devices, fairly quick. As an owner of a 1020 & 1520 with AT&T, I've actually been happy with their updates. I expect the 1020 will be a little later, now. It's getting old.

Heeeeeeeell freaked out finally!!!! Been waiting for this!!!

Still waiting here in Philippines

Same here brother same here

I'm dreaming. No way I'm beliving this.

I got it here for 1520 in INDIA.

Yeah baby......update is already in progress!!! Thanks for the heads up Daniel! Funny thing was I got a restart notification needed for criitical update and then jumped on here and saw the "Update" news:)

Why is it they always release their O.S updates on Thursdays?

About damn time!!! YES!!! Now it seems like the wait wasn't even that long now that its here.

No damn wonder out has been so cold here!

Nokia Lumia 1520.3 CV got for africa too.. Yayy

Downloading right now...!!! yipppeee...(for lumia 1520 Indian version)

I was just cursing MS and ATT today morning... now just cursing MS for W10...

I'm living in Dubai-UAE are we going to get this updates tonight ??

Damn, no update for my 1520.3. Lol

OMG. Gonna go get this now.

Now I'm going to take 4k vids of the snow...

steady as she goes. Happy for the 1520 users! Off topic feed back on the site design - I think you should reduce the size of headers and "lead" picture. At least on firefox the new design requires a lot of scrolling and seems a bit too "sparse/spacious". Overall very stylish but could be a little less "zoomed in", for lack of better words.

Wow. this headline made my day! Finally, the news I've been waiting for!

Ahh yeah. Thx for the update.

Finally! Downloading right now

Is this update for developer preview phones as well or just standard os ?

Open up your do app and uncheck the check I and then check for update.

All phones. Same exact OS as Dev Preview. It's basically just firmware for Dev Preview users.

Hopefully the screen that says "resuming" will be faster. A man can dream. :-)

Meanwhile, my 830 that was sold to me as having Denim...

The 830 came with Lumia Jeggings. It looks like Denim but...

Where 1320 India denim update

Denim for 930 in India also released

I'm in Qatar getting this on my AT&T L1520... I can hardly contain myself.

Congratulations!!!
From -Lumia Icon user

Finally. The update took a while, but the process is faster than Android

Hopefully 1020 is not far behind.

In Russia Lumia 930 CV and Lumia 1520 is getting denim update at last!

At first glance I thought this was gonna say something like "Lumia Denim update now available for the Lumia 635 in China"

Just got the 830 at Microsoft store this morning and it came with Denim preinstalled.

If it doesn't have Lumia Camera 5 with new Rich Capture and all that good stuff, then it still has fake Denim!

Good stuff, I am currently updating. I have lots of users on 920's that are still waiting though.

So my 1520.3 (RM-938 Ita_Ita_905) is on AT&T . Since it is not AT&T hardware, who will supply the Denim update?

Incorrect, it's for Latin America, in particular Mexico. You need to wait till you see it's released for Meixco Country Variant.

Thank you for the info. Got it from Newegg and knew it was from Mexico. Come on Mexican Denim!

Thats where I got mine too

Who is responsible for threading the Mexico variant? MSFT? Or the major carriers down in Mexico?

I'll give you one guess and here's a clue, it's not the carriers.

Good news for our AT&T brothers & sisters. Enjoy!!

Yes it is hope my wife's 1020 is next. Had my manager update his 1520 and his sd card asked for a format prior...

India 1520 receiving denim

So soon? :P Downloading now.

Did they fix the damn tap instead of swipe bug .. I hate it so much now

Lumia 1520 India is also getting the denim update. Just checked. Downloading now :)

Awesome now I can buy the new wireless charger :) if I can sell my old one for an ok price :) :)

IF you have the ATT wireless version they dont have qi charging. its powermat . So the new wireless charge wont work with an att 1520

Unless you added QI yourself

And still no update for the 830. What a joke! Guess they like getting away with false advertising and confusing customers. FAIL AT&T!!!!

What are you waiting for? Your 820 will get no improvement it's too old to matter

Read my post. Lumia 830! And it was advertised as having Denim and getting all the Lumia Camera 5 features many months ago. I didn't buy one due to these stupid carrier delays!!

how do you enable hey cortana? It seems to be missing. I have the new lumia camera and 4k features but no hey cortana enable.

AT&T probably removed it. Lol.

If Hey Cortana is missing, download it from the Windows Store: http://www.windowsphone.com/en-gb/store/app/hey-cortana/68a0d9b5-be5f-40a1-be88-4e6c4e3cad8e

It's right in the settings. Very last entry.

It is of by default, turn it on and set it up.

Thank god! No more American whining from those guys!

Awesome!
Too bad my 1520 is pretty much unusable due to screen freezes and spastic ghost taps. It's been a wonderful phone for over a year now, but over the past month, things have gotten really ugly.

Key words were "over a year". No warranty anymore.

@ Scienceguy Labs I went through the same thing with 2 Lumia 1520 devices. May I ask, "your phone is in a TPU (or similar) case. I read that certain cases can cause the thin 1520 to flex which leads to freezes and apps opening without a prompt. I removed the case from my phone and then put slight pressure on the corners, in a twisting motion, in order to remove any tension. I was completely skeptical but it worked. The phone has not frozen once since removing the case. If your 1520 is out of warranty then it might be worth to it to give it a shot. Good luck.

Excited as Microsoft fulfilling his promise

Nevermind found it under its own settings heading and not under cortana itself.

Can I flash my CV BR rm-938 1520.3 using At&t denim rom?

No. The radio bands are different.

I know the feeling. I had the same feeling when I got it for my Icon a couple of weeks ago. OTG support would be really cool. I will be getting the Pluggable USB hub and would like to use it on my Icon.

Its happening in India too....Nokia Lumia 1520

Oh GOD, this is like the best news of fue day. Can't wait to get to home and update.

Im all updated 1520 att US and Cortana only listens to me.. "hey Cortana"

Nice, buit Cortana doesn't work anymore over bluetooth in my car...

HOLY CRAP!! IM SUPER HAPPY WITH MY 1520! :)

I'm very happy for you 1520 owners!

I wonder if w10 preview for the very same device it was demoed publicly for the very first time will ever be released. Not that I care anymore. Great marketing Belfiore!

Funny how quickly ATT could push this update out today as opposed to months ago, just prices that all US carriers are devoted to Apple and will hinder all other OS'es outside of Apple. They should be able to push updates this quickly all the time

Apple bypasses carriers with their updates last time I checked. So it's Android thats getting in the way.

How do we activate hey Cortana I can't find the setting anywhere

Should be under Settings > Hey Cortana

go into settings and scroll to the bottom its the last line

Wasnt showing up had to deactivate the preview for developers and then activate it again and it was there

I didn't have to deactivate PfD for Denim to download.

Not to download... Downloaded just fine... Hey Cortana didn't show up under settings

Set phone in cup of salty water. The salt improves electrical conduction, enhancing hidden features like "hey Cortana"

Bloody vodadone australia still has no denim for my 930....not impressed. They also declared they wont update their 630/35 ever.... Why do carriers control this still..... Almost over the whole windows phone experience... Shit. Microsoft i blame u. Cant wait till nokia returns in 2016... Over this.

Already had Denim for months on att without preview for developers on it, this is old news to me. Have the Lumia 1520.

Or you had the extras+info bug?

I can't donwload it on mine. Well... not entirely true, it will download and prepare to install, but then it fails and says the update couldn't be opened. Frustrating. Meanwhile, the first phone to COME WITH Denim, still doesn't have it.

It needs 960 MB of space on the phone to install it. I had to get rid of some stuff.

I have 8GB free on the phone itself.

Finally! I'm downloading right now. Hope nothing goes wrong.

So once your 1520 is updated do not forget to go into settings > hey cortana (should be accessible from inside cortana settings but is not) and train.

I am running the develepors preview.... and just updated.... hey cortana is not an option under settings

Had to turn off developer preview and then it showed up

Odd I didn't have to disable dev preview.

Are we going to get this update in UAE? My Lumia 1520 showing Lumia Cyan

Finally. Looking at my cogs at the moment... now i have to dig up the old walk throughs of denim... repost? Lol Posted via Windows Phone Central App because my lumia is being repaired

Looks like at&t is forcing the reinstall of some at&t branded apps. Checked for any app updates after the 2nd reboot.

Let me clarify. I didn't have these at&t app installed before checking for updating to denim.

I just noticed the same thing. I hope they haven't been holding this back to modify the release to reinstall their crapware.

I noticed that too. That was sneaky of AT&T. I deleted them immediately.

Just finished updating to Denim, now I gotta figure out what it does! I did note, you don't have to say "Hey Cortana", apparently, as long as you use Cortana in your training, it will work....should be interesting.....

(sitting at my desk) Me: Hey cortana Lumia 1520: beep beep Surface pro 3 (w10): hey there, dave Lumia 1520: hey there, dave Me: cancel, cancel, cancel..

530 and 630 UK now grabing denim update today.

These apps came back, zinio, mobile tv, at&t navigator, at&t locker, and at&t address book.

I have a Lumia 1520.3 unlocked on, T Mobile. How do I get the Denim update guys?

ack... double post... Ignore me.

Ahh, the goodness. This baby is downloading now! I have seen some of it on my 635 with Win 10 on it. I want Denim, but not going to put Win 10 on the daily driver yet. Just not work the headaches, plus not enough new features to warrent it.

I'm so geeked !!! Can't wait to my lunch hour so I can download this on my lunch break using the Wi-Fi at McDonald's! :)

Keeper is also a new app that showed up.

I keep getting a 80072f30 error... Joy

Any one know why my Lumia 1020 on Vodafone uk still hasn't updated to denim

It seems that the group messaging bug has been fixed too.

So, I do greatly appreciate the update finally being released, but I don't appreciate AT&T spending all this time just to reinstall their bloatware that I previously uninstalled. No one needs AT&T Navigator anymore...

Wow update reinstalled the garbage AT&t apps on my phone... Weird.

Lumia 1520 AT&T Denim Struck on Restart Loop. update now it shows " ! " Logo help

Download the recovery tool software from Windows central post. Search for it. I think its called Nokia recovery tool or software. Good luck

Cortana actually tells me the time now

Camera opens so fast! Lovely and finally here.

Anyone else notice that the their AT&T crapware was reinstalled? I could have swore I removed AT&T Navigator, Locker, and AddressBook but they I just got a notification that they updated after the Denim install.

Yea, they tried to sneak in their garbage apps with the Denim update.

got it atlast hey cortana thanks AT&T

I'm in Canada with an unlocked AT&T 1520. Will I be able to download this update as well? It's not available as of now.

Just installed it and I have two issues/questions: 1) What are these weird .tnl files that are created every time I record a video now? They appear when I browse the camera roll using the Files manager. They're around 300KB each - not huge, but I don't really like having extra space taken up by unknown files. 2) The Photos app is leaving "phantom" files behind whenever I delete a photo or video from the camera roll. They appear as grayed out tiles, and when I directly navigate to them, they say "Can't get picture. Try again later." Basically it's like the photo is "half"-deleted. They do not appear in the Files manager (the photos seem to be correctly deleted when looking there). Is this a known bug with other Denim-equipped devices?

Try turning off living images.

They are off - that was the first thing I did after I installed the update. These don't seem to be related.

What camera app do i use now on denim with 1520???????? :)

Holy effing schlit......I can't believe it....

All Praise Daniel Rubino for the this great news!!! I'm a very happy 1520 owner!! Downloading and installing this update now!!! Thank you AT&T and Microsoft!!! Can't wait to try this out.

Hey my double tap and glance aren't working after udpate. Anyone have this issue? Unlocked ATT Lumia 1520 w/ Developers Preview on T-Mobile network.

For ATT locked Lumia 1520 it works no issues.

Did you have Developers Preview on when the Denim update arrived? I have an unlocked ATT 1520 on T-Mo also and I keep getting the 8018830f error after it downloads - says it can't open the dowloaded file. Wondering if installing Dev Preview will fix it.

Yea. I had developer's preview installed. No error.

Got it finally... Took Cortana a while to get my speaking voice. But she and I got.

What about Lumia 920 for att!

Why they couldn't add Lumia Moments by default for 1520 to edit 4K video recording in the build .. ?

Darn, what are we supposed to complain about now?!

I have a class 10 SanDisk ultra. Not fast enough for 4k video. What? Which class do I need now?

Awesome awesome awesome! Installed. Camera is fast as reported. Looking forward to trying out Hey Cortana and the 4K video capture.

How do I make Hey Cortana work? Not working for me

It's not working for me either?

Go to settings all the way at the bottom to enable it.

Oh ok thanks I see it now :)

Congrats AT&t customers. Having had to wait so long as a Verizon icon owner I know how frustrating it was... You're going to love denim.

I just got the update "finally" everything seems good except "hey Cortana" does not work am I missing something? Do I need to enable it somewhere? My 1520 is att

Yes go to settings. It's all the way at the bottom.

Just did my update and its fixed a main problem for me i wasnt able to send or recieve mms i am on cricket wireless and with all the correct apn settings unable to send mms always came up since the update i tried to send some pics and they all were recieved plus resuming seems to went away. so far so good.

:D:D:D:D:D:D:D:D:D finally! So excited :D

I wish they would fix the front-facing camera picture quality. It's been terrible since Lumia black when Nokia (so called) improved it. Plus, the regular camera no longer takes immediate snapshots when you quickly tap the camera button, but continues to do focus before snapping the shot. Just a couple of things I miss from the Amber days..

yeap installing it now! finally...

I just installed the Denim update on my Lumai 1520. The update installed without issue but now my phone is having problems with screen rotation. There is now a prolonged delay of approximately 3-4 seconds whenever I rotate the phone from vertical to horizontal. On some occasions it will not rotate unless I flip it back and forth between positions. The only peculiar thing that I noticed was that the phone got really warm during the Denim update. Has anyone else come across this issue?

Only thing I noticed is all my apps are reinstalling. See if that's happening to you too. Could be why its slowing down.

I was getting an error saying the update couldn't be opened after it downloaded before. Someone mentioned it may be space-related, so I took out my SD card and did a factory reset, and still the same thing. The update downloaded but can't be opened.

Waiting for it on AT&T Lumia 1020...

I couldn't believe this article when I saw it!

Meanwhile, all other Lumia's sit dormant. Nice, AT&T.

Yet the 830 still doesn't have denim or at least the full denim release.

And of course "hey, Cortana" isn't available in my denim update because that would mean I'd actually get the main feature of denim I was hoping for.

Sin Ogaris, I had the same issue. There a new entry in settings called Hey Cortana. I had to enable it.

I hate to say it, but it is faster. No hang-ups, loading, resuming, etc. Nice to have a high end phone perform like one.

Denim broke the MSN Money app on my Lumia 1520.

FYI: my after the Denim update on my AT&T L1520 (not formatting my SD Card), I could not successfully use Lumia Moments to capture a frame of the Video. the Progress bar would go to about 90% completed and just hang the app. I completely reset my phone with the exception of my not formatting my SD Card. the problem still persisted. I just moved all my Data and Apps to my built in phone memory and formatted the SD Card using the phones ability to format the card. I then set all APPS and Data to save onto the SD Card. I took several short vids and edited them with Lumia Moments and NOW it saves the frames just fine.

What about country variant 1520?

Still waiting for my 1520 CV in Hong Kong

US AT&T yes, lumia 1520 in the Netherlands, still zero, whilst the other lumia phones do have denim. I hope miccrosoft turns months into days quickly.

I'm not getting any update... :(

Anyone know about Denim for the LA variant from Mexico?

My Cortana doesn't work anymore

Guys need help ASAP,. No option for Connection Speed change last night My Lumia 925 got Denim update, after update there is no option for Network Connection Speed change, its stuck with "Highest Conn Speed 2G". iam unable to choose 3G network. Tried almost everything but NULL,. plz help. You can check image out here https://scontent-cdg.xx.fbcdn.net/hphotos-xpt1/v/t1.0-9/10906065_1255295...

Did anybody experience any Bluetooth music playback issues after the Denim update? I can't control Pandora or any music from my Alpine Car stereo after the update. No more Artis or song info either. Was all working fine before the update. Even Reset the device with no luck.
Windows Central Newsletter
Thank you for signing up to Windows Central. You will receive a verification email shortly.
There was a problem. Please refresh the page and try again.