Windows Phone 7.8 update for AT&T Lumia 900 now waiting on Nokia's servers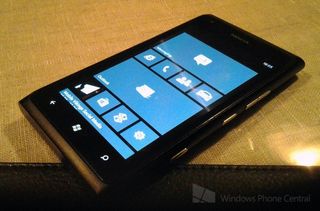 Soon after Microsoft today announced the Windows Phone 7.8 SDK, we wrote how this was more evidence that the highly anticipated update is right around the corner. Bets are being traded on which carriers are first (and which are last), but we have one surprise for you: AT&T.
Peeking on Nokia's own servers, we can now see the official Windows Phone 7.8 update and corresponding firmware now waiting to be released into the wild. Listed for all for color variants of the Lumia 900, the 7.8 update must have reached approval status very recently.
We've commented in the past that when these files, here labeled with the 8858 OS build number, show up on Nokia's servers that it means its release is usually close. Since we've already landed on January 31st as the Windows Phone 7.8 Update Program kickoff, you can bet the Windows Phone "Premier Partner" AT&T will be there for their 900 users.
Of course we have no word for other AT&T Windows Phones, but it's a good sign that the Lumia 900—a very high profile device—is getting the update. It also means the chances of other AT&T devices getting it sooner than later are now higher.
As to the release date for 7.8, we have to wonder if Microsoft partially chose it for PR reasons—namely RIM's BlackBerry 10 launch. That huge mobile news event is set to take place January 30th. Microsoft can regain some positive PR by announcing this large OS update program the day after, possibly keeping them in the spotlight while the world fawns over Waterloo's latest.
Microsoft and Nokia are expected to update the Lumia 710, 800 and 900 around the globe with the 7.8 update. The new OS was spotted a few times in December on Nokia's servers for various carriers and is expected to go live soon.
Thanks, Travis L., for the tip!
Windows Central Newsletter
Get the best of Windows Central in in your inbox, every day!
Daniel Rubino is the Editor-in-chief of Windows Central, head reviewer, podcast co-host, and analyst. He has been here covering Microsoft since 2007 when this site was called WMExperts (and later Windows Phone Central). His interests include Windows, Microsoft Surface, laptops, next-gen computing, and for some reason, watches. Before all this tech stuff, he worked on a Ph.D. in linguistics and ran the projectors at movie theaters, which has done absolutely nothing for his career.
so........ Fun fact of the day guys: We know Nokia users will get the update!

I could care less about tile sizes at my age, the only important thing for me as seen in WP 8 is the ability to increase the size of the SMS Text...how hard can that be.

I keep hearing people complaining about at&t updates but since I have switched they have been a ton faster then anything verizon ever did, much less the excuses I used to hear from verizon got old fast.

Same for me since switching from Sprint.

well technically you were on the most saturated Android carrier...so I wouldn't expect Verizon to be any faster than ATT. However, what you did not state and which seems to happen a lot over on ATT is that ATT likes to "block" or "hold" updates. Many ATT WP7 users are scared that ATT won't even bother with this...as the most "important" /most "sold" phones should get the update.

Love my job, since I've been bringing in $5600… I sit at home, music playing while I work in front of my new iMac that I got now that I'm making it online(Click on menu Home) https://goo.gl/cuqPa Happy New Year!

Yeah, ATT is horrible about holding updates. I had the disappearing keyboard with my focus S for 6 months after the fix was released. I had to buy a L900 off contract when it came out to be able to use my phone again (I had the issue bad). Pretty frustrating, plus ATT doesn't communicate anything whatsoever to their customers.

Maybe they are now, but they were awful with the first generation of Windows Phones. It was partially Samsung's fault for botching the Focus with multiple REVs and basically not telling anybody, but AT&T's extreme reaction to more or less halt Windows Phone updates for months didn't help at that early stage in WP7's lifecycle when almost every update fixed major issues. Then, when things went perfectly for the simultaneous Mango (7720) rollout we all thought AT&T finally worked out their issues and were going to cooperate, but since then they have neglected to update first gen phones again, which means those phones are missing SSL certificate revocations and the disappearing keyboard fix. Those issues have been patched for around 11 or 12 months now, but those first gen Windows Phone users don't know that and probably blame Microsoft for not fixing it. The sad part is that Microsoft offers the updates to carriers for free and for the past year or so, in a timely manner. It's really disheartening and irritating to see the carriers neglect to patch major problems with their alternative platform phones, then they complain about Apple's control over the smartphone market. It truly makes me wonder if AT&T ever considered that some of that success is attributable to Apple having the freedom to update their devices and add features at-will.

When I get home, im going to flash my device!

Same here, no worries since I have 920 already, but it'd be great for my father...

This is actually a good thing. Not to be a wise ass, but I will now go back to my 900 to use apps that are not available on my 920. At least until things get sorted.

What apps can't you use on the 920? I thought all WP7 apps worked in WP8?

No they don't, ones with incompatible resolution and others

Spotify, that Microsoft 3D Imager.

And... Its about to go wild in here... Quick question... Thought final was uncovered to be 8878 per the other article... SDK announcement

Nope. Cliff made a mistake and was going to correct it--he even commented here about it ;) It's 8858.

I wonder if it is true that 7.8 doesnt have screen shot ability.



7.8 got a screen shot.ive done it

Yeah it doesn't have screen shot

Come on, put it out on Zune. I refrained from flashing my Lumia 900.

I flash mine this morning after I tweeted to this guys about the update on novia servers, and can tell you that its very nice to have the update you have a lot more choices on how to arenge you live tiles

Yup. Being able to change tile size is a huge improvement. By far the biggest thing going from Wp7 to WP8. I wonder why they didn't do that with WP7.0. It could have helped the sales in the first two years.

Hey guys, quick note. Grab what you can off Nokia's servers (navifirm)

Since it is pretty much public knowledge that Nokia is closing public access for navifirm.

When did they say they'd close it?

by feburary, according to all about symbian

So now that it's on the server, will the pull internet connection just after hitting update trick work to update?

The Zune internet interrupt trick will only work when this is on ATT servers, right?

yup. I doubt that they are on the servers at the moment.

Dammit, was hoping to use the cable trick

Figured. Damn a week is a long time.

Saw this headline and got excited! If AT&T would hurry up and deploy LTE in the Huntsville, AL, I'd be happy.

I'm in HSV too. Seem like they jumping all around Huntsville. I mean really. It's sorta a geek city. :/

One would think the "Rocket City" would be near the top for tech deployment. *sigh*

Even though I'm currently on T-Mobile, it's nice to know that AT&T is stepping up to update its Lumia 900 users. Gives them less things to bitch about. Also, Nokia is bound to update their Lumia WP7 line because Microsoft is their one last chance to redeem themselves as a competent phone manufacturer(Not that they aren't. They're making money in developing countries at a healthy rate.) Others, such as Samsung and HTC are receiving profits by other means (*cough*Android*cough*), so updating their WP7 devices won't be top priority for them. (Unless they want to keep their current WP users.) In conclusion, prepare for January 31, as many microUSB cords will be plugged to their limit as WP7 users eagerly wait for their update.

As long as you have NOKIA you get it first for sure.. Damnn I almost shit my pants

So do you think that this will be available through Zune any time soon?

Wonder when i can get an update for my 800 here in Norway.

I hope AT&T releases this on the Focus S as well. And it would be nice if they could fix the sound problems they introduced in the last update, but I guess I should be happy if they just don't screw up anything else...

I have the Focus S too. I thought I was alone.

You are not alone. Although, when my contract is ready for renewal in August, I will, more than likely, be jumping ship to Nokia or possibly Microsoft. I'm anxious to see the choices.

I hope to get this update on my Focus S this month or the next one!

So what does ATT branded 7.8 being on Nokia's servers mean for us? Can we do the download now?

Sure, but you won't update your phone, you'll flash it, meaning wipe it out clean. Most people would prefer to wait a a week or so.

Thanks. I'll read into flashing the phone. Might not be worth the risk. I refuse to lose my progress on Angry birds again.

I wish Samsung put up a 7.8 ROM for us with Focus 1st gen.

Any news on Rogers in Canada?

Doesn't appear to be on Nokia's servers yet. But I'm going to guess it will be a modified version AT&T firmware since both are RM-808 versions of the L900. So now that AT&T's firmware is there, Rogers may not be far behind.

As a former Arrive user, my bet is Sprint gets it last and perhaps not at all. I hope that's not the case because a few friends friends of mine are still using their Arrives. I have to hand it to Verizon that although a little late, the Trophy is up to date and works great two years later. I expect Verizon to take care of their customers for 7.8.

Wow this sucks but I just got uber far on that doom & destiny game. I'll flash it anyway

I've been playing that game as well, really frikkin good! I want this update so so bad but I don't want to lose my progress or my data. I would like to keep my texts as well...

Great news I hope its released next week.

Does it come with the crimson color? :P

I bet my HTC RADAR C110E WONT FUCKING GET ANY 7.8 :@

ah why the frown chap? I'm pretty sure T-Mobile/HTC will bring it to your device ... eventually. If not...just go over to XDA and unlock your device and install a custom rom on it.

I've been trying to put a rom on for days and it gets stuck on 0% then it kicks it out of the update mode And eventually that will be over 6 months away since it was announced ffs

Lol what about my dell venue pro :P

Does anyone know if the 7.8 update changes any radio fw in the 900 on AT&T? Reason for my question is the wife's 900 has a random intermittent issue with text messaging where when she sends a message it does not go through and (annoyingly) does not bounce back either. I assume this is a radio issue but if any other 900 users have seen the same thing feel free to comment.

Well I'd assume so since the FW is getting updated. Looking at the files on the server the old ModemSw are 12w22_3 under Tango and the new ones for 7.8 are 12w48. But yes I have had that issue from time to time but its rare for me.

that new found respect to the previous version (December)?

Who updates cv models of lumua 800. Will that be Nokia direct rather than provider.

Good news, sold my 920 and decided to keep my 900. I know it sounds crazy but I found that I like the size and simplicity of the 900 better. I think I'll wait for the next update to lumia line. Happy to hear since I do miss my little tiles.

Thats what bothers me about the 920 I feel like it will be too big I never even wanted a 4.3 inch phone I wanted the 800 but im happy with my 900

Dont worry about the heft it doesnt feel any heftier than the 900 with an amzer shellester my L900 and the 920 without a case feel the same too the 920 feeling a bit lighter. So not to worry and thge 920 is maybe a couple of mm wide or each side. Its no big deal at all.

It does not feel any heavier than the 900 and size wise its not much larger. I have them both and you shouldnt worry about size or weight. Iam going to update my 900 and go from there

Nokia is the only OEM that'll be motivated to prep this.

Can I allow myself to get excited now I've been pretty calm it's been an entertaining yet annoying ride waiting ... Dan Bb10 is going to get all the attention all spring only thing that would stop that is if a Yellow 920 hit sprint Red to Verizon and Magenta to T-mobile maybe not even that but it's Soo hyped up I've been meaning to check it out but im still mad at Rim for the webos rip off aka the playbook

May the force be with us who have "the other Windows Phones" but I'm betting high that it will be quick this time. They've had like over half a year anyway. One tedious question, do we get screen capture abilities with the update?

Nope, flashed my 900 earlier, no screen capture

Did it wipe your user data.

Yes it's all gone, but I don't keep stuff on my phones anyways.

Oh ok well thanks for the reply. I'm gonna ride this Titan until my time comes to upgrade.

Thanks for the reply. I have SMS's I need. Guess will have to forgo update :-(

I hope so never knew how much id used it into i couldn't .... Didnt Dan or one of the other writers have an article about what's in 7.8?

Why do we have to wait 9 days for this stupid update? Just give it to us now!!

If its stupid, why do you even want it?

Stupid in the sense that it's been 6 month since it's been anounced, and feels like a hami-down for the sake of making us customer's "happy"

Live wallpapers other than bing should have been there. I mean ms have made us wait this long and other than start screen there's nothing. Its certainly not worth the wait. They think wp8 has earned recognition and are not bothered about older users who have supported their platform from the beginning.

I've wondered what is going to happen to the HTC Arrive on Sprint. As far as I know its the only Windows Phone that officially reached its End-Of-Life. Does that mean that its really dead in the eyes of Sprint? It never recieved any update after Mango and still has the disappearing keyboard issue.
I finally got tired of Sprint's total lack of support for WP and went to Verizon and got the Nokia 822 and I love it. I let my daughter play with my old Arrive now. Still, it would be nice to see the update come through. The Arrive is a really nice phone attached to a second rate carrier.

Well at least Sprint had the decency to tell you that they aren't supporting it and officially stated an EOL. AT&T on the other hand is just cold shouldering us with 1st and 2nd generation devices. I am also sitting on Mango on my AT&T HTC Titan... with no word on Tango, let alone 7.8. I have talked with AT&T reps in stores and on the phone and they just side step the issue completely. Sprint declared EOL and abandoned you... AT&T just keeps stabbing me in the back while they give me a hug, pretending to care. Which is worse?

I suppose we could look at what is common to both them. They are both WP7.5 and both HTC.

On the other hand, I tried to research the whole update process last year involving Microsoft, the carriers, and the OEMs. I called each one multiple times to try to pin them down as to who was holding up the updates. They either claimed ignorance or pointed the finger at the other two involved. It was an exercise in futility. I even attended one of the "Behind the Tiles" events in the hopes of talking to someone with in-depth knowledge about such things. Their answers were just as vague as everyone else's. I don't believe any rumors now when it comes to phone updates or features unless they are well documented and verified. I'll believe it when I see it.

Agreed. The fact that the Mango update went perfectly, then the next set of updates that do nothing but fix lingering bugs and security issues was completely ignored by AT&T really irritates me. I held out hope for quite a while that they would eventually come around to it after the newer phones were updated, but by the time the one year anniversary of Mango came around I lost all hope. When 7.8 becomes available I'll probably CAB load it onto my phone since there's no reason to worry about falling out of the official update cycle anymore.

Was checking Nokia servers for a month every day to see 8848.12480 update and finally this morning was available for ATT, loaded shiny new ROM and now I'm typing from my new WP7.8

YES finally, this is one of the main reasons I check WPCentral every day :-) I know I have to wait for my phone to receive the holy grail of text messages, but it's still nice to get pumped about it early.

I really hope they still support 7.x users. This really was just the Start screen with updated icons. Was really hoping to see Microsoft actually finish off WP 7.x experience, and I'm hoping that their next update might do this. Things I think are missing that can be included are Multiselect in Photos for mass deletion Multiselect in texts for mass deletion (seriously do we need multiselect for wifi?) Always on Wifi Full resolution photo emails/skydrive uploads Pin lock for purchases Smart dialing/t9 dialing Ink support in OneNote

I don't think you really need a dual core processor or any sort of technology for that stuff. Most of those things would just have made sense from the beginning. That said, I'm really enjoying the 7.8 update, the new Start Screen does bring a whole new level of personalization.

I agree. I love being able to resize the icons now and having the bing wallpaper is a nice touch. There is deffinitely a lot more that can be done, and needs to be done to Windows Phone 7.X. At least nokia is committed to the older OS still.

Hmm...this current build isn't supported by the Bluetooth Share and Ringtone Maker posted by WPCentral for 7.8. Bluetooth Share opens up with not supported on this, but there is an update. Ringtone Maker can't be downloaded because it isn't the right device. I'd say hold off on flashing for now maybe unless Nokia is planning on updating the apps instead of releasing a diffferent update.

I m actually loving this more than my current l810

I can confirm it works. Installed on my Lumia 900 Black and it works flawlessly...just be warned Xbox Smartglass does not work now for some reason...keeps kicking out saying I cant sign in. The Non Nokia weather app live tile does not work but the nokia version does. Will update more as it comes along. Great work microsoft and att. It looks and runs awesome. FYI...it says I should get about 7 hours more battery life...lol must be OS improvements.

My question is... can you still get future OS updates via zune? or does flashing void that ability?

RIght now it voids the possibility... when I connect it to Zune it says that I can only transfer files between phone and computer but it is unable to connect my phone for updates.

When I connect to Zune it always says my phone cant connect to the internet. Zune is outdated appartently. But when I check for updates it says my phone is up to date at version 7.10 (8858). So I dont see why you wouldnt get any future updates. Its like doing a restore except it wipes the phone. I think flashing was better. My battery life is soo much better havent charged it since the flash...7 hours and still says over 1 day remaining...been listening to podcasts all morning too.

Verizon plans to roll out this update in 2078

Why bother waiting ? Go to the Trophy area on XDA, download a custom rom, You will get 7.8 RTM/Final on it, and you could be using it tonight.

There is even a thread on how to do it, a Noob guide. Then you also get a fully unlocked phone to do tethering, sideloading apps, and even apps that will allow you create your own colors for it. You can create your own color (from millions of options) or select from one of the 100+ different preloaded colors.

With about an hour of reading and about 25 min of flashing, I had my phone fully upgraded to 7.8 final and it works great.

I moved on to a 8X but, I had 7.8 about 2 months ago on my trophy...

Pardon my ignorance, but why do they need separate updates for different colors? What's technologically different between cyan and black?

I would make a guess at date/time/location of manufacture. On a QA perspective...if the Cyan had an issue but the Black didnt it may be because of where/when it was made. Same phone but variable on when it was made...etc

hey guys! just got my 7.8 update via nokia care center. the bt transfer and ringtone creator aren't installed, you have to download it from market... btw, the ringtone maker is not available because of the official update by the carriers.

This does not affect AT & T phones released by imei, no?

Okay so i've installed the update successfully on my lumia 900. Now my phone will not connect to my zune software/laptop. I have tried updating drivers, uninstalling and reinstalling zune, etc. Nothing seems to work. Is anyone else having this problem? Any solutions? Thanks in advance.

Its Feburary 21, 2013..... wtf... where's my update?

Its March 2nd... Where is the update???

It's April 4th... Update?

It's is April 25, 2013 @ 5:25 CT. I still does not get the update. Does the update to WM 7.8 for ATT is for real?
Windows Central Newsletter
Thank you for signing up to Windows Central. You will receive a verification email shortly.
There was a problem. Please refresh the page and try again.