AT&T Offering Refurbished Pure and Tilt2, No Longer Require Your First-born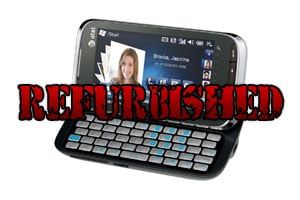 Those of you looking to upgrade to the latest and greatest HTC from AT&T on the cheap should get your pocketbooks ready. Refurbished models of the HTC Pure and HTC Tilt 2 are now offered through AT&T online. Prices with a 2 year contract (including a $30 per month data plan) are down to $149.99 for the Tilt2 (opens in new tab) and $99 for the Pure (opens in new tab).
What is your opinion on refurbished devices? Is a savings of $50 worth not getting a brand new device? Any success/horror stories to share? What say you?
Windows Central Newsletter
Get the best of Windows Central in your inbox, every day!
Phil is the father of two beautiful girls and is the Dad behind Modern Dad. Before that he spent seven years at the helm of Android Central. Before that he spent a decade in a newsroom of a two-time Pulitzer Prize-finalist newspaper. Before that — well, we don't talk much about those days. Subscribe to the Modern Dad newsletter!
Or a free TP2 for T-Mobile. Good for 8 more days: http://www.wmexperts.com/t-mobile-touch-pro-2-get-it-free-make-100

I got my Tilt2 new for $69 + $59 in tax less $50 rebate. All I did is call ATT and said I wanted to move to VZW. They gave me a haggle offer of $249. I said no thank you and I would like to cancel anyway. He said please hold let me see what I can do. 2 minutes later. They gave me one !

I got my refurb fuze for free last summer and and have had no problems with my fuze thus far.$150 for a refurb is a bit steep considering you only get a 90day warranty.i'd wait until it's free.I guarantee they'll have the free deal in may or june 2010 to clear their inventory for the touch pro 3 with winmo 6.5, snapdragon cpu, 5MP camera with flash.HTC typical upgrade roadmap. :)

Did the Tilt drop in price to 199?

A manager at the local AT&T store (west texas) told me that refurbs typically have a 40% failure rate. These are basically phones that crapped out on the original owners and were repaired. She advised me to steer clear. FWIW.

They told you that so you would pay more for a new phone... most people trad in their old phones when they upgrade so it does not mean it was broken and fixed...

I would rather pay the extra $50 and get a brand new device. There would need to be a bigger price difference for me to go with the refurb.

$50 is too low. Usually the price difference would be $100 and if you get it at just the right time, you can get it for free or very cheap like $50.

right now at least this morning the at site was saying that the tilt 2 camera less as well as with a camera were out of stock. You can get the tilt2 at amazon witrh an upgrade for 174.99 and the tilt2 at walmart wireless on line is 99.99 with a 2 yr upgade contract. I will check out the AT website in a few.

just checked again at at wireless no mention of refurb pure or tilt 2 and tilt 2 w or wo camera and lg 3Xpo out of stock.

I just called AT&T for a warrenty replacement on my 5th fuze, which I got as an insurance replacement on my Tilt. They offered me a different model, and the Tilt2 was one of them, refurbished of course. Kicker is, I just paid $400 for a Tilt2 outright from my ATT Rep, I work at a Radioshack.
Tilt was kewl cuz it was my first smartphone. Fuze was ok, had alot of heat issues as well as a screen flicker from time to time. The Touch Pro I have for Sprint has been rock solid, if only coverage were better in my area. The Tilt2 has been about perfect so far, with the 6.5 ROM of course.

I only paid $149 for my TP2 on Verizon on the first day it came out in early Sept. Had I know I could have waited 4 months to get a refurb on AT&T for the same price....

Refurbs are not necessarily because they were broken/fixed. For instance, I initially got a Pure and later returned it and got a Tilt2 instead because I found out that I needed a physical keyboard. They probably will sell my perfectly working returned Pure to some lucky guy for $99. Nothing wrong with that...

Wow, ATT, is "shipping with Windows Mobile 6.5 out of the box" worth the extra $100 you're charging for the same phone compared to the other guys?

I had both the original Tilt and the Fuze refurbished. No problems whatsoever with the Tilt, I still have it and use it to run Android now. I got a refurbished Fuze about nine months ago as a free upgrade. On the first phone they sent the scroll wheel had issues (it wouldn't scroll down). But AT&T sent me a replacement via FedEx for free and it has worked beautifully. As long as AT&T continues to standby their refurbished models and replace them if they have issues, then I have no hesitation recommending a refurbished model. Especially when they are free. :)

My wife had gotten a refurbished curve 8310 and had major problems with it. Her data connection would fail constantly even after upgrade while I'd be zooming along 3g on my fuze. Her trackball ended up failing too shortly afterward. I personally prefer new over refurb 100% of the time.

Ive had plenty of refurb phones from att. To be honest i havent had any problems with them at all. Not one so i do prefer refurb to new and of course you can always add insurance to them. Lower price dosent hurt either.

It is still over priced. I got a new Tilt2 FREE from Letstalk.com on a 2 year contract renewal. AT&T thinks they're doing good by offering a USED one for $150? I don't think so. I will never buy a phone directly from AT&T again.

I attempted to send my original Moto Q9h for a swim, and I ended up with a refurbished silver version as my replacement. Can't say that I've had any problems with the replacement.

I ordered a refurb Pure from at&t 2 days ago for 19.99 we will see how good it works when I get it, can't go wrong if it craps out, after all I only paid 20 bucks for it.