AT&T reports Q4 2014 results: 1.9 million net adds, $34.4 billion in revenue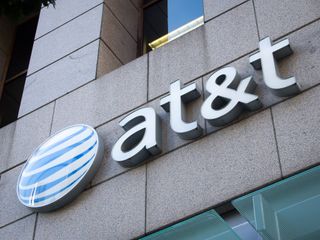 AT&T has reported its earnings for the fourth quarter of 2014 today. Combining its wireless and wireline businesses the company brought in revenue of $132.4 billion on the year, with $34.4 billion in the fourth quarter alone — up 3.8 percent over the same quarter a year ago. Additionally, the company reported that, after compensating for a 77 cent per share loss because of various charges, earnings per share were up to 55 cents compared to 53 cents for the same quarter last year.
On the wireless side of things, AT&T noted that it scored 1.9 million net added customers in the fourth quarter, for a total of 5.6 million over the course of 2014. Additionally, its wireless revenues shot up 7.7 percent over the fourth quarter of 2013. Here are some highlights from the report:
$19.9 billion in wireless revenue, up 7.7 percent year over year
$15.1 billion in wireless service revenues, down 3.7 percent year over year
$16.6 billion in wireless operating expenses, up 14.8 percent year over year
$3.2 billion in operating income, down 18.1 percent year over year
854,000 net postpaid subscribers added in the quarter
Almost 52 million Mobile Share subscribers, representing nearly 70 percent of postpaid subscribers
Source: AT&T (opens in new tab)
Windows Central Newsletter
Get the best of Windows Central in your inbox, every day!
Dan Thorp-Lancaster is the former Editor-in-Chief of Windows Central. He began working with Windows Central, Android Central, and iMore as a news writer in 2014 and is obsessed with tech of all sorts. You can follow Dan on Twitter @DthorpL and Instagram @heyitsdtl.
Good for AT&T! Now make sure to carry the coming flagship Lumia/Surface Windows 10 phone with non-gimped specs this summer/fall so we can add to the revenue!!

My two year contract with ATT is up and I'm planning on taking my Nokia Lumia 635 - an ATT go phone that I got to replace my Lumia 920 (microphone went bad) - to one of ATT's MVNOs (H2O wireless, maybe). Anybody have any suggestions on which ATT MVNO to choose or stay away from? And data/ network quality (esp 4G LTE)? I'm in SoCal, FWIW. Thanks in advance

Would rather just wait till the summer for windows 10 flagships, but H20 no longer exists. H20 merged into Cricket Wireless, and now Cricket Wireless is an At&t MVNO. I recommend them if your looking to use At&t devices on their network hassle free.

I had gone to AIO (now Cricket) and while I didn't have any real complaints after the update to 8.1 using the phone as a hot spot stopped working because while they don't spell it out that functionality it is not officially supported so the it stopped working in the OS (or at least it wasn't a few months ago, I don't know if that has changed. Don't go by people who have WP8 or Android saying it works, make sure they actually have it in the terms of service). I switched to Go Phone which is kind of the 'official' AT&T prepaid. I like it because using mobile as hotspot is officially supported so it works without a problem. I also like it that it officially uses AT&T servers and services (for instance my phone shows AT&T as my carrier) so while I still don't have roaming which is the same as other mvnos my pings are extremely low (way lower than Cricket and others) and my data speed is not capped (Cricket and others usually cap at around 8-12 mbps). I am using the plan that comes with unlimited talk/sms and 1GB of data and I pay $40.50 a month. (Real price is $45 but by buying refill cards on promotion I stay at $40.50 a month). This works for me because I am usually in places where I have wifi so I don't come close to using the 1GB however they do have other plans with more data. Or you can even buy data packages. I am rocking an unlocked 1520.3 and I don't think I will ever go back to a normal locked/carrier phone.

I did just that to be honest. Go with cricket, inbox me for a $25 referral code. (we both get $25)

I'm prob switching soon. I'm on the app though and I don't see a way to inbox you. :(

I was with Straigt Talk and switched to Cricket almost a year ago. I have had no issues with them besides the no hotspot. I had a 920 flashed to a different ROM and it worked, but I haven't had any luck since I switched over to the 1520. I have 5 lines shared and we each pay $20 a month, so if you can get more people the savings really add up. Make sure you do get a referal from someone to get a $25 credit.

So profit margin is about 70% of revenue? Nice. Dicks. That's theft at a very disgusting level.

You're not taking into account the infrastructure investments. Those things aren't expensed. They are depreciated. For tax purposes it is depreciated over 5 years. I think for gaap they do it over the life of the asset. So, it would take longer to depreciate. What this means is that the money is going out this year but only some of that expense will hit the income statement every year until it is fully depreciated. Even if that wasn't the case, it's still not theft. It's just an indication that there isn't enough competition.

That is a lot of money. Isn't it time we all got fiber to the home from AT&T.

Use some of those profits and update those sub par apps you have in the Windows Store AT&T.

At&t gophone is the premium at&t prepay service. 4g lte is available on compatible phone and hotspot support is included. If gophone service is different than at&t contract service i can't detect it. $60 gets you unlimited talk and txt plus 2.5 gigs highspeed then unlimited throttled data for term remainder. It's a tad slower but very usuable. You can get additional high-speed at $10 per gig.

Yes my plan currently and love it. AT&T made me a very happy customer. Keep supporting Windows AT&T!!

I am a GoPhone customer and I like it as well. The difference would be in roaming. You don't get roaming with GoPhone (or other mvnos) but if you don't need it then it's all good!

Do phones in the US even roam anymore. I don't think I have been to a remote place that it needed to. And I think I have roaming turned off on my AT&T 1520 as it it anyways.

Now if we can get Denim update that would be nice

Use that money to find a way out of Android dependency. Google needs to be declawed before they partner with T-Mobile and screw up the whole industry.

And still no Wifi calling. #fail

It does show that mobile plans can come down a lot as these companies continue to compete. If they don't then we know something fishy is going on.

They still have to pay to keep things going. Lots of employees, network, loans to people for next, etc. Ymcpa explains it well earlier in the comments.