AT&T rolls out Windows Phone 8.1 Update 2 for its HTC One M8 for Windows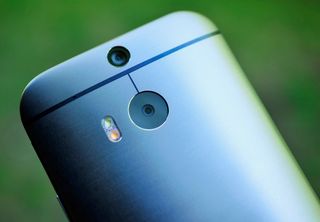 The expansion of Windows Phone 8.1 Update 2 to more phones continues. We have received a number of tips that AT&T has started rolling out Microsoft's most current version of Windows 8.1 over the air to its version of the HTC One M8 for Windows.
This news comes just a few days after the same phone on Verizon Wireless started getting the Update 2 download. Here's a refresher of all the new features and improvements that are a part of Update 2.
HTC has already said it is committed to offering updates for the HTC One M8 for Windows for two years after it launched in August 2014, which likely means it will get an update to Windows 10 Mobile at some point.
Thanks to everyone who tipped us!
I'm STILL waiting for Update 2 for my UK Lumia 830!

The USA is waiting for any update for 830...

Seriously.... I went ahead and got the 830 figuring it would be THE phone that got THE updates!

No such phone. If you're relying on the carriers, all updates are a complete roll of the dice.

Immortal: Change phone updates not to install automatically. Both boxes unchecked. Get windows insider and the 830 will get the update. Once its installed remove windows insider.

I know its a good idea but I ain't risking it. I might end up getting Windows 10 Technical Preview for Phone again. So, no.

It won't. It gets downloaded in two discreet packages. Plus you get told what the update is and can choose to install or not, it's not automatic.

Does this work for the 1020 as well?

Yes, did it in my 1020. Just got to keep swiping away the notification for WX.

I did this on my Lumia 930 and not one problem. As stated, when the updates come check the details and don't accept the TP.

730 update. Where art thou.

I am surprised we haven't heard more on verizons 735 tbh

The 735 from LTA doesn't have the update yet either.... Go figure.

I was going to get mad that we don't have it for any Lumia in att and a largely irrelevant phone like the m8 has it than I realized the update isn't that big and it is probably easier to upgrade phones since there are so few of them who own the m8 vs the many lumias

Not to mention, that it comes with the 640

Dont think the number sold really matters as it should still go through the same (prolonged) testing. There really isnt a good reason for the 830 or any other devices to still not have the Denim update. Just incompetence from all parties involved.

It's much easier to push out an update for a phone that has sold like 500 models vs a Lumia. Kind of like how they will release an update on one of the smaller countries before moving it over to us or UK.

UK has Update 2 on the 830 and 735

You're always mouthing off that the M8 won't get supported as good as Lumia's, yet here we are, the M8 just got updated, and many Lumia's aren't. I love how you're trying to come up with dumb reasons as to why this is happening, but you're only putting your foot in your mouth deeper.

Don't waste your breath dude that's just how he is. Its a sad existence but its all he has. Posted via the Windows Central App for Android

Well looks like you are wrong as the other lumias are starting to get the update.

Your emotions/opinions are clouding your ability to read. He said, "as good as", not "better". The fact that the Lumia 635 (congrats to L635 owners!) is getting updated proves that he is 100% right, and you are 100% wrong.

Do you know how stupid this sounds. Perhaps you should read your comments before you hit the post button. Posted via the Windows Phone Central App for Android

Whatever helps you sleep at night, dude

Yes, it's very easy to release an update.

That's actually the opposite of how the updates have worked. The phone that sells more gets the preferential treatment. It's why carrier variants get the updates first before unlocked country variants.

Wow Micah. Is that really how you think it works. Pretty sure the phone they'd rather push an update to a phone that sells more vs a phone that barely sells. And the M8 is a great addition to the Windows phone family. I honestly don't understand your blind hatred for that phone.

A great addition they literally has sold even worse than most other high ends. Was discontinued almost as soon as it was released on tmobile. Price dropped on Verizon after less than a year and that most people including tech experts mainly overlook.

Yea, I'm sure the Android M9 coming out soon after had nothing to do with any of it... At all.

The m9 windows ha snothign to do with it..considering the M9 is also on att with the M8 windows. Your point? Regardless the phone flopped harder than Kin by Microsoft on tmobile.

The flagship Lumia Icon got pulled from Verizon before it was even out for a year, so what are you going on about? It's almost as if you TRY to make yourself look stupid.

And the tmobile m8 was pulled less than 6 months after it was release. Your point?

It was 4 months actually. Their limited edition M8 sold out in 4 months. Demand must have been strong to sell out so quickly.

T-Mobile sold it as a Limited Edition. So, yes. T-Mobile artifically limited how many units were sold from the beginning. Prices drop on all phones over time. You've got nothing.

You sound like you're talking about the Icon. At least the Icon went to more than one carrier.

Irrelevant? It's the only good Windows Phone on the market. I suppose by virtue of being a Windows Phone at all, it is irrelevant...But it's the most relevant Windows Phone there is.

The Lumia 930, 1520 and processor aside 640 XL and 830 all beg to differ. The m8 is at best on par....with its 4 ultrapixels and all.

Um, no. I'm in the US, the #1 market for Windows Phone, and there is no 930 nor 1520 available for sale at any carrier I know about. The 640XL and 830 aren't even in the same league as the One M8. The only "relevant" Windows Phone at the moment, if you want to buy an actually halfway decent device, is the One M8. It's the flagship. So it get's the love. Deal with it.

I don't want to sound rude, but where is the next mobile build!? I need it, mostly because i love the new Office Apps, and Music Preview app. I need the next build with more stability please MS.

Maybe this Friday of we're lucky. But we'll get it for sure by the end of this month.

"at some point" Just like Denim and Update 2 for the 830? ATTFAIL!!!!!!

Hopefully they aren't shafting Lumia owners for m8. Like Verizon did for the icon.

It would make sense though. Unfortunately, HTC is a better partner than Microsoft for some carriers.

And yet the phone is irrelevant regardless. Even more so than high end lumias. Go figure.

Do you proof your posts before you hit the 'Comment' button? You just called high-end Lumias irrelevant. Maybe you're the one that's irrelevant.

What about the Lumia icon?

Not to be rude but after what Verizon did to Icon owners with the m8 release, lets hope they do another update for the icon.

You are rude. And you're a troll. I know I'm probably breaking some rule by saying that, but it's 100% true in your case. I'm disapointed in this site that they let you run rampant.

Wait, when did AT&T release the Lumia Icon? /S :P.

Not all phones will get this update, if I recall, for the Lumia line only 730 and 830 right? The rest of the line will go straight to Windows 10.

What about the 1520. With the big screen I want this update for the HID support ASAP so I can get the MS mobile keyboard.

Wrong carrier, hardware manufacturer, and post..

Hopefully when Windows 10 for launches they or Microsoft will push out updates for this. Oh wait, it's locked still locked to US -.-. So most likely HTC won't push out many since there is no way this phone will achieve high volume sales.

But they committed to updates for 2 years lmao. I am really curious how they will handle huge upgrades like windows 10 or will they have another 8.1 update like they did to their power 8x/8s owners

I didn't say "any", I said "many" lolz. But I agree it would be interesting to see never the less.

It appears they are handling their updates just fine, unlike precious Lumia's. I don't know if I should cry for you or laugh at you Micah.

I am glad that they are updating all 100 of the m8 for your exclusive club. Good for you. HTC is throwing you all a bone :) lets nor forget how long it took for you guys to actually join the rest of us using windows 10....without trying to do work around with no ability to go back if need be up until a few weeks ago.

Is that all you got? We were delayed in being able to install a preview of W10M? I have news for you, W10M is not ready for primetime, yet. It shows great promise, and I'm going to be thrilled to upgrade my M8, but not until it's ready.

Microsoft now has support in the recovery tool for the HTC. That indicates working together closely for updates. They may even build the software for it and so may be the source of updates...

Still waiting for my AT&T 830

Same. I wonder what the holdup is?

the M8 for Windows was not sold in India.

I meant for all windows phone .

And in india the updates are not controlled by carriers

When you get a clue, aka, never.

And the AT&T Lumia 830 still doesn't have the Denim update

Sweet! Just like the Verizon one I had to unenroll from Preview for Developers to get it. Looking forward to the WinMo 10 stop-gap.

Your wait will be eternal as there isn't a 10th version of Windows Mobile.

Don't crash his dreams lol. M8 owners are hoping they will get windows 10 as soon as it is released

I will because I'll be buying a 10 device day one and will still own the M8. That counts, right?

I could have WinMo 10 right now through insider if I wanted which makes your complete point moot. Why are you here again?

Windows 10 mobile, Windows Mobile 10, same thing

Well actually your wrong they dropped phone from the name its windows 10 mobile

Still waiting patiently for Denim for my Lumia 925 (: The preview version kills my battery.

Same here. It seems there will always be a crapshoot when it comes to official updates for Windows Phones.

It's not that bad. You can always use preview for developers or the insiders app to get the features you want (:

I am running the preview version. I eventually had to hard reset and not restore from backup to get rid of some issues, but I would prefer to get the official version with phone specific firmware.

AT&T Nokia Lumia 1520 helloooooo!

We are the new icon owners lmao. Remember how they got treated in place of the m8.

Look at the forums, you can get Update 2 pretty easily on the 1520....and any other Lumia with an SD card....

http://forums.windowscentral.com/windows-phone-8-2/359510-%5Bguide%5D-in...
Follow steps...I'm using my ATT 830 today, but I think I posted a few pics of my 1520 with Update 2 in the thread...for proof. Here is my ATT 830 though...don't mind the 5 column notification bar ....just a little tweak of the registry to get that. http://imgur.com/LffczTA

I got it on my Lumia AT&T 1520....

No, you got the camera update, not the update 2 update.

I would rather have an official announcement from Microsoft that it plans on releasing a successor flagship device to the Lumia 1520 - the Lumia 1540 with a 6-inch to 6.5-inch Quad HD screen, 3GB RAM, Snapdragon 810, 32GB storage, & 3500 mAh battery. The alleged Lumia 940 & 940XL are not enough. Microsoft needs to honor Lumia 1520 owners with a new flagship.

If I don't have the 830 DENIM update in time for my July 4 vacation to New England, I'm selling it for $200 obo and going back to using my 920 until a proper flagship comes out! Tired of this BS!!!!

I got a L925 and I got the wp8.1 update 2!

I'm actually from South Africa. Using Vodacom (in some parts known as Vodafone) as my carrier.

Could my 1520 get some love!?

So what should be my version #. M8 on AT&T and no update found

8.10.14219.341 is what it says in about

I'm pretty sure that's Update 1. I have that build on my 520.

After the update I'm at 15143. Make sure you unenroll from dev preview if you're not seeing it.

I don't think that matters. You just ain't gonna get it for the 830

Lololol. The M8 BEFORE the 830....which doesn't even have the FULL Denim update yet?
Someone screwed up somewhere with the release of the 830. Lets see, I don't know who to blame here?
Microsoft, Nokia, or ATT?

I know right. As I said before its almost insulting a largely irrelevant phone like the m8 has it

Lol, had I known that ATT/MS cared more about the M8, I probably would've just paid the extra cash for the M8 while getting my 1020 replaced at the MS store.....or better yet, kept my 1020.

They all just don't care about the newer 830 I guess.

Att only sells m8 and the alpha everything else is eol, I did a warranty claim on my 32gb 1520 and they can only offer m8 or the alpha neither hold a candle to the 1520, I'm still heated about it but I needed a phone

Come on 920! You can do it!

att for sure.. ive got denim on 830 Rogers version long time ago...

That is not the real Denim

Will the real denim please stand up?!

The 1520 will get it. It has the remote lock feature which by law all phones sold here in the USA has to have. When I don't know.

Well, you come back when you find out when...
........
In the meantime, I'll be over here soaking my feet in pork fat... It's therapeutic.

LOL. I have a 830 in the draw that doesn't have proper denim..... That's when I decided unlocked phones from now on.

You keep you denim in drawers❓❓❓
......
Weird.. I like to hang mine..

Seems only the AT&T flagships are getting updated.

Yes and like always , microsoft says to the flagship lumia Owners FU#k YOU

Where's Denim for my Lumia 635??!

This time Lumias are behind every OEM for update 2. Anyways guys WC app is not showing any article, when i open the app it displays: "Could not connect to Windows Central: An exception occurred during a WebClient request" What's this? Please help me out...

Same here... Getting the same error message when I open the app and my phone's connected to the internet (usually get it only when it's not).

Happens to me all. the. time. Drives me effing nuts.

I get that a lot. The app has many problems, but they said they're working on a Windows 10 app, so we're pretty much stuck with this until W10M drops.

I mean this is ridiculous...first Twitter notifications & now WC app.. whats gng on here? Can anyone explain?

HAHAHAHAHA -- I tried to keep a straight face, no seriously I did.

Even my mom has moved on from the 8X. Are you the kind of guy that gets passed by big rigs on the freeway? Lol...I'm just messing with you...

LOL! No I'm just revisiting. Broke the screen on my Lumia 1520 so thought I'd use this one for a while.

I'm an m8 att owner. Yay! Lol

And still silence from T-mobile.

Still have a 925. Really tempted to get the M8.

Don't waste your time. Crap camera. Go for the 640 or xl

The M8 is awesome, and the camera is just fine. The specs on the L640 (which I intend to buy for other family members) are below the M8 in all other areas.

Go for it, it's a great device.

Agreed. Love mine. I'm not a professional photographer so the camera does just fine for my needs.

I hate my m8 it's a downgrade from on 1520 but its eol and att won't let me get another with my insurance only m8, Nokia apps apps are goin, camera apps especially and camera button. Im upset because I want my 1520 not a m8, and then I go to att to activate my /8 they send and see they have a 1520 on display and ask can I have it, they say they don't sell them or recommends them they just have to have them on display

You could've just bought a 1520 from ebay.

And have a glitchey display with phantom touches. No thanks.

I'd take phantom touches over a phone with a camera that I can't crop and is...good enough.

Yea but it costs more for less gigs I got my m8 for 150 32gb I'll probably buy a screen saw the prices dropped on them

You've waited this long wait for a device with 10 on board. Though I enjoy the M8 I only bought it to hold me over until the next high-end Lumia is available. Couldn't stand the 1020 any longer either. The 640s are good enough for my 7 yr old daughter, which I will be buying her 1 once AT&T has it to replace her 635, but definitely not for me. I didn't want the 1520 because it looks like a circus clown prop despite the nice hardware. Plus, the screen issue I kept reading about was the cherry on top. If your 925 works, wait because that's all you'll be doing the 10 update if you buy a phone now. Then you'll crying like AT&T the 830 ppl not getting the update.

Just wait and get the M8+/M9 Windows soon.

What about the newer 830?

Even the real Denim would be nice

I have the One for Verizon and even though I installed w10 on it, it still tries to download this update if I check for updates. It eventually shows a message that says I already have it installed but it's still a bit odd.

I'm getting the update, yet I have the Windows 10 Preview?

Yes. It's software and firmware. I assume. You already had the software (from 10 upgrade), it just gave you official firmware from HTC and ATT specifically for your phone today.

Please bring to tmo with Wi-Fi calling

Can we please have every Lumia comment blocked? It's ruining our HTC thread...

Wow you are too funny lmao. Your HTC thread would have like ten comments then for its ten customers.

I'd still like Update 2 on my AT&T 1020, but alas. Wish Microsoft was pushing this update more aggressively. However, it is nice HTC isn't abandoning the closet thing Windows Phone has to a flagship right now.

How do updates work. Here in Canada, I am on Wind mobile. Wind does not carry any WP devices, though they did in the past . I bought my L635 from the MS store
So who pushes the update?

Wish I could get it for my 1520, but oh well..

I have a gotten an update, but have not really bothered yet to check out which one

When will my 730 receive this update???

I really don't get why Microsoft does not control the updates. In the last 10 years i have owned my different windows and Android phones all unlocked and not once have i ever had any problems getting a connection in any of the many countries i have traveled too. It really is crazy carriers need jack shit to do with updates. My phones have worked flawlessly in UK, France, Berlin, Singapore, Malaysia,Thailand, Vietnam, Australia,South Africa,Cambodia, and Sri Lanka. (Traveled to all these in last 5 years)

How come they never put windows on the m9? Was the marketing low or something?

which keyboard can I use for my phone?? (with this update2)

I purchased a Lumia 930 in early April and already it's giving problems. I love the Windows Environments, but buying two Windows Phones in three years has left me bitten and shy to buy another one. My first, HTC 8x, lost its screen sensitivity, so I did some research and found the Lumia 930/Icon is a good buy. Until a few weeks ago, I started noticing a greenish purplish ting with has kept getting larger. I puchased the phone from Amazon.com (live in Barbados) and unfortunately, there is no warrently and when it started giving trouble, the return date listed on Amazon.com had passed. I want to buy a new phone and was looking at the HTC One M8 for Windows, but HTC support doesn't seem to be that good. What recommendations do you have? While I would like to have a top of the line phone, I think I may wait until the 'possible' Windows 10 flagship phone comes out. But what other good choices are they?

Meanwhile, I'm over here on my T-Mobile HTC One M8 wondering if I'll ever see Update 2 or Windows 10...

Wow, now it's getting ridiculous. Make it available for ALL Lumias as well, especially the carrier free ones!! If they're not sure if its stable enough use preview for developers for gods sake. I want to use my bluetooth keyboard with the 1520 now

My M8 is migrating my data as we speak. Now to see what all the hoopla is about.

Well, no need to ask about the ETA since I might be upgrading to the next tp for mobile build, but just to sure when will Lumias get this update

They blessed m8... U don't need 10 if u get this update 2

The update is not updating

Hang on. First reaction: "Oh, I forgot there was an Update 2". Second reaction: "Wait, it was announced/released only a month ago? That's the fastest update I've seen for WP!" Maybe I can start to be a little more optimistic about update cycles post-Windows 10 now.

Guessing that his will never appear for the 920 and I am fine with that. At this point I will just wait for the new Lumia Flagships and run with 10.

Can anybody with an M8 please post something about the update? New features, hidden features, what you like etc. 99% of these posts are people complaining about why their xxxxx model phone isn't getting the update..

FK AT&T. Lumia 920 had been forgotten.
Windows Central Newsletter
Get the best of Windows Central in in your inbox, every day!
Thank you for signing up to Windows Central. You will receive a verification email shortly.
There was a problem. Please refresh the page and try again.