Avirall, arguably the best stopwatch app for Windows Phone, is now available and temporarily free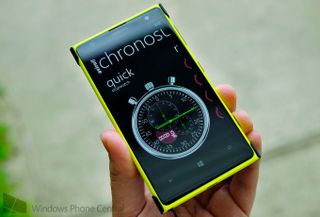 We're not huge on stopwatch apps for Windows Phone if only because there are so many of them it makes it hard to pick the top ones. Often enough, it comes down to which you think is the prettiest, which let's be honest, is slightly subjective.
However, we're making an exception today for a special app: Avirall. For one, it's feature packed, so much so, we've barely figured out all of the app's capabilities. There's an interesting selling point: it has so many features, it's almost overwhelming. The other reason we're mentioning it is the app was just launched and it is temporarily free—at least for the first 10,000 downloads. We hear that the app will fetch for $3.50 regularly, so free is a big deal here.
As you can discern from our quick video review (below), Avirall has some of the most impressive graphics we've seen. It's 98% Modern UI with a splash of a super realistic stopwatch, complete with "working" buttons that click when you enable them.
The best part? All of the app's timers and stopwatch features run in the background, even when the app has been exited or, according to the app description, if the device is even turned off. That's obviously crucial if you're running a 4 hour countdown or timing something for longer than normal.
There are five main features of Avirall:
Quick Stopwatch
Chronowatch - an advanced tool to create multiple stopwatches
TaskTimer - a timer creation tool with ability to add tasks
ActLogger - for activity logging
ProKeeper - to create multiple project earning trackers to track earnings v/s time
We'll leave the rest to you to enjoy. For now though, you should go download the app (for free) and if you like it, give the developer a positive review, as we think it's worth the effort.
Pick up Avirall here in the Store (or swipe to the right in our app or scan the QR code below). All Windows Phones. Free (temporarily) / $3.50 otherwise. 4MB
Thanks, Mike (GR3EN), for the tip!
Windows Central Newsletter
Get the best of Windows Central in in your inbox, every day!
Daniel Rubino is the Editor-in-chief of Windows Central, head reviewer, podcast co-host, and analyst. He has been covering Microsoft since 2007 when this site was called WMExperts (and later Windows Phone Central). His interests include Windows, laptops, next-gen computing, and for some reason, watches. Before all this tech stuff, he worked on a Ph.D. in linguistics, watched people sleep (for medical purposes!), and ran the projectors at movie theaters because it was fun.
The developer here, thanks for the comment. It is not countdown per se, it is just a delay start function, where you want to start the stopwatch, keep your phone away, and you get 15 seconds to start your activity with sound bites - beep, beep, beep, and bang (LOLz). The TaskTimer doubles up as countdown because you can keep the time both ways - Remaining and Elapsed.

Is there an option to have it beep in certain time intervals? Like have it beep every 30 seconds? I can't find any app that does this...either way I'll try this app though.

I'd love this, I have a few routines at the gym that go for a length of time but require change at certain intervals, as it is I just guess the time.

I downloaded it. Hope I can find great use for it when Im working out.

Hey, Dev, please dont get this the wrong way, but that tile looks pretty horrible when pinned to the homescreen. Totally un-Metro. I know it takes a lot of effort to design an app, but if you dont wish to spend time over the live tile design I can send a design over myself. If interested, do let me know by commenting here. Amongst the things that annoys us WP fans, design would be near the top of the list :D :)

Hi Pranav, i appreciate your interest in Avirall and I respect your thoughts about Windows-style design (is Metro still in use?) and thank you for offering the help. I would request you to look at about 40 icon designs in the app (all created in-house, not taken from stock), which one belongs to skeuomorphism? NONE! So, it shows we understand what is and what is-not swiss design (i am using diff names here on purpose). If we talk of design, we need to understand the primary function of the design as well. Design is not Art, which is not bound to serve some purpose. On the other hand design has a specific set of goals and functions. In our view, for us, the primary function of our app's live tile had to stand out (clearly a biz decision) and not get lost with other flat design tiles. And it should relate to the heart of the app - timekeeping. Our design had to convey that it adheres with current theme, and thus our tile image changes its color when accent color changes. Let me assure you, we have 5 to 6 variants of flat live-tile image designs and we made conscious decision to go with an exception of having a skeuomorphic live tile. We understand that design language is a set of guidelines, not archaic rules. I am sure you would understand. I would request you to please use the app.

This app lacks a lot of padding and proportions that are standard practice. I personally feel you should consider whether your own interpretation is flawed, not just your customers'. Don't get me wrong, the app is fantastic in some areas, but in others it's no better than other developers trying out a Metro interface for the first time.

Of course I understand your choices, that was just a suggestion, a personal viewpoint. And I do understand the guidelines are just suggestions and not rules by themselves. While I understand the need to differentiate, I personally feel that the essence of the Metro (I'll always call it metro :D) was clean-minimalist interaface that looks sophisticated and professional. In that context, my point was that the current app tile looks out of place, atleast on my homescreen :)

Same feeling here. The app is very good overall and I use it. The thing I don't like is the tile icon when pinned on start screen since it looks out of place. That is my only complaint :)

I use COUNTDOWN but... for free I'll give it a shot... jejeje
Wow... So far so good. Nice app.

It's the final countdown!

..now to watch Arrested Development...

Nice, I just heard that song a couple days ago.

Love the prokeeper function!

This is a cool application

Been looking at timers. Will try this one and see how it goes. Thanks wpc!

Just got it! It is fantastic! Grab it while you can!

Thanks for the heads up. Downloading now.

Only if it made a tic toc tic toc sound too :(

Wow... I'd definitely not want this. I can't even own an analogue watch because I find the ticking noise too distracting!

Is this available on iDroid❔

It will be soon for iOS and Android, yes.

Lets hope they cripple both ;)

Awesome app. Thanks for the article.

Excellent. Uninstalling all other time app and sticking to this.

That ugly live tile prevents me from downloading the app :(

With all due respect, that's a dumb move. Here's why: That's not actually the Live Tile, which is more simple and nicer looking Live Tiles can always be fixed in later updates, so not the end of the world By you not downloading it, you're passing on the free license (which you lock in forever)

Hi, i am the developer of Avirall. I suggest you to please give it a try. This is very first version of the app. With feedback from real users, i think we can improve this app immensly. If you download it now you will get the license for free and you can have the future versions as well. Who knows, we can go for a simplistic tile design as an option. Anyways, thanks for your feedback. I can tell you our thinking behind so much information on the "Peek View" (for us they are not live tiles). When there are 8 timekeepers on the home hub, it would not be prudent to go into each and every one to know the time or other information like their status etc, whereas you only want to have a glance. So, "Peek View" has timekeeper type icon - different each of 4 types - (which doubles up as clock's status), main time display - always running time - if timekeeper is active, sub-time in case timekeeper is stopped and you want to know the pause time, name of the timekeeper, and when it was started. Thanks.

I love to see devs on here talking about their apps! Thank you!

You are most welcome sir. I am glad and thankful to people who are interested in Avirall.

Yeah I like to see developers on here doing that too. Pretty darn neat app by the way.

I will give it a try :) Thanks for your response.

Downloaded! This app looks pretty darn good and feature packed too!. Keep up the great work ;), I got a friend of mine to download it on his Lumia 920. Also I like how the icon colour and stop watch fascia changes along with general colour scheme with your accent colour, niice touch. 10/10 top notch.

Hey Dan, what is that black calender app on your start screen?

Simple Calendar with Gob skin

Thanks! It looks fantastic!

May have an ugly start screen tile, but it's a beautifully designed app. And on wp7 too

Free is good, grabbed it :)

Though the 2% non Modern UI is quite impressive, it really contrast with the rest of the app.

Just downloaded. I had wanted a stop watch app for a while, but others on the market have ugly UI and backgrounds. This one looks great! Well done!

I almost cracked my screen at the "Download App" line when I read it was free for the first 10000 users.

What, did you swing at the download app line with a sledgehammer or something? O_O

Nah, just my thumb but I got excited anyway! :D

A countdown timer would be good if included.
Or maybe the option to reverse the tasktimer to countdown

I demonstrate this the video.

Hi, this is the developer of Avirall. I am so grateful for your interest in the application. For countdown timer, just use the normal timer and tap on the main time display at the top. The time will show backward. So the main time can be toggled between elapsed and remaining, whatever you want to see. That toggled time will reflect everywhere - in detail windows, in peek view, and in history list. The most important thing in the timer/countdown is that you can add tasks and people during the timer's run time.

Thanks for the info. And great app by the way :) WP needs more developers like you

Nice app. Keep up the good work.

Did anyone else stop reading the article and download the app as soon as they read it's only free for the first 10k? :-P

Lol im sure most did! Hahaha

Me❕.. I can figure out how to work it my damn self❕... Lol!❕❕

+1 I've never seen a bad app on WPCentral so it's a given.

Daniel, Sanjay Sharma here, app dev. First of all, gratitude from depth of my heart for such a grand coverage for a productivity tool. It couldn't have been better and i must say you people are saviors for devs like me who know how to code sitting in trenches but don't know how to spread our products out in daylight to their users. Total respect! Regarding ProKeeper I would like to add here that it is the most powerful tool of the app especially for those people who bill their clients on hourly basis. Prokeeper let's you set-up the project, rates, payments, per-task rate, check-in, check-out, summaries, reporting, CSV sharing, and so on. So, I would humbly suggest people who need to track their hourly earning/billing should dive deep into this tool.

Going to be a big help for me. Great work!

Looks nice. Thanks to the developer for sending this our way. :-)

Very nice app but a little too complicated for me. I just need a simple stopwatch and countdown timer. I've been using an app called StopWatch that works great.

Lovely app! With all this power it would be nice if one could pin some of the clocks as Tiles, as shortcuts.

Thanks for the interest in the app, dev here. Avirall does have secondary live tile to start a pre-set timer quickly. Go to Settings > Lists > Preset Timers and check a preset timer from the list. Tap on "Pin" from the app bar. Whenever you select this tile from the start screen - a new timer will start with designated time in the preset timer. As far as other timekeepers to have a live tile avatar is concerned, for timekeepers updating every seconds/Millisecond, live tile (with it's current limitation) on start screen would not be close to actual status of the timekeeper. WP does not allow to update live tile so frequently from apps. Thus we chose not to have a live tile over giving confusing time on live tile. We might add this functionality on re-evaluation or if WP allows apps to update live-tile more frequently. Thanx.

Thanks for supporting Windows Phone❕

This is off subject so if you don't like OS comments then please just skip to the next.
So, I'm sitting here watching TV and I'm seeing plenty of GS4, and iP5, commercials,, and NOTHING about WP at all❕... I've said it from the beginning, and I'll keep saying it,,, lack of proper marketing is WP biggest problem❕... WP market share will not increase as fast until it is competitively marketed.. There will always be a huge app gap between WP, and iDroid, if WP devices are never marketed properly... Until I see just as many WP commercials ON TV, as I see iDroid ads, I will always believe that marketing is WP's biggest problem... I'm not saying that WP is doomed, or that its not moving forward, as it is.. I'm saying that with better marketing WP will get the attention that it deserves much sooner... And, I'm sorry if you don't agree that marketing is a huge issue with WP, because this simply just is the reality of the situation... If we ask MS for anything that will help WP it would benefit us mostly if we asked for them to greatly increased WP marketing by TV, magazine, billboards, and venues... I work at DFW airport and it makes me sick that the entire airport is swathed in GS4 posters everywhere... When is it finally going to change❔

Very true. I might see one WP ad per week. Usually only one every couple of weeks. In complete contrast I see Android or iPhone commercials nearly every commercial break, regardless of channel or program. It definitely hurts the whole mind share if you don't see a lot of (quality) commercials for WP.

You are absolutely right❕.. I've been watching multiple networks tonight and I have seen only W8 tablet ads attacking the iPad.. I have not seen one WP ad.. How is the 1020 supposed to sell❔... We have 4 new WP devices that have just been released, and ZERO advertising on TV tonight.. PATHETIC❕ I do my part telling people about WP, and getting people to switch,,, when are "they" going to do theirs❔

I live in Springfield MO. the adds for the 1020 are running almost non stop, ( on tv ) and have been for about two weeks or so, and quite abit in prime time, its surprising that there blitzing the air waves in a relatively small market compared to Dallas, though I will say windows phones sell well here, lots of people have them, I know at least 20 or so people who have them, oh and a shout out to the dev for this app, well done and thanks for releasing it on windows phone first lol

Right.. This is at&t's home, and here in Arlington, TX the cowboys stadium has just been renamed at&T stadium.. Dallas is a huge market, and I've seen nothing.. Why❔

I just saw the first WP ad all night.. It was a 1020 ad by MS... Also, this is weird, but this guy in a Lincoln MKX commercial was using a Surface tablet.. I like that Lincoln, or whoever, considered the Surface instead of the typical iPad.. That made my night...

Here in India we see ads from 520 to 820 all the time :) the ads are always rolling :) 920 a little lesser. 925 and 1020 none.

Cool❕ How many people do you know with WP devices❔

Strange. I've seen WP (Lumia 1020 to be precise) ads all over TV, street billboards, even radio which is new.

News on August 12, 2013 : goo .gl/swGKMA
Thanks….

Reading some comments on Store and here, i gather, app users are thinking timekeepers run in the background. From dev perspective if some process runs in the background it consumes resources. Avirall DOES NOT run in the background, want to check, create 10 stopwatches (keep them running), switch off your phone, (pull your phone's battery off if you can and if you think it is necessary), power it up again, start Avirall and bingo all the 10 stopwatches are still running. No timekeeper runs in the background, all tasks and timekeepers are updated in real-time. So, if your phone automatically changes time-zone, on next app start, all the timekeepers will adjust their time as per the current time-zone. Just for info. Enjoy Avirall.

Just wanted to say thanks, great app, very well done

Wow, this is the ONLY app that timer goes off even when the app is closed. Must have timer app.

I downloaded it as soon as I saw temporarily free and would normally fetch $3.50. Not sure if I'll ever use it, but it's permanently purchased on my account should I ever require it down the road.

I just have one comment. Please make the first letter capital in the app list. Otherwise, excellent app and thanks for supporting WP8 and giving it for free!

Got it today, used timer for grilling steaks, best looking timer I have seen on any platform

This is a great app, but i just dont feel the name. It sounds like an antivirus programm. And here is my problem with it: in the not too far future, i will need a stopwatch and remember this great app and I will be looking in my long app list under 's' for 'stopwatchsomething', maybe under 't' for 'timer', but I most definitely won't remember, that it was called avirral.

Haha yeah, It's bascially "A Viral" with an extra L at the end.

"A Viral" nice try! :). Actually there is a Sanskrit word - अविरल (Aviral), loosely means 'continuous'. We took Aviral and added an extra 'l' to bring in 'all' as tail, thus Avirall.

I'm presuming that the Sanskrit culture is the culture you grew up in? Interesting insight. Going to have a look through it. Might be useful for timekeeping while going through the meeting agenda. Which mode do you recommend for that?

Thanks, I am from India. Depending upon what you need to achieve - time the discussion on every point in agenda OR get alerted when you have discussed a point in agenda for designated time slot, you can either use ActLogger or Tasktimer. For first scenario use ActLogger, just create a new ActLogger, edit the name of the new ActLogger, edit the name of the new task as your first point in agenda, add new task when you want to go to next point, and so on. When meeting finishes, stop the ActLogger. You can keep ActLogger for future references with all activities/pauses intact and you can also send the report of time spent on each point to the participants. For the other scenario, you need to prepare a set of TaskTimers, one for each point in Agenda and assign duration to each of them. Start the appropriate timer when the discussion on the related point starts. Hope this helps. Thanks.

Agree with Mo.
Nevertheless, fantastic app and thanks to the developer for providing feedback.

Very nice app, thanks Dev for making it free.


Installed on a 720 lumia, start the app For the 1st time, take a look at display, exit the app; after a while, the phone freezed. Reboot, set correct date and time (since this stupid phone cannot update date time automatically), restart the app, try once, ok; try twice, app crashes with error "we have encountered a problem...". Ok, byebye.. App uninstalled.

I am sorry about the error, in our knowledge this is not common. Had you not un-installed the app, we would have requested you to send error through Settings > Data > Send Error Log, which would have helped us identify and resolve the issue. Anyways, we appreciate your interest and regret the inconvenience.

Thanks for the freebie dev! Nice app. I'd just echo what a few other have said in that I don't care for the tile. Otherwise good job.

Unfortunately i could not try out the app since i live in Belgium, most people in Europe or Belgium for that matter speak English and although they would prefer native language support its not really all that important. This seems like a great start for a question though: why didn't you release the app internationally and are you planning on doing so in the near future?
I only had the video to go on, but it looked like it always goes to a loading screen with a 90 degrees timepiece which to me looked a bit cluttered, unnecessary and bit out of place.
I also would have preferred the central timepiece to be without the chrome edge but rather a flat digital edge.
As for the live tile: i would have preferred it to be centered and without the chrome mentioned above.
Thanks a lot for coming on here to show us your app and for answering our questions and sorry for the negative critique above as i am aware that what i like is not necessarily what others like.

I've been using Easy Timer for a long time now (free simple but, full featured Stop watch and Countdown timer that fits with metro very well), one of the first apps I grabbed when I got my first WP7 device and love it.

I'll give this one a shot to see if it can replace Easy Timer. The price is right to really test it to see if it will fit my needs.

To the Dev, good luck with it, looks pretty good from my quick test...

After Avirall Lite, I am happy to announce here the fresh update to Avirall Pro, the one which you might have installed during the offer period, with many new enhancements.
I hope, the latest update of Avirall succeeds in addressing many issues raised by esteemed readers of WPCentral. Following are some of the updates in the new update version 1.1.8338.0, available in the store now: "avirall" title is now Avirall Time Suite Store image has now more contemporary design The application name is "avirallPro" written as Avirall Pro in text Store screenshots have been updated with better images Live Tile background and Application icons have new design Splash screen is redesigned Home Hub title is changed to "time suite" Home Hub | Quick Stopwatch has a help button Home Hub | Quick Stopwatch : Tap anywhere to start/pause the stopwatch Home Hub | New : CHRONOWATCH is now WATCH PRO Home Hub | New : TASKTIMER is now TIMER PRO Default name of new timekeepers will be: [new hh:mm:ss] In case of trial mode, a banner on Home Hub will gently remind to buy full version Accumulative usage before trial app starts prompting to go full is now 1 minute [Retains all the good things you liked] Please go ahead and update the app (it's free if you already have a full copy). Your ratings/reviews keep me happy and alive.
PS: Do not hesitate to exit Avirall even if there are multiple timekeepers running. They will still be alive, all of them, when you restart Avirall.
Windows Central Newsletter
Thank you for signing up to Windows Central. You will receive a verification email shortly.
There was a problem. Please refresh the page and try again.