Suit up as the Dark Knight in Batman: The Telltale Series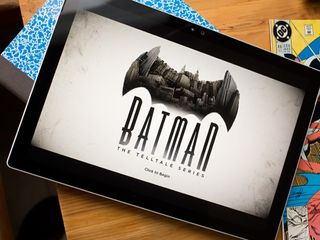 Batman: The Telltale Series is an interactive comic book from the creative minds at Telltale Games. The Windows 10 Xbox game plays out in video game style, much like you would find in the classic game Dragon's Lair. Just with a little grittier approach.
Graphics are fantastic and provide a nice graphic novel feel to the game. You control Batman's movements during combat sequences and have the ability to steer dialog during the story.
Available for Windows 10 PC, Batman: The Telltale Series has tremendous potential but is incredibly resource needy. A standard or even mid-range PC may struggle with the graphic quality, creating lag times and other anomalies. This is the first of five episodes, each running $4.99 each.
Gameplay with Batman: The Telltale Series plays out like an animated cartoon, with plenty of interactive opportunities. Think of the classic game Dragon's Lair but with the dark mood of Gotham instead of a dragon-infested kingdom.
Interactions include dialog choices, activating devices and controlling Batman during combat sequences. Actions are controlled through a series of onscreen gestures and taps. For example, if Batman needs to use his Batarang, it becomes highlighted in blue and you tap it. If Batman needs to take a swing at a bad guy, just swipe up or down at the screen.
Dialog choices are displayed at the bottom of the screen and if you take too long to choose a path, the story proceeds with a default response. In this respect, Batman: The Telltale Series is forgiving with no penalty for your inaction. The game is less forgiving when Batman needs to deal with his enemies.
If you miss a swipe, tap, or slide of the finger it gives the bad guy an edge and could prove disastrous for the Dark Knight. Segments of the story that require numerous action choices have a bat-symbol displayed in the bottom corner of the screen that slowly fills to illustrate your overall progress in the storyline segment.
One of the more interesting features is "Crowd Play", a hallmark feature of Telltale games. With it you and your friends can make decisions as a group about how the story ought proceed — just vote on the available options for each action and then watch it play out. It's a clever feature to make this style of gaming more social, but it works best when you're actually with those friends and can debate about the best option.
Image 1 of 2
Overall, Batman: The Telltale Series is a fun game for Windows 10. The level of interaction pulls you into the story and demands your concentration. Gameplay can be saved at key points (you'll see a ring appear on the screen) to avoid having to replay entire sections of the story, and if you're logged in with your Xbox Live account that progress will synchronize between devices.
While I think the concept behind Batman: The Telltale Series is intriguing, the execution wasn't as impressive. Again, this is a very resource-hungry game where standard or even mid-range specs may not be enough. You also need about 20GB of storage space to install this game.
In playing this Windows 10 game from a Surface Pro 4 and Dell Inspiron 7000 series laptop, I experienced issues with the game's graphics ranging from lag times to black lines appearing throughout the game (as you can see with the screen grabs).
You can dial the graphics setting down and choose between high performance and high-quality settings, but neither helped the overall performance of the game. The Windows Store description does note a recommendation of a Nvidia GTS 450+ with 1024MB or greater VRAM.
Priced at $4.99 per episode (there is a Season Pass ($19.99) to save a little), if you are using a PC with anything less than the recommended specs, I would wait and see if the developer can dial the graphics load down a bit before taking the plunge. I do not think the game would suffer if the graphics detail was turned down a notch or two to support more machines with less horsepower.
As is, if you are a Batman fan, this is a must-have game — just make sure your rig can handle it for maximum enjoyment.
Download Batman: The Telltale Series from the Windows Store (opens in new tab)
Windows Central Newsletter
Get the best of Windows Central in in your inbox, every day!