Battery Saver for Windows Phone updated to filter app usage by time and more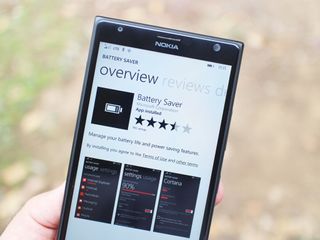 Battery Saver has just picked up an update for Windows Phone. The built-in app allows you to monitor which apps are consuming the most battery and gives you control over which apps run in the background. Today's update gives you more filters on the usage page.
Update: A full changelog has now been posted, which we will list below:
Battery Saver 1.0.14201.0 Changes
Foreground vs Background metrics: Usage bars now show foreground and background showing you how much power a particular app consumes whether you're using it or not using it.
Time Filters: We've added a filter also in the usage view where you can now specify the timeframe of data to look at. Can now show data from the last day, 2 days or a week.
What Does Battery saver do anyway?: Re-worded the settings page to more clearly indicate what battery saver mode does.
Real Time Live Tile: If you pin the battery saver app to start, it now updates in real time! (Requires build 8.1.14203 or higher.)
Quick Settings: You can now add battery saver to the quick settings menu and cycle through the battery saver options there. (Requires build 8.1.14203 or higher.)
Turn On until next charge: We added a new option to let users turn on battery saver until next charge!
Improved Battery usage scaling: The usage data now scales to actual device battery capacity with full width mapping to 100% capacity. Additionally, the bars now use a logarithmic scaling algorithm to make the bars more visible when usage is small for a particular app.
Today's update puts the app at version 1.0.14201.0. We're not seeing an official changelog listed in the Windows Phone Store, but a quick scan of the app after updating reveals a few new features.
Visually Battery Saver will now display how an app is impacting your battery when it's in use and when it's in the background. Tapping an app to go to its detailed page will provide exact values for how it's behaving in use and in the background.
Another change is ability to sort and filter your app usage list by time. By default it will show you how apps are consuming your battery in the past 24 hours, but you can view 48 hour usage and one week usage as well.
Did we miss anything in today's update? Let us know if you notice anything else!
Thanks for the tip everyone!
Get the Windows Central Newsletter
All the latest news, reviews, and guides for Windows and Xbox diehards.