Addictive game Battleloot Adventure jumps from Android and iOS to Windows Phone 8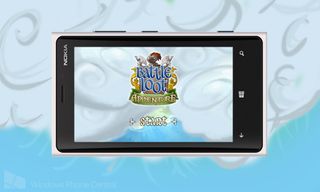 When it comes to mobile gaming on Windows Phone you've got a variety of choices. There's something for everyone between killer Xbox Live enabled games to strong titles from independent developers. But Windows Phone is still a bit lower on the totem pole of important platforms when it comes to independent game developers. It's always a nice day when a popular game on either Android or iOS makes the jump to Windows Phone. So it's an even better day when it comes from both platforms, like Battleloot Adventure for Windows Phone 8 just did. Let's check it out.
Battleloot Adventure is a single player role-playing game. It also incorporates turn-based gameplay for the battle portions of the game. Like any good RPG, you'll be levelling up and customizing your character as you progress through the story. Here's what you'll be doing in Battleloot Adventure:
Pledge your allegiance to one of four cities and earn fame and fortune.
Recruit an assortment of adventurers, each with their own perks and unique skills.
Upgrade and customize your characters and their abilities.
Carefully choose your 3 ideal adventurers to face each danger ahead.
Brave over 60 quests, each including a unique feat to further challenge your skills.
Super easy touch controls.
Carefully arrange your team for battle, deploy your heroes in front and rear lines for the most effective offense/defense balance.
Cautiously plan every attack, selecting the right characters and moves for each quest.
Leverage Auto skills and Special attacks galore.
Be ready to take action anytime in the battle with the Assist and Block commands.
Master unique combos to rake up hits and collect stars to unleash Special attacks.
Battle across different environments – some infused with magic and each affecting your adventurers differently.
Enjoy colorful comic-style graphics, combining zany animations and lush hand-painted backdrops, with high resolutions support.
Sure enough, after playing the first few levels of Battleloot Adventure we can say this game will be addictive. First impressions? This game looks good and interesting. If you're a fan of RPGs you'll definitely want to give this a try.
The game is free for Windows Phone 8 users. And like most things "free" these days there is a fremium model at work. While you don't need to pay to complete the game, you can level up faster by using some of that real world coin in your pocket.
Grab it in the Store, use the QR code below, or swipe to the right in our app.
Thanks for the tip JD!
Windows Central Newsletter
Get the best of Windows Central in your inbox, every day!
This Monday has been weirder than most :)

We sacked all the "F"s around here and have made amends with the letter "L".

I truly appreciate this Sam! I just want more people to know about the great indie games on wp8 that are being ported that are unfortunately hidden in the marketplace. My hope is that if more people try these games and know about them the more that we will see come and join our platform! I have a huge list of games on the platform that haven been spoken of that truly deserve the mention. Once again, thanks!

At this point the WP platform is very good for pretty much any type of user... The biggest problem is convincing these totally unknowledgeable associates to SELL THE DAMN PHONES❕❗❕

Not to be a stickler, but this is a "port". iOS and Android have wayyyyy more games than WP (though, that's not necessarily a reason to not chose it over the former two OS's). It's not to the level yet where people develop for it first (hell, even android isn't there and it has the biggest cut of the Market right now).

I saw the phrase "Xbox Live" and got excited for a second. Dont do that.

Do shiny objects also catch your attention? lol

ONLY if they have an X and a Box on them.

Battefoot.....battlefood..... It's Battleloot!!! XD

Yeahhhh... let's just blame on the Type Cover for the Surface.. :)

Battledude Adventure, got it.

Beetlejuice beetlejuice beetlejuice!!!

Hey "HALO" now available in US marketplace (W8), but I can't download it

Well share that link homeboy! sam@wpcentral.com

Can't see halo in the store.

Open Xbox App on your Windows 8 then Windows Games Store (new release) and u'll see HALO - but when I press the play button it opens the store and that's it (I cannot download it)

Ah, I see it. Talk about a tease. Lol. Very soon my friend, very soon!

Tomorrow? It's XBOX Live game of the week, and tomorrows wednesday :) TOMORROW IS HALO TIME!!!!!!!

Those iDroid idiots who keep talking about WP doesn't have any apps don't realize how many of their apps are being ported to WP weekly... Microkia really needs to somehow make the store associates awareness more clear❕

It's not about the apps .. It's about the timing. The apps come on WP when the fad is already over.

Yes, the app situation is not fixed yet, and there's still issues that need to be ironed out.. That's old news.. The important thing is that the overall app situation has dramatically improved in 2013, and isn't showing any signs of slowing down... But, as far as your point goes.. Soon enough the gap between the time a iDroid app is released, and when WP gets it, is going to close enough for this not to be a issue. We can already see a few developers acknowledging WP at the same time they release the iDroid version.. Nowadays developers at least say that a WP version of a new app is planned.. Several years ago the message was mostly that they are waiting to see if its worth their time to build one.. Now, at least they have interest.. So, its getting better.

i like how the editers reply on this blog that too in style kinda makes this blog more appealling than most :)
want WP news ???
its gotta be WPCenteral <3

Yeah, and they're jerks sometimes too❕❕... I like that❕

guess what i find you to be the most active user :)
congo on that and well you will have tough competition from me for that title ;)

Lol❕❕❕.. What does Congo mean❔

Lol it's a short from of congratulations

What happened to congrats? :)

it just got more shorter ............

You can't blame them. They're only human ;)

I would like it if they cursed me out from time to time... That would be nice.

My favorite game of this style is Battleheart. If I'm not mistaken, they were the first to adapt this gameplay style, or at least the first that I found.

Just a thought, we don't have any sort of games yet like Street Fighter, etc.. on WP...

Yeah, Street Fighter and Mortal Combat would be awesome! Any news of either of these games or this kinda game coming to WP?

does this game have xbox achievements?

Sam, thanks for this wonderful game. A great addition to the WP games library and to mine also.