The beast is out. Microsoft releases Portico update to more Lumia owners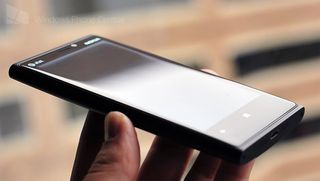 Just as we covered UK mobile operator EE rolling out the Windows Phone 8 update, reports have flooded in from multiple markets, including Italy, Germany and Russia. We're witnessing Microsoft gradually open the flood gates to release the Portico update to more consumers, which is a sign that progress is strong and issues are few and far between.
Unfortunately, we only know of Nokia hardware receiving the Portico update. This is a downer for those who wield Samsung or HTC Windows Phone 8 devices. We previously looked at both Germany and Italy being bumped to the latest version of Windows Phone, but this marks the start of a more global push.
Have you received the Portico update? Be sure to let us know in the comments.
via: WP7forum.ru; thanks everyone who tipped us!
Rich Edmonds is Senior Editor of PC hardware at Windows Central, covering everything related to PC components and NAS. He's been involved in technology for more than a decade and knows a thing or two about the magic inside a PC chassis. You can follow him over on Twitter at @RichEdmonds.
Nothing here yet. Lumia 920, Germany.

ALL OF YOU WITH UNLOCKED 820/920 PHONES PLEASE READ THIS THAT WAS SENT TO ME BY NOKIA:
" I have checked into this for you the answer is that not all IMEI's (handset serial numbers) are going to have the update available at the same time this is simply because everyone would try and update their handset at the same time causing the update to crash. I have it on good authority that the update should be available to you very soon however I cannot specify exactly what batch your handset will be in."

Are you with any carrier or is it an unbranded phone? 'cause I've a T-Mobile 920 and I'm receiving it right now. Try this: go to "phone update" and do a manual search. The phone didn't tell me I had the update but when I did the manual search it showed up.


I have an unbranded device. Did the manual search. Unfortunately to no avail.

I have an unlocked/unbranded 920, here is what Nokia told me about recieving Portico:
" I have checked into this for you the answer is that not all IMEI's (handset serial numbers) are going to have the update available at the same time this is simply because everyone would try and update their handset at the same time causing the update to crash. I have it on good authority that the update should be available to you very soon however I cannot specify exactly what batch your handset will be in."

The beast is awaiting its German visa! ;)

Yippeee, just downloading it now, on EE in UK, i had to do a manual search,

Yep Same Here..!! Downloading it now..!!

Heh, Portico all the way to Romania. Granted, the phone's german

Nothing yet for Verizon 822

Blame Verizon (and MS for changing the way we get updates).

WOW! It's now the 6th of Feb. and still nothing. No word on the 8X either (which is what I have). Darn it!

Just downloading it now! Excited.

Update to germany coming. Here is the official post from Nokia Germany :
https://www.facebook.com/nokiadeutschland/posts/121298311380287
-------------------------------------------
www.phoneseven.de

Guess Verizon in US is missing the boat.....again

I'm on Verizon as well with an 8x. We always seem to be the last to be taken care of. It was also like this when I had an Android phone on Verizon; the updates were always released WAY after every other carrier.

Funny, with the Trophy we had updates before everyone else...

Is this while on Verizon?

yea, the Verizon Trophy got updates faster than any other carrier....but, with my 8X, I am disapointed so far.

Wasn't the big thing at the MS WP8 press statement where updates would come from Microsoft and not the carriers...another lie by MS, just like the beta testing link where we could test updates before everyone else...still waiting on that..

Even more strange is that I saw on the Verizon forums where someone reported that a Verizon rep told them that Portico was pushed out on Dec 22, 2012 but there was some error and engineers were trying to solve the issue....dont really believe that story though. IF it were true, would give Verizon a nod to at least trying sooner than later...

Got it a couple of weeks ago for my 8x on Vodafone in the uk!

My 820 on VFUK has Portico as loaded by Nokia Care. Doesn't stop the soft reboots.

Strange, my Mrs has an 820 - its NEVER rebooted.

My fathers 820 doesn't seem to do it, but my mums did when it arrived - had to be replaced like mine the month before.
It seems I'm the only one unlucky enough to have the reboots so 'active' on my handset. Nokia Care returned my handset repaired and within 5 minutes it had rebooted, then did it in a call which never previously happened. So unhappy with it, but WP8 is great when it works. I missed my WP while it was out at Nokia Care. Used an ipod for my smartphone needs, totally useless in comparison.

I want to know when the next 8.1 update is coming?

I bet we'll find out about the next version in a few weeks at mobile world congress again like usual. I just hope they push for faster updates, but I've had portico on my 8x since before NYE in mid December. Looking at it all, I'd say MS has moved quick with this update.

I agree. I've had portico since Dec as well. I'm very interested in finding out what new updates they'll bring. Hopefully there is xbm and sync updates for those that do not have win 7/8. Also call blocker would be awesome too.

They spent 2 years changing the core to WinRT, and functionally its the same as 7.x
They need to mature the platform and add features QUICK!
Profiles, proper notification centre, more customisation of tones. (LED lights)
Otherwise, people like me will tire of the Windows Phone experience that hasn't moved on, and I will try something like BB10 instead.

nothing on my sim free 820 phone in the uk

Same for me, mines and unbranded one on EE.

I have the update. I'm with at&t and have the 920

Did you just get your 920 recently? Cuz portico has been out since Dec for 920

Yes I got it about two weeks ago.

recieved and install it manually.

received in Italy this evening, installed and everything went fine :)

Nothing on DNA Finland yet... still waiting...

Remember when Microsoft talked about creating a program for registered users to get early access to updates? Whatever happened with that?
http://blogs.windows.com/windows_phone/b/windowsphone/archive/2012/06/20/announcing-windows-phone-8.aspx

Just going to ask the same thing.

We should all tweet Joe Belfiore!


Received uae/middle east.

Is yours tied to any carriers? I bought my 920 off the rack, and have not received it.

Whatsapp can now remove the fake music stream API because most of the wp8 phones run on portico right now. If the API is removed we can decide if our wifi will stay on or not on screen lock and don't have to deal with that anoying API anymore.

Most of the WP8 are NOT on Portico.

Okay I ment 'will be in a very short time.'

Shouldn't matter anyway... a dev can always use different methods on different OS's...

Nothing for the 822 on Verizon

Just received in Italy and installing right now

I've just received it on my T-Mobile Deutschland branded Lumia. Wich meas carriers are also releasing it. This is unbelievable. I've got the Portico on my 920 BEFORE I get the 7.8 on my Lumia 800...

The T-Mobile update is already rolling out, many have confirmed it. Well i still have to wait i have the unlocked 920. Someone said people like me that bought the phone off contract are being punished for spending a lot of money for buying it. One would normally expect the people that got the phone off contract to get the updates first, well lets keep our fingers crossed.

Received it last week on Lumia 920 in South Africa

822 Verizon, nothing yet. Who gets the updates and When? ...Is this a carrier decision or a Microsoft decision ??

Bug Fix = Beast is out? Helarious!

Nothing in Sweden yet.....

920 orange. Downloading now

Downloading the update here in Italy with locked carrier TIM! FINALLY!

Telenor Norway, Update available

Just installing. UK EE 920.

Finland/DNA, nothing yet...

Update stops at 100% preparing installation section

Just wait a while, it will continue

Keep waiting, don't worry it just takes abit. Myn was about 5-10 minutes then it'll pop up :)

Really? Are y'all on WiFi? If not, that may be the reason why it's taking so long.

I think in this stage the ammount of data and stuff stored on the phone is the reason for the long duration.
I had to wait 15 min. The download over wifi was faster thou.

Just downloading :-)
(Lumia 820, unbranded, Germany)

That's great news, the unbranded 920 update can't be far away. I keep checking for the update every minute :)

Worked for me in Norway with operator Telenor

Unbranded Lumia 820 - I just manual checked, nothing yet.

NOKIA/ATT PERFECT MARRIAGE

Portico update installing on my 920 in Beirut, Lebanon =) (factory unlocked)

Just installed it on sim free 920 from P4U

Same, v quick and no problems. Earlier than Nokia said for UK.

Just updated my Lumia 920 with portico here in the UAE

Lumia820-Germany... Just installed portico minutes ago!

Is there ANY word when Verizon Lumina 822 or any Verizon updates are coming

Just got it on Orange (EE) in the UK for my Lumia 920. Phone seems alot quicker now. Also loving the ability to keep wifi online when the screen is off.

nothing in Telekom Slovakia, unbranded Lumia 920

I have had Portico since December on my unbranded HTC 8X in Switzerland. I am wondering why Nokia is so slow...

The htc 8s doesn't get this update right?


Anyone knows how do I revert back from early Portico from Navifirm and get this genuine EE update? I can't seem to find old ROM and firmware on Navifirm

Nothing in Australia for the 920 on Telstra.

I have an unbranded unlocked Lumia 920, bought in Dubai: RM-821_im_mea3_306. 3 (UK) is my sim card's network but I'm in Italy these days. I went to check into settings if I could update. Yes! Upgraded over wifi!

Verizon users haven't actually been able to use the new Nokia phones yet. Verizon shipped the new WP8 phones with no OS while waiting for WP8 to finish passing Verizon's internal certification. Verizon hopes to complete this certification later this year or early 2014.


Nothing in Austria, either :/

Nothing on uk lumia 820 sim freen from phones 4 u.

920 Nigeria no update yet

Portico download and installed. No problems. UK/EE/920.

Does anyone have a problem with the sms reject option? I can edit the message i want people to receive, but when someone call it doesn't give me an option to to reject! Lumia 920 orange uk

Have you turned on the option within SMS settings?

Yep its on, and i don't know why this don't work... Help

It only works with incoming mobile calls and only ones that are in your contacts.

Yeah, I've asked a few people to call me who are on my contacts list ,but to no avail, doesn't work! Fail. Aarrrgh such is life.

Perhaps Orange UK has blocked the feature. Any other Orange users experiencing the problem?

I'm on Orange, have this feature working. However mine is unofficial portico

Are they calling from their mobile? AND have you saved the number as mobile in your phone? Home or work cant ofcourse be texted back!

And you are absolutely right, thanks , the people who called me were not saved under mobile, thanks, this works well.

Downloading now on 920, UAE/Middle East

Downloaded and installed in Norway (Telenor) :)

Sim free unlocked Lumia 920 nothing so far Belfast, Ireland

Nokia Lumia 820 on EE, UK update done 2 hours ago, however my wifi keeps dropping off when lock screen is on. Was this not suppose to have been addressed? Anyone else finding this?

You have to go in "advanced" in WiFi and tick a box that says keep wifi alive!

Do you have a problem with the sms reject , when i get a call i don't have the option to reject with sms,

It works for me, but not all the time. 9 out of 10 times, the reply with text option is there.

Got it on my L820 on At&t SC, USA

so my wife got it on her djuice (Telenor) phone, but I haven't received it on my developer unit (nokia provided). I'm using Telenor network.
Both phones L920's.

Hmm, couldn't edit on my surface. Forgot to specify we're in Norway.

Just realised you have to opt in to keep WiFi on under lock screen. Now I am happy

That is like the best new improvement. No more of that wifi glowing/connecting thing every time the phone comes out of lock screen.

Got it on Lumia 820 & 920 on both UAE & South Africa models.
Did not try them out yet, but updates installed fine.