EE rolling out Portico update to Lumias, visual voicemail on the horizon?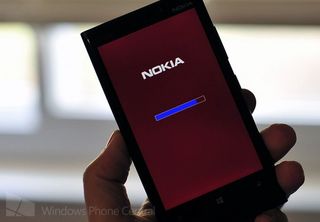 We've just got word that UK mobile operator EE has begun rolling out the Portico update for Lumia 920 Windows Phones that are tied to the network. The Windows Phone 8 update introduces a number of improvements, including SMS call reject, persistent Wi-Fi, Wi-Fi hotspot and addresses stability issues (such as those annoying soft-resets).
Should you be with EE, be sure to keep checking for updates by heading over to Settings –> Phone Update –> Check for updates. A notification should alert a Lumia 920 owner that an update has been found, so fear not if you can't locate Portico just yet.
As well as the update, EE has also launched visual voicemail for the iPhone 5. Will not Windows Phone related, could this mean Windows Phone hardware running on the EE network will sport such functionality in the future? It's certainly worth the consideration. We've reached out to EE for more details.
Thanks, John, for the tip and screenshots!
Rich Edmonds is Senior Editor of PC hardware at Windows Central, covering everything related to PC components and NAS. He's been involved in technology for more than a decade and knows a thing or two about the magic inside a PC chassis. You can follow him over on Twitter at @RichEdmonds.
Windows Phone supports Visual Voicemail just fine so it should..

It doesn't work like that. They have to add support for windows phone specific visual voicemail as they are different

Anyone know what the version is?
Only ask as I flashed EE Portico when it was available on Navifirm and wondered if the update was a newer version

Im on EE, had portico for neatly week. Its ok

Same. Ok though. Its always been ok with me

To add....
Portico is now available for 820s too. Mrs' 820 is on Orange, so looks like a push across the range

So if i have a sim free 920 using a Orange contract sim which gets the EE signal will i get the update ? Lol

I guess you'll get it with the sim free lumias :(

Awesome! Thanks for the heads up, downloading now :)

My phone has recently come back from repair (well nearly 2 weeks now) from EE what is the update OS version? I was told my phone had been updated already but i didnt know if they were talking about apps firmware or OS....?

Does this also include the camera updates?

Just updated my Lumia 920 on EE and as with the photos above, the firmware is still on 1232. I don't notice any improvement in the camera...

Sweet, been looking forward to that text reply feature

I normally check for updates every few days (don't know why especially considering my source of info is wpcentral!) but haven't for well over a week so thanks :)
Downloaded and installing now :)

Just checked mine. Got it downloading now. Thanks for the heads up.

Downloading now. Looking forward to improvements.

T Mobile Lumia 820 also upgrading to Portico whilst we speak.

I sent a tweet to EE regarding visual voicemail...they sent me a direct message back saying that they are releasing Visual Voicemail to iPhone users first, with it coming to Windows Phone & Android users sometime in 2013/14. Typical that they favour iPhone users first!

The way it is with apps at present. iOS and or Android first then WP :( At least EE got back to you, still waiting for them to get back to me on a tweet from last week about new 20GB plan lol

I bought my 920 2 weeks ago and it came with 8.0.10211.204 (portico?)
camera is very blurry

Does it have the rumored VPN support?

No VPN support in Portico.

Great, updated to Portico and now the Brightness is mucked up! Low brightness doesn't mean low anymore :( Grrrrrrrrrrrr

Got the same problem, also my soft button's (back, home and search) now don't illuminate double grrrrrrr. 920 on EE odd now working all i did was lock the screen, werid

Good to hear yours decided to behave itself. Mine's still playing up! Still on the plus side the OS appears slightly faster when moving between screens and apps.
Ah well, when's Portico+ hitting our shores?

Well after a whopping 40 minutes the update is installed! I think Microsoft/Nokia have a lot to learn when it comes to OTA updates.

Lol - you blatantly don't know what just happened to your phone do you haha

What are you talking about? The update went smooth, no problems at all. Some people just spout nonsense just for the sake of saying something.

Have you tried to update an iPhone using iTunes. My girlfeinds iPhone 4s took 9 hours to update.

Then clearly none of you have used an iphone properly, OTA updates take minutes as none of your content is touched. I'm not complaining but not being able to use my phone for 40 minutes is a pain

You sir are an idiot of the highest order. RTFS. It clearly says the update will take between 5-10 mins. Some users (with lots of content on their phone) the update will take longer. I updated 2x920's last night, one had almost no apps or media on it, and the other had lots of media, apps, texts, emails. The empty 920 took 5 mins flat, my 920 with much more on it, took about 20 mins. If 40mins is "such" a massive pain for you to wait, then you could have removed some of the phones content, but you already knew that because you read the screen didn't you. Pebfas. Problem exists between finger and screen. :rolleyes:



yeah both my Red 920 and my girlfriends White 920 just got Portico. sweet.

Mine updated fine, took total of 54 mins and everything went smooth (as others have noted, updating an ios device seems like torture compared to this)

Got it last night with SIM free 920 on EE.

I downloaded the update last night and I am on T-mobile (UK) - mind you had had to check updates to see it and it took ages to check for updates :-)

I have just downloaded the update and im on Orange (UK). Though i wasnt prompted, i manually checked for updates after reading this article. Taking its time though, been going 20 mins so far and just have 2 wheels spinning on the screen.

Don't what updates you're talking about for iOS. Minutes! You are having a laugh!!

Nothing on my Orange (UK) Nokia Lumia 820.

Ditto buddy, still waiting.


Update complete EE 920. Over the air updates are cool!!

Has anyone on EE noticed that there is a 3G+ signal. Did i miss it as i didn't see it before the Portico update.

hey! just wondering, there seems to be another EE firmware on the servers now, 1232.5951.1249.1018, wonder whats that for???

Anyone else still waiting for the Portico update? I have a EE branded Lumi 920 on Orange and my phone can't see an update.

it varies, some people get it easily while others don't i guess they limit it by IMEI numbers?? Anyhow if OTA updates do not come to your phone, there's always the manual method, but you need to backup and restore your phone as the manual update will erase all data.

Link Here:http://forums.wpcentral.com/nokia-lumia-920/203979-fix-bricked-920s-after-reset-flash-process-defined-inside.html

Windows Central Newsletter
Thank you for signing up to Windows Central. You will receive a verification email shortly.
There was a problem. Please refresh the page and try again.