Beats Music to launch online streaming service, bringing a personalised music experience to the US on January 21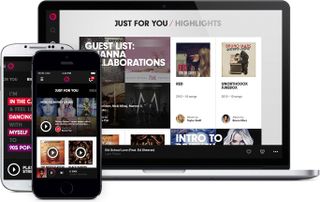 Beats has announced a new music service (www.beatsmusic.com) that will be available on Windows Phones on January 21st. Not only that, but should you be with the US mobile operator AT&T, you (and every member of your family, up to five people and ten devices) will be able to take full advantage of a sweet deal to get you all started. Rock on past the break for details and more.
Personnel at Beats Electronics have a strong history with subscription music services, from dealing with concepts, writing apps and software, to arriving from record labels that deal with said services. Since they have a pool of experience at hand, Beats Music will launch to bring a more personalised much experience to smartphones.
Ring any bells? Imagine Nokia Mix Radio and Xbox Music getting together and producing offspring. Beats Music sounds like the perfect love child of said relationship. The ability to tune into songs directly by searching through the catalogue coupled with a tailored experience.
The general idea with Beats Music is to launch an on-demand subscription service with unlimited, uninterrupted streaming and downloading of millions of songs. That's the base functionality for any competing web service, but what Beats will attempt to layer on top is a similar system to what Nokia has in place with its own Mix Radio (as touched on above). Forget computers recommending you music.
Users will be able to enjoy human curated playlists and hand-selected songs and albums that suit personal music tastes. If you wish to try out something new, Beats Music will have a "Right Now" option for you to state exactly where you are, what you feel like doing, who you're with and what types of music you're into for a delivery of music tailored to your requirements.
It's a neat sounding feature, which we're sure many music fans will enjoy. The ability to select where you currently are, whom you're with, what you're doing and which genre you'd like to crack on with. Functionality, while similar to Nokia Mix Radio, is fairly unique and we're interested to see how Beats Music is developed on Windows Phone with future updates and new features.
Once launched and available, you'll be able to try out the service for free (with no limitations). Should you enjoy what you hear, it's $9.99 per month to keep the unlimited streaming, downloading and personalised experience. As noted above, if you're with AT&T and have the Family Plan set up, you'll be able to grab Beats Music for up to five people for $14.99 a month ($50 in value). That's not a bad deal.
There's only one problem. If you reside outside the US, you won't be able to use Beats Music, but according to the website (where you can now register and claim your username before launch), more markets will be supported soon. Sign up to get notified when your region will be supported.
We'll let you all know when the Beats Music app is released on the Windows Phone Store. Would you be interested in such a service?
Source: Beats Music; thanks, Kittanan, for the tip!
Windows Central Newsletter
Get the best of Windows Central in your inbox, every day!
Rich Edmonds was formerly a Senior Editor of PC hardware at Windows Central, covering everything related to PC components and NAS. He's been involved in technology for more than a decade and knows a thing or two about the magic inside a PC chassis. You can follow him on Twitter at @RichEdmonds.
No thank you. I like my Nokia Music+ and Xbox music subscription!

I do enjoy my XBM experience.. Although the player could be more feature rich, it does serve my needs well... I can only subscribe to so many, one, services anyways... I prefer the services that Microsoft offers because they are cross platform more than others..

That and also my one account for $10 goes for my mom and brothers phones just fine (920 and LG g pro) and on top of that I have two computer hooked into it and it plays on my Xbox :P

What's wrong with more official apps? It's good that this came. Imagine if this got millions of users, and we didn't have it, it would be another disaster.

Oh yeah.. I agree❕.. It's probably not for me, but I'm glad it's coming to the platform.. That's a whole other story... If I can get a free trial then I'll probably even try it out, but I doubt if I'll ever pay for it.. It'll have to be really good.. Nevertheless,, nobody said that it wasn't needed.. Options are, well, options❕

paying for two different music subscriptions? kind of a waste isnt it?

Why Asian countries are not included?

Apps do look elegant on iOS!!!

That app has many things that screams metro.

My thoughts exactly. In fact, I almost thought that was a Windows Phone until I saw the status bar at the top on the lone Home Button at the bottom.

A lot of apps look elegant on iOS but iOS is seven years old and widely adopted. WP8 is little over a year old. It takes time to get there and worldwide adoption will only make it better as developers will start to put in more efforts.

There are some metro apps which looks gorgeous and can give its counterparts a run for its money but overall iOS apps set the benchmark and others just try to catch up.

This here is a metro app cropped into an iPhone

It reminds me of Zune on the PC with those colors

Sure they do. That's why IOS is trying so hard to copy Metro and Android and they have made a mess of it.

Soundcloud is all I need. (I listen to EDM) ill check it out in the future. Thanks for the heads up.

Yeah, we need an official Soundcloud client for WP!

Definitely. I like audiocloud, but some tracks are not available to third party clients :(

Official app of spinning records would be wonderful

"I'm at the skate park and feel like celebrating with my entourage to hip hop..." Jesus christ, what is this, a music service for douchebags?

More like a music service "personalized around" douchebags, so that they can share it with other douchebags...

Wow.....who pissed in your cornflakes

Go away and come back when your self importance gives way to the fact that there are other people who like things that you don't.

No thanks. Mixradio is doing a fine job for me.

No thank, I am Happy with Nokia Mix Radio

I'll pass. For once I don't care that an app is being released on WP.

I still believe that the Nokia MixRadio and Spotify are better than this.

How have you made such an assessment if the service hasn't been made available as of yet? I'm just curious.

Very Zune metroish. Wow good. Tatste of design Dr.Dre!

Too little, too late. This is why HTC is failing. They do everything after everyone's done it.

I'm feeling lazy on a Sunday morning. Could I impose upon someone to give a brief rundown of what mix +Xbox music service offers? Can you play an artists full album? Search on a song and play that specific song? How much per month? Thanks in advance!

10 bucks a month......no, thanks.

Holy crap that interface is so Zune-like, it's incredible. I like it!

Oh so thats where the Zune stuff went

Not entirely related or off topic, but I just wish for the built in media player app to be fleshed out more for those of us who loads their media directly on to their device

I would definitely try it. I am still not sure about Xbox music. I like Pandora.

I'm not sure I understand but lets say I want 3 people to use the service, if I have at&t and pay the 15$ can all 3 use it at the same time?

Nokia music is enough for me.. I don't even use Xbox music

If even Microsoft doesn't support their OS worldwide, why should others do?! Not for me, for obvious reasons. Thank god for torrents.

It's more like a combination of Spotify and Songza. I'll probably give it a try.

so is it being released on Jan21 or no?

More apps are good, not just more apps, apps people want. So yes we need this.

Ewww . . . I'm going to start a thread about this on Head-Fi.

Awesome. More streaming music sites. From an overrated company this time.

Bring it. I think having the choice is important to the platform. Xbox DJ's treat jazz like its all from the 50's anyway. Beats may do a better job with it. So far only Pandora and Rhapsody seem to know anything about it.

Trent Reznor has been part of this project, should be quite credible...color me very interested. However, it will be tough to rake me away from my $14.99 Xbox music subscription. Those 10 keeps are very nice.

The only reason I'm giving this a chance is because Trent is involved.

Not really interested... The combo of Nokia Music plus my own Music plus Audiocloud is more than enough for me. I don't have that much time for listening to even more music.

While its always good to have more app options available to WP users, I too feel that the Beats brand is overrated. It'll be interesting to see how it competes with existing services.

Beats bought MOG a while back. MOG is the best sounding streaming service out there. MOG becomes part of this new service. It's exciting to be getting a WinPhone app AND presumably, a desktop app too. I love NOK Mix Radio + or whatever it is called (Nokia MUST do something about their naming conventions) but, the desktop (web) interface sucks.

I'm very surprised that Songza wasn't mentioned in the article. That will be the comparison that I'll be interested in.

How about the fact that we are getting a day 1 launch with iOS and andriod, the only other time we had this was with Vevo app.