Beem for both DI.FM and SKY.FM are now forever free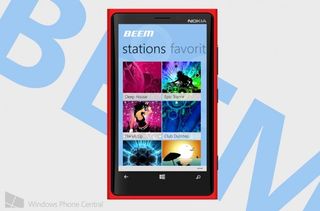 Digitally Imported may be working on an official Windows Phone app, but that doesn't mean there isn't a place for high-quality alternatives from third-parties. Beem is one of those high-quality apps that isn't quite official, but does the job of what an official app or service would with aplomb. Both versions of Beem for Windows Phone are now free.
There's nothing quite like the sweet price of free. While a lot of times you get what you pay for, software is one of those weird areas where developers like Den Delimarsky buck that notion. His apps, Beem Plus (Digitally Imported client) and Beem for SKY.FM, are both going to be free from here till forever on Windows Phone. And he isn't going to stop supporting them.
After open sourcing the code for Beem, Den is going to focus on updating both his Digitally Imported and SKY.FM applications that are now free. What's on the road map for these two applications? Some pretty cool features that we can't wait to see implemented. Here are just some features you'll be getting in future updates for the apps:
NFC Sharing
Cross device sharing via Wi-Fi
Better file management for recordings
More
We can't recommend these apps enough if you're into music. Now that they're free there's absolutely no reason not to have them on your Windows Phone 7.x or 8 device. Grab Beem Plus (Digitally Imported) here in the Store or go here for the SKY.FM variant. You can also use the QR codes below (blue for DI and red for SKY.FM). Or if you're in our Windows Phone Central app reading this, just swipe to the right.
Get the Windows Central Newsletter
All the latest news, reviews, and guides for Windows and Xbox diehards.
Nice. Thanks for the heads up Sam and devs for making it available. Beam Variant? So these are the same app or what does that mean?

I think I got it now. If you like or prefer grown up music as I do, (jazz), go with Beam Ski-FM. That other app is dub-step, youth music. Sounds nice with my new Nokia headphones.

There are two Beem apps. Been Plus and Beem SKY.FM. Plus is for Digitally Imported.

a name change would be great to help alleviate the confusion. I think 'Beem For DI.FM' and 'Beem For SKY. FM' would be good.

One is for Electronic music and its variants, the other for a variety of different genres such as rock, jazz, decades, etc.... They are both great

Why is it going free? What's the angle? But I'm glad it will still be supported.

No angle - simply giving back to the community that supported the project in more than one way.

Wondering the same thing... But, hey, it's cool!

Di is great! Just would like a couple of more stations like on my android.

As long as I get the choice of streams (don't always have good wi fi speeds at work), then I will be happy with Beem... I have a premium account but no choice of the lower bit rate streams... :/

Can't download it: getting Error Code: 80048103, i think Windows Phone Store is down again.

Have just downloaded both - love them thanks!

Two great apps that work flawlessly.

Ah I finally have the pair of them my eyes are in music heaven ahhh

They interview the dev on latest Windows Developer Show. Seems like a nice guy.

speaking of the official DI client:

has anyone gotten their "beta entry" confirmed, yet? I have applied for it (because I appreciate official apps) but not yet received an answer or anything.

I am still rocking to beem plus, which is a superb client.

Was enjoying this until it crashed my phone

Is there a link that tells me what been is. I must have missed it.

I guess its a radio app stuff.?

Love it.. been using Beem for a while now cracking tunes to my JBL PowerUp speaker. Poor neighbours are so annoyed :)

Loved Beem but it nukes my battery. I'll pass until DI comes out with a real application.