Belgium bank KBC releases Windows Phone app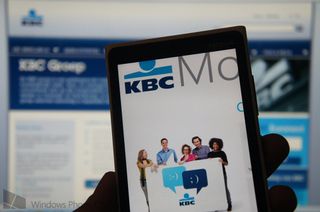 The Belgium bank KBC has released an app for Windows Phone. Joining the array of mobile banking apps already available on the Windows Phone Store, we're seeing more establishments join the train. As well as general account management, the free app for account holders also sports some unique features.
So the basics are included, as mentioned above. You've got balance enquiries, real-time transfers (between owned accounts and external banks), and the ability to view details relating to credit cards. All that's required to get started is a customer number and account password. Users of the KBC mobile banking app can make payments quickly using a feature called "Scash" (derived from scan and cash) that makes use of QR code technology.
Another interesting feature of the Windows Phone app is to help customers save for set goals. It's a handy tool to help save up funds for that overdue holiday.
We'll be looking at other banks to hop onto the platform. You can download the KBC mobile banking app from the Windows Phone Store. Thanks, the_source, for the tip!
Rich Edmonds is a word conjurer at Windows Central, covering everything related to Windows, gaming, and hardware. He's been involved in technology for more than a decade and knows a thing or two about the magic inside a device chassis. You can follow him over on Twitter at @RichEdmonds.
Still waiting for any bank in the UK to release an app. I would like to think that by the end of 2013 I'll be making use of NFC payments but i just cant see it.

Barclays and Natwest are working on apps for WP. Not long now!

I hope Ulster Bank aren't far behind Natwest. I have my Graduate account with Natwest but my daily banking is with Ulster. Essentially the same bank, just different branch networks. And Ulster don't know what PayWave is, they couldn't understand that their sister banks issue the cards or their purpose.

Where did you hear that Barclays were developing an app? The latest I heard is that they "monitoring the growth of the Windows Phone OS" which doesn't quite tell the same story.

Not much news this weekend huh?

One day I was. . . .
abducted by aliens. They took me to this planet that looked like an Apple. Everyone there or should I say everything there were Androids, they always seemed to lag when they walked, so it was rather easy to get away. I ran my way through these Blackberry fields, miles of them. As i was running through these fields I just froze, and i said to myself, "self why the hell does Androids need Blackberries". Eventually I found a spaceship and I navigated through the stars back to earth where I had finally awaken and found myself gazing out the Window.

Nice story there. Your point?

Android lags, blackberry freezes, something like that :)

And apple users are 'weird' ... planet... :)

WP latest upgrade WP 7.8 lags
Android latest update Jelly Bean is the smoothest OS ever..it has all the apps
and Apple.. well they have all the apps in the world..

its time WP fanboys get their head out of their a$$e$ and start thinking how to improve WP OS and app store overall ..its pathetic how ignorant people are ..i am a fan of WP .. but i know its limitations which are many.. anf if this continues.. it will become just another web OS and die off quickly


And yet I sit here and wait for a WP8 USAA app.

Belgian bank, not "Belgium bank".

Make some better bank apps like wells Fargo, US bank, union bank etc... Not some country bank no one uses.

Oh how we love the USA, so full of themselves thinking they are the only ones who have smartphones in the world....

Because banks don't exist outside MURICA

That country bank that no one uses happens to be located in the seat of the European Union, one of the important business cities in Europe. So don't write it off without knowing your facts.
Action like this could attract politicians and civil servants to the platform and increase uptake further. Smart move IMO.

Hmmmm. Maybe I'll have to open an account in a Belgian bank.... Then again, might have to switch back to 'another' OS. Can I just get Mint.com on WP8 puhleeez?

I got excited and thought it said RBC only to be disappointed!
Haha

Citibank, why wont you release an app ;(

Patiently waiting for HSBC.

Eagerly waiting for ICICI, SBI and HDFC in India.

Release app for SBI (state bank of india)

Oh. And it's got to be "Belgian" in the header.
Windows Central Newsletter
Get the best of Windows Central in in your inbox, every day!
Thank you for signing up to Windows Central. You will receive a verification email shortly.
There was a problem. Please refresh the page and try again.