Best HDMI cable for Xbox One, Xbox Series X|S 2022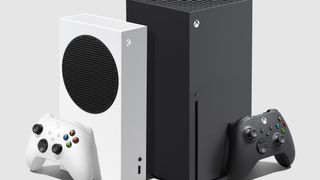 (Image credit: Microsoft)
Microsoft's Xbox consoles sport cutting-edge technology, displaying high-resolution visuals and blasting incredible surround-sound audio. Inferior cables fail to display fancier graphical luxuries such as HDR10 and 120Hz variable refresh rates, so check out our selection to find the best HDMI cables for Xbox One and Series X|S.
Why the cable matters
It's easy to get confused by wordy titles of some cheaper HDMI cables claiming to be HDMI 2.1 compatible. 2.1 refers to the 48Gbps speed of the port on the Xbox Series X|S, not the cable itself. Any HDMI male-to-male cable will connect to your console but fail to display the correct image if the speed is subpar. An 18Gbps cable connected to an Xbox Series X|S port will only display an image up to 4K at 60Hz and not its potential 4K 120Hz or 8K 60Hz. If gaming at 120 FPS is your aim, picking the appropriate HDMI cable is critical.
You can use your Xbox to determine which features are available on your TV. The Xbox Series S comes prepackaged with an 18Gbps HDMI cable, so it's worth upgrading if your TV is capable of more. The Xbox Series X already includes the fastest 48Gbps cable. The Xbox One S and Xbox One X have HDMI 2.0a and HDMI 2.0b ports, respectively, supporting up to 18Gbps. There's no need to splash out on fancy cables for these older consoles.
Choosing the best HDMI cable for your Xbox
The best of the best, the Belkin AV10175bt2M-BLK supports the full range of 48Gbps HDMI 2.1 at an affordable price. For an Xbox Series X paired with one of the best 4K TVs, this cable will provide all the requirements for Ultra HD gaming and 8K video.
For 4K gaming at 60Hz, the Monoprice 18Gbps cable is perfect for the Xbox Series S or the previous generation of Xbox One X|S consoles. If your current HDMI cable is suffering damage, then definitely consider the UGREEN braided cable for maximum durability.
With 8K gaming no doubt on the horizon, there's no better time to prepare your home entertainment setup. Check out our detailed breakdown of features for the Xbox consoles and how they support 4K/8K content.
Ben Wilson is a freelance writer working for Windows Central with technical expertise and a background in electronics retail. Fueling a technology and video game obsession with coffee, you can usually find him behind one screen or another.
Windows Central Newsletter
Get the best of Windows Central in in your inbox, every day!
Thank you for signing up to Windows Central. You will receive a verification email shortly.
There was a problem. Please refresh the page and try again.