Best Monitor Arm Mounts in 2022
Don't leave your monitor on your desk. Use one of these mounts instead!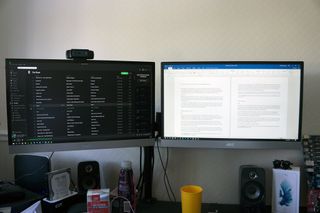 While the best computer monitors come rocking their own stands, it's better to use an aftermarket display arm to hoist the display up into more comfortable positions. The Mount-It! MI-7C012 (opens in new tab) is an excellent choice and comes in two variants, one for a single monitor and a second for two. The price, solid build quality, and display size support make this mount our top recommendation.
Best monitor arm mounts
Mount-It! MI-7C012
Sturdy build with gas-powered spring
Reasons to buy
+
Sturdy design
+
Gas spring
+
Can hold up to 27-inch
+
Great value
With the ability to hold displays ranging from 19 inches to 27 inches (and 19.8 pounds or 9kg), the MI-7C012 by Mount-It! is a superb mounting option for those with a single display. The only downside for some will be the price, but it's worth it when you consider the mount's specifications. Both VESA 75mm and 100mm are supported, which makes adding different monitors easy.
The highlight of the MI-7C012 is the gas spring arm with an adjustable height of 13.5 inches. This spring arm offers a counterbalance to the weight of the monitor attached, which makes it possible to alter the screen's height and orientation with little effort. Because this mount can support displays up to 27 inches, it needs to have a secured clamp, and thankfully, Mount-It! has a solid system included. The C-Clamp will secure the display and mount it to any applicable surface.
It's recommended if you sit at a desk for prolonged hours that you invest in an arm mount or stand that raises the display up higher than what's offered by pre-installed solutions. This is to help reduce neck, shoulder, and back pain with better ergonomics. This all depends on your sitting or standing position, however. Overall, the MI-7C012 is a stunning mount and is well worth the investment.
AmazonBasics Single Mount
Basic but brilliant
Reasons to buy
+
Sturdy
+
Cable management
+
Fits up to 32-inch screens
+
Solid construction
The AmazonBasics single display mount puts Amazon in an interesting position. The company isn't targetting the more affordable range of mounts, but more the premium solutions from companies like Ergotron and VIVO. What makes it even more strange is this is a fantastic mount for your display.
Holding up to 32-inch monitors, this arm is easy to adjust as well. It extends, retracts, tilts, rotates, and does a whole other list of tricks to get your display positioned just right for work and play. If you find yourself wanting more desk space and want something sturdy for peace of mind, you could do much worse than this solution from Amazon.
There's a dual-screen option available should you have an additional monitor at hand to hoist.
Duronic DM352
Affordable but reliable
Reasons to buy
+
Sturdy
+
Supports two screens
+
Affordable
+
Cable management
+
Freestanding base
The DM352 by Duronic is an affordable mounting solution for those who are looking to get into the bracket market for their monitors. This particular model holds two screens (with VESA support) to make way for some other clutter on the desk. Made of quality components, this arm will be able to hold up to two 27-inch panels.
It's not perfect, and you will notice a slight sway on the displays if they're of considerable weight and you're typing away on a mechanical keyboard. Still, even some sway when something knocks against the desk, it would take some serious force to knock the mount off balance.
I've personally been using the Duronic DM352 alongside a few other mounts, and the unit I have has lasted three years so far without issue. Not bad for a low price.
Mount-It! MI-789
Compact and secure
Reasons to buy
+
Sturdy
+
Supports three screens
+
Good value
+
Cable management
When two monitors just aren't enough, you'll want to choose something like the Mount-It! MI-789. Not only can this mount hold three monitors (up to 24-inch each), but you'll be able to adjust them accordingly, with each placement allowing for 15 degrees of tilt and 360 degrees of rotation. It may be a little difficult to carry out said operations, though, if the displays are massive enough.
Like other arms in this round-up, a significant advantage of using the MI-789 is the clearance it provides underneath each display, allowing you to store various items and other devices on your desk. And because you can adjust each display to match your seating position, it'll help you avoid neck, shoulder, and back-related health problems.
Interestingly, unlike other mounts, the base used here doesn't clamp to the surface. Instead, it's weighted, so it can be positioned on a desk without needing to be located at the edge.
VIVO V102AM
Ultrawide support
Reasons to buy
+
Sturdy
+
Ideal for widescreens
+
Good value
+
Cable management
+
Dual clamp
Widescreen monitors usually come with sturdy stands that not only hold the display upright but look good in the process. The issue with many stands is the size since they can take up valuable desk space. This is where a mount like the VIVO V102AM comes in, allowing you to attach not only a single widescreen display but two. This makes for quite the desktop and gaming experience.
The V102AM comes ready with 15 degrees of tilt, a 180-degree swivel, and 360-degree rotation, allowing you to get the two displays positioned just right. The heavy-duty c-clamp attaches to any desk with adequate clearance to shield the panels from movement and vibrations transferred from the surface.
Throw on two curved displays, and you'll have an immersive cockpit.
Ergotron LX
Incredibly versatile
Reasons to buy
+
Sturdy
+
Great adjustability
+
Works with laptops
+
Cable management
+
5-year warranty
This rather expensive mount from Ergotron can hold displays up to 25 inches in size and offers excellent cable management. You also get a 5-year warranty for added peace of mind, and it is effortless to adjust on the fly.
The polished aluminum finish with the cables being located beneath the arm itself results in a tidy look for a tidy office. As a bonus, this arm can be configured to hold your laptop off the desk if you prefer working on your portable PC and not a desktop.
Best monitor arm mounts
When it comes to buying a monitor mount for your desk, there are only three things you really need to worry about: price, if it can support the monitor size, and adjustability. The MI-7C012 from Mount-It! (opens in new tab) ticks all those boxes. It's a great option to mount your PC monitors to clear desk space and have them positioned at more comfortable levels for long sessions of work and/or play. In particular, this mount offers great value at a reasonable price and a solid build with a gas spring to boot.
The gas spring makes it incredibly easy to adjust the monitor(s) to your liking without having to strain under the combined weight.
Get the Windows Central Newsletter
All the latest news, reviews, and guides for Windows and Xbox diehards.
Rich Edmonds was formerly a Senior Editor of PC hardware at Windows Central, covering everything related to PC components and NAS. He's been involved in technology for more than a decade and knows a thing or two about the magic inside a PC chassis. You can follow him on Twitter at @RichEdmonds.