Best PSU for Intel Core i5-12600K in 2022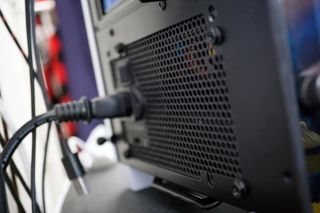 (Image credit: Windows Central)
If you're building a PC with the 12th Gen Intel Core i5-12600K CPU, you'll need to give your rig the juice it needs with an appropriate power supply. The Alder Lake chip has a TDP rating from 125W to 150W, so we're helping you find the best PSU for Intel Core i5-12600K with enough power for the processor and accompanying components.
Choosing the best PSU for Intel Core i5-12600K
Putting together a PC is mostly a matter of matching compatible components, but every piece of hardware has its power requirements. The 12th Gen Intel Core i5-12600K CPU has a TDP (thermal design power) rating of 125W for base power and 150W max. A PSU rated around 650W is the happy medium for most builds these days, and the EVGA SuperNOVA P2 tops our best gaming PSU list as fantastic value for a fully modular power supply, and a perfect fit for the Core i5.
Towards the cheaper end of the scale, you're looking at non-modular power supplies to keep the costs down. The Thermaltake Smart 500W is about as low as I would recommend. For the price, it's a steal and won't feel so painful to replace should you need extra power for beefier components in the future. For the ultimate enthusiast build, there's the be quiet! Dark Power Pro 12 pulling an incredible 1200W with an immense 80 Plus Titanium energy efficiency rating. It doesn't get any better for a high-end gaming PC built around the Intel Core i5-12600K.
Ben Wilson is a freelance writer working for Windows Central with technical expertise and a background in electronics retail. Fueling a technology and video game obsession with coffee, you can usually find him behind one screen or another.
Windows Central Newsletter
Get the best of Windows Central in in your inbox, every day!
Thank you for signing up to Windows Central. You will receive a verification email shortly.
There was a problem. Please refresh the page and try again.