Best Rated Windows Phone Games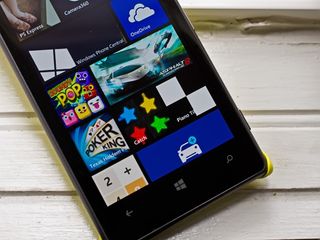 Windows Phone Central Game Roundup: The Best Rated Games
The Windows Phone Store does a nice job of giving customers the ability of sorting the various games and apps by category and rankings. Rankings range from the Top Free, New+Rising, Top Paid and Best Rated.
This week's Windows Phone Central roundup focuses on the top five Best Rated games in the Windows Phone Store. These are five star rated games that should appeal to just about everyone and include a gambling and a racing game along with a few puzzle titles. All are enjoyable time wasters and you won't get much argument from us that they belong amongst the top rated Windows Phone games.
Please note that each game in this week's roundup is compatible with 512MB devices.
Texas Holdem Poker
Poker can be a fun game to pass the time with. A real life sit-down game with friends can fill a night and the video version isn't a bad option for short periods of time. Texas Holdem Poker from GeaxGame, Inc. tries to mesh the real life gaming experience with the video experience.
Texas Holdem Poker is a free, online game of poker that has live chat, personal avatars, tournaments and more. You can create an independent account or simply log in through a Facebook account (both are freebies). You even start the game with a small sum of chips and can earn daily bonuses to build up you chip count. Should you go bust, in-app purchases are available to buy chips and opportunities to earn free chips (tied into ad-support).
Game play is your typical game of Texas Hold 'em. You can chat with other players or sit back and quietly run the table. You can even send virtual gifts to other players.
The game pace is fairly quick with each player having a set time to make their play. This is a nice touch to avoid games dragging on forever while a player runs to the kitchen or otherwise gets distracted and forgets to play.
There doesn't appear to be a lack of players to fill the poker tables (each time I logged in over 40K players were online) and Texas Holdem Poker does a nice job of combining real world poker with video gaming.
Texas Holdem Poker – Windows Phone 8 and 7.x devices – Free – Store Link
AE Roundy Pop
AE Roundy Pop is a connect-three styled game that plays a lot like the bubble burst games. You are tasked with finding groups of two or more blocks of the same color.
The pace of the game qualifies as casual with no time limit and the goal being to reach a target point value so you can proceed to the next stage. Game mechanics are simple, just tap a grouping of blocks to highlight them and tap the same group a second time to remove them from play. The larger the grouping of blocks, the more points earned.
You do have a bomb block you can place on the gaming board to remove a single block to open the way for a larger grouping and an undo button that serves as a mulligan should you realize your last move was rather boneheaded.
Once you reach your target point goal, you can continue to clear the board of blocks to try to remove all the remaining blocks. When you run out of groups of two or more of the same blocks, your points are tallied and you will move on to the next stage. If you fail to reach the points goal, you can use coins to replay the level without losing your progress along the stages. Otherwise you'll have to start the game over at the first stage.
Should you leave the game, your stage progress is saved, which is a nice touch.
Roundy Pop is an entertaining and challenging game for your Windows Phone that should appeal to many as a great time waster of a game.
AE Roundy Pop – Windows Phone 8 and 7.x – Free – Store Link
Asphalt 8: Airborne
If you are in the hunt for a challenging racing game with fantastic graphics, a healthy inventory of cars to race and plenty of customizations, Asphalt 8: Airborne is the game for you.
Asphalt 8: Airborne offers:
47 high performance cars (and it continues to grow)
9 different racing venues from Nevada to Venice
8 racing seasons and 180 events in the Career Mode
Simultaneous multiplayer (up to 8 opponents) games
Ghost challenges
The career races includes your traditional racing styles along with elimination races, drift gate challenges, knockdown challenges and infected challenges. Each of these styles will add to the existing challenge of controlling your car throughout the racetrack and staying one step ahead of your competition.
As you race, ramps will be strategically placed along the race courses to let you send your car airborne to take advantage of shortcuts or to simply try your hand at airborne stunts.
Asphalt 8: Airborne plays out nicely from the small screen of your Windows Phone. The game really shines when played from a Windows 8 tablet and from either device; don't be surprised if you find yourself leaning into the turns and raising up in your chair as you send your car airborne.
Asphalt 8: Airborne is available for Windows Phone (including low-memory devices) and Windows 8 devices.
Asphalt 8: Airborne – Windows Phone 8 – Free – Store Link
Asphalt 8: Airborne – Windows 8 – Free – Store Link
Piano Tiles - Don't Tap the White Tile
Piano Tiles - Don't Tap the White Tile is a collection of puzzle games that are based on the same core rule, don't tap the white tile.
The games are played to a variety of piano tunes, some of which you can choose, and you are tasked with tapping only the black tiles. Piano Tiles includes the following gaming modes:
Freedom: Choose a song and play until you fail
Moving: Tap the black tiles as much as you can in thirty seconds. The catch is that the black tiles are moving targets.
Time Attack: Tap the black tiles to advance to the finish line as quickly as possible.
Long Run: See how far you can play in ten seconds.
Arcade: The game screen automatically scrolls and you have to tap all the black tiles.
StoppingJust: You have to stop before the ten-second mark on the timer.
Zen: Tap the most black tiles in thirty seconds.
You also have a Colors and 50 Step game mode that is available when you upgrade to the deluxe version ($4.99).
Game mechanics are simple, tap the black tile and don't tap the white tile. With the exception of the Arcade mode, the game screen will scroll forward as you tap the black tiles. With the Arcade mode the game screen will scroll automatically.
Along with upgrading to the Deluxe Version, Piano Tiles also has in-app purchase opportunities for additional song packs that range in price from $.99 to $1.99.
The game has an online leaderboard for bragging rights and overall, Piano Tiles - Don't Tap the White Tile comes across as a challenging Windows Phone game and a great time waster.
Piano Tiles - Don't Tap the White Tile - Windows Phone 8 - Free - Store Link
Catch
Catch is a simple puzzle game where you are challenged to connect groups of stars together without crossing your connecting lines. Game play is scattered across forty levels of play with the free version and the opportunity to buy an additional 120 levels via in-app purchases ($.99 per expansion pack).
Game play is accomplished by tapping and holding on a star then dragging your finger to other stars of the same color. The goal is to connect all like colored stars without crossing lines.
The first few levels of Catch are almost too easy but will give you a good feel for the game's mechanics. As you progress through the levels the difficulty increases with bridges, tunnels and other obstacles coming into play. You will also see an increase in the number of stars on the gaming board as you advance through the game.
The main game has no time limits but you will be graded on the number of moves it takes to connect all the stars. If you need more challenge, Catch now has a Time Attack mode where you have to complete a series of puzzles as quickly as you can.
Catch is an entertaining, casual puzzle game for your Windows Phone. It's only downside is that there's a limit on the number of puzzles you can tackle.
Best of the bunch?
Before we sum everything up, keep in mind that the Best Rated rankings change daily if not more frequently. We took a snap shot of the Best Rated screen a few days ago to work on this week's roundup. If the current rankings are different, your eyes aren't playing tricks on you. The Store just updated the rankings based on new reviews and ratings from Windows Phone users.
Now back to the roundup.
So, which is the best of the best? Poker may not be everyone's cup of tea but if it is, Texas Holdem Poker is a nice option to consider. It offers a nice online gaming experience for a game that is part skill and part luck. Roundy Pop is one of those puzzle games that grows on you the more you play it. The mechanics are rather simple to pick up on but game play requires a strategic touch to succeed.
Asphalt 8: Airborne is a staff favorite and every time I return to play the game after letting it sit idle for a while, I'm reminded how much fun it is to play. Graphics are stellar, the racing is challenging and the customizations help make the game your own. The only reason I can see passing on this game is that you don't like racing games from the get go. And even then, if you give the game a chance, Asphalt 8: Airborne is strong enough that it could change your mind on racing games.
Piano Tiles – Don't Tap the White Tile is an addictive puzzle game that has a nice variety of puzzle games that are built around the same premise of avoiding contact with the white tiles. While it may sound like an easy concept to master, don't let the simplicity fool you. It's a great time waster.
Catch fell out of the top five over the past few days but by no means should that reflect on the appeal of this Windows Phone puzzle game. The mechanics of play are simple but the task at hand (connecting the stars) will require a little thought. The game starts out on the simple side but quickly increases in challenge and is a fun way to pass the time.
We think all five titles would make a nice addition to your Windows Phone gaming library which leads us to the point in the roundup where we ask for your input. Do you agree with the top five rated Windows Phone games? If you can't believe your favorite game made the list, sound off below in the comments. Just remember this list is based off Store rankings, not some random draw from a hat.
George is the Reviews Editor at Windows Central, concentrating on Windows 10 PC and Mobile apps. He's been a supporter of the platform since the days of Windows CE and uses his current Windows 10 Mobile phone daily to keep up with life and enjoy a game during down time.
How much space does asphalt need?

Guys, please vote for Microsoft Flight game http://windowsphone.uservoice.com/forums/101801-feature-suggestions/suggestions/2296772-microsoft-flight-game Flight guys aren't using their Twitter for quite sometime! Don't know who to ask to bring this game to Windows and Windows Phone stores. LOVE IT !

I love the Alaskan DLC on Flight, Its quite nice to fly..

Microsoft killed off Microsoft Flight and I beleive, also shutdown the location it was made at and got rid of it's Flight team.

It will take about 2.64 GB

It takes 1.65GB on my 925.

Installer is 974meg. Swipe twice left or right from the store main page to see the size.

He ask about the space after download the game will install so it takes about 2.64 GB

Store info should really include installed size too for all apps.

No, no i check it by an app. (App info +),you can check it in store.

For installation it's required 2.4 Gb after installation approx 1 GB

It only takes like 1.76 GB on my icon

Thanxx for the list of these games

'Physi Bricks' very good game.

There are far better games !

Still waiting for quizup and candycrush....

I think you will have to wait forever

Candycrushsaga is terrible

how much space asphalt need?

See the initial comment and responses.

When you go in store to download app just read details

For installation it's required 2.4 Gb after installation approx 1 GB

it's 1.7gb in the storage sense of my Lumia 1520, but I don't play it now because it makes my 1520 heat to the boiling point, while in my former phone Lumia 720 the phone didn't heat up and it was smooth

32kb (same as an empty word document approx)

Cut and hack hopefully will make it on the list next time. Easily my favorite. That and 7 words

The game "Pylon" deserves some spotlight here on WPC. Great fun, and according to me, worth some attention.

I love "ICE RAGE" Game .. I think its one of the underrated games that we have ;)

Did you just +920 your own comment.?
That is the same as sucking your own.......

If you search for a tower defense game try CastleMine Deluxe. By far my favorite game in the store.

There is a game.. Wait let me do a bit of search..

Pako deserves a spot here as well!

Yeah. As honorable mention. Also Zombie tsunami. Both are 5 star rated.

I like Halo SA, Radiant Defense, NFS Hot Pursuit, Pac-Man CE DX, Bejewelled Live+, Castle of Illusion, Shiny The Firefly

MMO games are my favorite type of games. Probably gonna check out RR2.

I use my 1520 more on camera, songs and IM. Games! Should be on Xbox and PlayStation. Thanks.

Used to be my favorite but nit in game mood these years.

inb4 noXbox!!1!1!! whiners

What about Air Combat 3D ? A simple dynamic Indie game, that has multiplar mode to compete with Android phone users.

My current addiction is 2048+ clean, simple, quick, free and best of all, you can play it just by using your thumb.

Now here are the actual best five Windows Phone games:
1. Mirror's Edge
2. Halo: Spartan Assault
3. Shoot 1UP
4. Contre Jour
5. Zuma's Revenge
Honorable Mention: Pac-Man CE DX

Imo you forgot MonsterUp Adventures

No he didn't, why would someone who advocates Xbox Windows Phone games, recomend a non-Xbox game?

He didn't specified Xbox, he just said Windows Phone games, even if those were actually Xbox

Have you not read his peviois comments or threads? That was what I was referring too, he advocates heavily for Xbox WP games. That's why every game he said was the best are all Xbox games.

I am a big fan of XL on WP, but there are alot of games that are quite good that dont have XL

No word games? I'm surprised. Roundy Pop looks like another game I have on my 810 that I sort of gave up on because I can't get past a certain level.

AlphaJax, Wordament, and Snap Attack are boss.

Both Rayman games, Jungle and/or Fiesta run deserve a place on there. A true arcade experience on the phone...nothing else comes close. 925 ;)

Fiesta is the better of the 2...

Yes these are my favorite on WP. I still really like death worm also

Geodefense
Radiant Defense
The Harvest (for those of us who have it)
Path of Kara

GeoDefense is good. Also, Jet Car for WP.

Too bad, AE always have an ads.

Wow these games are terrible. Personally I play Cloud Raiders, Star Wars Tiny Death Star among others.

Round-up? Microtransactions and IAPs.

Personally,I like star warfare: Alien invasion, I don't know of any other shooter like that on WP

You forgot Survival craft! high quality game. Active dev too. (512 ram: idk if enabled) Check out "Survivalcraft" for Windows Phone http://www.windowsphone.com/s?appid=a23292c3-6d76-4a4d-ae7a-7e7379325671

Roundy pop in the top 5 ? Seriously ? This game is soooo lame.

The real Piano Tiles for Windows Phone is Piano. Tiles

I ended up uninstalling asphalt 8 as other cars in races somehow always get to skip you through some mysterious shortcut at some point in the race.. It was practically impossible to place first in a race.. Asphalt 7 was much fairer (still have that version installed). GT racing 2 is also a very good racing game but the constant notifications reminding you to get back to the race (even just after playing for around an hour) pushed me to uninstall that one too.

I concur: Asphalt 7 is much better than Asphalt 8.

Awesome game list! Definetely going one by one, pokers are my favourites!
My last was titanpoker, so let's see if this one can do it better.

traffic racer http://www.windowsphone.com/en-us/store/app/traffic-racer/fa1bb536-4840-...

Although I'm do not belong to those people who are fond of game. But after reading this post, I want to play them!

It is one of the nicest Games
Windows Central Newsletter
Get the best of Windows Central in in your inbox, every day!
Thank you for signing up to Windows Central. You will receive a verification email shortly.
There was a problem. Please refresh the page and try again.