Best VR Headset for Half-Life: Alyx in 2020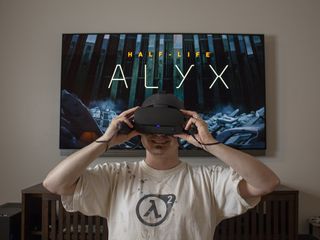 (Image credit: Windows Central)
Best VR Headset for Half-Life: Alyx in 2020
Best Answer: Oculus Rift S. The Oculus Rift S provides everything you need to have an amazing experience in Half-Life: Alyx. An ultra-high-resolution screen, simple room-scale setup with Oculus Insight, and controllers that have plenty of buttons and even capacitive touch sensors for a more advanced true-to-life feel for Alyx's virtual hands. At $400, the Oculus Rift S is a no-brainer choice.The Power of a PC, without the extra cost: Oculus Rift S (From $399 at B&H Photo)
It's more than "just good enough."
Why you can trust Windows Central Our expert reviewers spend hours testing and comparing products and services so you can choose the best for you. Find out more about how we test.
When you compare the price of the Oculus Rift S, which is $400, to the $700 HTC Vive Cosmos or the $1,000 Valve Index, you might be wondering if something is missing from the Rift S. Despite being several hundred dollars less than each of these major competitors, the Oculus Rift S delivers an experience that's truly fantastic and isn't "just good enough"; it really is a very good experience.
The display on the Rift S is an ultra-high-resolution fast-switching IPS LCD display with an RGB stripe pixel configuration. If that sounds like mumbo jumbo to you, this is how it can be easily broken down. While the resolution is important, it's the pixel structure that's even more important in the world of VR displays. A stripe pattern is better than the diamond pattern that the original Rift used because it can more clearly display fine detail without those pesky pixels muddying things up.
That means a crisp, clean experience every time, which is a good thing given the ultra-fine detail in each and every room and area in Half-Life: Alyx. You'll be able to easily read the tiny text on the labels of machinery, more precisely aim at enemies in the distance, and just plain see the world around you in more lifelike detail.
Precise tracking without the extra setup
The Oculus Rift S utilizes Oculus Insight tracking for a truly simple setup. All you need is a single USB port from your computer and a single DisplayPort from your PC's video card to get connected. There's no need for extra cameras or external tracking sensors, as the five cameras on the Oculus Rift S can perfectly track your position in any room. You'll also find that the Rift S controllers are precise and fast, even keeping up with the incredibly fast speeds required in games like Beat Saber.
The Rift S controllers feature a joystick for each hand, as well as four physical buttons to provide plenty of input options in every type of game. Better still is the fact that all four buttons, as well as each joystick, has a capacitive sensor built-in that can detect subtle touch input. In Half-Life: Alyx, you'll notice that Alyx's hands will more realistically move when just lightly touching each button. A further press on the button will fully contract each finger, lending a bit of authenticity to the look and feel of Alyx's hands throughout the game.
So what am I missing out on?
A lot can be said of an improved experience if you pour enough money into it, but there are certainly diminishing returns to be considered. The HTC Vive Cosmos is the only major PC VR headset being sold right now with the ability to go fully wireless. This is done by purchasing the HTC Vive Wireless Adapter, but at a $300 extra cost, you're looking at a solid $1,000 for the full cost. It's also worth noting that HTC's inside-out tracking isn't as good as Oculus Insight, especially in dimly lit rooms.
The Valve Index provides a fair bit of extra oomph over the Oculus Rift S, including a display with a significantly higher refresh rate. At 80Hz, the Oculus Rift S isn't a particularly high refresh rate display, and the maximum 144Hz of the Valve Index's display makes that even more obvious. The built-in off-ear headphones on the Valve Index are also significantly better than the in-strap solution on the Rift S, but a good pair of headphones will mostly make you forget this difference (even if they're less convenient).
The biggest difference is certainly the Valve Index controllers, which offer full hand and finger tracking. The unique palm strap design means you can fully let go of these controllers without dropping them, and they can detect each knuckle on your hand with precision. That means better hand presence in games like Half-Life: Alex, but there's also a downside to these controllers: they're quite a bit bigger and heavier than the Oculus Rift S ones.
They've also proven to be a bit less reliable for some users, especially the joysticks, which have been found to break easily when put under pressure. Valve has been replacing faulty units when needed, but we haven't seen these types of quality issues from the Oculus Rift S controllers. There's also something to be said about having smaller, lighter controllers in games like Beat Saber, as heavier controllers will reduce overall stamina.
It won't cost a fortune
One of the best reasons to choose the Oculus Rift S is the low cost of entry when compared to other current-generation VR headsets. The Oculus Rift S not only has the lowest cost of entry, but it's also the easiest way to experience Oculus-developed content on the Oculus Store. Setup takes only a few seconds, thanks to Oculus Insight tracking, which is done completely through the five cameras on the headset. Simply put, this is the way to go for most people.
A more practical solution
Simple and affordable

The Oculus Rift S is far easier to set up than its predecessor, and it's also less expensive than its rivals. A perfect combination? We certainly think so.
Affordable VR accessories you'll use every time
Energizer rechargeable batteries ($14 at Amazon)
Touch and WMR controllers require AA batteries to operate and speaking from experience, you're going to want to invest early in some rechargeable batteries to save money in the long run. This pack includes a wall charger that can handle four AAs at once, so you shouldn't have any downtime while waiting for a charge.
SecurOMax microfiber cloths ($7 at Amazon)
There's nothing worse than foggy or dirty VR lenses. They obstruct your ability to focus on the action in the headset properly, and frankly, they're just gross. These cloths from SecurOMax won't scratch your headset's lenses, and you'll be glad you have them on hand after a couple of sessions.
Hyperkin FreeStep ($22 at Amazon)
If you're tired of tripping over the cable running from your VR headset to your PC, you can get it up off the ground with this suspension system. It has six retractable carabiners that stick to a ceiling and provide the right amount of slack to keep the cable at an ideal length.
Get the Windows Central Newsletter
All the latest news, reviews, and guides for Windows and Xbox diehards.
Nick started with DOS and NES and uses those fond memories of floppy disks and cartridges to fuel his opinions on modern tech. Whether it's VR, smart home gadgets, or something else that beeps and boops, he's been writing about it since 2011. Reach him on Twitter or Instagram @Gwanatu