Best weapons in Anthem
Anthem is home to a variety of different weapons, but some rise above the rest.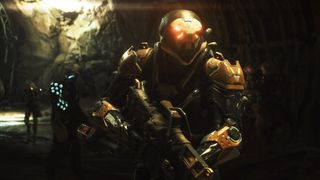 Anthem, BioWare's latest science-fiction game, is filled with lots of great gear to hunt for and get your hands on. However, some of these weapons truly stand out as incredible. Here's a short list of what we think are the most dangerous tools in Anthem's loot pool.
The gear grind starts now
(opens in new tab)
Find your treasure

Anthem is BioWare's latest sci-fi game, offering players tons of gear to hunt for and use against dangerous enemies of all shapes and sizes.
What are the best weapons?
Why you can trust Windows Central Our expert reviewers spend hours testing and comparing products and services so you can choose the best for you. Find out more about how we test.
Anthem's two rarest loot tiers, Masterwork and Legendary, are home to some of the most powerful pieces of gear in the entire game. All items at these two tiers offer the player unique perks and incredibly high stats, which gives them the power they need to tackle the hardest challenges in the endgame. Among these weapons, though, are four special guns that we think are the best of the best, giving players that use them a massive edge in combat, even compared to other weapons in the same loot tiers.
Fist of Stral (Autocannon)
For Colossus javelin players, the Fist of Stral is an absolute monster. It comes with a unique perk called Striker's Fury, which ramps up your damage on each successive hit, meaning that as long as you don't miss, you'll be doing exponentially more damage until you have to reload. This makes the Fist of Stral an incredibly powerful gun against large foes that are hard to miss, as well as clumped up smaller enemies.
Avenging Harold (Heavy Pistol)
The Avenging Harold is a fantastic all-around weapon that works best with the Storm and Ranger javelins. This is because the Avenging Harold's unique perk, Raptor's Deadeye, lets you do higher damage when hovering in the air — something these two javelins are good at doing for long periods of time. Having a height advantage is already a great thing, but doing bonus damage while utilizing it is even better.
Ralner's Blaze (Assault Rifle)
The Ralner's Blaze's unique perk is Upgraded Hammerhead, which causes enemies that are hit repeatedly by the rifle to burst into flames and take large amounts of extra damage. Assault rifles in Anthem are already great for their consistent and rapid damage-per-second, but the extra fire damage that the Ralner's Blaze provides makes it one of the best weapons in the game regardless of which javelin class you use it with.
Rolling Carnage (Shotgun)
The Rolling Carnage, like every other shotgun, is designed to be used at close range. However, its unique perk, Scout's Advantage, gives players increased damage for a short amount of time after they use a dash. This makes it a phenomenal weapon for the Interceptor javelin, as it has the fastest dash of all of the javelins. Therefore, Interceptor's using their dash to close the distance on foes with this shotgun will be dishing out heaps of pain.
Your thoughts
What are some of your favorite Masterworks or Legendaries in Anthem? Do you agree or disagree with this list? Let me know, and don't miss out on more of our Anthem coverage.
Anthem is available now on Xbox One, PlayStation 4, and PC for $60.
The gear grind starts now
(opens in new tab)
Find your treasure

Anthem is BioWare's latest sci-fi game, offering players tons of gear to hunt for and use against dangerous enemies of all shapes and sizes.
Brendan Lowry is a Windows Central writer and Oakland University graduate with a burning passion for video games, of which he's been an avid fan since childhood. You'll find him doing reviews, editorials, and general coverage on everything Xbox and PC. Follow him on Twitter.
There is a gun called Avenging Harold? Is the gun to avenge someone called Harold? Is the gun itself named Harold and he is doing the avenging? These are very important questions that I need answers to!

Also, is there an Avenging Kumar weapon as well? Let the pondering begin....

Reminds me of the Unkempt Harold from Borderlands 2. :D

I'm still only at the end of Uncommon so it'll be a long way before I reach Masterwork & Legendary. Question: Why is the only available Fortress the "Scabs Hideout" no matter how many times I complete it on hard? Is this normal or a glitch?

You unlock the rest of the Strongholds after finishing the story. :)

No thanks, I'd rather play the much superior Warframe (which is also free).

I haven't played Warframe for a while, I should really jump back into it, but the grind is so insane.

PoppaPump with increased damage after reload is pretty nice as a shotgun also, stacks to 2. Artimis Gambit(or whatever it is called) is also a decent weapon. Its extra perk does not seem helpful, but the weapon mows down foes.
Windows Central Newsletter
Thank you for signing up to Windows Central. You will receive a verification email shortly.
There was a problem. Please refresh the page and try again.