Your favorite Xbox games on Windows Phone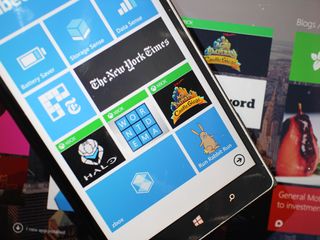 What is your favorite Xbox Game on Windows Phone? That's the question we asked last Friday. We then followed up with a poll after gathering the top submissions where you then voted for your favorite game. Read on to find out which Xbox game on Windows Phone is the community favorite.
Third place: Wordament
Why you can trust Windows Central Our expert reviewers spend hours testing and comparing products and services so you can choose the best for you. Find out more about how we test.
Wordament is one of the oldest games on Windows Phone. It launched in 2011 and later re-launched with Xbox support. It's a fan favorite and one of the best word games around. It earned 14.15 percent of votes in our poll for favorite Xbox game on Windows Phone. Congrats Wordament!
Second place: Halo: Spartan Assault
Halo: Spartan Assault launched for Windows Phone and Windows 8.1 last summer. It was the first Halo game to feature touch controls and the first not released (initially) on Xbox. Spartan Assault is a fun, top-down shooter game for Halo fans. It earned 21.15 percent of votes in our poll for favorite Xbox game on Windows Phone. Congrats Spartan Assault!
First place: Age of Empires: Castle Siege
Newcomer Age of Empires: Castle Siege has quickly won the hearts of Windows Phone and Windows 8.1 gamers. It's a free game that we all can't stop playing. It earned 30.46 percent of votes in our poll for favorite Xbox game on Windows Phone. Congrats to Age of Empires: Castle Siege!
Thanks for suggesting and voting on the best Xbox game on Windows Phone!
Windows Central Newsletter
Get the best of Windows Central in in your inbox, every day!
That's really not cool. Not everyone can be online at all times. And I can't be online to play age of empires.. :\ Hungry shark evolution should have been top

Also when connection error ruin your attack.

Yay :D :D My fav game is the winner :D Just within days of release :D Take a bow AoE :D

Take a bow (and arrow). Hahahaha! :)

You sir, deserve my like XD

Are we seeing the last batch of Xbox games to come out on Windows Phone?

Nope. In fact, we seem to be seeing a resurgence of Xbox games on WP: 6 of them in the past 6 weeks. If you'd like to see more, though, be sure to make your voice heard. Check out the #SaveXboxWP movement here.

Goes to show how successful Clash of Clans would be on W8/WP8.

I doubt it. A lot of people quit playing cloud raiders when aoe was released. And I think aoe is a much better approach to the genre than Cr or coc.

Having more control over units does really at to the strategy element of the game. Not being able to talk to other players sucks though...


Age of empires is the best!! It keeps me busy during weekends :)

I'm pretty sure AoE won because it was free lol. I'm still having fun playing it though.

True. But from the free ones, it's my favourite. From the paid ones, AC Pirates takes the crown.

Anyone from the Philippines Alliance? :)

AoE is good, I downloaded it just to give it a try and now cannot stop playing...

Two links for AoE, none for Halo.

1 aoe
2 Real Racing 2
3 Hungry Shark

I didn't give input on this...but I two out of three I would have chosen. My third choice would be Hexic

Kinda sad that a pay to win game is on the top, just means developers will keep leaning that way

I'm sorry to differ, but, I am currently in Age 5 with 309 stars in AoE and still going strong and I've not spent even a cent and not intending to spend too. The game becomes pay-to-win only when someone lose confidence in his strategic skills and decides to buy him things with money which his brain can't help him to buy. :)

Would love to see #BejeweledBlitz with the FB integration land on the phone soon.

switched t iphone, wish age of empire was on there. Enjoyed that more than clash of clans

Wordament also got a nice res. Bump earlier this year. I have yet to tackle Spartan assult on wp as im still playing it on 360 Aoe:cs its a nice update to a dead franchise but on a phone it can be tiring to play.

best part about it, you can play on the PC.. makes it easier to move things around instead of doing it on a phone which can be a bit frustrating.

Hopefully then they continue support cause halo got one good update, but only one.

Wordament: Snap Attack is also great

Family fued is my fav game on wp... Lol just kidding its not on wp yet

All great choices. Wordament and Wordament Snap Attack are ideal games for a mobile device. I have Spartan Assault, but I'm just not crazy about real time gameplay with virtual joystick controls. I've been playing AoE daily since launch day. Honourable mention to Skulls of the Shogun, I love that game!

Hard to argue with those three games, as they are great ones, but I still say these are the best Windows Phone Xbox games: 1. Mirror's Edge, 2. Shoot 1UP, 3. Hexic Rush, 4. Zuma's Revenge, 5. Skulls of the Shogun

When will their be games with no in app purchases lol

I think you are pointing towards modern combat 5

Snap Attack, The Harvest, and Geodefense

I think this should have been split up into paid/free. Obviously free is going to get more votes because more people own it. I'm actually surprised to see SA get #2. Terraria was my favorite on the list, but with a $5 price tag and no trial, it had no chance of winning.

2015 is the year of Xbox windows 9 and directX12 and also best gaming platform of all operating systems.

Hey Sam, what is the "Xbox"-tile with the Zune-like logo in the downleft-corner of the screen in the article picture?
Also I would like to know the complete poll results (more than Top 3).

Windows tribe join my alliance

Make AoE WP exclusive tho! I hate those goddamn CoC!!! *sigh*

How did Asphalt 8 not make the top three?

Because it's not an Xbox game.

Oh yeah I forgot it wasn't.

I enjoy playing Kingdoms & Lords on XBOX. Its my favourite game.

You should definitely check out Age of Empires: Castle Siege, then.

Age of Empires, Skulls of the Shogun and Snap Attack are great. Non Xbox games would be Star Wars Commander and Angry Birds Epic (when it works..)

I love the game Hungry shark. Fantastic missions , graphics are very near to real..delighted to play this Xbox game

Yo yo... My favorite game is on top.. Castle siege

As I guessed: Age of Empires must be the top Xbox games

Pleaсe make Wordament work with bulgarian language !

I play geoDefense Swarm, Modern Combat 4, Sudoku, Minesweeper and Wordament most of the times

Windows Central Newsletter
Thank you for signing up to Windows Central. You will receive a verification email shortly.
There was a problem. Please refresh the page and try again.