Enjoy cat videos and more with the Metrotube beta for Windows 8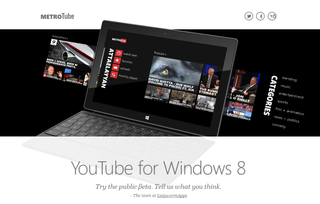 Some good news for all the Metrotube fans out there! You can now head to the Windows Store and download a beta of the popular third party YouTube application for Winows 8/RT. It's been a fan favorite since it first launched on Windows Phone what feels like eons ago.
Lazyworm Applications, the mad scientists behind both Metrotube for Windows Phone and Tweetro+ for Windows 8, have finally launched their long anticipated app. The app looks and functions similar to its companion app on Windows Phone. Currently the app is free and the team will be taking money in the form of donations through an in-app payment mechanism. Although since this is a beta, I don't think it's in there just yet.
So how's the app? Really rad.
Sign in with your YouTube account to get access to all your subscriptions and leave some comments. Next, you'll probably want to hit up the options under the settings charm and change the preferred streaming quality and your region. Otherwise when you're watching a video just swipe up or right click to change the playback quality.
On the homepage you get all your subscriptions on the far right, popular, categories, and then in the remaining space on the right you can add either searches or categories. It's a little function you'll recognize if you're a Tweetro+ user. In a future update I'd like to see the ability to add a specific channel. That way you can quickly see the most recent videos for your favorite YouTube user (like us!).
The live tile will flip through screenshots of recent videos that have been uploaded by people you've subscribed to. It's a handsome tile and a quick way to see what's new on YouTube. The app itself is beautiful and can easily become your favorite way to consume YouTube videos on your Surface or laptop. It works well either in landscape, portrait, or in the snapped view.
Be sure to play around with the beta and leave feedback for the developers.
You can grab it right here (opens in new tab) in the Windows Store.
Thanks, Daniel, for the tip!
Will try it out. I have been using YouTube+ which is pretty good. Hope this will be even better...

Thanx God - this is the first BADASS app for Windows 8, need to port more - like a Wikipedia (unofficial), and Nokia's HERE (all of them)

Its F'n gorgeous. Bye bye laggy YoutubeRT

Thanks goodness cause I was using that lagging piece of crap PrimeTube and it was so buggy I hated it! Uninstalled PrimrTube and installed MetroTube

Two things:
1. Video walkthrough please?
2. 'The Harvest' just launched
Regretting not having a Surface anymore!

What happened to your Surface?

Had to sell it (money issues), but now deciding to wait for either the RT 2 or a Lumia Tablet.

I'm gonna do that wait till the next tablets I haven't got the surface yet

Excellent first version. I use YouTube+ currently, but I can see myself switching to metroTube once they get matching features

For a second I thought you were going to show us a cat video app. I was about to question your sanity...

Oh... You see, for me, since there's no cat video app, I question the sanity.

Windows phone app is having trouble playing videos for a couple days.

Mine has actually started working better in the last few days. Before it could not stream ANYTHING. Now it streams HD with no buffering whatsoever.

It's pretty nice although when I log into my account it freezes up. Anyone experiencing the same thing? I'm using my Surface.

Fire us an email 'support AT metrotubeapp DOT com'. Just make sure to mention that you're having issues with the Windows 8 version and we'll try to get to the bottom of the issue for you!

I love metrotube on my phone so I'm happy to get ride of prime tube on my laptop and switch to metrotube, on another not the only thing I don't like about the windows phone version is you can't download videos in the background, there's a pre-upload option but you have to leave it on or it'll pause the download and it plays as soon as it finishes which is dumb also because I would like to leave and come back to it but the way it is I have to like look at it while it's downloading and pause it once it starts so I can watch it later -_- just saying that needs improvement. Anybody agree? Especially since I'm downloading to watch later because I don't want to waste my DATA during the day when I don't have any WiFi...

I'd change the video player to include quality, rotation lock, etc. instead of using the appbar, but otherwise is the best Windows 8 app I've used.

if the devs are reading this, if you purchased the phone version, will you have to rebuy the windows 8 version if it goes premium?

Both versions of Metrotube are Free. The Windows Phone version trial is unlimited, unrestricted and ad-free so you only have to pay if you want to support us with a donation of $0.99.

Awesome beta. Few things.

Would prefer swiping up with settings (quality), home). Also would be nice if a video played in the background when you get out of the app. Also to let it integrate into the volume/win 8 thing. Second preloading in the background.

Definately loving the first beta. If it had these features then would fully make the switch!!!

Not bad so far, but one annoying issue I found is it doesn't prevent the screen shutting off when you're watching a video full screen.


It's pretty but it has me missing PrimeTube's features (like background play) and better use of space. So just like on the phone I'll be sticking with PrimeTube

I still find it more convenient to open IE and use bookmarks than having an individual app for each website I frequent.

I was really excited about this, but it isn"t quite as great an experience as the WP8 app... Why is making a video full screen so difficult??
But, overall, a great looking app that will undoubtedly improve as it moves from Beta. Am more than happy to support the dev.

Already bought YouTubeRT... Don't wanna waste my money, but so tempting....

too many youtube apps in store :). I use youtube+ and TubeTV. I will give a shot to MetroTube!

TubeTV is nice and different app!

Immediately crashes for me :(

Feel free to fire us a support email 'support AT metrotubeapp DOT com' and we'll do our best to get to the bottom of it

Am i the only one who cant find videos on MetroTube on WP8?, i will put you an example, i was looking for: Tonight Alive - Listening , cant find in Metrotube but i do on Mytube and SuperTube, do i have to buy the full version of MetroTube to watch this or what? Thank you

Correct, this is because the content you are searching for is flagged as 'non-mobile' content by YouTube. We seem to be the only app that adheres to these constraints so might have to open it up in future updates.
Windows Central Newsletter
Get the best of Windows Central in in your inbox, every day!
Thank you for signing up to Windows Central. You will receive a verification email shortly.
There was a problem. Please refresh the page and try again.