Beta update: #6tagram for Windows Phone 8 progressing nicely, aiming for a launch next week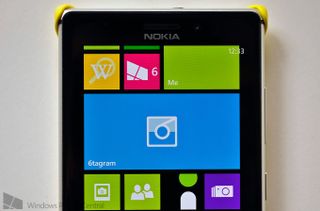 It's been a few days since we've mentioned anything about Instagram and Windows Phone, so we figured we would update you on one of the most anticipated projects: 6tagram from developer Rudy Huyn.
Starting last Friday, the app went into private beta with a few thousand lucky users getting early access to hunt down and find bugs. Since then, the app has had a steady stream of updates (sometimes two a day) as Rudy has added new features and refined any usability issues.
The app is planned, roughly, for a release next week though that's not a guarantee. Still, at the rate at which the app is progressing and the positive feedback so far, we're confident that the app will be making a lot of people happy.
6tagram has some unique abilities out the gate that make it stand apart from previous attempts at a third-party Instagram client. For one, it can handle video uploads in addition to viewing those videos. Instagram added video support recently (to compete against Vine) and this will be the first Windows Phone to use the quick-capture feature. Indeed it works quite well as you can see in our video tour, allowing a similar experience to how Huyn's Vine app, 6sec, works.
Other features like Live Tile support (background agent) to keep up on new notifications, full profile support, downloading of images, and most importantly using official Instagram filters will make 6tagram a hit on day one.
For now, Huyn will continue to tidy up the app with new features coming along. While the app won't be officially endorsed by Instagram, nor supported by them, the company is evidently prepared to look the other way and not get it pulled, which is good news for Windows Phone users.
We'll keep you posted on when the app is set to go to the Store, but for now, you can feast your eyes on the video tour above.
Daniel Rubino is the Executive Editor of Windows Central, head reviewer, podcast co-host, and analyst. He has been covering Microsoft here since 2007, back when this site was called WMExperts (and later Windows Phone Central). His interests include Windows, Microsoft Surface, laptops, next-gen computing, and arguing with people on the internet.
I love it. Cant find anything wrong with it. Just had to workout my old sign in details as i hadn't used instagram since getting a windows phone.

Same here, it's so good already I haven't had any bugs to report, lol! Great, smooth app. Thanks Rudy!

Just like the 6sec app. No bugs whatsoever. If developers put in as much effort as Rudy windows phone would be #1 in the world.

hey so I used to love instagram on my andriod phone and one of the features it had on the andriod version was I could look at what photos my friends (people I followed) liked. Is that feature available on this new app. I just got a new Lumia 1020 and the instagram apps I have found don't have that feature.
I hope I explained my question good enough.
thanks

It is probably one of the best developed app of its kind on Windows Phone. Smooth as glass.

its official Rudy Huyn is the king of Windows Phone developers.

ALL HAIL THE KING!

How do you pronounce that❔

When is anything EVER coming out for wp7??????? Sick of this! My phone is not even a year old! I hate you Nokia!!!

You the man Rudy. Keep these amazing apps coming!!!

Grab some popcorn while you wait.

Lol..already with a huge bucketful to munch while waiting for GDR2.. :P

Lol I ran out of popcorn waiting for GDR2 so I went and purchased a 1020.

My 920's just 6 months old. And i visited 13 stores to get a yellow one. So its gonna stay with me for a while. May be the next 41mp shooter, with a 1080p display perhaps, and a bigger battery, will be mine.. :P

I'd be sooooo hung over that i wouldn't be able to update my device when the update does roll out. :D

Been using it for a few days and I love it so far

Is that a yellow cover on a 925?

Yes. Wireless recharge cover.

Yes to a point. To support the developer there will be a small in app one off charge to upload videos. Wont be much though. 6secs charge was under £2 for unlimited uploads.

More than fair. The apps are of such a high quality its worth paying.

To upload pictures and use the App, yes. To upload videos, you'll need an IAP because, like 6sec, Rudy is using his own servers to upload the videos. And that server has costs. So what you pay that one time is to hell with the server costs ;)

To be fair to the developer, who has a life to live, family to feed and servers to pay for, I'd expect an annual fee similar to WhatsApp.

Anything less is basically free...

I really wish people would stop asking if the app is free. This guy is a one man wrecking machine for the WP cause. It would be different if it was a multi-million or billion dollar company that can afford to give the app away for free. This guy is on his own and still making high quality apps. We should be sending him donations so he keeps to WP exclusively. Just saying.

The hipster community would be proud, but, alas, they are still using iDevices.

Totally agree bro.
btw I can't mind why iUsers complain about lack of this kind of apps on WP arguing that they are "advanced users".. Come on!

But 15 seconds for videos that are funny is way too long. I use vine a hell of alot more and giving 6tagram the same layout as 6sec is just another big plus point.

Exactly, 15 seconds is a little too long!!!

I will add some cross features between 6sec and 6tagram like:
"search this hashtag on Vine"
"send this video on Vine/Instagram"

etc...

On Instagram they don't have to be 15 seconds do they? I thought it was UP TO 15 seconds?

6tagram will be a better app by far even if instagram do one of their own. Still if it wad gonna happen it would have by now. Both apps are excellent. I'm in the beta for 6tagram, found no bugs :)

I remember seeing Will Sasso try his lemon thing on instagram. Wasn't funny, but on vine, i nearly fell over.

You are the Man Rudy! Great App like always. I so appreciate being able to help test your apps, especially because they are so fantastic. I've have tried to submit bugs on this and 6sec but you are so quick that they are always already fixed ;-). The only thing I can see 6tagram still needs imho is a view of the posts that the user likes, just like the existing view that shows the likes of the people you follow. And BTW, 6tagram not only blows WP apps like instance out of the water I think your Metro interface slays the iPhone and Android iterations as well.

in your opinion is this ap better then instance, cause my wife ids looking for the video addition like the official app. i havent hear dmuch about instance having video yet, have you

To be fair Daniel Gary has a v2.0 of Instance in the works and coming soon as well which adds video support as well. I haven't seen this version however so I can't say how it compares to 6tagram overall. I'm a big fan of Rudy's stuff though so...

Given that instance has become sort buggy for many users such as myself, I doubt I will use instance any more nor can I actively recommend it. This app out the box works perfectly well just like 6secs and the layout is clean and visually more attractive. Not to mention,it has actual backing from instagram.

Does anyone know what the price will be?

I believe it will be free to install it and upload pictures. For unlimited video uploads it will require a one-time $1.45 fee.

Also, it will likely have ads that will be removed via in-app purchase of $1.29, just like 6sec.

I believe he said it would be the same as 6Sec, $1.29 to remove ads, and $1.49 for uploads. Both 1 time charges. He bought servers to handle the uploads so that's why the 2nd in-app purchase for the upload unlock.

Wait: so Instagram didn't approve the app? Is supposed to be "supported by Instagram". :(

It's a grey area. They're on the record saying they haven't chosen this app. I imagine they do that because otherwise devs will be beating down their doors asking to be "anointed". The app is still susceptible to breakage, though Rudy knows that API quite well now. The important thing is Instagram is not gunning to have this app removed.

From his twitter feed, it sounded like IG was going to be reviewing the app before it goes to the WP store. Has this changed?

No, that is still accurate. They are reviewing from a legal perspective to make sure it's not infringing on any copyright/TM of Instagram. What they are not doing is offering technical support or endorsing it.

I'm scared Instagram will kick out downloading of photos. Their own apps even don't have that.

Yes & no. Not an "official" app, but IG is giving the thumbs up to Rudy.

Well...officially it's not supported by Instagram. Unofficially it's supported and approved by Instagram. It's like Russia with Snowden. Officially they don't support his blabbing about American espionage...unofficially they do whatever they can to keep Snowden spilling out the beans about the White House and President Hussein's policies on the matter. lol

"President Hussein's policies"

Any and all credibility gone.

Its excellent. Hopefully he tackles another of our missing sore points...

Posted in a comment up above.

Will Dl later, but do the hashtags work? pictures i have hashtags never made it to the feed.

I think it is Instagram that has hash tag issues. Official iOS & Android users have the same problem.

Tell him to open that beta up damnit!

He opened signups to the public via his twitter.

Where have you been? Yesterday he opened it up to a whole lot of people. You're gonna have to wait till end of next week to use the final version.

I shot him a mention on twitter lets see if its works :)

My notifcation numbers are always wrong/randomly changing, but otherwise I LOVE this app. Rudy is the man. Since Snapchat has been dragging their asses, I hope 6snap is his next project. ;)

This is why you're the man! :D

I'm a beta tester but I've recently had a problem with my hotmail account. Can someone please confirm that we are on update. 1.8.0.0.

yup was one of the lucky few and its amazing!!

I'd love to join the few!

Haven't found anything bad at all in this app, and I use it daily...

do your hashtags work, my dont and this is on two separate phones. If you check the hashtag feed, pictures didnt' show and this was as of yesterday. Haven't updated yet. Also issue when i tagged somebody, for some reason when it ported to my facebook, the tag was another user. But on 6tagram it was right, on facebook it wasnt.

Been using the beta since the weekend and from day 1 it was already miles better than any other 3rd party app and new features and tweeks have been added daily so far :) Rudy Huyn is a god amongst app developers and puts alot of them to shame!

Looking forward to this one!

Really tried to get into the beta but seems like it didn't work.

WHY DOESN'T MICROSOFT HIRE RUDY HUYN?!!? He is way-way better than most jokers they have at Redmond. His apps are beyond awesome and at this rate, Google or Apple with hire him before MS wakes up!

You're clueless. Developing an app is much different from developing an operating system. They are two completely different things.

You're very disrespectful for saying that Microsoft developers are a joke. Do you seriously think it's easy to get a job there?...

I did not say anything about OS developers, read the post again. But yes, I should have been clearer - Microsoft developers making apps are indeed jokers. Just compare any of the apps they have developed with Rudy's (or some other great developers) They have a lot to learn and make Facebook, Skype etc better.

You do not understand how different the scenarios are. Rudy is working on one app, for one platform.
Microsoft has teams of developers that work on multiple apps, for multiple platforms. Rudy's apps take weeks to get to the level they are at. If you take that time and add it up for each app, each platform, Skype alone would take MONTHS to make.
Facebook is a priveledge. Facebook should be made by Facebook and not Microsoft. Be thankful you have what you have.

I defend Microsoft at every available opportunity and have been coding in various MS technologies for about 14 years and do understand a thing or two about how things work in software development. I have been using windows phone ever since it came out. However I feel you are just being too soft on them here, to put it mildly.
Rudy is just 1 guy, MS has a team of hundreds - if not thousands of developers working on apps at any time. MS has 100,000 employees. btw, not all of Microsoft's app are multi platform - in fact only few of them are. Almost never do the same teams work on all platforms as they are different languages/teams/technologies/architectures. An app, even from Microsoft, is only as good as the guy coding it.
And why should I be thankful for what I have? They can do better - I pay money and deserve the very best from Microsoft - I know they can do it. Why does facebook lag when none of Rudy's app do? have you even seen the joke of an app that MSN was on WP? Skype still lacks features. Even the most militant of Microsoft Fanboy would agree that the app situation and quality of apps in MS ecosystem needs a lot of attention - and MS is the biggest culprit in this regard. They just don't get it, Nokia does.

I doubt he'd be able to do all the cool things he does now if he was hired by Microsoft.

Did you ever think that maybe once he goes first party then people like instagram or Google will use that as an excuse to sue Microsoft?

It will come. Rudy plans to support WP7 after this is completed. He'll make 6sec and 6tagram both available for WP7.8 devices. But you must remember it takes more time 'cause it's easier to create Apps on WP8.

Yes, a lot of time, to tweak all the app to have better performance (cause only one processor)

Hi all !

The article is very clear about my relation with Instagram (I'm not english, so I think that Daniel explains the situation better than me :D). 6tagram is a third app, not official app and I received no help from Instagram for the moment BUT Instagram is aware of my work , know the app, and they want to test and "approve" the app about legal stuffs (trademark, copyright, etc...). So two good news :
- We will be sure that Instagram won't ban the app
- Instagram seems to follow the windows phone activity!!!

It sounds as if 6tagram might be a contender for the top.

Hope he makes a version for 7.x devices :|

Just read the prior comments.

damn the app looks pretty polished, keep it up Rudy! I will be downloading it day one. Not that I use instagram but to squash the question "does it have instagram?" once and for all lol. Instance is doing a pretty good job as well.

damn the app looks pretty polished, keep it up Rudy! I will be downloading it day one. Not that I use instagram but to squash the question "does it have instagram?" once and for all lol. Daniel Gary is doing a pretty good job as well with Instance.

NOW, it's the good news part. If you don't participate to the beta, I can add some new beta users. So give me your live id, I will add you ;)

Juavez92@hotmail.com hook me up man! I'm loving all your app just need this to complete my collection lol

Thats great news Rudy! I must have somehow missed signing up for beta. Here is my live id - praveen_rajendran@hotmail.com

Jbrodeur7@live.com. Please! Regardless, really like your apps. Keep it up!

wadesloan@live.com please add me!!!

matthew.schragal@live.com

Rudy! You gotta alot if supporters don't let us down!

bodokybence@gmail.com

Thank you! :)

iridox@live.com - very happy to help beta test

everybody has been added, enjoy the app guys!

Thank u Rudy, got the app, its amazing!!!! I'll let u know if I c anything unusual...thanks again..dm Atlanta Ga

samhajime@live.com.
pls pls pls...

Daniel.miranda@live.com. Make me a believer Rudy !!!!!!!!

markernestgervacio@live.com.ph
Add me Rudy! :D

Hi Rudy, can you please add me to the beta. Keep up the good work man, thanks! luisvase@outlook.com

I wanna beta for windows 7.8. So when you're a
Ready, my email is ant-backup@hotmail.com. Thank u!!!!;)

laio@live.fr please! Thx :)

I am looking forward to taking this app for a spin next week unless I can get into the beta now *wink *wink

cannot wait... my phone is in for repairs so when i finally get it back, it'll be nice to get this app as well.


This 6tagram app makes the official instagram app for Android and iOS looks and feel outdated.. Especially
the ability to download a photo, and to flip the photo over. That touch of getting back to the top of the page without all that insane scrolling is brilliant.. Keep up the awesome work Rudy.

I still stay Instagram should thank him for doing the work for them, and buy the app from him and put their name on it. It looks really good. I'm not an Instagram user but I will become one just to support Rudy.

if they buy my app, they also buy the only Vine client for windows phone, a good deal :D

As a beta tester I can tell you Instagram (if they ever) release an app they'd be hard pressed to do better job than this. Also you forgot to mention there is Lens support as well.

How do you become a beta tester for apps like these?

Rudy tweeted the signup link

Rudy opened up a beta test on his twitter. Not sure if its still open. Ask him.

see Rudy's post a few posts above you. Just give him your WP email ID and he can set you up for best. Trust me, its an amazing app!

Has he added a tilt shift effect yet? I love the official Instagram tilt shift effect but was really disappointed with Instance's attempt.

Is the next thing he will do... :)

He hasn't yet but you can always use Fotor or creative studio for tilt shift effect!

Are they closer to the Instagram tilt shifts as I've tried a few different options which just don't pull it off nearly as well. Plus the fact that I don't like the idea of using separate apps for editing the photos. At the moment, I have decided to email photos to my ipad and work them with the official app. Obviously this too is time consuming and not portable...but has proven my best option for the moment.

Edit the photo in Fotor, click share, select 6tagraam and voila!! :-)

I have the beta. How do I get notified of updates. Haven't seen any notifications.

I could see instagram using this app as their official WP app. Isn't that what Wikipedia did?

Where i can get it so i can try the beta plz tell me

Its probably the best app to ever be on windows phone.

I like instagram will look the other way. But this also means that their is no official app any time soon.

Totally off topic. What case is that on the phone in the picture?

are there any instagram for windows phone 7?

This guy is a force. Didn't he only start developing this a week or two ago?
Extremely impressed.

God i can't wait for this app to be released! Yet is still waiting for Instance's update...