Beyond Gravity, a great time waster of a game for Windows Phone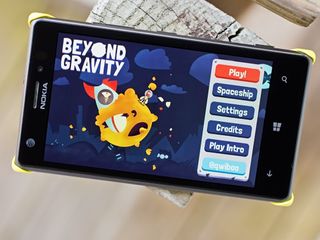 If you are searching for a simple, entertaining Windows Phone game to waste the time with you need to give Beyond Gravity a try.
It does have an endless runner feel to it but you do more jumping than running. The goal is to jump through space, from planet to planet, collecting nuts and bolts along the way.
The Samurai Jack graphics look great, the game play challenging and overall Beyond Gravity is a Windows Phone game you gotta try. It lacks a trial version but on the brighter side of the coin, Beyond Gravity is available for low-memory devices.
Lost in Space
The main menu for Beyond Gravity has options to jump into game play, view your spaceship for upgrades, access the game's settings, view the credits and play the intro story again. Settings covers turning on or off the sound, music and screen shake.
The storyline behind Beyond Gravity has your spaceman traveling around without a care in the world. His ship is struck by asteroids, crashes into a nearby planet and scatters ship parts across the universe. Your mission, should you choose to accept it, is to jump from planet to planet, collecting various nuts and bolts that can in turn be used to give your spaceman a little more junk in his trunk.
Game mechanics are simple. You land on a planet that rotates and you'll need to time your jump just right to collect the stash floating in between the planets and land safely on the adjacent planet. The further you jump the faster the planets spin and flaming asteroids will appear in between planets requiring you to time your jumps better.
To jump, just tap and hold your Windows Phone screen and release your hold to jump. The planet will stop rotating when you hold the screen to help you time your jump. If you happen to misjudge your jump position, a timer will appear on the planet and when time runs out the planet will resume its rotation - allowing you to better judge your jump position.
Should you miss your planet, the spaceman will soar into the depths of space and scream like a little girl. Well, okay, maybe not like a little girl but you get the picture.
The object of Beyond Gravity is to jump as far as you can and collect as much stash as possible. When you have enough stash you can buy bonuses from the spaceship such as increased jump speed, a magnetic field to attract stash and various space suits.
Overall Impression
Beyond Gravity has the same type of appeal Rainbow Rapture – nice graphics, easy mechanics, challenging game play. It just lacks the ringtones and wallpapers you find with Rainbow Rapture.
You do goals with Beyond Gravity that include traveling a certain distance, landing on a number of planets or collecting an amount of stash. When you achieve these goals you earn bonus stash and the goals give you a little something extra to work towards.
The one thing I'd like to see added to Beyond Gravity that would improve game play is a grappling hook that can be deployed to latch onto a planet and pull you to safety on near misses. It would be a nice touch for those times you're just slightly off with your jumps.
The one glaring downside to Beyond Gravity is the lack of a trial version. The game is only running $.99 so it's not too expensive and while we think it's a no-brainer of a purchase, it would be nice to have a trial version to let you try things out.
Still, if you need a time waster of a game for your Windows Phone Beyond Gravity is a nice option to fill that need.
Beyond Gravity is available for 512MB devices.
Beyond Gravity – Windows Phone 8 - $.99 – Store Link
Windows Central Newsletter
Get the best of Windows Central in your inbox, every day!
George is the Reviews Editor at Windows Central, concentrating on Windows 10 PC and Mobile apps. He's been a supporter of the platform since the days of Windows CE and uses his current Windows 10 Mobile phone daily to keep up with life and enjoy a game during down time.
Should be "If you are searching..."

Seem like bigbang xbox game!

Developer you should promote it with MyAppFree ;) (So I could earn it for free)

That's the way to do it (y)

Another game with no trial.. Good job dev

Feels like angry birds. :|

Games with 512mb support are always paid. Haha :D

Not sure I like this idea of presenting games as "time wasters" it's hard enough to get away with playing them to begin with... =[

How about a few levels as a trial? I know we all say its only a few pence each time but they all add up.

By saying the game wastes time, aren't you insulting it?

I really love the visual style. Samurai Jack was a flat out amazing show. It surprised you with how awesome and deep it could get with the storyline and characters despite the simplistic visual style.

George you don't need a grappling hook. Do a double jump (tap while in flight) when you're near a planet and with a little luck you'll land on it. SUPERB game btw!!

I bought it to try, the gameplay is decent but the graphics are not smooth on my 1520....